Nurses urge VA to send protective gear, medical staff to Brooklyn hospital
by
Nikki Wentling
April 6, 2020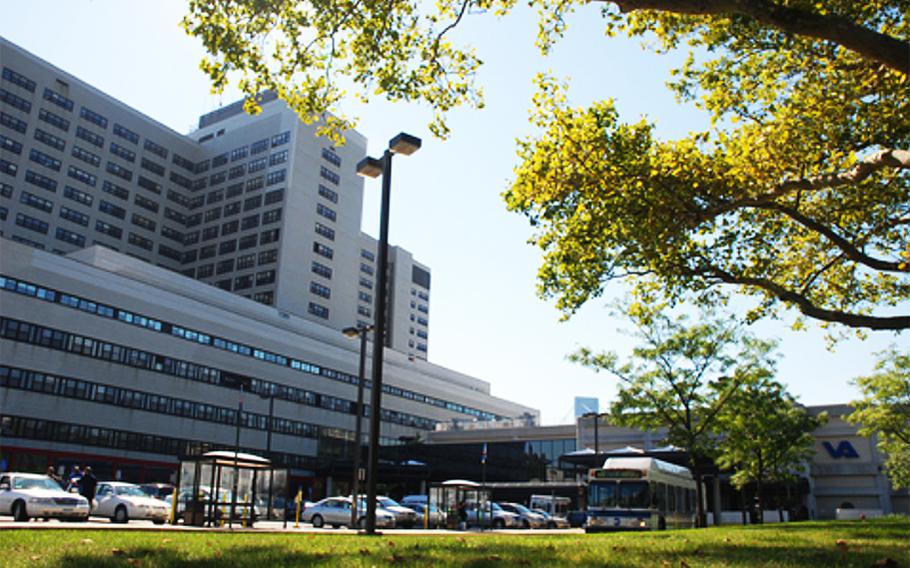 Stars and Stripes is making stories on the coronavirus pandemic available free of charge. See other free reports here. Sign up for our daily coronavirus newsletter here. Please support our journalism with a subscription.
WASHINGTON — The intensive care unit at the Department of Veterans Affairs hospital in Brooklyn has been at capacity with coronavirus patients for the past two weeks, even after it doubled its bed space.
ICU nurses, who are handling twice the number of patients than usual, say they are exhausted and unable to take breaks. They're reusing protective gear, such as masks and gowns, that are typically disposed of after one use. And they're picking up the slack of other medical staff who — although they were sent from other departments to help — were inadequately trained before they arrived.
This is how Denise Bruno, a registered nurse in the ICU, described the scene at the Brooklyn VA, one of the hotspots of the coronavirus pandemic. Before Bruno clocked in for her Monday-night shift, she was planning to speak during a protest at the Brooklyn VA, where nurses — between their shifts — will urge the government to send more protective equipment and trained medical staff.
"I want some awareness of what's going on," said Bruno, who has worked at the VA for 12 years. "The government needs to ensure we have the supplies to protect ourselves. If not, nurses and doctors are going to get sick. A few doctors here have tested positive. If we get infected, there's going to be nobody to take care of these patients."
In response to the plans for a protest, the New York Harbor Healthcare System, which includes Manhattan and Brooklyn VA hospitals, encouraged medical staff to talk to leadership about their concerns.
"Our nursing staff is doing an amazing job under pressure," Ken Griffin, a spokesman for the health care system, said in a statement. "They have an open line of communication with our leadership, and we encourage them to talk to us so we can continue to support them."
As of Monday, the Brooklyn VA Medical Center had tested 212 veterans who were positive for the coronavirus, and 83 had been hospitalized. The facility increased the number of beds in its ICU from nine to 16, Bruno said.
Six staff members with the New York Harbor Healthcare System had tested positive for the virus, according to VA data.
Across New York state, which became the epicenter of the virus in the United States, there were more than 130,000 cases Monday and nearly 5,000 deaths.
In addition to treating veterans, the Manhattan and Brooklyn facilities have dedicated 50 beds to non-veteran patients, as directed by VA Secretary Robert Wilkie. Part of the VA's mission is to act as backup for the American medical system. Wilkie said he determined the action would not negatively affect care for veterans.
Iraq and Afghanistan Veterans of America and National Nurses United, a union representing nurses across the country, teamed up for the protest Monday at the Brooklyn facility.
Corey Lanham, a division director with National Nurses United, said the situation at the Brooklyn VA was an "absolute travesty." ICU nurses are treating four to five patients, all of whom are on ventilators and require complete care, such as assessing their oxygen levels and blood pressure, administering medications and turning and cleaning them.
"Most are on ventilators, are sedated or even paralyzed. They're totally at our mercy," Bruno said. "They are very complex patients. Our fear is missing something and missing it in the timeframe where we're still able to treat that issue. There's not a way you can closely monitor them the way you should be."
Bruno suggested the VA send nursing staff from other, less-affected medical centers to help treat veterans in Brooklyn. She also asked that her hospital more adequately train staff from other departments before sending them to the ICU. Some employees who have been sent to the ICU are unaware of the department's process for inputting information about veterans into their computer system, which slows things down, Bruno said.
"I think they should've prepared them a lot earlier than they did," Bruno said. "When we got that first COVID patient, they should've known what was coming."
Jeremy Butler, CEO of Iraq and Afghanistan Veterans of America, said Monday, "the time for being proactive has passed."
"The VA must act now to ensure that facilities have the bare minimum of equipment to properly treat patients and protect health care workers," Butler said.
Besides augmenting staff, the groups asked the VA to provide an adequate supply of personal protective equipment to Brooklyn and other facilities that face shortages.
The Brooklyn ICU does have N95 respiratory masks, which are designed to efficiently filter airborne particles, Bruno said. However, employees get only one mask per patient each shift. They're also being asked to reuse gowns.
The VA denied there was a lack of personal protective equipment at the facility. Griffin said the facility had the appropriate equipment and was following guidelines put out by the Centers for Disease Control and Prevention for the use of N95 masks.
To conserve the limited supply of the masks, the CDC recommended reusing the masks and using alternative face coverings. The CDC said there is no way to determine the maximum number of times a mask can safely be reused.
"It's better to reuse them than not to have them at all," Bruno said. "But it does put us at risk every time."
Wilkie has insisted in recent interviews that the department has a sufficient supply of protective equipment for staff, despite outcry from VA employees at facilities across the country.
In their sweeping $2 trillion stimulus bill, lawmakers included $20 billion for the VA, some of which Congress directed toward purchasing more personal protective equipment for employees.
Bruno is taking extra steps to try to stay healthy. After her shifts, she removes her scrubs and shoes in her garage, and places them in a plastic bag to be cleaned and disinfected. She then goes immediately to the shower. Afterward, she disinfects her bathroom.
"I do this all before I see my kids," Bruno said. "They know not to come near me until after the shower."
As of Monday, 2,866 VA patients had tested positive for the virus, and 125 veterans had died.
There were 776 positive cases of the coronavirus among employees of the Veterans Health Administration. New Orleans had 82 employees test positive, followed by the VA in Montrose, N.Y., with 40. At the East Orange, N.J., facility, 35 employees had coronavirus.
wentling.nikki@stripes.com Twitter: @nikkiwentling