5 DODDS-Europe students in US for science symposium
By
Jennifer H. Svan svan.jennifer@stripes.com
April 30, 2013
---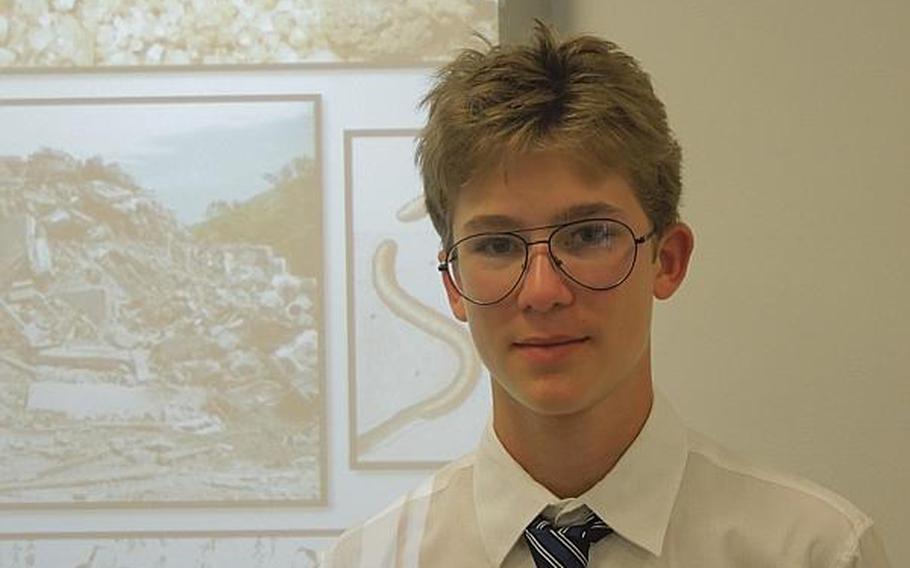 KAISERSLAUTERN, Germany — In the winter of 1975, Chinese officials ordered the evacuation of Haicheng, a city with one million people, shortly before a 7.0-magnitude quake struck.
The story of one of the few, if not only, successful mass evacuations in history prior to an earthquake piqued the curiosity of Rota (Spain) High School freshman Leif Gruetter because of the role animals may have played in helping predict the temblor.
Snakes reportedly came out of hibernation and froze on the ground, one of several instances of animals acting strangely reported in the days leading up to the quake.
Leif, a budding scientist at 14, thinks the odd behavior was no coincidence. His research on the topic recently earned him top honors in the DODDS-Europe regional science competition and a chance to showcase his project this week on a national stage against some of the United States' brightest young minds.
Leif and four other student delegates from Department of Defense Dependent Schools-Europe are participating in the 51st National Junior Science and Humanities Symposium in Dayton, Ohio, Wednesday through Sunday. The event is supported by the Defense Department and takes places this year at the Air Force Research Center at Wright-Patterson Air Force Base. About 240 high school students qualified for the symposium by submitting and presenting original scientific research papers in regional competitions. The top regional finalists will present their research this week and compete for scholarship money from the Academy of Applied Science.
"I'm nervous, but it's also a pretty big honor," Leif said in an after-school phone interview last week from his science classroom at Rota, where he was practicing his presentation with one of his mentors, science teacher Kathleen Tierney.
"It's a highly original project," Tierney said of Leif's research. "It has a lot of applications for humanity to solve some problems."
Tierney is accompanying Leif and the other DODDS-Europe students to Dayton. The top two students from Europe will give oral presentations — Leif and Anthony Whitfield, a senior at Heidelberg High School whose project, "The Effect of Normal Shampoo on Dreadlocks," earned him third place at the DODDS-Europe regional symposium in March. Devan Tisdale, a senior at Wiesbaden High School, placed second, but turned down an invitation to attend the nationals, DODDS-Europe officials said.
Rounding out the Europe delegation are Taylor Williamitis and Michael Leek of Menwith Hill in England and Tashia Golson of Hohenfels.
DOD, through the Junior Science and Humanities Symposia Program, covers students' travel costs, said Ray Smola, a chemistry and physics teacher at Heidelberg High School and director of this year's DODDS-Europe science competition.
The symposium's goal is to give students "a feel for what scientists really do," Smola said, "the difficulty in proving something."
Leif wondered whether certain animals felt tremors prior to the Haicheng quake, or was another phenomenon at work? He studied the topography of eastern Asia and noted the area had large deposits of quartz, a common mineral, which gives off tiny electrical charges when struck. Perhaps some animals felt an electrical impulse generated by pre-quake tremors?
"Animals have amazing senses," Leif said. "We've barely developed machines that are as sensitive as some animals."
To test his hypothesis, Leif collected earth worms, worm lizards, skinks and pill bugs. He also bought varieties of fish, including catfish: Was there any scientific connection behind the ancient Japanese myth that earthquakes were caused by the thrashing of giant catfish?
He tested the electrical properties of quartz when struck. He also tested animals' reactions to simulated tremors by dropping a croquet ball from various heights onto a table, where the animals were kept in sand in a plastic container or in a fish tank. For the other part of the experiment, electrodes connected to a voltmeter were attached to the tank or to the container, where the non-aquatic animals were placed in a small saltwater solution. Reactions ranged from "possible" responses — a bug that stopped cleaning its antennae — to "definite," such as jumping.
"The animals reacted more to the tremors than the electrical impulses," Leif said. "I'd like to do more accurate tests of the tremors and get an actual seismograph, so I can monitor the exact magnitude of the tremors."
Smola said Leif's "data supports his hypothesis. That's what scientists try and do."
"Is this experiment enough to prove it? No. It's a great idea. Boy, if we could predict earthquakes that would be useful."
---
---
---
---