Nearly 2,000 VA patients, 500 staff have tested positive for coronavirus
by
Nikki Wentling
April 2, 2020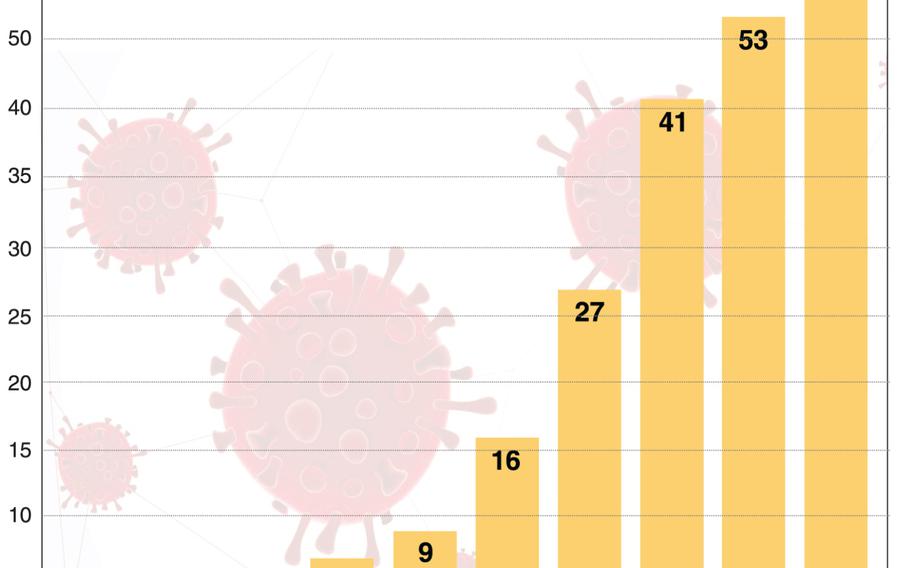 Stars and Stripes is making stories on the coronavirus pandemic available free of charge. See other free reports here. Sign up for our daily coronavirus newsletter here. Please support our journalism with a subscription.
WASHINGTON – Nearly 2,000 veterans and more than 500 Department of Veterans Affairs employees have tested positive for the coronavirus, according to data released by the department Thursday.
The agency also reported 68 veteran deaths across the VA health care system — an increase from six deaths one week ago. The veterans ranged in age from their 50s to their 90s.
Nationwide, more than 213,000 people in the United States were known to be infected in the global pandemic Thursday, and the death toll had climbed to 5,700. New York has been the most affected in terms of number of cases and deaths.
New York-area VA hospitals had seen some of the most cases of all medical facilities across the department. The VA operates 172 medical centers and is responsible for treating more than 9 million veterans. As of Thursday, it had tracked 1,921 cases of coronavirus among VA patients.
The Bronx VA Medical Center had 89 cases, Brooklyn had 103 and Northport, N.Y., had 44. The VA Hudson Valley Health Care System in Castle Point, N.Y., and Montrose, N.Y., had 47 veterans who tested positive. The East Orange, N.J., hospital, near Manhattan, had 54 cases. Of the New York-area cases, 109 VA patients had been hospitalized.
VA Secretary Robert Wilkie took steps to help non-veterans in the New York area. In accordance with the VA's "fourth mission" to serve as backup for America's medical system, Wilkie opened 50 beds last week in Manhattan and Brooklyn to civilian, non-coronavirus patients.
On Wednesday, Wilkie announced he opened 15 beds at the East Orange VA Medical Center in New Jersey to civilian patients who tested positive for coronavirus. The patients who were transferred had critical and non-critical cases, the VA said.
The Federal Emergency Management Agency asked the VA for help after the state of New Jersey requested federal assistance. Wilkie said it would not affect veteran care.
"VA is proud to assist the state of New Jersey in the fight against this pandemic while continuing its primary mission of caring for our nation's Veterans," Wilkie said in a statement.
The New Orleans VA Medical Center has the most cases out of any department-run medical facility. On Thursday, New Orleans reported 324 cases, and 35 of those veterans had been hospitalized. Sixteen veterans have died there in the past week.
VA staff has also been affected. According to department data, 532 employees across 79 VA medical facilities have tested positive for the virus. VA Press Secretary Christina Mandreucci said additional information, such as their job titles, could not be publicly shared because of privacy concerns.
"In accordance with CDC guidelines and the employees' clinical status, the employees are all in isolation, mitigating further risk of transmission to other patients and staff," Mandreucci said in an email.
Together, New Orleans and Indianapolis accounted for more than one-fourth of the 532 cases among employees. Indianapolis had the most, with 64, and New Orleans had 63.
Other locations with 10 or more cases among employees were Jamaica Plain, Mass.; Washington, D.C.; Orlando, Fla.; Detroit; Chicago's West Side; Kansas City, Mo.; Houston; Aurora, Colo.; Seattle; Las Vegas; and San Diego.
It's uncertain how many of the employees are doctors, nurses or other medical staff.
VA employees, along with other medical staff across the country, have expressed alarm over the lack of personal protective equipment they've been given when treating coronavirus patients. On Thursday, the National Federation of Federal Employees, a union representing VA workers, criticized the department for shortages of masks, gloves and sanitation stations at the East Orange VA Medical Center.
"Our nurses, pharmacists, and other medical professionals at the East Orange VA Hospital are united in their concern over the lack of personal protective equipment," the union's local executive board wrote.
The board also criticized the department for not reassigning high-risk employees, such as those over age 60 or those who are immuno-compromised, to areas where they would not encounter coronavirus patients.
The VA Office of Inspector General surveyed leaders of VA hospitals across the country in March. Many of them said they needed larger supplies of sanitizer, masks, gloves and gowns. The Indianapolis VA cited shortages of gowns and personal protective equipment.
The department was given nearly $20 billion in a sweeping $2 trillion measure Congress passed last week. Some of the money was directed toward buying more personal protective equipment for medical staff.
In its coronavirus response plan shared publicly last week, the VA estimated the coronavirus outbreak could last 18 months or longer and include multiple waves of illness. During that time, VA leaders guess about 30% of its employees will be unable to work because they or a family member will become sick.
wentling.nikki@stripes.com Twitter: @nikkiwentling