Medal of Honor recipient Ronald Rosser, who stormed hill during Korean War, dies at age 90
by
Seth Robson
August 28, 2020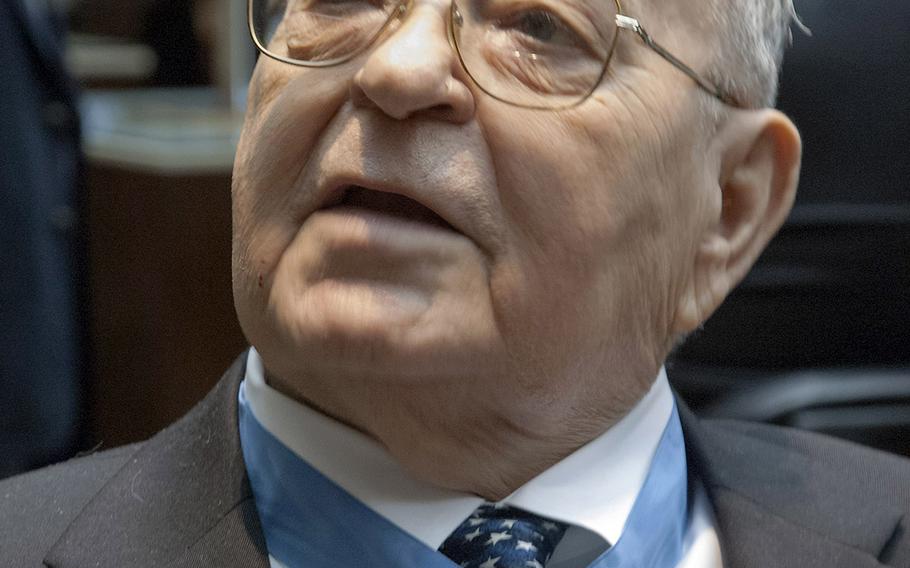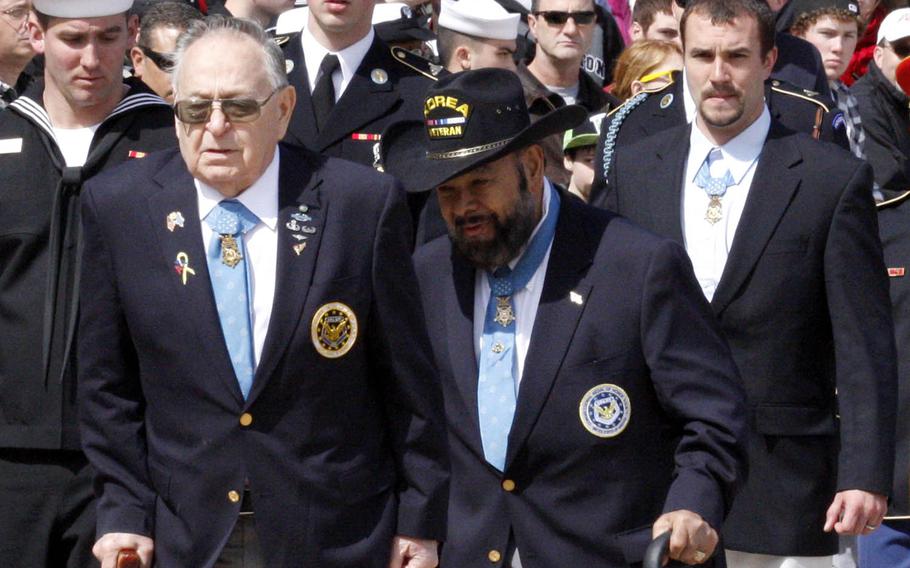 Medal of Honor recipient Ronald Rosser, who died Wednesday in Bumpus Mills, Tenn., at age 90, had a colorful way of talking about the brutal combat he saw during the Korean War.
"I've actually beat seven people to death with my rifle — two North Koreans and five Chinese fighting hand-to-hand combat … I've bayonetted a couple in my time," he told Stars and Stripes at a hotel in Arlington, Va., before taking part in National Medal of Honor Day activities at Arlington National Cemetery on March 25, 2015.
Rosser was an Army corporal on Jan. 12, 1952, when his platoon was ordered to capture a hill on the outskirts of Ponggilli, Korea, according to the Congressional Medal of Honor Society.
The young soldier led a charge up the slope, through heavy enemy fire. Halfway up, he realized he was alone, but kept going, destroying enemy positions as he advanced before exhausting his ammunition.
After replenishing his bullets and grenades, he fought his way up the hill two more times before his platoon withdrew under continuous enemy fire. Although wounded himself, Rosser helped evacuate other injured soldiers, the society said in a statement announcing his death.
President Harry S. Truman presented Rosser the Medal of Honor at the White House Rose Garden on June 27, 1952.
"My job was to protect the lives of other people," Rosser said in the 2015 interview. "I killed thousands of people doing that."
He recalled cutting an enemy's throat at night and leaving the body among sleeping Chinese troops.
"I always wondered what they felt like when they woke up and found one of their friends lying there with his throat cut," he said. "I had, back in them days, kind of a silly sense of humor."
An obituary posted by the Goebel Funeral Home in Crooksville, Ohio, said Rosser was born in Columbus, Ohio, on Oct. 24, 1929, the eldest of 17 children of John Milton and Edith Marie Rosser.
"Ron prided himself being born a coal miner's son at the height of the Wall Street Crash of 1929," the obituary states.
Rosser at age 17 enlisted in the Army at the end of World War II and participated in the occupations of Japan and Germany before returning to his hometown.
When his younger brother Richard was killed in combat early in the Korean War, Rosser enlisted again, and soon found himself on the front lines as a heavy mortar company's forward observer.
After his tour in Korea, Rosser served in the United States and Germany during a 22-year career. He retired at the rank of sergeant first class after the Army denied his request to serve in combat in Vietnam, where another brother, Gary, had died, according to his obituary.
"One of his most treasured duties was being selected as a body bearer for the remains of unknown service members from WWII and the Korean War for internment at the Tomb of the Unknown Soldiers at the Arlington National Cemetery," his obituary states.
After retiring from the Army, Rosser traveled the country with the Congressional Medal of Honor Society.
"One of his favorite tasks was speaking with children about the choices they make in life, honor, and selfless service," the obituary states.
According to his obituary, Rosser attended every presidential inauguration from President D. Eisenhower to President Donald Trump.
Rosser earned a bachelor's degree from Atlantic University and established the Ron Rosser Public Service Scholarship and the Richard and Gary Rosser Scholarship in honor of his fallen brothers, according to the obituary.
He is survived by his daughter, Pamela Rosser Lovell, and numerous other family members. His funeral will be at 2 p.m. Saturday at Crooksville High School, the obituary states.
There are 68 Medal of Honor recipients alive today, according to the Congressional Medal of Honor Society.
robson.seth@stripes.com Twitter: @SethRobson1