McCain comes full circle with burial at Naval Academy
by
Claudia Grisales
August 28, 2018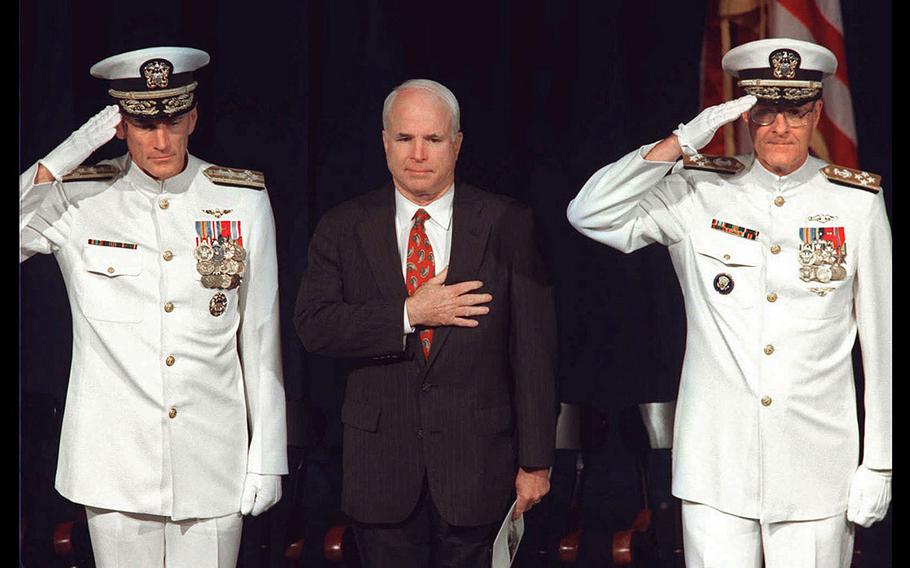 WASHINGTON — When iconic politician and war hero Sen. John McCain died Saturday, the agony of loss hit the Larson family of Annapolis, Md., on several levels.
For years, the Arizona Republican said he wanted to be buried where it all began for him, at the Naval Academy cemetery, by his close friend, Navy Adm. Charles Larson, who died in 2014.
This week, the Larson family, which includes his widow, several children and extended family, has faced a new reality that McCain's promise to be buried alongside their patriarch has finally arrived.
"It's been very sad for the family," said Capt. Wesley Huey, a retired Naval Academy professor married to Larson's daughter Erica, who eulogized his father-in-law at his service. "What we've been feeling over the past couple of days is a sense of loss on three levels: a loss for a friend of the family, a sense of loss for Adm. Larson and a sense of loss for the nation."
McCain and Larson, though opposites in many ways, reflected each other's values when it came to service and putting nation above all else, Huey recalled. They were both sons and grandsons of Navy four-star admirals.
"We really do believe that Sen. McCain and Adm. Larson represent what was the best of the nation, that feeling that they needed to do something important in service to the nation," said Huey, a Naval Academy professor from 2010 until his 2017 retirement. "Both of them did that in different ways. We have lost two pole stars, two guide stars in that generation that felt strongly that they lived their lives as Americans, precisely as the Founding Fathers wanted American citizens to serve."
McCain said after Larson's death in 2014 that he would be buried where it all started, in a plot very close to Larson.
"When you zoom out and look at that decision, it really emphasizes and reinforces the closeness that they had," Huey said. "Publicly, you didn't know that they were that close, they didn't get together often. But they would talk on occasion. And when they did get together, it was very clear they loved each other."
With his burial decision, McCain bypassed the pomp and circumstance of a burial at Arlington Cemetery by his father and grandfather.
"I think it was a very powerful influence," Huey said of McCain and Larson. "I think when they were making big decisions, they would either talk by phone or they would imagine what would the other person say to them."
When Larson passed, McCain honored Larson's legacy and spoke of his service to the nation. In one of his favorite refrains shared with "every good sailor," now being bestowed on McCain himself, he wished his friend "fair winds and following seas."
"I can think of no finer example of honorable service to our nation than the service Chuck Larson has provided so faithfully and so well for so many years," McCain said at the time. "As the son and grandson of four-star admirals, I have long been accustomed to living in the large shadows cast by great men. It has been a privilege and an honor, as a young man and an old one, to serve in Chuck's shadow."
McCain and Larson met at the Naval Academy in the 1950s.
McCain's partying ways and rebellious streak nearly ended his Naval career early, as he barely scraped by and graduated nearly at the bottom of his class. Larson, however, was a top performing student, who went on to become presidential aide and served two tours of duty as superintendent of the Naval Academy. He also became commander in chief of U.S. forces in the Pacific. He later retired from military life and entered civilian work in the defense industry.
The two remained close even in their final years.
McCain's love for Larson was very apparent at his retirement party in 1988, Huey said. McCain honored his friend as a guest speaker at the festivities and brought an emotional touch.
"When he started to talk about their relationship, he choked up," Huey said. "You don't often see that in people who speak publicly, they don't betray that emotion. But it was obvious how much he meant to Senator McCain. There was clearly a friendship, a love between them."
grisales.claudia@stripes.com Twitter: @cgrisales