Marine Corps veteran recovers from coronavirus after eight days on ventilator
by
Nikki Wentling
April 13, 2020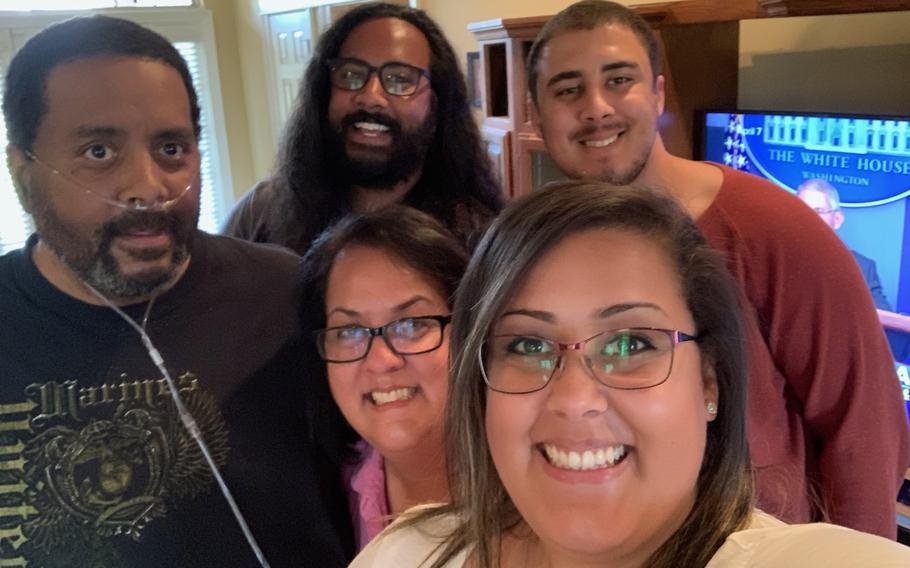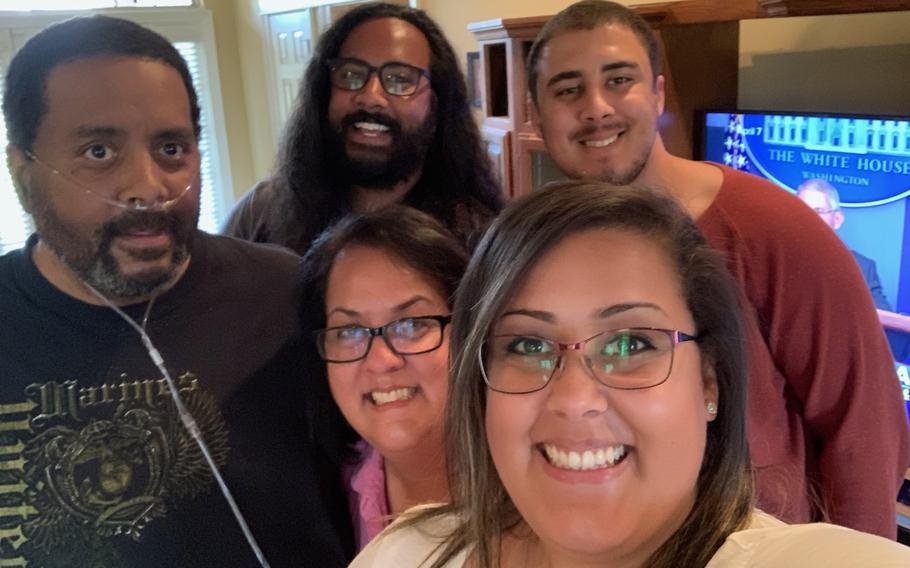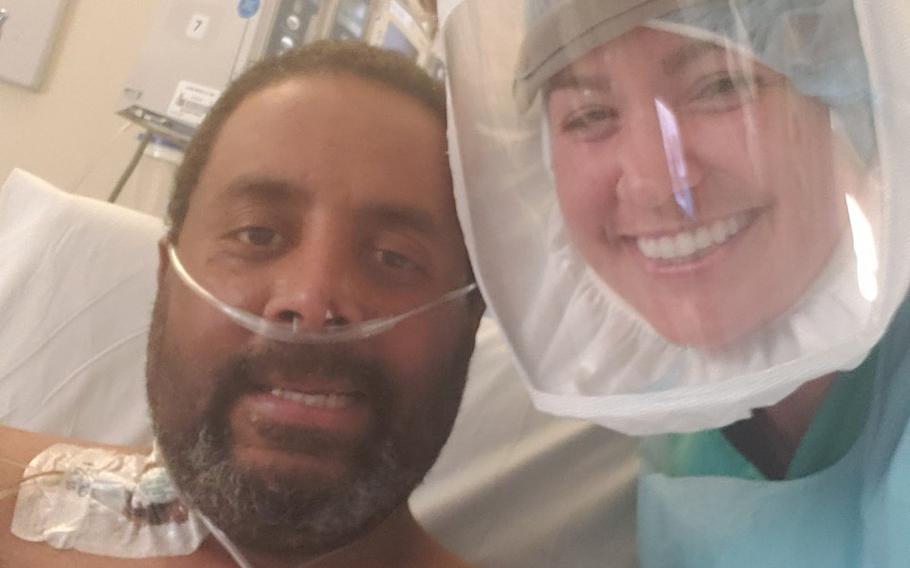 Stars and Stripes is making stories on the coronavirus pandemic available free of charge. See other free reports here. Sign up for our daily coronavirus newsletter here. Please support our journalism with a subscription.
WASHINGTON — Before Marine Corps veteran David Williams was to be connected to a ventilator, his doctors told him there was a chance he would never come off.
Williams, 54, had been in the Department of Veterans Affairs hospital in Little Rock, Ark., for four days with the coronavirus, suffering from headaches, dizziness and fever. It was difficult for him to breathe, and he lost his sense of taste. He was alone — his wife, D'Anna, and their three adult children were unable to be with him because of the strict no-visitation policies to prevent the spread of the virus.
"I was worried. They told me there was a possibility that I may not get out of there," Williams said. "Sometimes you go on a ventilator, and sometimes you don't come off."
It was March 26 when Williams was sedated and intubated, a tube inserted into his airway so the ventilator could serve as his lungs. When he woke up, he didn't realize it was April, or that he had defied odds by breathing again without help from a machine.
Williams spent eight days connected to a ventilator and 17 days total at the John L. McClellan Memorial Veterans Hospital. When he was released April 8, and was contagious no longer, medical staff lined the hallways and cheered as he was wheeled out. The hospital posted a video of the moment, describing Williams as their "miracle patient."
Dr. Matt Burns, chief of infectious diseases for the Central Arkansas VA Healthcare System, told a local television station that Williams' recovery was a morale boost for medical staff.
Nationwide, VA hospitals reported 4,097 coronavirus cases as of Monday, and 241 veterans had died of the virus. Some of the hardest hit were facilities in New York City and the surrounding area, as well as New Orleans, Detroit and Washington, D.C.
The Little Rock VA reported 17 cases Monday, and two veterans were hospitalized. One veteran, in his or her 70s, died Sunday at the Little Rock hospital.
Williams was the hospital's first coronavirus patient to be placed on a ventilator for an extended time.
Williams and his family live in Conway, Ark., about 30 miles outside of Little Rock. He coordinates services for student veterans at the University of Central Arkansas, D'Anna Williams is a nurse at the University of Arkansas for Medical Sciences.
Williams has no idea where he contracted the virus, he said. He became ill March 16, when he first felt an extreme case of chills.
"It was like if somebody dumped ice water on you — like bone-breaking chills," Williams said. "I've never experienced that before."
He immediately quarantined himself in the back room of his home. In the following days, he developed a fever, a cough and a headache.
After other tests ruled out the flu, Williams received a coronavirus test March 19. The Little Rock VA informed Williams about his positive test results March 22. By then, he had lost his sense of taste, was short of breath and needed to be admitted to the hospital.
The day Williams went to the Little Rock VA, D'Anna started a two-week quarantine in case she also was infected. She received daily updates from Williams' respiratory therapists and passed the information to their three kids, but no one was allowed to visit him.
D'Anna received an outpouring of support from friends and family, as well as from Marines who served with Williams. He served with an infantry unit — the 3rd Battalion, 9th Marines — in the mid-1990s.
"A lot of my Marine buddies were instrumental in keeping her encouraged and positive," Williams said. "It's a good thing to have good friends and a lot of people praying."
Williams is better, but he still has a long recovery process, he said. He lost mobility and muscle mass during his eight days on the ventilator, and he still must regain lung capacity. He's on oxygen to help him breathe easier.
It's uncertain whether the virus will have a lasting effect. Williams is undergoing physical therapy and will need follow-up appointments with his doctors.
"It's going to be a very slow, slow process," he said.
Williams advised that people follow the guidelines by the Centers for Disease Control and Prevention, including to socially distance themselves, to wash their hands frequently and not to go out unless it's absolutely essential.
"I don't think this virus is discriminating on who it gets," Williams said. "I wouldn't wish this on my worst enemy."
wentling.nikki@stripes.com Twitter: @nikkiwentling
wentling.nikki@stripes.com Twitter: @nikkiwentling