Lawmakers question whether VA can process blue water claims in time
---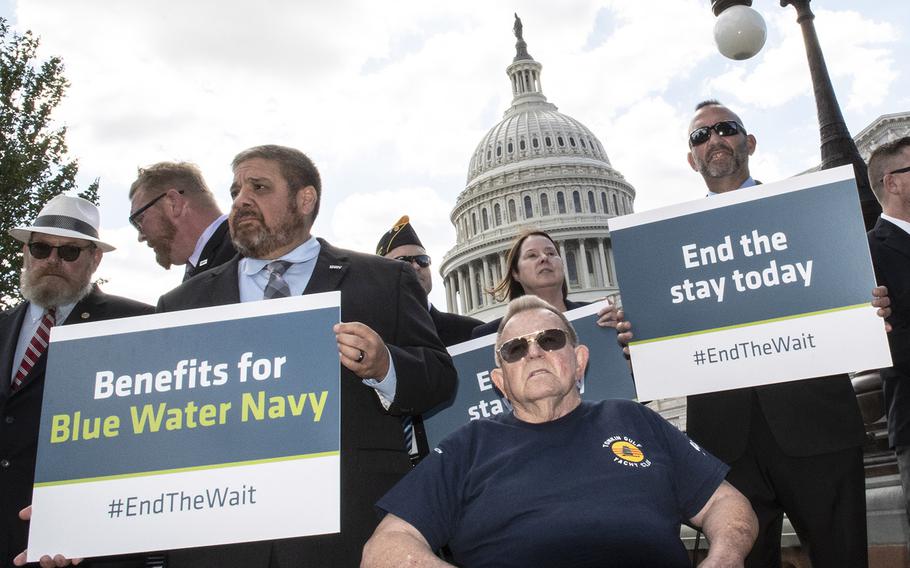 WASHINGTON — "Blue water" Vietnam veterans have to wait until next year before the Department of Veterans Affairs will start processing Agent Orange disability claims, but lawmakers are skeptical the VA will be ready.
"Between now and January, the VA has a lot of work to do," Rep. Mike Bost, R, Ill., ranking member on the House subcommittee on Disability Assistance and Memorial Affairs, said Wednesday at a hearing on blue water claims.
The Blue Water Navy Act of 2019 was signed into law in June and is set to go into effect Jan, 1 2020. The law says that veterans aboard American vessels offshore in Vietnam between Jan. 9, 1962, and May 7, 1975, are presumed to have been exposed to Agent Orange and might be entitled to disability benefits.
A key issue at the hearing was logistics, most notably involving a tool the VA is creating to catalog ship logs to prove veterans were in certain locations. Some lawmakers are skeptical of how accurate the verification could be, and it isn't ready for veterans advocates or lawmakers to see. If further verification is required, it can be a tall order for veterans to prove where they were deployed.
"I think back to my own experience … I don't know if I could prove where I was in Korea," Rep. Phil Roe, R-Tenn., an Army vet, said at the hearing.
Beyond verification, lawmakers are concerned about the labyrinth of potentially confusing forms a veteran must navigate to start applying for disability. In some cases, veterans can be denied or their claims process can be prolonged if the wrong form is submitted, and they can get conflicting answers on which forms they might need.
"We've gotten feedback that veterans trying to submit these claims are very confused. Do we really need to quibble about if they're submitting an old form, new form or having them resubmit forms multiple times?" Rep. Elaine Luria, D-Va., chairwoman of the subcommittee, asked a VA representative. "At what point … after 40 years do people need to actually get these benefits?"
Beth Murphy, executive director of compensation services at the VA, told Luria that veterans have access to a number of tools, including call centers, for information on submitting claims.
"So basically, you're putting it back into the veteran's lap," Luria said.
The VA says its workers still aren't trained to process blue water claims despite the tight timeline.
"Our folks are not trained to do this work yet," said Willie Clark, deputy undersecretary for field operations, citing logistical issues plaguing the process. "We want to make sure we get it right. We have rushed to do things sometimes." He added the aging of the former service members is increasingly a concern to get them the benefits they deserve while they are alive.
---
---
---
---