Lawmakers push VA for better communication as coronavirus cases grow
---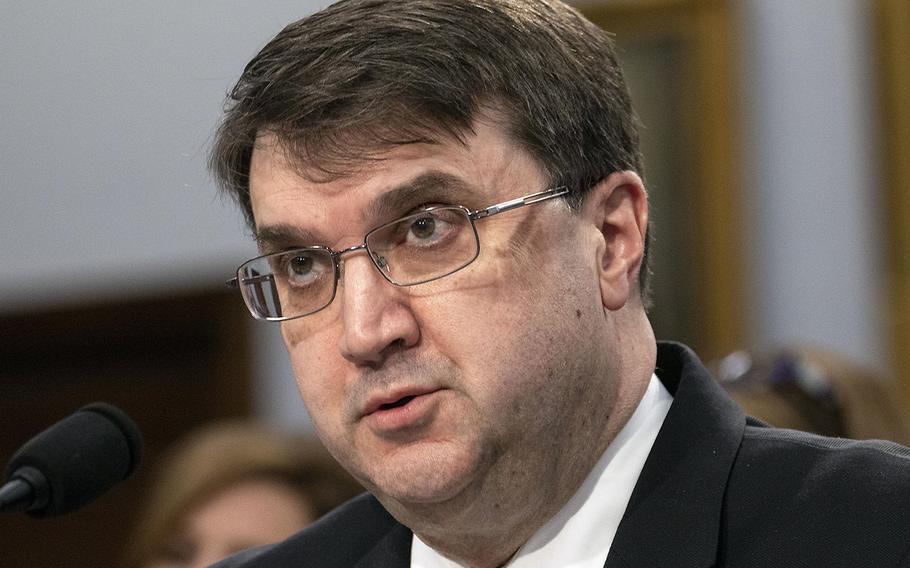 Read more coronavirus coverage from Stars and Stripes.
WASHINGTON — House lawmakers urged Department of Veterans Affairs Secretary Robert Wilkie on Wednesday to provide daily briefings about the agency's response to the coronavirus pandemic.
In a letter Wednesday evening, Republicans and Democrats on the House Committee on Veterans' Affairs told Wilkie that Congress needed updated information in order to oversee the VA's efforts and help when necessary. As of Wednesday afternoon, the VA was reporting 46 positive cases across the country and preparing for a "surge," Wilkie said during a White House briefing earlier Wednesday.
"As this public health emergency evolves almost hourly, Congress must be informed so it can act immediately to protect the health and safety of veterans who may be at significant risk during this pandemic," the lawmakers wrote. "We need reporting on what the [Veterans Health Administration], the nation's largest government health care system, is experiencing on the ground."
Reps. Mark Takano, D-Calif., and Phil Roe, R-Tenn., initiated the letter, which was signed by 25 other lawmakers. They asked for daily updates about the number of test kits in the VA's possession, as well as the number of veterans and VA employees who are tested, the status of those tests, and data on how long it takes to complete testing.
They want weekly updates from Wilkie about the amount of available beds, ventilators, protective equipment and medication at VA medical facilities. In those weekly updates, lawmakers also want to know the staffing levels of VA hospitals and clinics.
They asked Wilkie to provide the daily information starting Wednesday and to give the weekly updates every Friday, starting March 20. In addition, the lawmakers included a list of about 50 questions they wanted answered by March 25.
Wilkie participated Wednesday in a news briefing at the White House but had been absent from public appearances with the White House's coronavirus task force. He also had an on-air interview Wednesday morning with ABC News.
To mitigate risks and open more beds, the VA is barring visitors from its health care facilities and canceling elective surgeries, Wilkie said. When asked, he assured employees that VA facilities have a "stable supply" of protective gear for medical staff.
"I think we have set the pace for the entire country," Wilkie said at the briefing.
Eight of the VA's 46 cases are in Atlanta, five in Seattle, five in New Orleans, five in New York City, three in Denver, two in Maine, two in Sioux Falls, S.D.; and two in Hartford, Vt. The sites reporting one case were Kansas City, Kan.; Long Beach, Calif.; Ann Arbor, Mich.; Cleveland; Detroit; Fresno, Calif.; Montrose, N.Y.; New Jersey; Palo Alto, Calif.; Portland, Ore.; San Francisco; Las Vegas; Tomah, Wis.; and Tuscon, Ariz.
One veteran in Portland, Ore., died Saturday.
The agency, which runs 1,255 hospitals and clinics, said it had conducted 322 tests as of Tuesday night. VA Press Secretary Christina Mandreucci said the department has slightly more than 3,000 tests. The VA plans to first use the 1,200 tests developed by the Centers for Disease Control and Prevention, and then use the remainder — which were developed by the VA — only if necessary.
"VA's testing capacity meets current demand," Mandreucci said.
Wilkie expected to get more testing kits this week from the private sector.
In addition to treating veterans, distributing their benefits and running veterans cemeteries, the VA has a fourth mission: to provide emergency medical care to all Americans in times of crises.
A group of a dozen senators wrote to the VA last week, questioning whether the agency was prepared to take on its mission to act as a last line of defense for the American medical system. The response from VA officials, if there was one, had not been shared publicly as of Wednesday.
Wilkie said during the news briefing Wednesday that the VA would serve as backup for the American medical system when called on by Trump and the Department of Health and Human Services.
"Our fourth mission is to support the federal government in times of natural disasters and pandemics," Wilkie said. "We are the buttress force in case FEMA or HHS calls on us to deploy medical professionals across the country to meet crises. We plan for that every day. We are gaming out emergency preparedness scenarios and we stand ready when the president needs us to expand our mission."
Wilkie said on ABC News on Wednesday that the VA hasn't seen the influx of cases that other medical systems have experienced.
"We just haven't had the surge that the rest of the country has had," Wilkie said. "We're continuing to ramp up our supplies in the event we do get that surge."
Five federal unions that represent nearly 350,000 VA employees called this week for more protections for its workers, including more protective gear and better communication when a patient or other staff member tests positive for the virus. USA Today reported Tuesday that a dozen VA employees had positive cases of coronavirus.
Wilkie assured employees Wednesday that the department had a sufficient supply of protective gear and said he's working to get thousands more masks.
Wentling.nikki@stripes.com Twitter: @nikkiwentling
---
---
---
---