Lawmakers criticize VA for changing benefits process amid pandemic
by
Nikki Wentling
April 24, 2020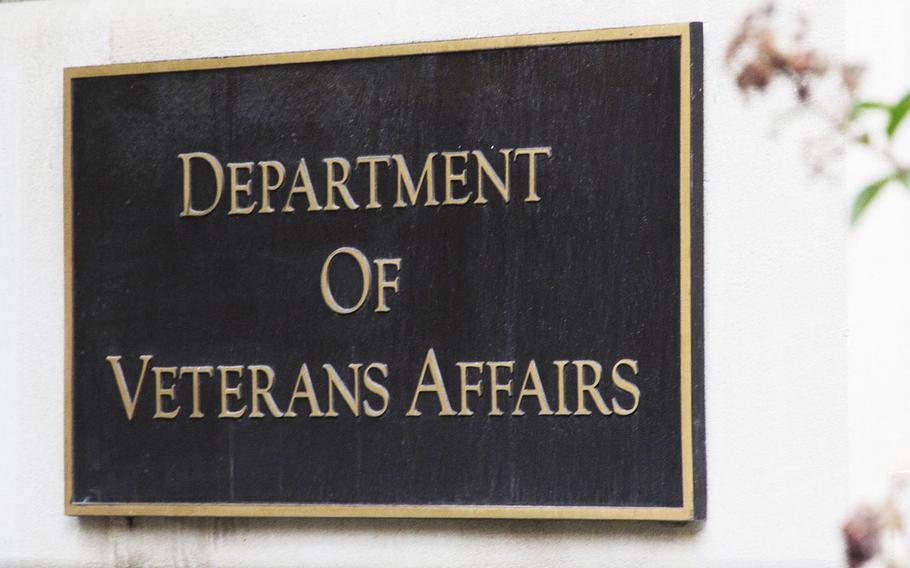 Stars and Stripes is making stories on the coronavirus pandemic available free of charge. See other free reports here. Sign up for our daily coronavirus newsletter here. Please support our journalism with a subscription.
WASHINGTON — A change to the Department of Veterans Affairs claims process set to take effect Friday will cause delays, create confusion and erode veterans' right to competent representation when applying for VA benefits, lawmakers and veterans groups argue.
The VA is ending a decades-old practice of allowing veterans service representatives to review benefits decisions for accuracy before those decisions are finalized and sent to veterans. As outlined in a VA manual, representatives accredited by the VA have 48 hours to review new rating decisions on behalf of their clients. The decisions determine the level of compensation for service-connected injuries and illnesses.
New Hampshire's congressional delegation was the latest group of lawmakers to urge VA Secretary Robert Wilkie to reconsider the change. Sens. Maggie Hassan and Jeanne Shaheen and Reps. Ann Kuster and Chris Pappas, all Democrats, asked Wilkie to postpone the change until there can be more discussion about its effects on veterans.
"We are deeply concerned that the VA is phasing out this quality review mechanism in the midst of the ongoing COVID-19 pandemic," the lawmakers wrote to Wilkie. "Our country is facing an unprecedented emergency, and confusion during this crisis only leads to further frustration."
The Veterans of Foreign Wars was the first to criticize the decision to remove the 48-hour review. The VFW said Paul Lawrence, the VA undersecretary of benefits, announced the change at a meeting with veterans groups in March. They were told it would take effect April 24.
During the 48-hour review period, representatives check for inadvertent errors that could save veterans from having to file appeals or to request VA reviews. VFW representatives find errors in 5% to 7% of claims, said Ryan Gallucci, a director at the VFW's office in Washington.
Over the past two weeks, 13 lawmakers have sent letters to Wilkie and asked him to reconsider. Eight groups wrote to President Donald Trump on April 15, urging him to intervene.
"During these uncertain times, VA should not implement broad policy changes to veterans' claims adjudication," the groups wrote. "In light of VA's refusal to pay heed to previous requests, we call on you to direct Secretary Wilkie to maintain the 48-hour review policy."
The VA decided to make the change because its online claims system made the 48-hour review process "obsolete," VA Press Secretary Christina Noel said.
In 2013, the department turned all paper claims into digital records and transitioned to an all-online claims process. The agency created the Veterans Benefits Management System, an online database.
"Since all veteran records, documents and other materials are now scanned or transmitted electronically, Veterans Service Organizations and other accredited representatives have access to their clients' records throughout the claims process in real time," Noel said. "This is a marked improvement over the limited, 48-hour review period under the old system."
Veterans groups argued that veterans would prefer representatives take the 48 hours to check for errors "rather than litigate their claims in the lengthy appeals process."
In addition to the VFW, The American Legion, Disabled American Veterans, Paralyzed Veterans of America, Vietnam Veterans of America, AMVETS, the Military Officers Association of America and the National Association of County Veterans Service Officers wrote to Trump about the issue.
Reps. Mark Takano, D-Calif., and Phil Roe, R-Tenn., leaders of the House Committee on Veterans' Affairs, wrote to Wilkie on Monday, and seven Democrats on the Senate Veterans' Affairs Committee wrote their own letter to the VA secretary last week.
wentling.nikki@stripes.com Twitter: @nikkiwentling