'It's out of control': VA nurses demand more protection against coronavirus
by
Nikki Wentling
April 21, 2020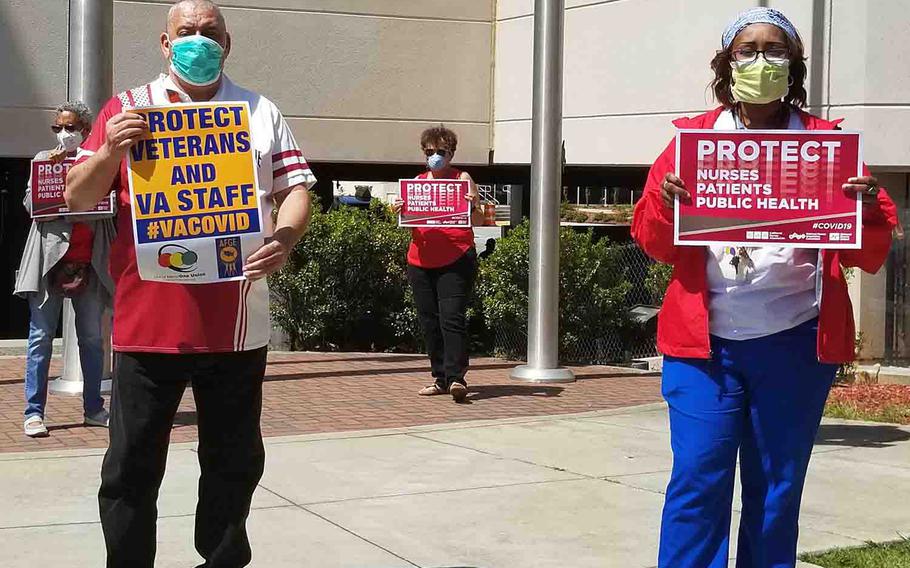 Stars and Stripes is making stories on the coronavirus pandemic available free of charge. See other free reports here. Sign up for our daily coronavirus newsletter here. Please support our journalism with a subscription.
WASHINGTON — As a nurse, Dana Horton's job is to keep patients alive — a task that has become more difficult as the coronavirus spreads and worsens in the United States.
"Nurses are experiencing something that we just haven't ever experienced before in this country," Horton said. "As a nurse, especially in acute care, you always want to do everything you can to preserve life. When it's out of your control, that's hard. And that's what this has been — it's out of control."
Horton, 48, is a registered nurse at the Department of Veterans Affairs hospital in Atlanta, where 109 patients have tested positive for the virus and six have died. Though coronavirus patients are coming into the Atlanta VA Medical Center, N95 respirator masks are given only to medical staff who are treating them, Horton said. Employees must go to a supervisor in order to get one.
Other staff members were instructed to wear surgical masks, which offer much less protection, she said.
The VA has authorized hospital directors to implement policies for medical staff to reuse masks or bring their own. Workers who are performing "low-risk care" on coronavirus patients can be instructed to use surgical masks if there aren't enough N95 masks, according to a memo sent last week from Renee Oshinski to hospital leaders. Oshinski is the VA deputy undersecretary for health for operations and management.
The memo states that medical staff in community living centers, spinal cord injury and inpatient mental health units would be provided with one surgical mask each day.
"Current supply levels do not support providing a mask to all [VA] staff," Oshinski wrote.
Horton, who has worked as a nurse for 26 years and at the VA for 17, worries that the rationing of personal protective equipment is creating a dangerous environment for her and other medical workers. Because of the nature of the virus — and all of its unknowns — she worries that she could be treating coronavirus patients who haven't yet tested positive.
"I don't want to have it and don't know that I have it, and then pass it on," Horton said. "What would be the best way to prevent that? To have proper PPE — at least an N95 for every health care provider coming into contact with a patient."
Horton, along with other nurses, protested between shifts Friday outside the Atlanta VA. The demonstration followed a similar protest at the Brooklyn VA several weeks ago. Both events were organized by National Nurses United, a union representing 185,000 nurses nationwide.
Another demonstration was planned for Wednesday at the Baltimore VA Medical Center by two other unions: the American Federation of Government Employees and the National Association of Government Employees. They're protesting the lack of PPE, as well as limits on telework and hazard pay within the VA Maryland Health Care System, organizers said.
National Nurses United organized a gathering Tuesday in front of the White House. Standing on the street, medical staff held signs with the photos and names of health care workers who've died during the pandemic and demanded more protective equipment.
More than 9,000 health care workers in the United States have been infected by the coronavirus, according to the Centers for Disease Control and Prevention.
Across the VA health care system, 19 employees have died and 1,708 have tested positive for the virus. At the Atlanta VA, 16 workers have tested positive. The VA facilities in New Orleans and the Bronx have the most cases among employees — 145 in New Orleans and 119 in the Bronx. Two employees at the Bronx VA have died. Other employee deaths were in Detroit and Ann Arbor, Mich.; Houston, Texas; Shreveport, La.; West Palm Beach, Fla.; Denver; Boston; Brooklyn and Northport, N.Y.; and Los Angeles. There were two in Indianapolis and three in Reno, Nev.
The VA said the number of employee cases proves that the department is keeping its workers safe. In a statement, VA Press Secretary Christina Noel said less than 1% of VA workers have tested positive for the virus, as opposed to the Henry Ford Health System in metro Detroit, where 2.1% of employees have contracted the virus.
"VA's PPE practices are keeping veterans and employees safe during challenging times, and the numbers prove it," Noel said in an email.
VA leaders have only recently acknowledged they're short on personal protective equipment. Richard Stone, executive in charge of the VA health care system, said last week the pandemic had made it difficult to estimate its incoming supply of masks.
Lawmakers criticized the department this week for not giving them a detailed accounting of their supply or informing them of policies to ration masks.
VA Secretary Robert Wilkie insisted in an interview with NPR on Tuesday that the department is following CDC guidelines. During the pandemic, the CDC has relaxed its guidelines for masks and allowed for workers to wear single-use masks for multiple days.
"That's not a normal standard at any other time," Horton said. "We should always take precautions, period."
The Atlanta VA Medical Center was preparing to treat non-veteran patients if there's a surge of cases in the area, Horton said. As of Tuesday, 5,599 VA patients nationwide had tested positive for the virus and 357 patients had died.
wentling.nikki@stripes.com Twitter: @nikkiwentling