Friends, advocates, Vietnam War veterans die days apart
by
Nikki Wentling
April 17, 2020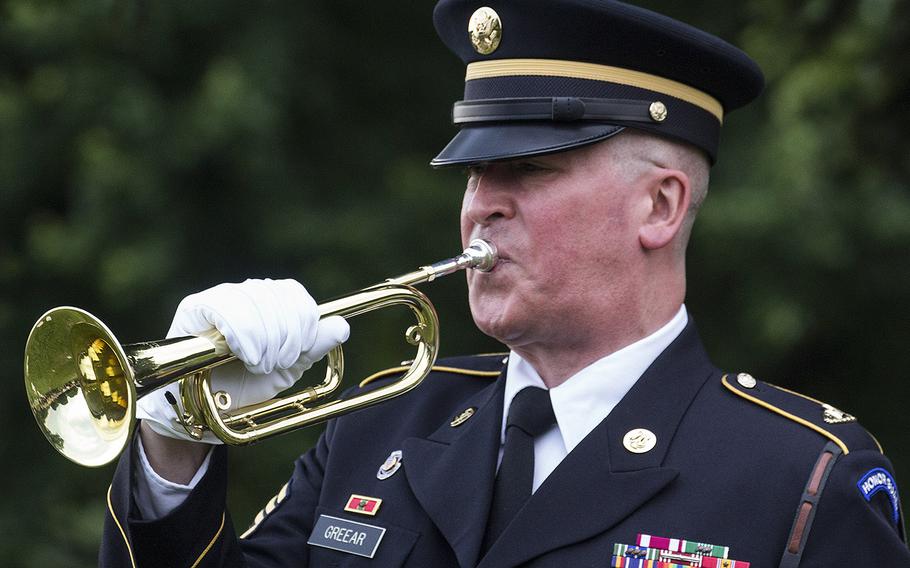 Stars and Stripes is making stories on the coronavirus pandemic available free of charge. See other free reports here. Sign up for our daily coronavirus newsletter here. Please support our journalism with a subscription.
WASHINGTON – Vietnam War veterans Charles Sharples and Craige Osborne were friends, neighbors and part of the gay community in California's Coachella Valley.
They belonged to the same veterans organizations, volunteered and traveled together. They particularly enjoyed cruises. Their last cruise, at the beginning of March, was a one-week trip to the Mexican Riviera aboard the Norwegian Joy.
When they disembarked in Los Angeles on March 8, Sharples was weak, confused and had a fever. His friend and caretaker, Rick Tice, took him directly to Desert Regional Medical Center in Palm Springs.
Sharples, 76, died March 16 of complications from the coronavirus. Three days later, Osborne died too.
Charles Sharples, a fierce trailblazer for gay veteransCharles "Charlie" Sharples, to all who knew him, was a proud Marine — and a proud gay man.
He lived openly since his late 20s, about the time he moved to the Coachella Valley in the 1970s. He arrived before Palm Springs and the surrounding area was home to a vibrant gay and lesbian community. Sharples was part of the wave that helped it become the well-known LGBT travel destination it is now, said Tom Hernandez, his longtime friend and a fellow Marine Corps veteran.
"He transformed this desert," said Hernandez, 62. "When he came in the 1970s, there were no gay bars or gay businesses. Slowly, he helped change it. He didn't conceal anything. He was very proud and very much out as a gay man."
Sharples worked most of his life at gay businesses, including as manager of C.C.B.C., a gay resort in Cathedral City, Calif.
He was a leader — and onetime commander — of the local AMVETS post, which has a predominantly gay membership, and he was a founding member of the Palm Springs Gay Veterans club. In 1999, he and Hernandez joined others in the club to march in city's annual Veterans Day parade for the first time — an action that made national news.
In 2001, Sharples helped establish the country's first-ever memorial to honor gay veterans. The LGBTQ Veterans Memorial was dedicated in Desert Memorial Park in Cathedral City. In 2018, the state of California designated it as the state's official memorial to gay veterans.
Sharples also advocated against Don't Ask, Don't Tell, the U.S. military's policy that barred openly gay and lesbian people from serving. The policy went into effect in 1993 and was repealed in 2011.
Hernandez described Coachella Valley as a "paradise for gay veterans" —and Sharples was part of what made it that way.
Sharples was also politically active and part of the local business community. Tice, who was gathering things at Sharples' home this week to get his affairs in order, said Sharples' closet was full of awards and recognitions for things he had done for the community.
"There was so much to Charlie," said Tice, 53. "He did it all."
Sharples grew up in Pennsylvania and went to Pennsylvania State University, but he didn't graduate. He enlisted in the Marine Corps in the mid-1960s. Hernandez said Sharples participated in the Tet Offensive, one of the largest military campaigns of the Vietnam War and one that eroded America's support for the conflict.
Sharples spent 10 years in the Marine Corps and was honorably discharged as a captain.
Later in life, Sharples developed Parkinson's disease, which is known to be caused by exposure to Agent Orange, a chemical herbicide used by the U.S. military in Vietnam. It wasn't until a few years ago that Sharples decided to file a claim with the Department of Veterans Affairs to receive monthly compensation for his disease.
Chad Shipley, a friend of Sharples and an Iraq and Afghanistan veteran, volunteered as a veterans service representative, helping local veterans get their earned VA benefits. Sharples was having trouble with his living expenses, and Shipley encouraged him to file a VA claim. Months after he filed, the VA gave Sharples a 100% rating – meaning he was eligible for the highest compensation level – and $15,000 of back pay.
Sharples told his friend and neighbor Craige Osborne the good news. Following Sharples' lead, Osborne, 78, worked with Shipley to file his own claim. It came back with a 70% rating.
With their new income, the two paid their living expenses and spent more time volunteering. They now had the money to take vacations, including cruises.
"They loved going on cruises together," said Shipley, 51. "I'm just glad their last experiences were something they loved doing. I'm thankful I was able to be part of that story and witness them be able to enjoy their lives."
Craige Osborne, a socialite who cared for his neighborsShipley will never forget Osborne's last words to him, days before his death.
After Osborne and Sharples disembarked from their final cruise and Sharples went to the hospital, Osborne returned home. He said he was feeling fine, Shipley recalled. At the time, no one knew Sharples was suffering from the coronavirus. It was the beginning of March, and the United States hadn't yet responded to the virus with any broad measures.
"I called him on the phone to check on him," Shipley said. "His last words to me were, 'Hey buddy, I love you. Never forget that your love is one of the most important things to me. Have a great night.'"
Osborne was found dead in his home March 19. An official cause was unclear, but after Sharples' doctors confirmed he was infected with the coronavirus, their friends believe that's what led to Osborne's death.
Like Sharples, Osborne was highly involved in the local gay and veterans communities. He was a past leader with Disabled American Veterans and belonged to the local AMVETS post. He and Sharples went to a group brunch every Sunday at the nearby American Legion hall.
Shipley knew him as a very social guy. He enjoyed cooking and entertaining and would often host parties of 60 to 70 people, Shipley said. He was rarely without his dog, a little furball named Tibby.
"He was an all-around, absolute sweetheart," Shipley said. "He loved people, he loved food. He was generous, kind, took care of his dog and worried about his neighbors."
Osborne was born in Everett, Wash., and was drafted into the Army in 1966. He was trained as an infrared repairman and served in Vietnam.
Osborne had a long history in the Coachella Valley. Shipley described him as a self-sacrificing, dignified person who did as much as he could for his community.
"Charles Sharples and Craige Osborne were fierce advocates who represented AMVETS remarkably in California," AMVETS headquarters said in a statement. "On behalf of our entire organization, our hearts go out to their families and close friends. They will be deeply missed, and their continued service to veterans never forgotten."
wentling.nikki@stripes.com Twitter: @nikkiwentling