Florida Navy veteran with coronavirus speaks out
---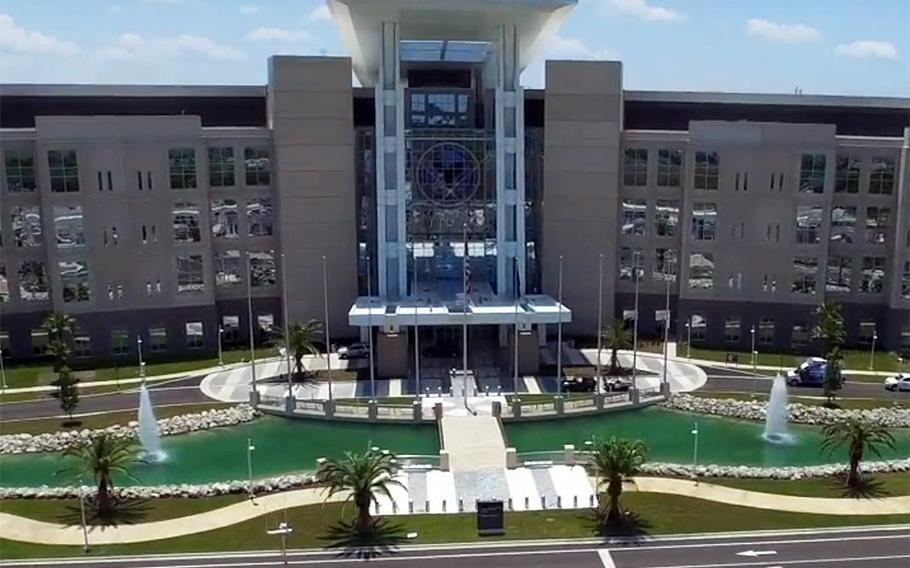 Stars and Stripes is making this story and other coverage of the coronavirus pandemic available free of charge. See other stories here, and sign up for our daily coronavirus newsletter here.
WASHINGTON — A Florida veteran tested positive for the coronavirus Wednesday after fighting for a test at the Department of Veterans Affairs hospital in Orlando.
U.S. Navy veteran Marlies Craley, 50, received a call from the Orlando VA Medical Center at Lake Nona on Wednesday evening, informing her she had a positive diagnosis of the coronavirus that was confirmed by the Centers for Disease Control and Prevention.
The diagnosis came after she went to the hospital's emergency department Saturday and tested negative for the flu.
"I had to really fight for the test," Craley said. "I had to fight, but [the doctor] listened to me and advocated for me."
Craley is one of over 80 veterans across the VA health care system with a confirmed case of the virus.
As of Thursday afternoon, the VA was reporting 83 cases, up from 44 on Wednesday. The New Orleans VA Medical Center reported 25 cases after having only five cases Wednesday. Of those 25 cases, 17 were quarantined at home and eight were receiving treatment at the hospital.
There were eight cases in Atlanta as of Thursday afternoon, seven in Seattle, seven in New York City, four in Denver, two in the Bronx, two in Maine, two in Portland, Ore.; two in Palo Alto, Calif.; two in Sioux Falls, S.D.; and two in Hartford, Vt.
The sites reporting one case were Long Beach, Calif.; Ann Arbor, Mich.; Dayton, Ohio; Cleveland; Detroit; Miami; Fresno, Calif.; Montrose, N.Y.; New Jersey; Palo Alto, Calif.; Portland, Ore.; Lebanon, Penn.; San Francisco; Las Vegas; Tomah, Wis.; San Juan, Puerto Rico; Riviera Beach, Fla.; and Tuscon, Ariz. One veteran in Portland, Ore., died Saturday.
The list did not appear to be all-inclusive. The Kansas City VA Medical Center in Kansas reported a positive case Wednesday that was not present on the agency's updated list Thursday. The Orlando hospital, where Craley received treatment, was also absent.
The VA, which runs 1,255 hospitals and clinics nationwide, said it had conducted 848 tests as of Thursday. Secretary Robert Wilkie said the agency had about 3,000 tests and was working to get more this week. On Wednesday night, Congress approved $60 million for the VA to boost its diagnostic testing.
Craley pushed for a test because she has fibromyalgia and asthma, conditions that could make the symptoms of the coronavirus worse.
After first being quarantined on the upper level of her home in Orlando, Craley was heading to the Orlando VA hospital on Thursday afternoon.
"The VA decided that with my symptoms and my health conditions, I am too high risk to home-quarantine, and they are admitting me," Craley said.
Craley's husband and son are showing symptoms of the virus, she said. Craley was in contact with the Florida Department of Health on Thursday, seeking tests for them and her mother-in-law, who lives with them. Her mother-in-law is at high risk because of her age and diagnosis of chronic inflammatory lung disease.
Getting tested
Craley had been closely following the news about the coronavirus in early March. Soon after she attended a statewide conference at the beginning of the month, she began to experience body aches and lethargy – the feeling of coming down with a slight cold, she said.
She called the Orlando VA on March 9 and requested a telehealth appointment. By the time of her appointment March 11, she had developed a cough and was prescribed an inhaler. The doctor ordered it, but Craley hadn't received it by March 14.
After calling the VA again March 14, when her cough had worsened, Craley was told to pick up the inhaler in person. At the VA pharmacy, Craley and her husband were stopped at a checkpoint by the gate and asked whether they had any symptoms.
"They had the checkpoint at the gate, which is amazing," Craley said. "They stood back six feet and asked me if I had symptoms. I said yes, and the color drained from their face."
Craley was told to park nearby, and nurses in full protective gear took her temperature. The nurses then called the VA emergency department and informed them that Craley was on her way.
Craley said she was taken directly to a doctor, who didn't think she had the coronavirus. After arguing her case, she was administered a nasal swab to check for it.
When asked whether any VA staff or patients in Orlando would be tested for the coronavirus following Craley's diagnosis, a local spokeswoman said only that staff members who have been exposed to a patient with a confirmed case are monitored.
"We also work closely with our infection disease teams and the Public Health Department to actively monitor any potential exposed patients or visitors," Heather Frebe, a VA public affairs officer in Orlando, said in an email.
Craley was told to stay home but to seek medical treatment if needed. As of Thursday morning, she felt her symptoms becoming worse. "I feel like I have an elephant sitting on my chest," she said.
By Thursday afternoon she was headed to the hospital.
Advice to others
Craley had two messages for the American public Thursday: The virus is not just a flu, as rumors suggest, and spring breakers flocking to her state should go home.
"On social media, people are saying it's just a flu or a little cold. That's not the case," Craley said. "People are looking at the extremes of either cold symptoms or seeing people in the hospital, but there's a lot of mid-range."
The Centers for Disease Control and Prevention are recommending people call their doctors if they believe they have been exposed to the coronavirus and develop a fever and other symptoms, such as cough or difficulty breathing.
The VA told veterans Wednesday to call their VA facilities before going in person if they had a fever, cold, cough or flu-like symptoms.
On Wednesday, the CDC released new data that shows 38 percent of patients sick enough to be hospitalized were younger than 55 – despite earlier data from China that showed the virus disproportionately affected the elderly.
Experts, lawmakers and others balked Thursday as young Americans flocked to beaches and other spring break destinations, ignoring the calls for social distancing.
Television news networks showed images this week of thousands of beachgoers in Florida. The governor of the state, Ron DeSantis, said he would not be ordering the beaches closed.
"That shocked me, seeing that many people out," Craley said. "A lot of people are still coming down… and that's insane."
Craley called the organizers of the conference she attended and was preparing a public post to her social media pages to inform her friends and family about her positive diagnosis. She wanted to tell as many people as possible in case she came into contact with them after she was exposed.
After the time she now believes she was likely exposed in early March, but before she felt symptoms, Craley visited a nearby beach and the Disney parks. Since that time, Disney closed its locations and the CDC recommended people not gather in groups of 10 or more.
"People need to take this seriously," Craley said. "Especially here in Florida, they're not."
wentling.nikki@stripes.com Twitter: @nikkiwentling
---
---
---
---