'Fantasy budget': House Democrats push back on VA spending request
---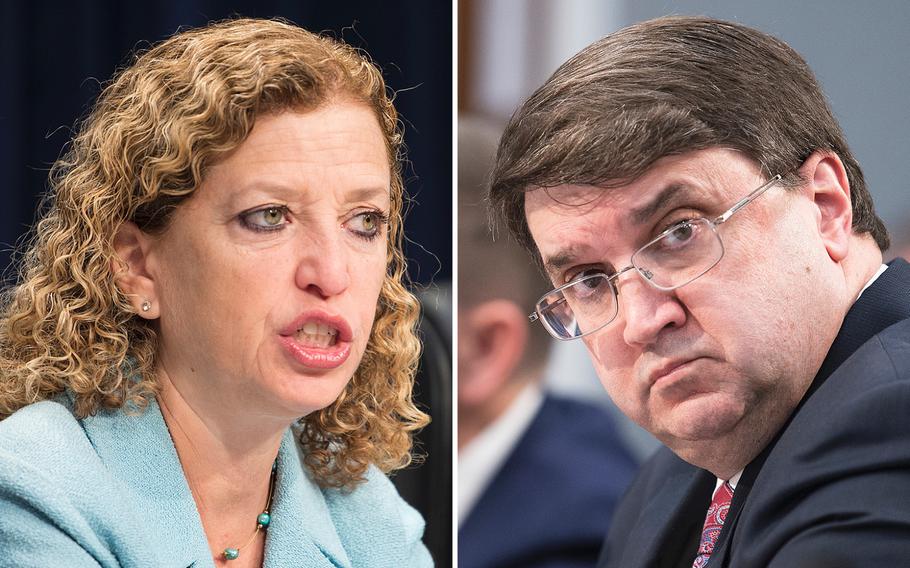 WASHINGTON — House Democrats on Wednesday blasted the Department of Veterans Affairs for requesting a large budget increase for 2021, calling the proposed boost in spending at the expense of cutting other agencies a political stunt.
"It's not a good faith proposal," said Rep. Debbie Wasserman Schultz, D-Fla., chairwoman of the House Committee on Appropriations subpanel on military construction, veterans affairs and related agencies. "I know it is an election year and it is a fun and easy thing to ask for the sun and moon and the stars to help a population like our nation's veterans who deserve every bit of it. And we would be right there, if possible."
Other Democrats on the committee also attacked the proposed increase, comparing it to President Donald Trump's proposal for deep cuts to other federal agencies, including a 9% cut to the Centers for Disease Control and Prevention amid a possible outbreak of coronavirus.
"This size of an increase ... it just really looks like the presentation of an unrealistic and political budget," said Rep. Ed Case, D-Hawaii.
The VA is requesting a 14% increase in its 2020 budget to $243.3 billion for 2021 and is the only federal agency seeking a double-digit funding boost. The VA is the second-largest federal agency, second only to the Defense Department in size and budget.
The proposed budget is Trump's fourth time requesting an increase for the VA, continuing a pattern set by previous administrations. The agency's budget has increased consistently since the beginning of the Iraq and Afghanistan wars.
"In a perfect world, this essentially fantasy budget is a wonderful request. We would love to provide veterans with the best care and benefits money can buy," Wasserman Schultz said during the hearing on the VA's budget. "However, the reality is we live in a world with budget caps. What is frustrating is the administration knows this, and they are essentially using our veterans as pawns in a political game."
VA Secretary Robert Wilkie pushed back, noting the gains that the department has made in shortening wait times for medical appointments and hiring health care providers and administrative staff as well as technological innovations such as a 5G hospital in Palo Alto, Texas.
"VA is no longer a place where excuses and systemic failures rule the day," Wilkie said. "[I was] asked to provide a budget to indicate to the country that veterans are a priority."
---
---
---
---