Ex-VA official: Residents of veterans homes 'left behind' during pandemic
by
Nikki Wentling
August 12, 2020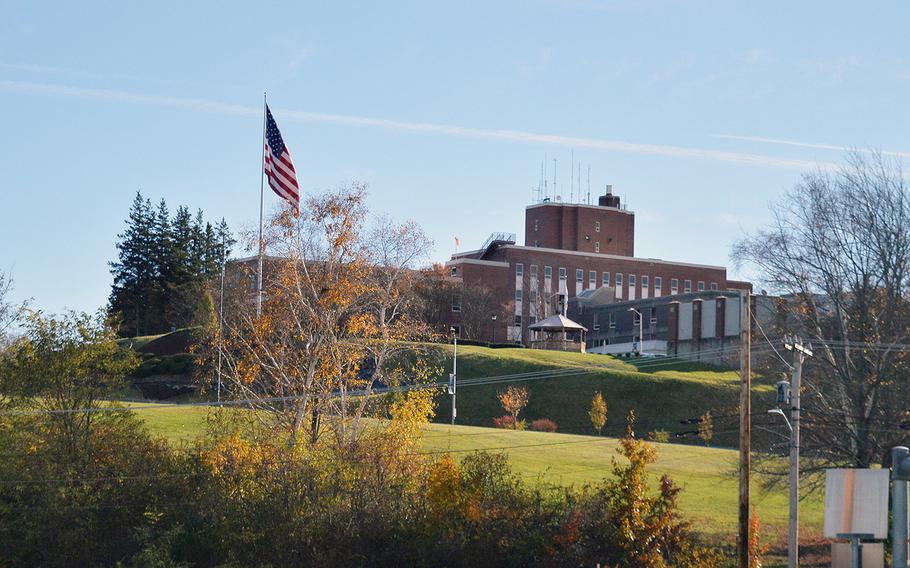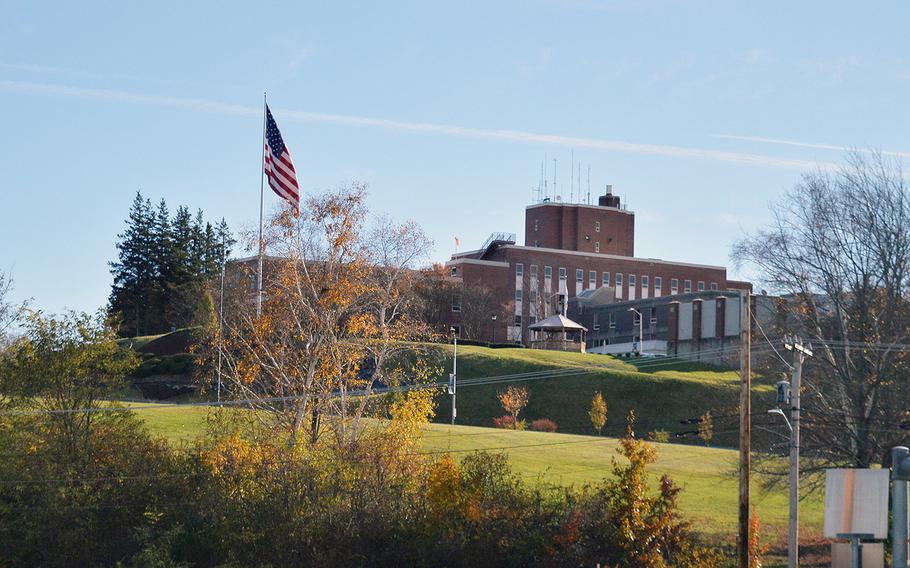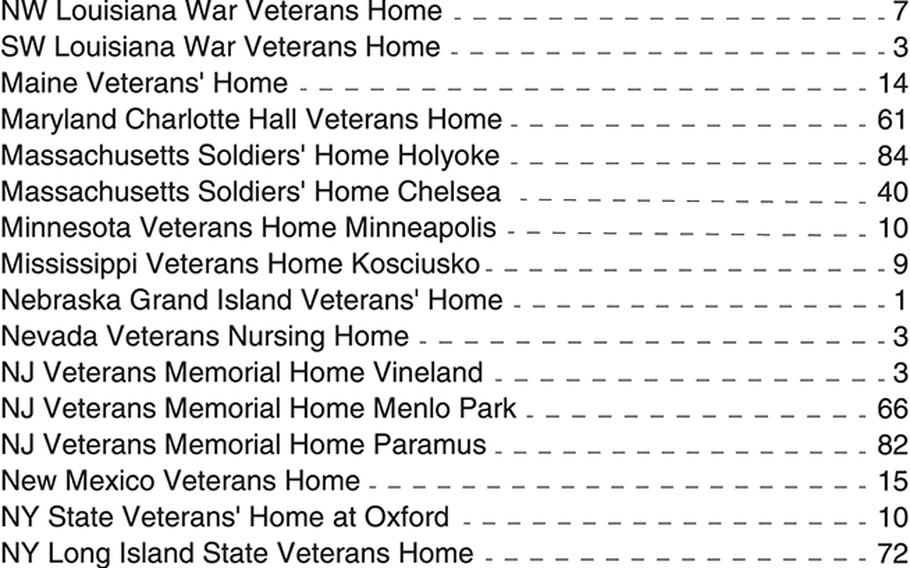 Stars and Stripes is making stories on the coronavirus pandemic available free of charge. See other free reports here. Sign up for our daily coronavirus newsletter here. Please support our journalism with a subscription.
WASHINGTON — When Linda Schwartz first heard about coronavirus outbreaks killing residents of veterans homes in multiple states, she wanted to dig more deeply.
Schwartz was the longtime commissioner of the Connecticut Department of Veterans Affairs. She served as an assistant secretary of the VA under former President Barack Obama, leading the VA's policy and planning initiatives. She's also a Vietnam War veteran who served in the U.S. Air Force for nearly 20 years, retiring in 1986 after she was injured in an aircraft accident.
When she watched the news this spring about veterans dying alone in nursing homes, Schwartz saw herself and her family.
"For many Vietnam War veterans, it was like we were back in Vietnam again and the same thing is happening — we're being left behind," Schwartz said.
Under the direction of Vietnam Veterans of America, she assembled a committee to investigate what had gone wrong. What they found was startling: a lack of transparency about the number of coronavirus deaths at veterans homes, and a VA leadership team that shirked responsibility for the facilities.
The committee assembled its findings and recommendations into a 16-page report that will be shared with members of Congress. The main takeaway, Schwartz said, was that the VA should be more involved with veterans homes to ensure they're in good condition. In the case of the coronavirus pandemic, better collaboration could've saved lives, she said.
"There is a sense that VA does not embrace the care of these veterans as being part of its mission," the report states.
Death total unknownThe seven-person committee started its work by tallying the number of coronavirus deaths at the 162 state-run veterans homes nationwide. They found that 1,011 residents had died as of July 17.
However, that number includes deaths at only 47 homes in 34 states. After months of calling state departments of public health and scouring data from the Centers of Disease Control and Prevention and Centers for Medicare and Medicaid Services, the committee couldn't obtain infection and fatality statistics for 115 veterans homes.
The federal VA does not require the homes to inform them of coronavirus deaths. VA Press Secretary Christina Noel said Monday that deaths at veterans homes aren't included in the department's coronavirus counts.
"The more we looked, the more we didn't see and the more we were suspicious," Schwartz said. "I thought, 'Why aren't they doing this?' When you don't report, you have to ask what's going on."
The issue of accounting for deaths at veterans homes was brought up last month at a hearing of the House Committee on Veterans' Affairs. Not all veterans homes are required to report information about coronavirus infections and deaths to the VA or the CDC, Rep. Julia Brownley, D-Calif., said at the time.
"Unfortunately, we do not know how many [deaths] have occurred at state veterans homes," Brownley said. "The department lacks a clear picture."
Schwartz said she believes her committee is the only entity to track deaths at the facilities comprehensively. According to their count, 33 veterans homes had seen 10 or more residents die of the virus.
The most deaths occurred at the Soldiers' Home in Holyoke, Mass., and the Paramus Veterans Memorial Home in New Jersey. Each facility reported more than 80 coronavirus-related deaths.
The Charlotte Hall Veterans Home in Maryland, the Menlo Park Veterans Memorial Home in New Jersey and the Long Island State Veterans Home in New York each reported more than 60 dead residents.
Shirking responsibilityAs news of the largest outbreaks started to break — particularly in Holyoke — VA Secretary Robert Wilkie was questioned about what went wrong. In multiple interviews, Wilkie said he didn't have direct authority over the homes.
In one interview with WSHU, an NPR affiliate, Wilkie said the VA had "moved into those veterans homes, even though by statute we have no ability to control or manage [them]."
These statements from Wilkie were "puzzling," "disappointing" and "disturbing," Schwartz's committee wrote in their report.
"I expected this secretary would be better than that statement he made, that it wasn't his responsibility," Schwartz said. "He's more than benefits and health care and cemeteries. He's more than the people that are enrolled in the VA. He should be the champion for all veterans. That, I think, is the heart of the matter."
The VA has admitted more than 120 patients from 12 veterans homes into its hospitals and has provided some of the homes with personal protective equipment, coronavirus test kits and nursing staff. These actions were taken under the department's "Fourth Mission," to provide emergency medical care for all Americans in times of crises.
Under law, the responsibility of operating state veterans homes falls to state governments.
"In other words, individual states — not the federal Department of Veterans Affairs — are solely responsible for the operation and management of state-run veterans homes and any problems that arise within them," Noel said Monday.
Schwartz and the rest of the committee argued the care of veterans in state homes should be considered part of the VA's core mission.
Though the VA isn't in charge of operating the homes, the agency does lead their oversight. The homes receive about $1 billion total in federal funding and undergo yearly inspections by the federal VA to ensure they meet a list of VA-imposed regulations.
The Government Accountability Office investigated the VA's oversight of state veterans homes in 2019. The GAO found that in some cases, the VA was the only federal entity to inspect the homes to see whether they met standards of care.
The department contracted with a third party to perform all its inspections in 2018, Sharon Silas, a GAO director, said last month. The VA allowed contractors to ignore some deficiencies at the homes, and in some cases, contractors permitted leaders of state veterans homes to fix problems during inspections to avoid being cited. The VA still has not completed all of the recommendations that the GAO made in 2019 to improve inspections.
Schwartz's committee agreed with the GAO that the VA's oversight was lax. As part of their recommendations, the committee suggested the VA meet with leaders of the homes to debrief about what went wrong during the pandemic and establish a plan for better communication.
In their report, committee members wrote that state veterans homes with strong ties to their local VA hospitals fared much better than those without any collaboration.
"I think the theme of our recommendations is that state homes are actually part of the continuum of care for veterans in America," Schwartz said. "And there needs to be a closer relationship, more investment. It's incumbent on both parties."
wentling.nikki@stripes.com Twitter: @nikkiwentling