Donald Stratton, one of last three remaining survivors of USS Arizona attack, dies at 97
---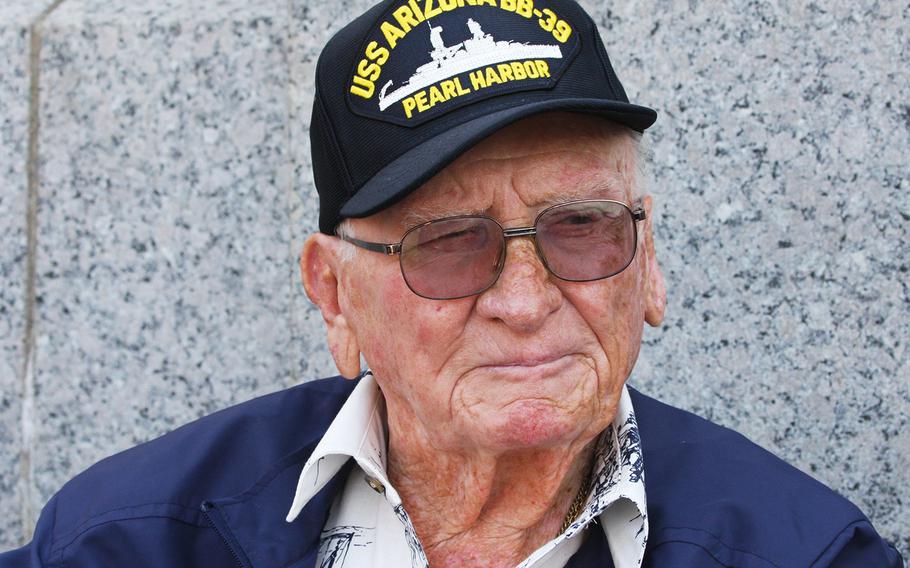 Donald Stratton, a sailor severely burned while aboard the doomed USS Arizona during the Japanese surprise attack Dec. 7, 1941, died Saturday at his home in Colorado Springs, Colo. He was 97.
His passing leaves only two living survivors of the battleship, Lou Conter and Ken Potts.
Stratton's wife of 69 years, Velma, and son Randy announced his death in a Facebook post Sunday, saying they were beside him when he "passed away peacefully."
"One of Donald's final wishes was that people remember Pearl Harbor and the men aboard the USS Arizona," the posting said. "Share their story and never forget those who gave all for our great country."
Stratton spent much of his latter life doing just that, and in 2016 he published the memoir "All the Gallant Men," recounting the surprise attack, and his injuries, recovery and subsequent return to combat in World War II.
Stratton often summed up the happenchance of being aboard the Arizona on the morning of the attack with, "Everybody had to be someplace. We were there."
The attack that turned the Arizona into an inferno killed 1,177 sailors and Marines, and Stratton barely made it off alive, burned over two-thirds of his body.
Born July 14, 1922, Stratton was raised in the small Nebraska town of Red Cloud and joined the Navy in the fall of 1940, he wrote in the memoir, which was coauthored by Ken Gire. Within a couple of months, he was one of the roughly 1,500 men serving aboard the USS Arizona. He was assigned to one of the ship's five portside anti-aircraft guns.
On the morning of Dec. 7, 1941, he stepped onto an outside deck, catching sight of Japanese dive bombers attacking Ford Island, the berthing point for the eight massive warships of Battleship Row: California, Maryland, Nevada, Oklahoma, Pennsylvania, Tennessee, West Virginia and Arizona.
With no time to fire up the Arizona's boilers to steam out of port, the ship's broad side became an easy target. At one point, a bomb ignited the forward magazines, causing a catastrophic explosion.
"Men stumbled around on the deck like human torches, each collapsing into a flaming pile of flesh," Stratton wrote. "Others jumped into the water. When they did, you could hear them sizzle.
"My T-shirt had caught fire, burning my arms and my back. My legs were burned from my ankles to my thighs. My face was seared. The hair on my head had been singed off, and part of my ear was gone."
Stratton and a handful of sailors huddled together likely would have died if not for a sailor aboard the nearby repair ship Vestal who managed to toss a rope across to the burning ship.
"We had to go hand over hand on that line, and that was probably 70 or 80 feet," Stratton wrote. "You know, you get to the middle of the line and it starts uphill again. That was really tough, with my hands and everything burned."
About two weeks after the attack, he was transferred to a hospital specializing in burn treatment on Mare Island near San Francisco to begin a long recovery, which included a treatment using maggots to eat away the dead and diseased skin left from the burns.
He was medically discharged from the Navy in September 1942 and returned to Red Cloud.
But as the following weeks passed in his hometown, he came to realize that "everything innocent and trusting and carefree" had been ripped from him with the attack, and he was overwhelmed with the urge to be back in the Navy.
He was allowed to reenlist in February 1944 but was required to repeat basic training.
Back aboard ship, he saw action in New Guinea, the Philippines and Okinawa.
He left the Navy at war's end, but he couldn't give up the sea. He worked for a diving company off the coast of California, and later on oil drilling platforms at sea.
USS Arizona survivors are allowed to have urns of their cremated remains entombed in the sunken hulk of the ship, which is now a memorial site.
Stratton said in the past that instead, he would be buried in Nebraska.
National Park Service historian Daniel Martinez, a longtime friend, explained Stratton's thinking during a news conference in 2014.
"He said to me that he came so close to being burned alive that cremation probably wasn't the way to go," Martinez said.
olson.wyatt@stripes.com Twitter: @WyattWOlson
---
---
---
---