Doctor says 'sham peer review' used to destroy his career after pointing out VA problems
by
Heath Druzin
December 15, 2014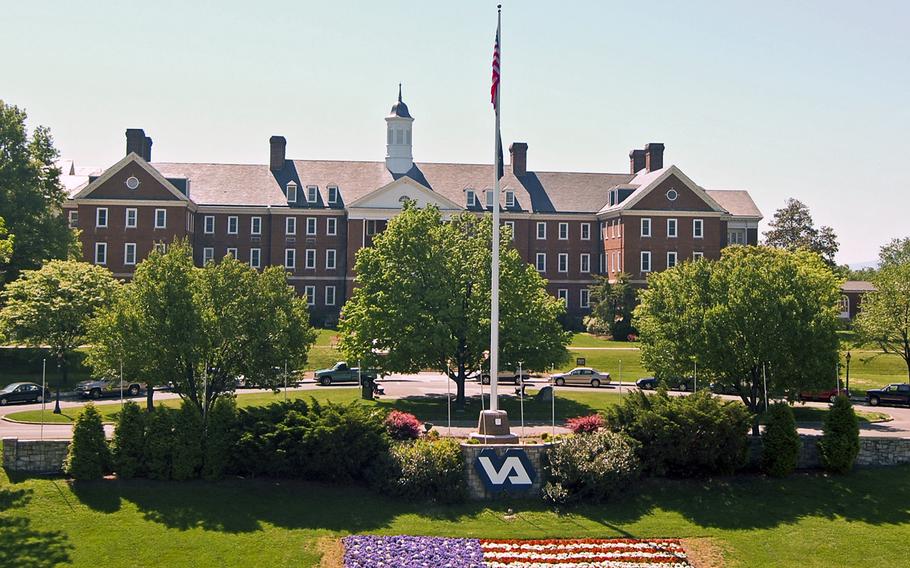 SALEM, Va. — For 24 years, Navy Cmdr. Jeff Hawker served his country, leaving active duty to continue treating his military brethren as a Department of Veterans Affairs doctor. After he started working at the Salem VA Medical Center, though, he said it took just a few months for officials at the medical center to oust him and to destroy his career after he reported dangerous medical practices.
"You serve and you come back and you run into the corruption and malpractice" of the VA , he said.
At a time when the VA is scrambling to hire doctors to make up for a critical shortfall, Hawker said he was the victim of a so-called "sham peer review," a problem many say is widespread in the VA and little reported because the victims fear bringing attention to their negative reviews.
Hawker said vindictive local VA officials have effectively ended his career after he voiced serious concerns about patient safety at a busy Virginia hospital, including a doctor performing procedures Hawker said he wasn't trained to do and life-threatening medical errors. Worse, Hawker said, veterans there are still at serious risk months after he reported the problems.
His allegations, passed through the office of Sen. Tim Kaine, D-Va., were enough to trigger a health care inspection by the VA Office of the Inspector General and an investigation by the Virginia Board of Medicine. Those inquiries are ongoing.
"We are working diligently on it," Veterans Affairs IG spokeswoman Catherine Gromek said.
Investigators for the House Veterans Affairs Committee, whose chairman, Rep. Jeff Miller, R-Fla., has aggressively pursued cases of wrongdoing by VA officials, recently invited Hawker to meet with them to discuss his case.
Discrepancies noted A Stars and Stripes review of documents related to Hawker's case shows discrepancies in his treatment by the hospital.
Seven months after revelations of data falsification and secret wait lists revealed a nationwide crisis in veterans' health care, most of the officials linked to the scandal are still on the payroll, and fresh reports of malfeasance continue to surface.
Miguel LaPuz, director of the Salem VA Medical Center, strongly denies Hawker's claims of mistreatment and dangerous health care practices.
"Do we subscribe to making sure the veterans receive good care or excellent care?" he said. "Yes we do."
Hawker, who has been unemployed since January, filed a whistleblower protection complaint with the Office of Special Counsel claiming wrongful termination and asking for resinstatement as a VA physician. He said he will wait for that process to play out before deciding whether to file a lawsuit.
The negative review has put "the scarlet letter on my chest," said Hawker, 47.
In October, he had a moving truck rented to take his possessions to Las Vegas, where he thought he had a job waiting for him. At the last minute, he said he got a call from a hospital official saying there would be no job offer because of the Salem review. An earlier offer from a Montana hospital was rescinded for the same reason, Hawker said.
"Basically they've made me unemployable," he said.
Noticing problems As a child, Hawker looked up to his Marine father and from a young age dreamed of becoming a pilot. When poor vision derailed his plan, he joined the Navy, which put him through medical school. He stayed on active duty for 24 years as a Navy radiologist and remains in the Navy Reserves.
Jorge Guerra mentored Hawker for two years during his medical residency in Miami and said he was impressed with Hawker's performance and work ethic.
"He was a very good physician," he said.
In October 2010, Hawker deployed to Afghanistan. As an interventional radiologist working in a trauma ward at Camp Leatherneck, a sprawling Marine base in Afghanistan's Helmand province, Hawker saw the worst horrors of the battlefield — shredded limbs, disfigurement, death. He said the sacrifices he saw disturbed and inspired him.
"I'll never forget my first double amputee," he said, shaking his head.
Moved by his experiences in Afghanistan, he opted to become a VA doctor when he retired from the service.
In April 2013, Hawker started work at the Salem Veterans Affairs Medical Center. The center and its five satellite clinics serve more than 110,000 veterans in a 26-county area of southwestern Virginia.
The trouble started almost immediately, Hawker said. When co-workers noticed he was putting in long hours, Hawker said they told him several times that he was upsetting contract doctors paid to pick up hours not covered by the staff.
Hawker didn't heed the warnings.
He said he also noticed unsafe practices in the hospital, one of the most egregious being a mismanagement of a patient who appeared to be having a stroke. When the patient began exhibiting signs of a stroke, a senior doctor did nothing, putting the patient's life at risk, Hawker said. The patient lived, but Hawker was disturbed and said he began lodging his concerns with colleagues and superiors.
LaPuz disputed those allegations and said Hawker never mentioned concerns until after he was fired Jan. 3, 2014.
"He did not bring up the complaints until after the termination," LaPuz said.
According to documents reviewed by Stars and Stripes, Hawker did lodge concerns before being fired. A letter from the office of Rep. Randy Forbes, R-Va., confirming receipt of Hawker's concerns is dated Nov. 12, 2013, nearly two months before he was removed from federal service. Four reports he sent to the Virginia Board of Medicine are dated Nov. 26, 2013.
'Climate of fear' Echoing wider problems across the VA health care system, Hawker said there is a "climate of fear" at the Salem VA, with many employees looking the other way when they see something wrong for fear of reprisals. After Hawker started reporting unsafe practices, he said one medical technician interrupted him when he brought up a concern.
"She said, 'Dr. Hawker, don't tell me anything — the less I know (the better). I just want to be able to retire,'" he recalled.
Soon after, he got a letter announcing that the hospital would be reducing his salary due to "deficiencies" in his abilities. That letter came just two months after a contradictory letter granting his medical "privileges" after he successfully completed the customary trial period.
That letter, signed by Hawker's boss, Salem VAMC image service chief Rathnakara Sherigar, states that following "real-time observation" and review of his work from April to July 2013, Hawker was cleared to treat patients unsupervised. Two months later, he received another letter signed by Sherigar, citing his "limited competencies."
Sherigar did not respond to requests for comment.
Things soon worsened for Hawker. He was told his work was being reviewed and he was brought in front of a Medical Executive Board that included some of the people he had mentioned in his concerns. They determined he had made errors in patient care and that he was not qualified for his job.
Before the hospital moved to fire him, he was shown a proficiency report signed by Sherigar that gave him an "unsatisfactory" rating for his work during the same time period as Sherigar's earlier review that found him competent to perform his duties.
Hawker said he had never been shown either proficiency report until Oct. 17, 2013, three months after the end of the review period listed on the initial report. He suspects the reports were made retroactively to boost the board's case to fire him.
LaPuz denied any records were manipulated. He said Hawker's termination had nothing to do with retaliation and that he was treated fairly.
"It has everything to do with the findings of the case," LaPuz said.
'Cloak of secrecy' James Martin, a doctor and national representative for the American Federation of Government Employees, said he is working on multiple cases of sham peer reviews in which VA doctors have been forced out by unethical administrators.
"I've got all kinds of stories," he said.
According to Martin — who's not personally involved in Hawker's case — it's fairly easy for administrators to oust doctors because the entire process is done in house. Doctors who report wrongdoing or malpractice are often judged by the very same people they have criticized.
The problem recently has gotten the attention of Congress.
"We are aware that sham peer reviews are sometimes used within VA to retaliate against employees, and we are working to address the problem legislatively next Congress," according to an official with the House Committee on Veterans Affairs who can speak for the committee only anonymously.
A VA spokeswoman would not address the issue of sham peer reviews or whether the VA is looking into reforming the review process, instead pointing to measures the department has taken to protect whistleblowers from retaliation.
"VA is committed to creating an environment in which employees feel free to voice their concerns without fear of reprisal," according to a VA statement released in response to Stars and Stripes' questions.
The problem is less pervasive outside the VA partly because other hospitals tend to have a board of directors providing a check on administrators, Martin said. He would like to see VA peer reviews done on a regional basis, meaning complaints against doctors would be adjudicated by professionals at other hospitals rather than by the doctors' co-workers. That, Martin said, would eliminate most of the conflicts of interest that he said are marring reviews.
"There's a cloak of secrecy that gives them the power to do these things without transparency," he said about the current in-house process.
VA officials would not say specifically whether they are looking into changing the peer review process.
Unfortunately for doctors who find themselves the victims of such reviews, the results are available for future employers, and it's difficult to get the reviews overturned.
"It's like the kiss of death," Martin said.
druzin.heath@stripes.com Twitter: @Druzin_Stripes