Coronavirus almost ruins veteran's 90th birthday party. But neighbors pull off big surprise
---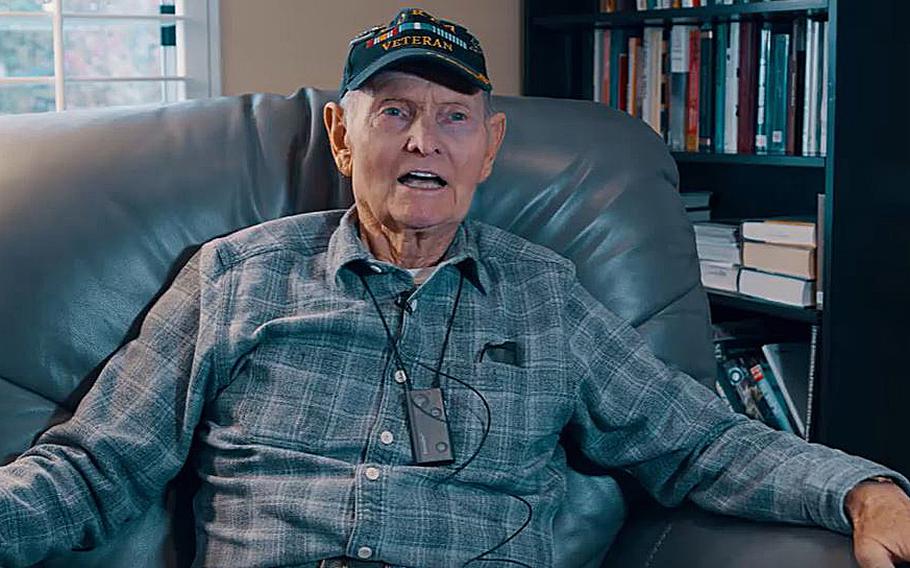 • Stars and Stripes is making stories on the coronavirus pandemic available free of charge. See other free reports here, and sign up for our daily coronavirus newsletter here. Please support our journalism with a subscription.
Milton Eatchel, a 90-year-old Korean War veteran, couldn't celebrate his birthday with a party because of coronavirus social distancing, so neighbors threw him a kind of reverse parade.
Instead of putting together floats for a stationary audience, they gathered outside their homes to cheer on Eatchel as he was driven through the neighborhood in Orem, Utah, which was also decorated with signs and balloons.
A minute-long video of the event that his granddaughter Sarah Allen posted to the Reddit social media site, caught the wider internet's attention after news site Goodable tweeted it on Friday and the Twitter account of Canadian Forces in the U.S. shared it later.
The Canadian military's tweet garnered over 500 retweets and 2,000 likes in a few hours on Saturday.
"Today is my grandpa's 90th birthday," his granddaughter said in the original Reddit post on Thursday. "He was bummed nobody could make it due to the outbreak, so his neighborhood threw him a surprise!"
In the video, a neighbor rushes out to the car with a gift of "a little chocolate during this crisis" which she says always helps. Still others rang bells and popped off confetti streamers.
"You guys are awesome," says Eatchel's daughter Jane Hayashu, who was driving the car. To others: "You're the best."
More than 50 households put out signs and came to celebrate, according to the YouTube channel Happily, which licensed a longer version of the video from the family. One of Eatchel's other daughters who'd planned to fly to Minnesota for the party, had canceled plans after an outbreak of the illness at her husband's workplace, it said.
Last week, President Donald Trump called for limiting gatherings to no more than 10 people, as states and other localities have imposed restrictions to slow the spread of the disease, which some fear could overwhelm health care facilities.
On Wednesday, Utah ordered a two-week closure of dine-in services at bars and restaurants in the state, which had more than 110 cases of the virus as of Friday.
The virus has been especially dangerous for the elderly, health officials have said. But, in one forum on social media, Eatchel's granddaughter said he'd initially been unfazed by reports of the coronavirus's spread until just a few days ago.
Born in 1930 in Murray, Utah, Eatchel joined the Air Force in 1950 during the Korean War after a buddy suggested enlisting before being drafted and having no choice, he said in a video shared on Facebook by the Provo City Government last November, ahead of a tribute to him and other veterans at a local high school.
"We enlisted the last part of December of '50," he said. "I got married (in June 1951) and in 10 days we were together and then I had to go to Korea," he said. "I was in Korea in August of 1951."
As an intelligence specialist, he helped determine what missions were flown by the air groups in Korea, he said, recalling a huge 1952 airstrike that he said involved some 400 B-29 Stratofortress bombers escorted by 350 fighters.
After a year in Korea, he returned to the U.S. and all he wanted to do was get home to spend time with his wife, he said. He served at Edwards Air Force Base in California after the war, the Provo Daily Herald reported in November.
The couple had six children — three born in California and three in Utah — according to an obituary for Marian Eatchel, who died in 2012 after a lengthy illness.
Milton Eatchel remains active for his age and often walks around the small Orem community where he lives, known as Meadowlark, Hayashu told Happily.
Throughout the video, Milton Eatchel thanks his neighbors repeatedly and expresses surprise over their birthday wishes.
"How'd they know to be out here?" he asks at the end.
"Well…" Hayashu replies before the video cuts off.
garland.chad@stripes.com Twitter: @chadgarland
---
---
---
---