Active coronavirus cases at VA have more than doubled since the start of June
by
Nikki Wentling
June 23, 2020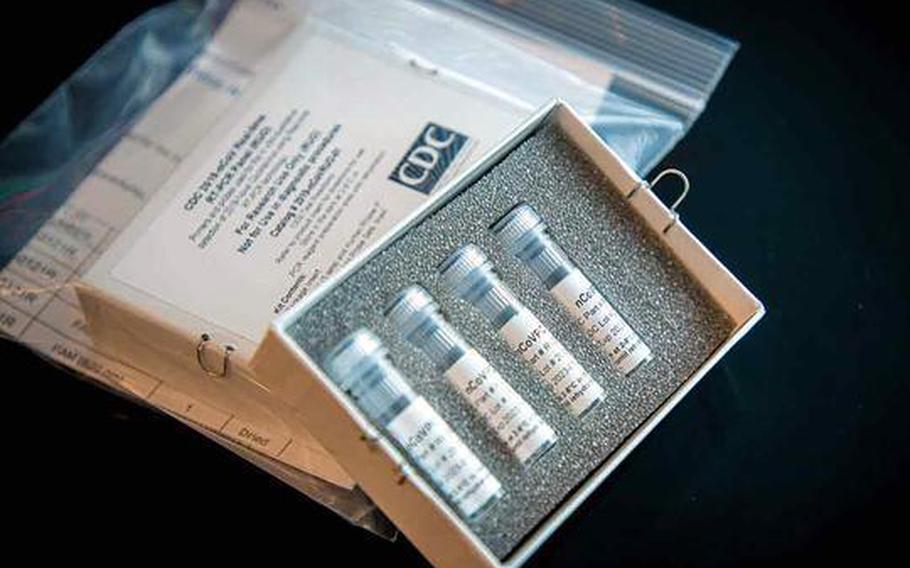 Stars and Stripes is making stories on the coronavirus pandemic available free of charge. See other free reports here. Sign up for our daily coronavirus newsletter here. Please support our journalism with a subscription.
WASHINGTON – The Department of Veterans Affairs started the month with a hopeful milestone – fewer than 1,000 patients remained sick with the coronavirus, the lowest case count since March.
In recent days, however, the number of cases has again climbed past 2,000. On Tuesday, 2,455 VA patients had active cases of the virus, an increase of 662, or 37%, from June 18. Since June 2 – the day the number of cases fell below 1,000 – there's been a 146% increase in active cases.
The VA attributes the surge to an increase in testing. The department is now testing an average of 3,863 people every day, said VA Press Secretary Christina Noel. Last month, the agency administered an average of 2,745 tests each day.
However, the department also said it's seeing clusters of the coronavirus in the areas of the U.S. that have become new hot spots, particularly Texas, Arizona and Florida.
The San Antonio hospital topped the list Tuesday for the highest prevalence of the virus among more than 150 VA facilities nationwide. Its total cases more than doubled since last week. On Tuesday, the hospital reported 162 cases, up from 79 on June 18. Houston had the third-most cases, with 99.
Overall in Texas, the state has recently recorded record highs of hospitalizations and new cases of the virus. Texas Gov. Greg Abbott said Monday that he would take additional measures to prevent spread of the virus if the cases continue to climb. The state reopened bars, restaurants and other businesses with limited capacity May 22.
In Arizona, where President Donald Trump was expected to hold a rally event Tuesday, the total number of cases among the state's population doubled in the last two weeks. The Phoenix VA Health Care System and the Southern Arizona VA Health Care System have also seen increases.
In Phoenix, the VA hospital reported 135 active cases Tuesday, up 57% since June 18. Southern Arizona was among the 10 VA hospitals with the highest number of active cases after remaining low on the list since the start of the pandemic.
Three VA hospitals in Florida – Bay Pines, Orlando and Tampa – were also among those with the highest number of active cases. Bay Pines, with 80 active cases, had experienced a 20% increase since June 18.
Wentling.nikki@stripes.com Twitter: @nikkiwentling