You can't beat trains for easy travel around Europe
by
Jessica Iñigo
May 22, 2003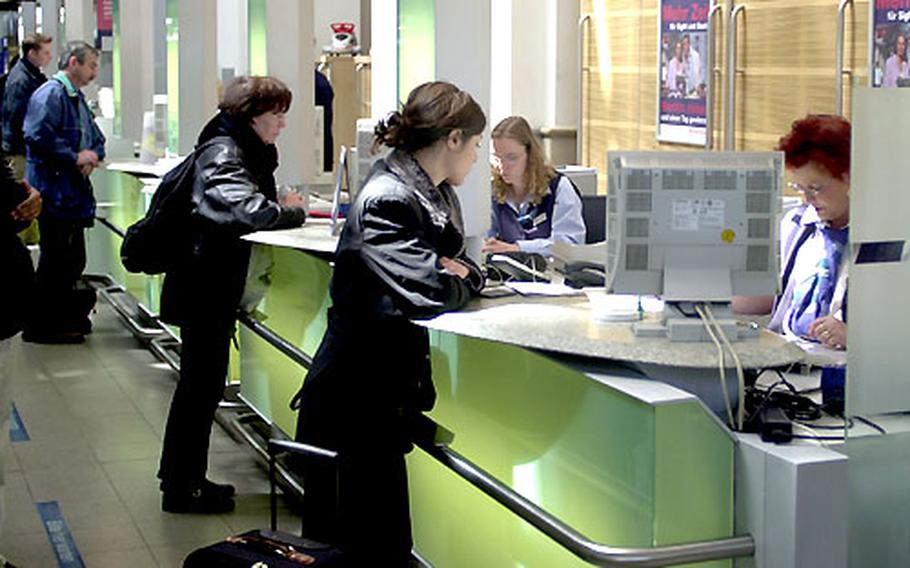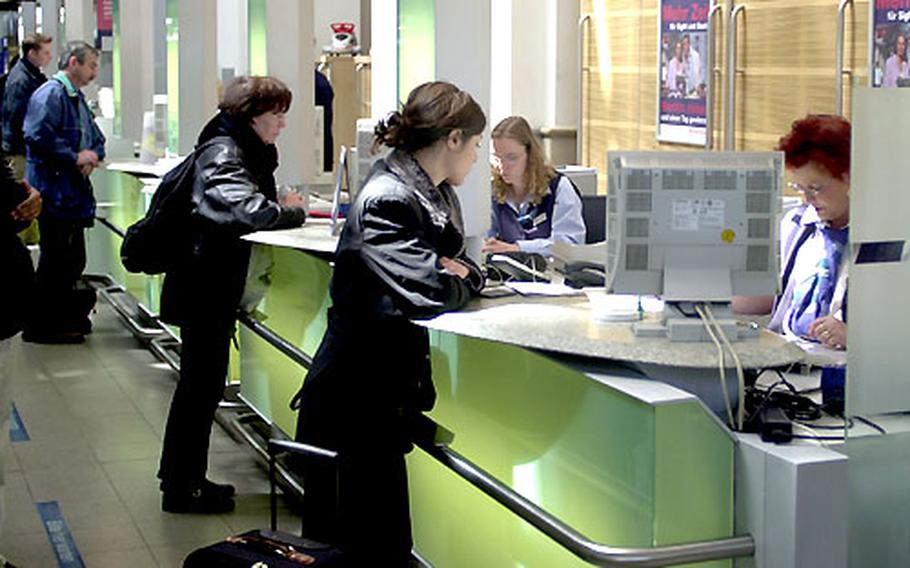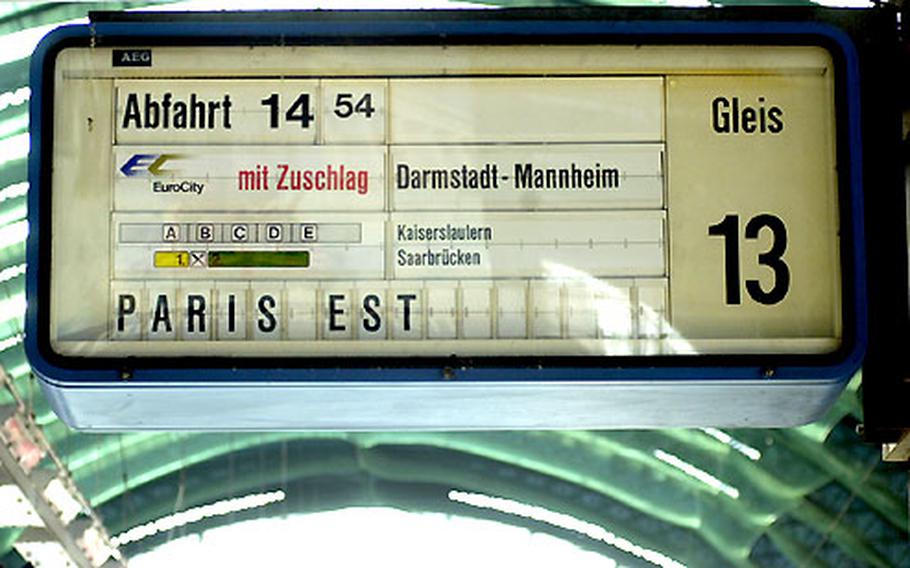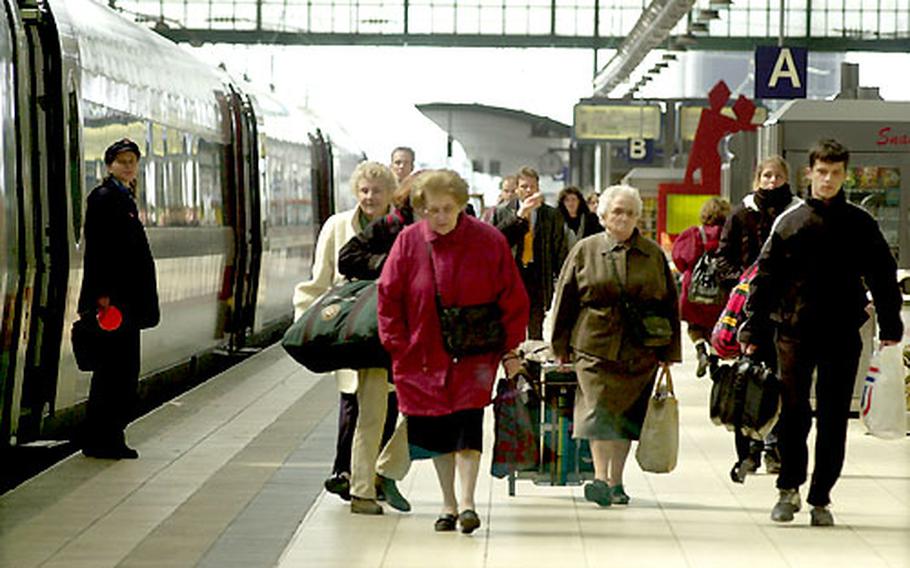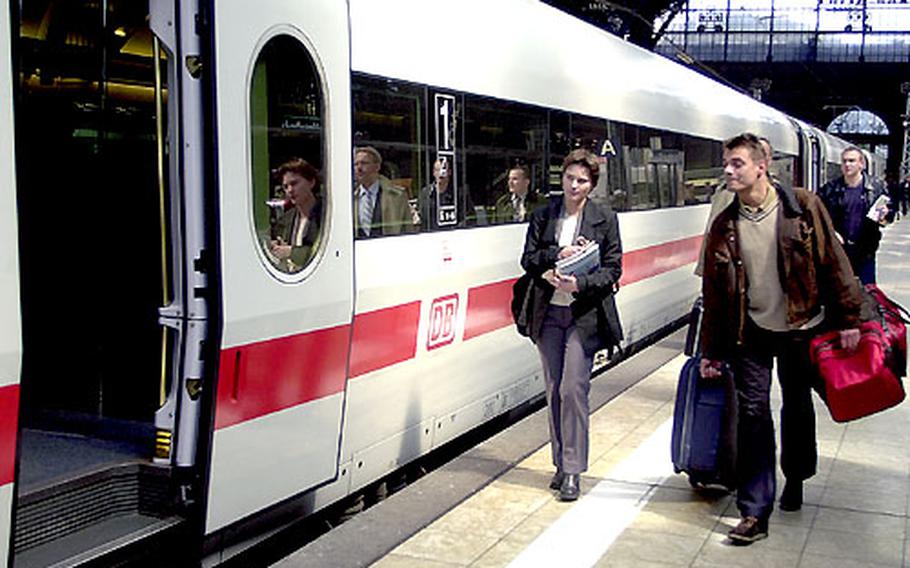 When traveling by car, you must stay alert. When traveling by air, you need to depend on others. And when traveling by bus, you've got time to kill.
Train travel: Now that's the ticket. You can drink, smoke, sleep, have no clue which direction you're traveling, and still get there in the wink of an eye.
Major cities and small attractions are linked by an extensive European rail network — a vast system stretching over 100,000 miles, as extensive in size and scope as the U.S. highway system. Plus, train travel helps to eliminate some of the hassles that can play a part in a complex European itinerary.
"I work with the teen center and when we travel it's usually in a large group by train. It's real simple. It's all laid out for you," said Nicolette Kreciewski, who travels with up to 30 students from the Darmstadt Teen Center in Germany.
"Even with that large of a group it's easy. You just hop on the train and go wherever you need to go."
Train travel is great if you want to go from city center to city center. On the flip side, convenience is out the door if you're looking for door-to-door service. And fly-by-the-seat-of-your-pants travelers could run into brick walls when trying to find accommodations during busy months throughout Europe.
"For me, it's all right to take a train, but sometimes it makes for more trouble," said Corinna Geringer, who has taken the train several places throughout Germany, as well as in Austria.
"When purchasing a reduced ticket on the train, you have to travel only on the exact train you reserved. If you miss that train, you have to go back and book another train and pay a small fee.
"Sometimes I'm not on time or ready to go when the train is leaving, so it doesn't always work for me.
"Also, the price of a train ticket just depends on where you want to travel. Sometimes there are cheaper flights for a city.
"But, I enjoy traveling by train, it's more relaxing than driving with a car."
European trains provide frequent service, are roomy, punctual and take passengers directly from one bustling city to the next without the bother of airport transfers or the use of a foreign map in traffic.
Plus, travel by rail offers some of the most breathtaking scenery in the eastern hemisphere — certainly more than what can be seen soaring 35,000 feet above the continent.
To see the sights from Amsterdam to Rome all that is needed is a Eurailpass. A basic pass is valid in Germany, France, Italy, Spain and Switzerland. For an additional small fee each type of Eurailpass can be extended to Austria, Belgium, Denmark, Finland, Greece, Hungary, Ireland, Luxembourg, Netherlands, Norway, Portugal, Spain and Sweden.
Eurail also offers flexible passes that are valid on selected days from five to 15 days within a two-month period. It also offers the possibility of adding up to two more countries to the basic Eurailpass.
Plus, travelers 25 and under can receive a Youth Pass and multiple travelers can receive a Saver Pass at reduced rates.
Selected passes are sold at main city airports, but most American travelers can receive more variety through travel offices on military installations.
For more information and prices call your local SatoTravel or base travel office.
Eurail passes are not the only ones available for those who want to ride the rails. Most national train systems also offer them. Here is a look at some of them.
BahnCard
If you're frequent rider in Germany, this is the one to remember. When used correctly, BahnCard can save a lot of money.
Travelers who plan ahead and use their cards together can save up to 77 percent on the price of tickets. Single travelers save 25 percent on each ticket with the BahnCard and can add other savings easily with just a little planning.
BahnCards can be purchased at any Hauptbahnhof, or main train station, for 60 euros. Additional cards can be purchased for family members at reduced rates.
Also, CityNightLine trains, which offer sleeper cars, depart one city at night and arrive at another in the morning, offers special deals that can be booked on the Internet.
For a list of prices, deals, and getaways log on to www.bahn.de and click on the "International Guests" button on the top row.
Trenitalia Pass
If your rail travel is completely within Italian borders, the Trenitalia Pass is the cheapest way. All Trenitalia Passes are valid for up to 10 travel days within a two-month period. Passes are reduced for travelers under age 26, and groups of five or smaller can save with the Pass Saver reduced rates. Passes are sold at base travel offices in Italy, and at the Italian stations of Bari, Bologna C.le, Brindisi, Florence SMN, Genoa PP, Milan C.le, Naples C.le, Palermo C.le, Fiumicino Airport, Rome Termini, Torino Porta Nuova, Venice S.Lucia, Venice Mestre and Verona.
Passes can be issued no earlier than two months from the first day of validity.
For information on various price ranges and trips, log on to www.fs-on-line.com and click on the U.S. flag for a translation in English.
BritRail Pass
The BritRail Pass takes you anywhere in England, Scotland, Wales, and throughout Ireland, all the places the Eurail passes do not. Passes are sold at reduced rates for travelers 25 and younger, as well as reduced group rates. The BritRail Pass allows travelers to hop on and off the trains as much as they like and can be as low as $155 for any four days in two months. Also, day passes to specific cities or countries can be purchased.
Details, schedules and other useful information are available at: www.britrail.net.
And more...
More rail packages are available for every region in Europe, including the Balkans. Information can be found at www.raileurope.com, though booking information should be made at local travel offices on military installations or main train stations in various counties.
Deals, including train trip, hotel stay and breakfast, are offered at various train stations. When booking trips or looking for deals, ask train information tellers for translations of the latest deals.