Turkish merchants offer beautiful tableware at a good price
---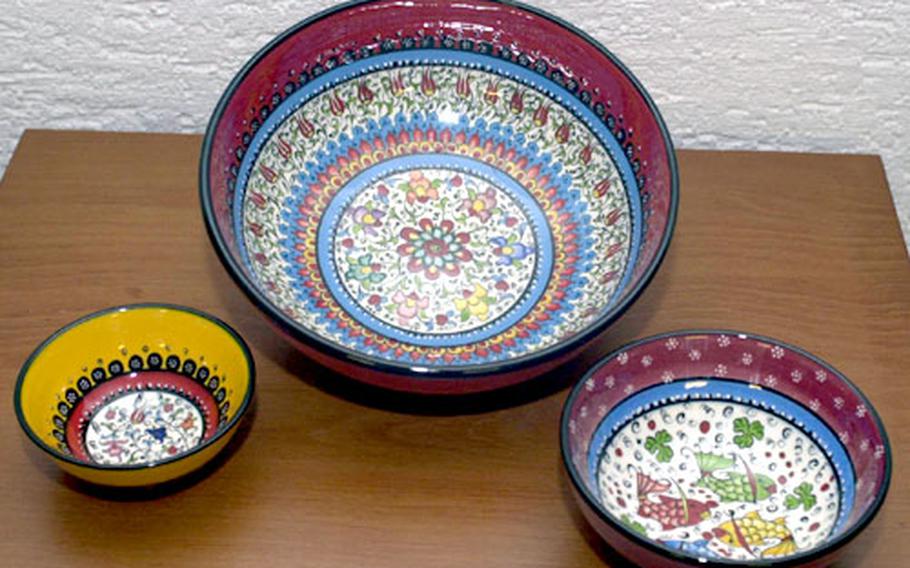 Anyone who has been based in Turkey knows there are more shopping temptations there than anywhere in the world because Turkish handicrafts still flourish.
Most people think of rugs when they think Turkish crafts. The reality, however, is only a dozen or so villages still make good traditional carpets, while entire villages of artisans often make everything from leather goods to clay pots.
The most overlooked handicraft by far is tableware.
Most people think only of Kütahya and Iznik tiles — the elaborate tiles for sale in every resort tourist town — when they think of Turkish ceramics.
Kütahya and Iznik blue and white decorative plates and tiles vary wildly in quality from kitschy, silk-screened tourist pieces to museum-quality pieces painted by the world-famous son usta (master craftsmen) of Turkey, Ahmet Sahin of Kütahya. Most follow complex patterns dating back to the Ottoman Empire, when flowery "sultan's signatures," prayers and poems in highly stylized Arabic script decorated palaces and mosques.
Lesser known is elaborate hand-fired, hand-painted dinnerware from that same tradition. While the quality is high, the price is the clincher. You can buy an entire place setting of hand-painted, hand-thrown dishes and bowl for far less than you would for the equivalent quality china from British-made Spode or Japanese giant Noritake, though considerably more than commercial, machine-molded plates at the post or base exchange.
It is not necessary to go to Turkish villages to buy the pottery. Perhaps the best place to buy is at an outlet in Turkey. Many of them have Web sites with telephone contacts who can give assistance in English.
Unlike basic white or mass-produced commercial goods, Turkish handmade china and porcelain is distinct for its vivid colors and fantastic designs.
The great thing about it is that it's beautiful and unique. The not-so-great thing is that most pieces are fairly fragile and not dishwasher or microwave safe, says Sue Rendell, owner of Unusually Yours, an Oxford, England-based importer. The thin glaze over the paint can take daily use as long as the piece is hand washed.
"I use mine all the time, and mine aren't chipped," Rendell said.
That said, some Turkish ceramics are more fragile than normal Kütahya decorative pottery, she said.
Unusually Yours sells Nimet, a design house taking its name from the woman who created it, Rendell said. Other commonly available design houses include Altin Cine and Feta china, which Unusually Yours does not carry.
Nimet's contemporary plates and bowls are decorated with fish or flowers in bold colors such as cobalt blue, and pink, Rendell said. Feta, by comparison, offers more traditional abstract Turkish designs, though both are considered part of the Kütahya tradition, more refined and detailed than what Rendell calls "rustic pottery."
Rustic pottery is rougher, thicker and less refined than the glossy Nimet, and common motifs are whirling dervishes, sultan's signatures, birds, ships and fish, Rendell said.
Unlike Nimet, rustic pottery is only for dry foods or table decoration. "You can't put liquid in it because … it would just leak through, it's so porous," Rendel said.
Now for the bottom line: Nimet is about one-third the price of Port Mary, a comparable British brand of china, Rendell said. A place setting of Nimet — dinner plate, salad plate, saucer and a bowl — goes for 104 pounds, or about $160, Rendell said. A rustic pottery plate goes for about $25.
---
---
---
---