Trip to Greenland offers a chance to spot the large, wooly musk ox
---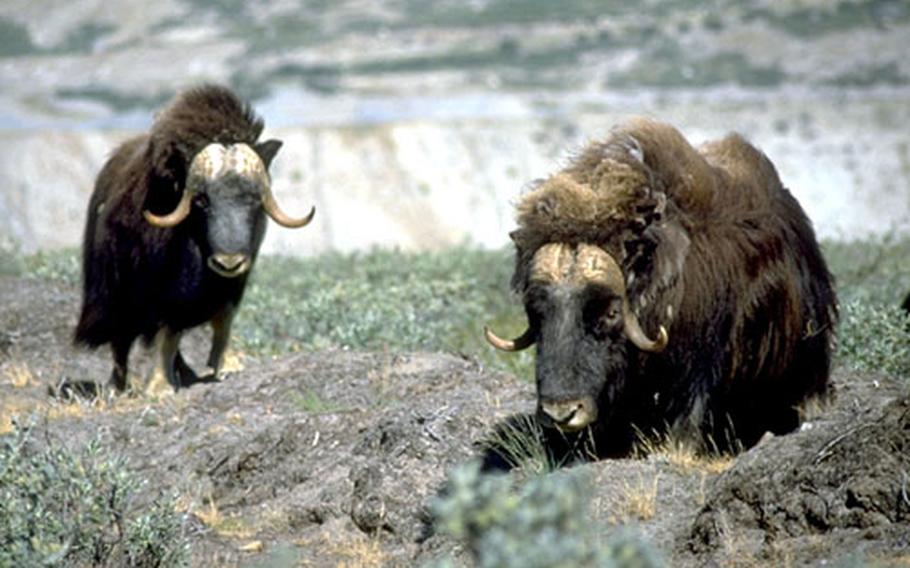 We're up on a hill, the four Danish tourists and me, squinting across a sun- streaked field in Greenland, trying to make out the details.
In the distance, a dark-brown object glides across the grass, pausing here, stopping there, gliding on again.
Were it not for the keen eyes of our teenage guide, we likely would not have spotted it at all, but there, in the full light of day is the thing we had come thousands of miles to see — a live musk ox.
It might not sound like much to some — gazing through binoculars at the arctic equivalent of a cross between a water buffalo and a bison — but to anyone whose ears prick up when they hear the word Greenland, the image likely resonates.
Down in the field, the large, wooly ungulate, with its curling horns and monstrous hump, is a sight some travelers would go to great lengths to see. In and around Kangerlussuaq, a small town in western Greenland, they have that opportunity.
Greenland sounds remote. It sounds distant and cold and desperately inaccessible, a polar netherworld of empty ice fields and screaming winds. But with its tourism infrastructure expanding, it is also becoming increasingly easy to visit, and Kangerlussuaq is a popular entry point.
Though remote, the Kangerlussuaq airport is busy on a summer day in June. On the 21st, the longest day of the 24-hour sunlight season, it is a peculiar crossroads of Greenland natives, Danish tourists and American scientists, among others, who have arrived by both plane and cruise ship.
Many haven't come to see Kangerlussuaq itself, but rather use it as a hub to get in and out of Greenland, ferrying through from places such as Copenhagen and Summit Station, the highest point of the country's ice sheet.
And truthfully, there isn't too much tourists would like to see there. Kangerlussuaq is a tiny village split in two by the local runway. On one side is the hotel and conference center, supplemented by a scattering of shops and a take-out pizza place; on the other is the town or "base" side, where many of the 500 locals live, according to Siine, bartender at hotel bar.
It's called the base side because, Kangerlussuaq was a U.S. air base built in the 1960s to support northern flight operations and keep an arctic radar station supplied with provisions.
But when the base closed, commercial enterprise took over, and today the airstrip is a nexus for Air Greenland and a part- time residence for the 109th Air Lift Wing out of Schenectady, N.Y., which supports science projects here and in Antarctica.
Entrepreneurs have embraced the town's transitory nature by offering a small suite of short tours that allow customers access to once-in-a-lifetime-type activities between flights.
One of the most popular is the ice cap tour, in which tour organizers bus visitors along 90 minutes of bad road to the edge of the colossal Greenland ice sheet, and allow them to walk on the verge. There are several variations of the tour, which last about four to five hours.
But for those who have seen large glaciers or are drawn in by the word "safari," the Musk Ox Photo Safari offered by Kangerlussuaq Tourism may be too much to resist. Its Web site, www.greenland-guide.gl/kangerlussuaqtourism, shows impressive close-ups of the prehistoric oxen scowling at the camera from beneath bell- shaped horns.
The reality is a little different.
On a recent tour, the four Danes and I were driven 10 minutes to the top of a nearby hill where the oxen are known to roam. We got out and scanned the landscape. Sure enough, within 10 minutes a dark, bulky object moseyed into view, a distant blotch in the valley below.
It seemed to be enough for our guide, however, who offered no information about the animals, and we watched it for about 10 minutes before it disappeared.
Still — it was a musk ox, a rare sight for most humans in the world, but one that anyone with 90 minutes in Kangerlussuaq can experience.
---
---
---
---