Traveling family cherishes memories
by
Leah Larkin
June 3, 2004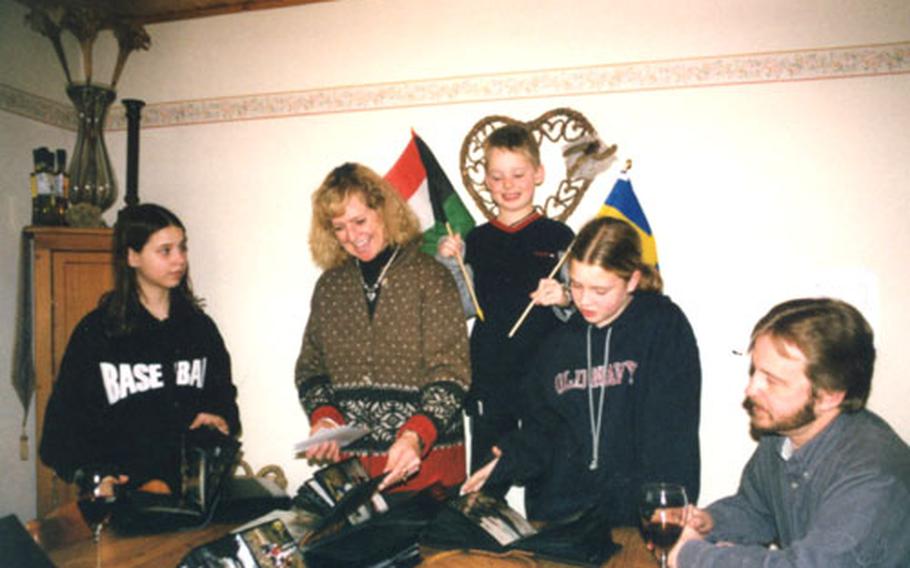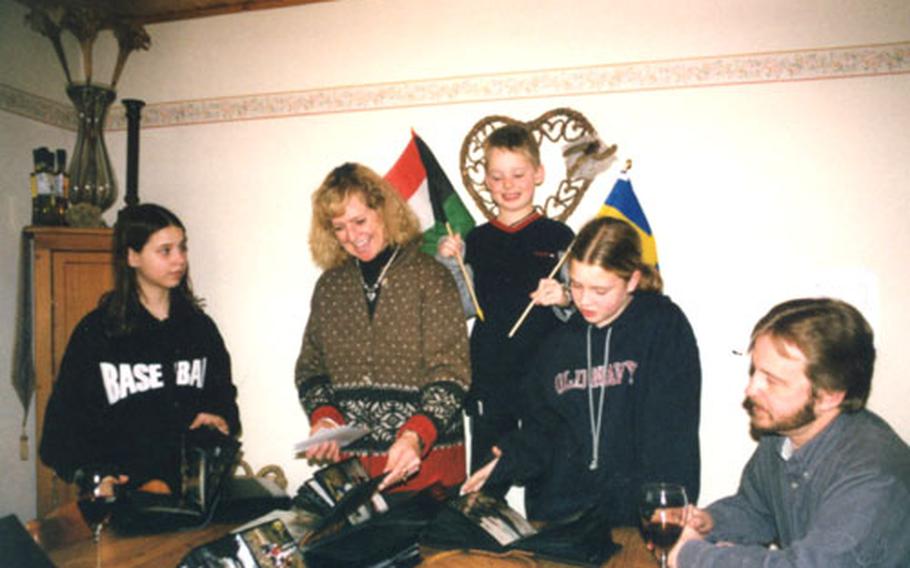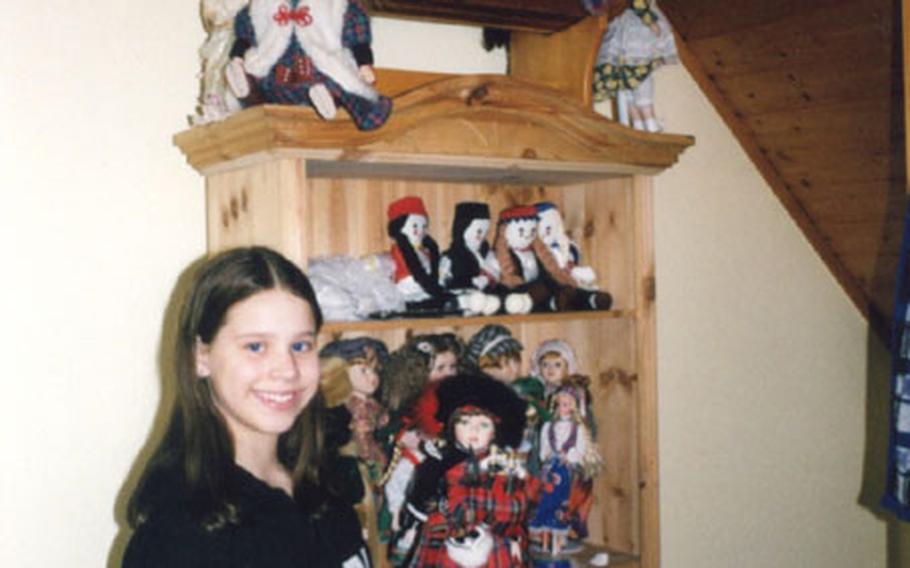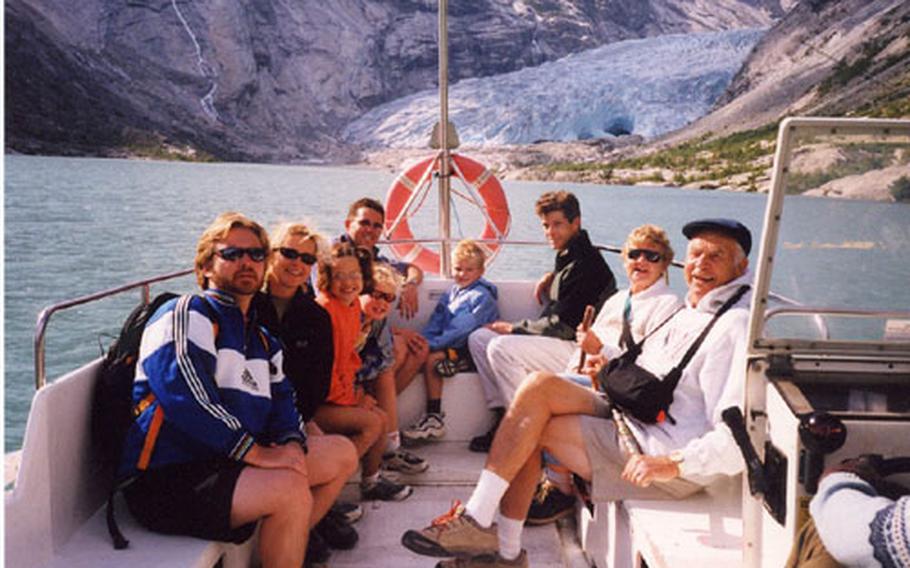 Listening to Jeanne McDonald talk about her travels makes you want to start packing.
She's enthusiastic and exuberant about everything and everywhere. In four years the McDonalds (Jeanne, husband Kevin, and their three children, Casey, 12, Brooke, 11, and Brody, 8) have visited 21 countries, many more than once.
They've biked, hiked, camped, canoed, volksmarched, skied, gone rafting, fishing, swimming and skating. They've slept in the straw, in mountain huts and in youth hostels. They've traveled by van, train, boat and Ryanair.
Jeanne and Kevin McDonald, who until recently both worked at the Army and Air Force Exchange Service's European headquarters in Mainz-Kastel, Germany, lived in Europe before they had children.
"We tried to get back so the kids could experience Europe. I think we've done quite well," Jeanne said earlier this spring shortly before leaving for the United States, where both she and Kevin will assume new positions with AAFES in Dallas. "Travel is the best experience there is."
Even when things don't go as planned, the McDonalds have fun. She recalled a trip to Ireland in June when they expected beach weather. Instead they encountered gale-force winds and rain. They stayed in an a country house well stocked with CDs of Irish music, which they played every night.
"We just relaxed and enjoyed each other's company," she said. "When circumstances are out of your control, why sweat it?"
Flexibility is the key, she says. "We're flexible, easy travelers. Consider everything an experience, whether good or bad," she advised.
Organization and planning are also essential. Jeanne packs for a trip a week in advance. Her friends laugh at her, she says, but that way she doesn't forget anything.
And, she researches their destinations. She gets travel ideas from the Stars and Stripes' travel magazine, cutting out articles of places she wants to visit. Once she has decided on a destination, she e-mails or calls that country's national travel office. She requests a travel packet of information that is usually in the mailbox within two or three days.
She is also a fan of Rick Steves' travel guidebooks, which she finds easy to follow with "great maps and unusual places to stay." She is not big on the Internet for travel research, finding it too time consuming. She does, however, use the Internet for booking accommodations, rental cars and airline tickets.
Cheap airline tickets with Rynair are one reason the McDonalds have traveled so much. "We've been to every country they fly to [from Germany] except Finland. It's the best travel deal on earth," Jeanne says.
She gave some examples: round-trip tickets to Pisa for 25 euros per person; a 34-euro-cent flight to Montpellier, France; 99-euro-cent tickets to Sardinia. The latter was their most recent trip. With taxes, the family of five flew round trip to the Italian island for 140 euros.
The family was fortunate to live in Dexheim, only an hour from the airport at Hahn from which Rynair flies. Jeanne was always on the lookout for specials, and learned that if you see one you like, book immediately, as usually only a limited number of seats are available at the rock-bottom prices.
With Rynair, "you must be flexible," she says. For example, instead of departing on a Friday, you may need to leave on Thursday. Instead of returning on Sunday, you may need to fly back on Monday. And don't try to fly on European holidays — although she found American holidays great times of travel.
Food on board is expensive, Jeanne says, so she always packed a lunch for the family.
Food for a family of five can be expensive anywhere, husband Kevin added. If the whole family goes out to a restaurant, it can cost 70 euros or more. So, they always try to stay in places where they can do their own cooking.
"It's less stressful," Jeanne said. "Taking kids out to dinner is not always the most relaxing experience. We both like to cook. It's really fun to go into grocery stores and figure out what's what. We love trying different things."
The McDonalds have nine scrapbooks full of photos of their travels. Looking through them brings back vivid memories.
She recalled a time in Switzerland they went on what a guidebook called a "rewarding jaunt."
"It was the hardest hike of my entire life. We had to climb boulders to get to this place. Brody was only 5," Jeanne said, flipping through one book. After six hours of hiking, they reached a mountain hut where they all slept in one big room with hard-core hikers who couldn't believe her kids had hiked all that distance.
More Switzerland in another album. In Gimelwald, they slept in a barn ($12 for adults, $6 for children, including breakfast) where each family member got his own stable. "In the morning the farmer came with a tractor with fresh milk, cheese and eggs," Jeanne said.
At the Eisriesenwelt, the world's largest ice caves south of Salzburg, Austria, they rode a cable car to the top of a mountain where they were served dinner at a lodge. After dinner, the staff left, while the McDonalds spent the night ($10 per person). "We were the only people there. It was really fun," she said.
Last summer they visited Stockholm, Sweden, where they rented a "really cool" house on an island ($75 per night). In Salzburg, they stayed in a hostel in a monastery, the Institute of St. Sebastian ($11 for adults, $6 for children per night).
"Hostels are very affordable," she said as she points out the Salzburg hostel in the album. Hostels often have rooms for six, so a family of five can get its own room.
Pictures of Norway generated more stories. "My grandfather was born in Norway," Jeanne said. "My mom's dream was to see the house where he was born."
Her parents and brother and a friend accompanied them on this trip where they stayed in villas on the fjords that came with motorboats.
"One evening we went out in the fjords in the little motorboats. We tied the boats together and enjoyed a bottle of 'babble' wine and sang songs. It was fun…. We're kind of simple people. We don't need a lot of hoopla to be entertained."
Then there were the photos of Barcelona, where Jeanne had her purse snatched. Ever the optimist, she said they still had a wonderful time, just couldn't do as much shopping as usual.
"It was a good lesson for the kids," she added. "They learned to be aware when you travel."
The McDonalds don't intend to stop traveling now that they're back in the States. They plan to go houseboating in the Ozarks over Memorial Day, and on the agenda for the summer is an RV trip on the Alaskan Highway.
— Jeanne McDonald recommends the following Web site to keep track of your travels: www.world66.com/myworld66/visitedCountries.
— Leah Larkin, a member of the Society of American Travel Writers, now lives in France.
---
---
---