Tokyo: Celebrating faith at Honmonji Temple
by
Hiroshi Chida
October 9, 2003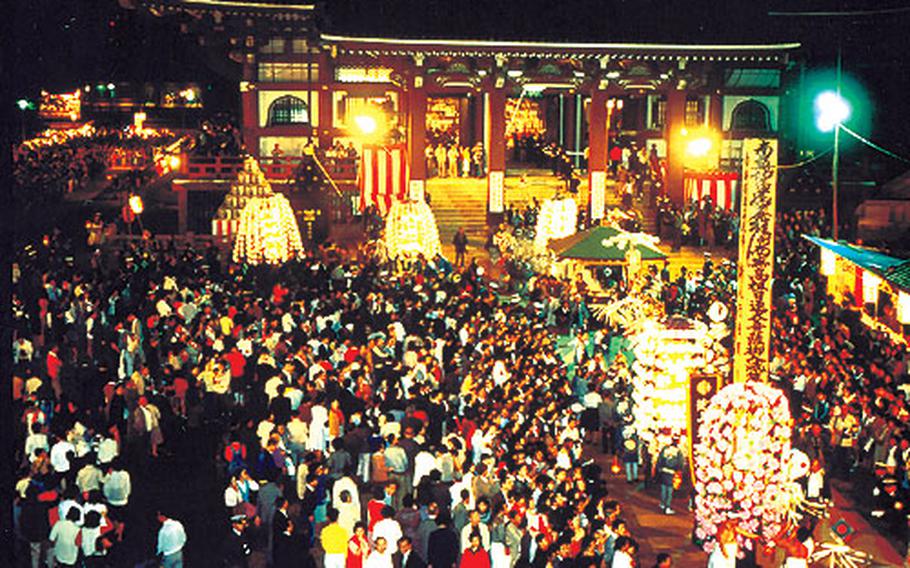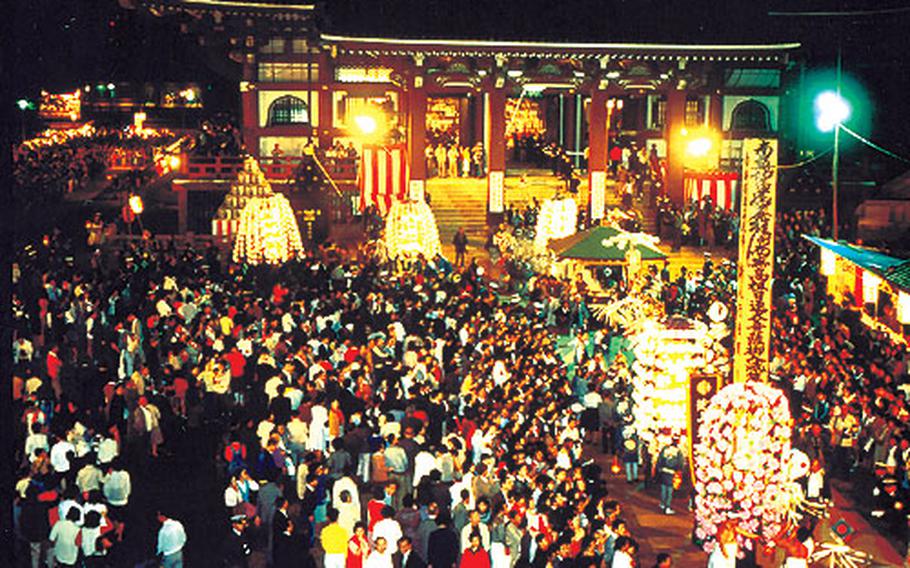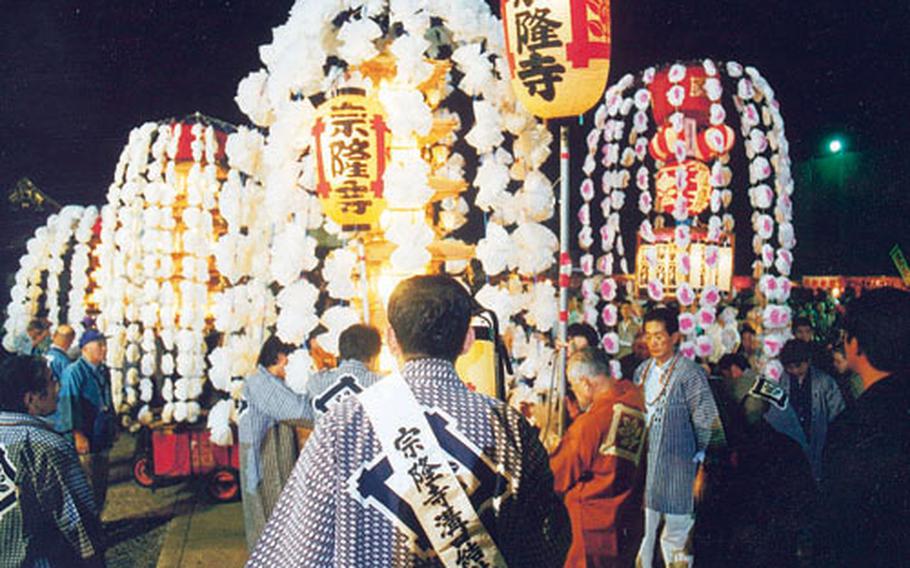 The Honmonji Temple in Ikegami, Tokyo, is famous for its lavish Oeshiki service for Nichiren — the founder of Buddhism's Nichiren-Shu sect.
Nichiren believers say the founder did not leave this world, but that he is still with them. Upholding Nichiren's eternal spirit, and expressing their appreciation and joy, members of this sect — also known as the Hokke or Lotus sect — hold the Oeshiki service every year Oct. 11-13, but the festivities start the night of Oct. 12.
Ikegami police estimate that 280,000 people visited the temple to see the Mando parades of 10,000 lanterns for last year's Oct. 12 celebration. Nichiren's followers continued the celebration well into the next morning.
The whole of Honmonji Temple in Otaku, Tokyo, echoes with the sound of the Buddhists whistles, hand-held drums and hand-held gongs during the celebration.
Standard-bearers, known as Matois, lead the parades, as giant "Mando" lanterns — decorated with paper flowers — ascend the temple's 96 stone steps.
Nichiren was born in 1222 in the seaside village of Kominato in Awa Province, which is now in Chiba Prefecture. At the age of 12, he was sent to a nearby esoteric Tendai sect temple for education. After studying at the major Buddhist schools in Kansai, he established his own doctrine — which showed a strong dislike for the mainstream Jodo and Zen sects.
As a result of his aggressive arguments and attitudes against traditional Buddhism, he was expelled from Awa and settled in Kamakura.
At Kamakura, in 1260, he wrote his life's work, "Rissho Ankokuron," in which he denounced traditional Buddhism sects and also predicted a foreign invasion. He presented the book to Hojo Tokiyori, head of the Kamakura shogunate. It led to his arrest and he was exiled to Izu in 1261.
Released in 1253, he returned to Kamakura. However, his persistent denunciation of the Jodo, Shingon and other sects led again to his arrest and near execution in 1271.
He was banished to the island of Sado.
A movement asking for Nichiren's release succeeded, and he left Sado in 1274.
After a two-month stay at Kamakura, he tried — unsuccessfully — to persuade the authorities that only the exclusive adoption of his religion could prevent the Mongols from invading. The Mongols sent a diplomatic mission to Japan in 1268, and their attempts to invade Japan in 1274 and 1281 failed due to typhoons.
Nichiren left Kamakura and settled at Minobu in Kai Province, in Yamanashi Prefecture, where he remained for eight years. During the years of practice and teaching on Mount Minobu he grew seriously ill. His followers suggested he visit the hot springs at Hitachi Province in Ibaraki Prefecture to regain his health.
Nichiren descended Minobu and traveled 11 days until he reached the estate of Lord Ikegami, where Ikegami Honmonji Temple now is, but he was unable to complete his trip to the hot springs spa in Hitachi.
On the morning of Oct. 13, 1282, as the sun lifted above the horizon, Nichiren passed peacefully away.
Today, the Nichiren sect is one of the largest Buddhism sects in Japan and has 5,500 satellite temples throughout the country, according to Esho Takahashi of Ikegami Honmonji Temple.
Oeshiki service celebration: Oct. 12 from 7 p.m. to midnight, 1-1-1 Ikegami, Ota-ku, Tokyo; take Tokyu Ikegami Line to Ikegami (second stop from Kamata Station), a 10-minute walk; 03-3752-2331
---
---
---