Tokyo: Boro-ichi - shopping as a contact sport
by
Hana Kusumoto Sharen Shaw Johnson
January 8, 2004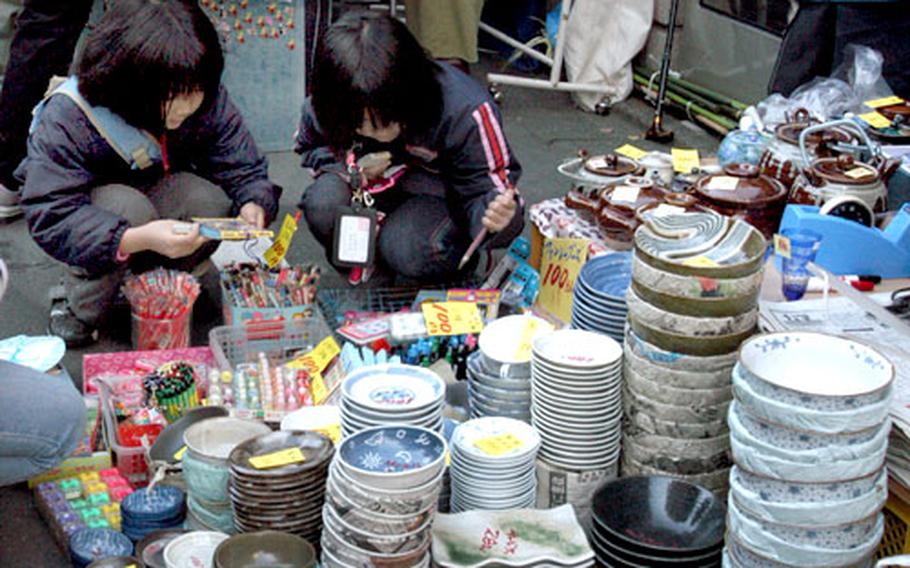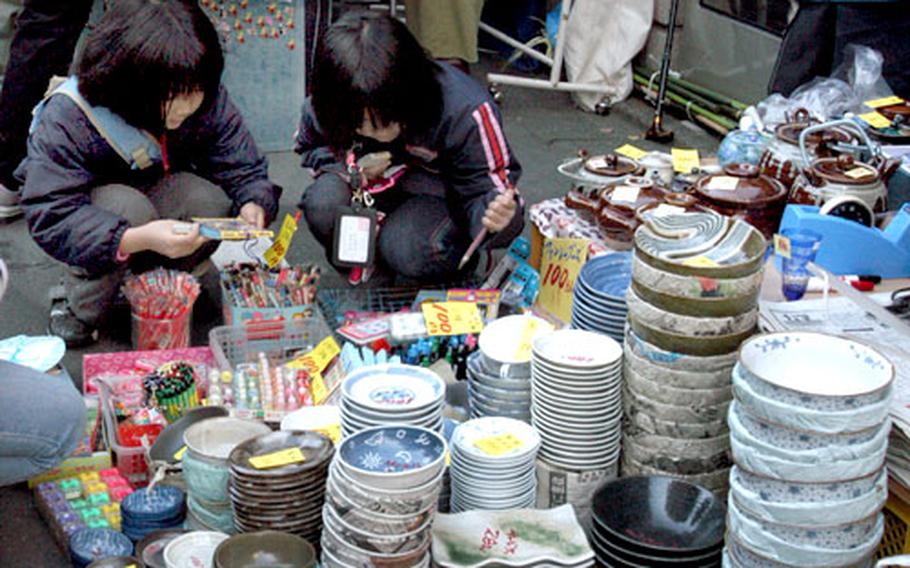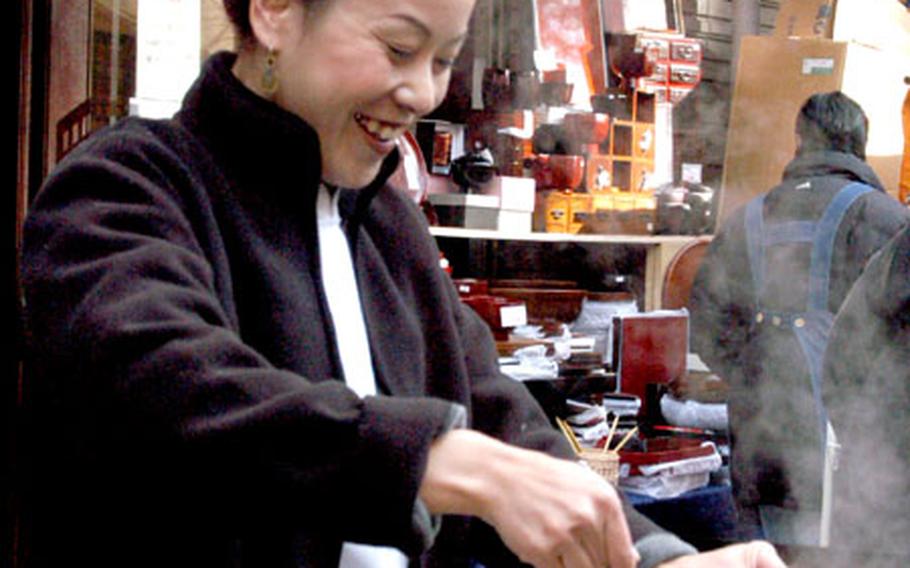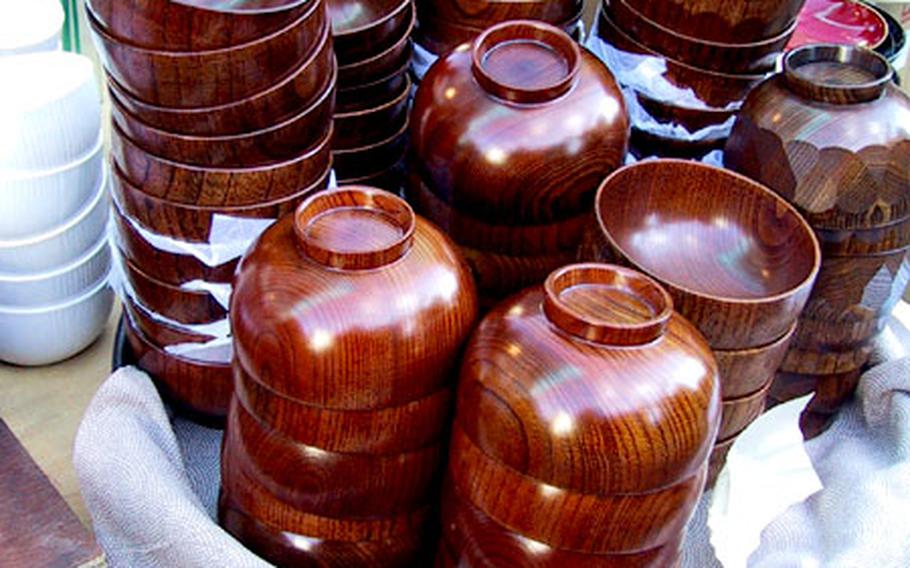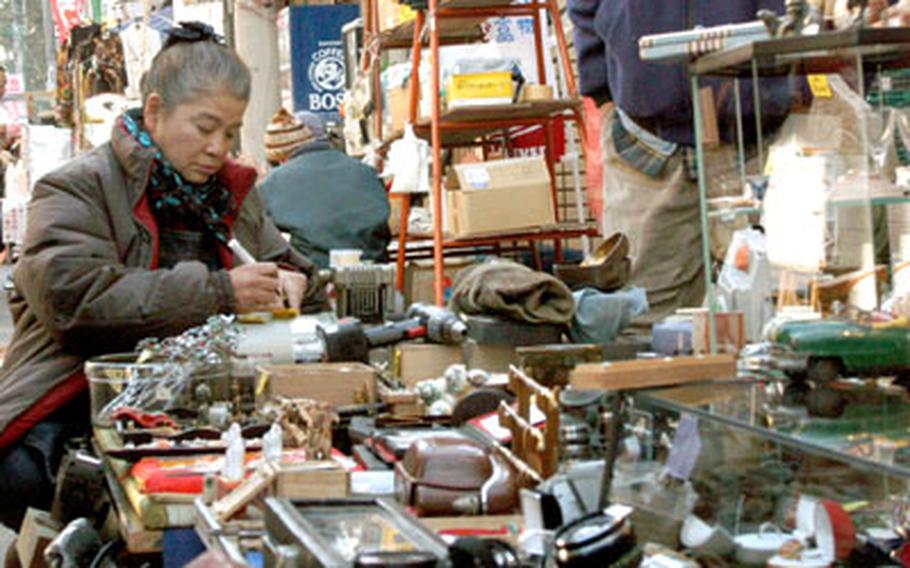 TOKYO — Take one typically narrow Japanese street.
Make it even narrower by letting 700 merchants set up booths along the sidewalks to hawk everything from 3-foot ceremonial drums to 3-inch bonsai.
Add 200,000 shoppers.
Then, just to make navigation really interesting, throw in a few school bands drumming, trumpeting and forcing their way through the crowds.
Welcome to Boro-ichi, the Rag Fair, Japan's version of shopping as a contact sport.
Held for two days in mid-December and again in mid-January (Jan. 15-16), it's Japan's biggest and most famous flea market.
And as a way to procure handmade Japanese hunting knives and tools, antique samurai sword scabbards, 35mm cameras and vintage watches, car and motorcycle models — in other words, the real gear you won't find in souvenir shops — think of it as Japan's ultimate rumble through the jumble.
It should be: The place has had literally half a millennium to get it right. It dates to 1578. To entice money to flow into his castle town, the lord of Odawara Castle gave permission for a market where unlicensed merchants could do business.
The market caught on — and a few hundred years later, so did the name Boro-ichi. "Boro" means rags; "ichi" means market. In the post-samurai era, rags sold briskly; they were used to make farmers' work clothes and the straw sandals that many Japanese wore in the dark ages before Nikes were invented.
The rags are history, although a few vendors sell geta, the traditional wooden platform sandals Japanese women wear to keep those kimono hems spiffy.
But chances are eventually, almost anything else will show up at Boro-ichi, vendors said. No guarantees; in fact, not knowing what you'll find is a core part of the flea market experience, its gestalt. But here are items Boro-ichi vendors say usually are for sale — and that were being offered at this year's Dec. 15-16 market:
Knives. Collectors and hunters are usual customers, advised Tetsukuni Nishida, who said he's sold chef's and hunting knives at Boro-ichi for about 14 years. Especially popular with non-Japanese, said knife dealer Wataru Ariga, are knives that are hand-forged instead of stamped from sheets of steel.Used cameras, especially non-digital 35mm film cameras. "Lots of foreigners are looking for Nikon or Canon," said camera dealer Satoshi Abe, who also appeared to be doing a brisk business in Minolta single-lens reflex cameras. Most of the camera body-lens combinations crowding his table sold for 10,000 yen (about $92) or less, he said.Watches, with a natural concentration of Japanese brands such as Seiko.Carved wooden netsuke, or tiny figures used as sliding catches on inro, the pouches or small wooden containers Japanese used in place of pockets.For women shoppers — or women on male gift lists — Boro-ichi offers an array of Japanese crafts and arts, from used silk kimonos and obi (kimono sashes) to tortoise-shell hair combs and pins, bonsai, traditional Japanese hand-thrown pottery dishes, polished wooden spoons and bowls, hand-cast iron teapots and burnished hand-woven baskets.Then there's the food — street-fair fare extraordinaire, Japanese-style. Boro-ichi is known for it: yakitori, or charcoal-grilled chicken kabobs; steamed buns filled with sweet red bean paste or Japanese pickle; pyramids of juicy, sweet winter tangerines; Western-style muffins and homemade hot cocoa, ladled out of a stainless kettle by Noriko Komiyama of Platino restaurant.
If you go:
From Shibuya, take Tokyu Denentoshi Line to Sangenjaya Station. Change trains at Sangenjaya Station to Tokyu Setagaya Line. Get off at either Setagaya or Kamimachi Stations. The Boro-ichi is held on Boro-ichi Dori, (Boro-ichi street), two blocks south of the stations.
Survive-and-thrive tips
Wear comfortable shoes and heavy enough clothes, including gloves, to be comfortable if you're outside for a few hours.
Bargaining is acceptable but it's usually kept relatively low-key in Japan — compared to a Thai street market or Middle Eastern souk, where the more vigorous exchanges can seem like a boot camp for European soccer fans. One strategy other American shoppers have indicated works at such Japanese sales: Inhale sharply, shake your head regretfully and walk away. Few shoppers make it further than five steps. Another: Simply asking, "Can you do any better?"
Don't speak Japanese? Bring a pocket calculator with a fairly large display. Hand it to the dealer, pointing to the item. He'll probably type in his price. Don't like it? Type in a counter-offer.
If you haven't already, memorize these three words: "Sumimasen" (excuse me) and "arigato gozaimasu" (thank you). Use them both. Use them a lot.