The basics of bike touring
---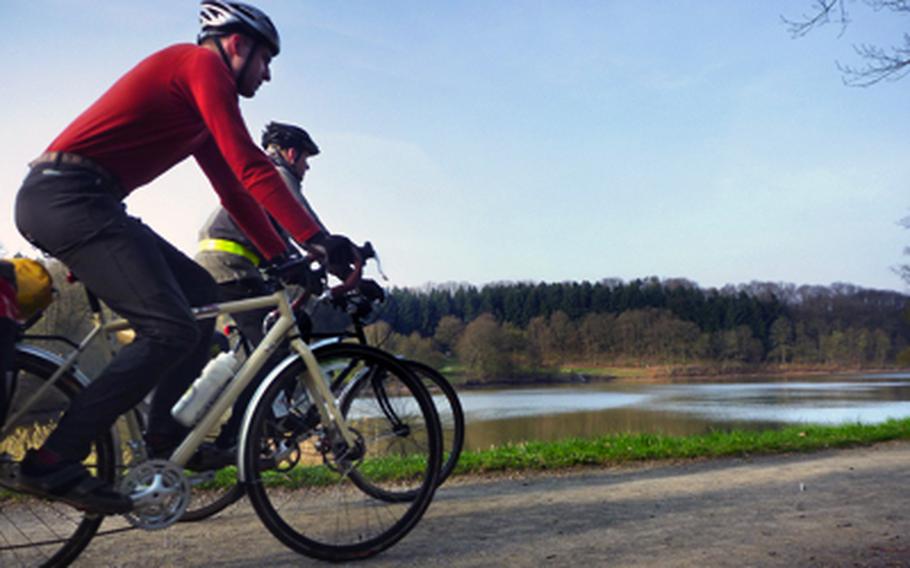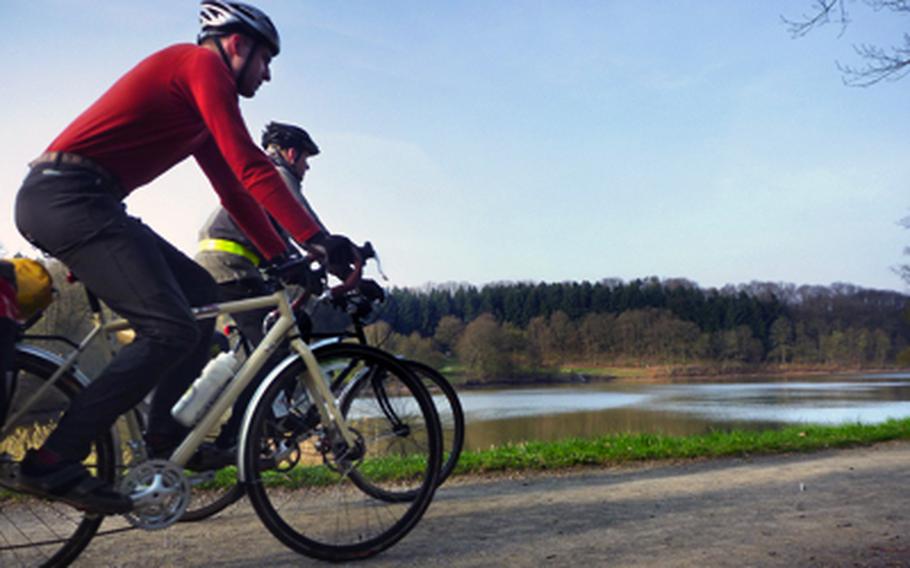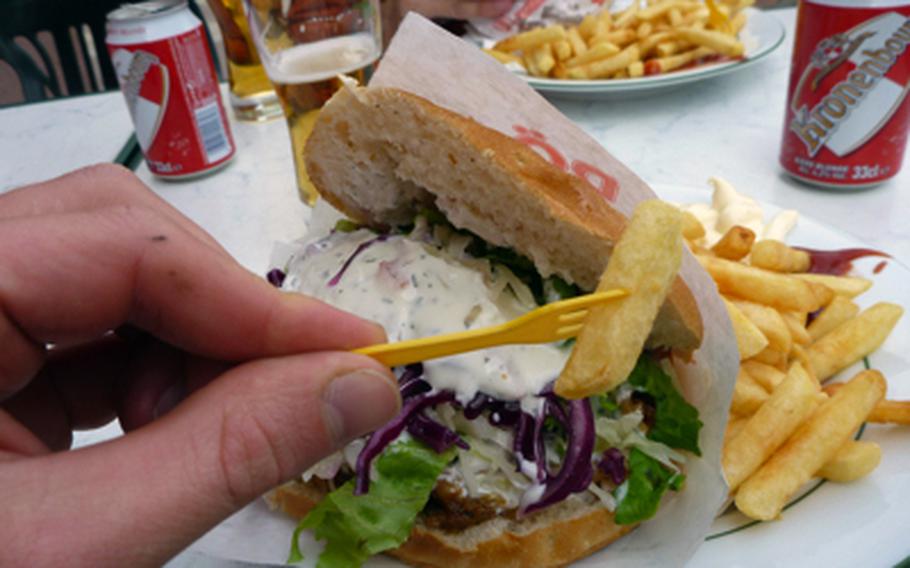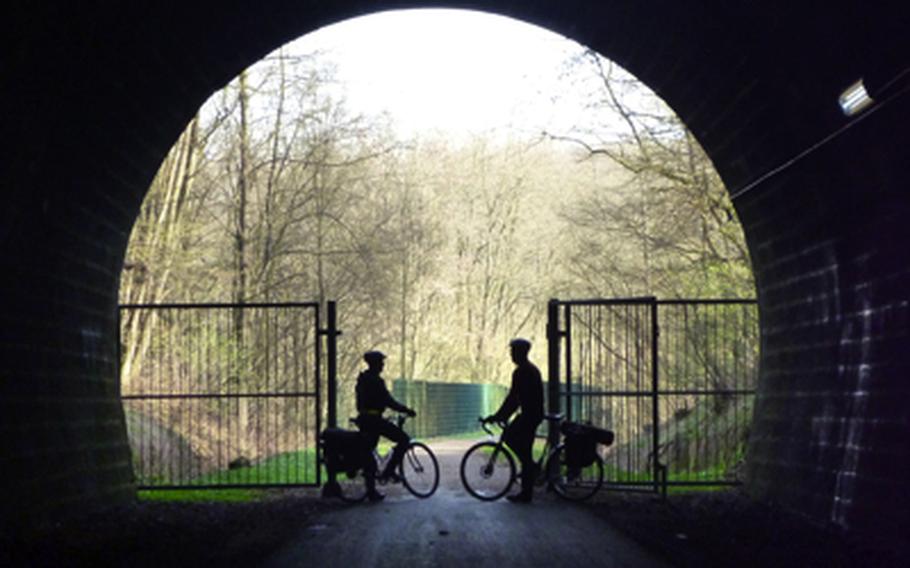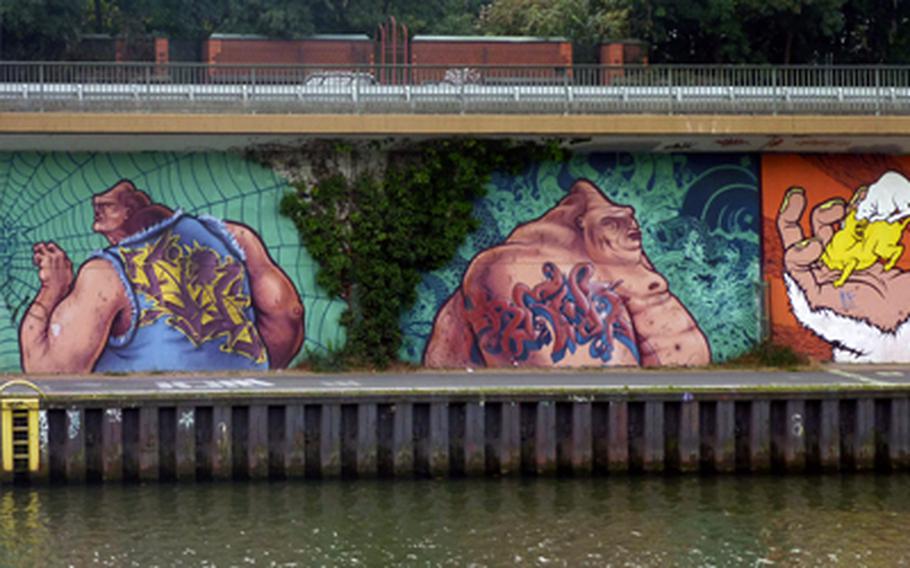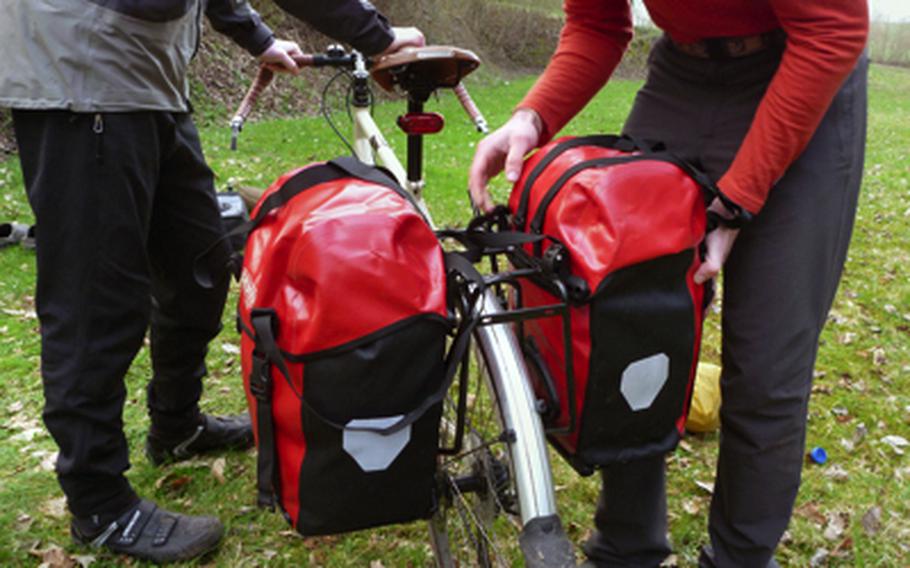 It started out like most seemingly brilliant ideas — hanging out with my bicycling buddy and dreaming up fun things to do on our bikes. "Hey, why don't we ride our bikes to France?" one of us said.
Most folks in the area around Kaiserslautern, Germany, know that France is pretty near by car, but how about by bike?
I consider myself a bicycle hobbyist. It's not my life, but I love bikes, especially cruising on dirt trails on a mountain bike. Touring, however, always seemed to be something that was slow and boring, something for those with a lot of time on their hands.
I was wrong.
Our round trip to France last August was a great experience, taking us past some wonderful scenery and showing me another aspect of what could be accomplished on a bike. And it took us less than two days.
Pre-ride preparation was minimal. We rented a lightweight tent from Ramstein Air Base's Outdoor Recreation office and split it up for the ride. My buddy, Nick, had a commuting bike that was already tour-ready. My mountain bike required some skinny tires and the installation of a rear rack. We packed our panniers with sleeping bags, camping pad, water and extra clothing.
The early-morning rendezvous in my driveway was held in a light rain. Nick had a couple of trail maps that we shuffled through before deciding on a route through Homburg. Then we hit the road.
The sun crept in and out most of the morning as we marveled at Saarland's beautiful countryside. Some of our pathways paralleled busy local roads, but we were able to escape the traffic and find some solace when we hit Homburg. There, we discovered the Glan-Blies-Weg, a touring path that runs from Glan-Münchweiler in Germany to Sarreguemines, just across the border in France. It is a great trail that we enjoyed so much, it inspired a repeat trip.
At about the four-hour mark we reached France. "Now what?" we both thought, shocked to have reached our only goal so soon. Break out the maps!
Our southern destination was the town of Sarreguemines. We made it by lunch and planned the afternoon's ride. The Saar River, which flows through the town and feeds into the Moselle, would be our guide for the rest of the day.
Cruising on a paved path, we toured through Saarbrücken, admiring some inspired graffiti along the river, and eventually reached the town of Saarlouis, back in Germany. By then my knees were aching and the scenery had become much more industrial. We settled in for a high-carb dinner of pizza and beer, watched the sun go down on a bustling center square and pushed off for a spot to camp east of Saarlouis.
Wilderness camping in Europe is banned, but finding an organized campground in that area is extremely difficult, so we went ahead and opted for a spot of wilderness camping.
The next morning, we began our return trip. The trail network, however, proved difficult for loaded-down bikes. Surface types changed from road and paved trails to narrow single-track dirt trails with varying difficulty levels of ups and downs. At times it felt like a scavenger hunt just finding the next stretch of trail.
After growing frustrated with the very unpredictable Saarland-Radweg path — which goes from Sarreguemines to Saarbrücken and on to Homburg — we decided to use roadways to get back to the Glan-Blies trail we fell in love with the day before. We stopped near Neunkirchen for lunch and found the trail by mid-afternoon near the town of Waldmohr, north of Homburg.
Trails like the Glan-Blies really made the trip enjoyable for us novice bike tourers — relatively flat and very scenic. A few hours later we passed under Autobahn 62 and through familiar territory a few miles from my home. What a ride! We estimated the total trip to be around about 120 miles and were able to be home for dinner on day two.
There were certainly some lessons to be learned on this trip. My aching knees were attributed to a poorly adjusted seat-post. On a couple-of-hour mountain bike ride you would never notice, but over 100-plus miles, good leg extension is important. We also would think twice next time before blindly following a bike path dictated by a map.
But we enjoyed it so much that this spring we repeated part of the journey, this time joined by another friend.
Our destination was a campground in Schönenberg-Kübelberg, Germany — a trip more about going camping on our bikes than logging miles.
There are countless exotic and adventurous bike tours out there to be had. Some of them start right out your front door. This mountain biker fell in love with one of them, and is eager to tackle more.
---
---
---
---