Swiss chocolatier strictly safeguards quality of its sinfully decadent product
---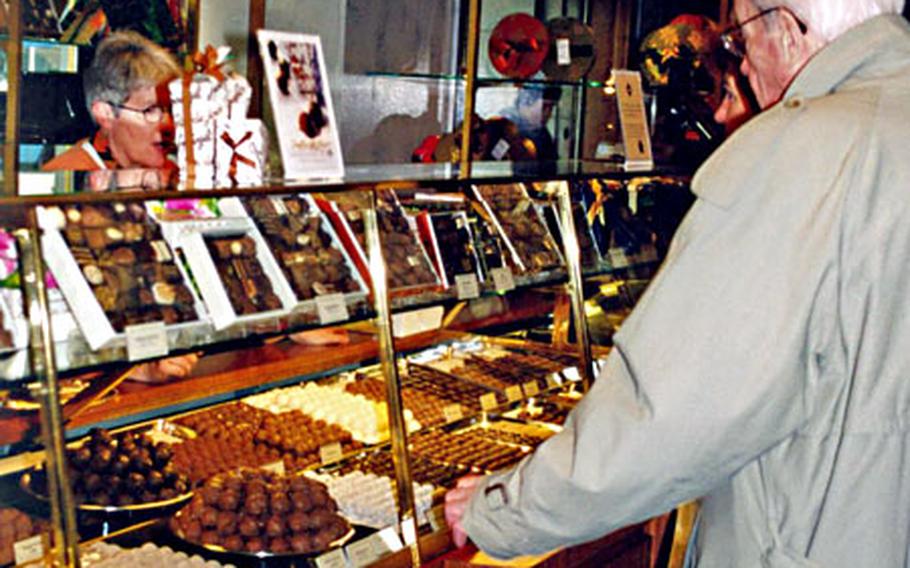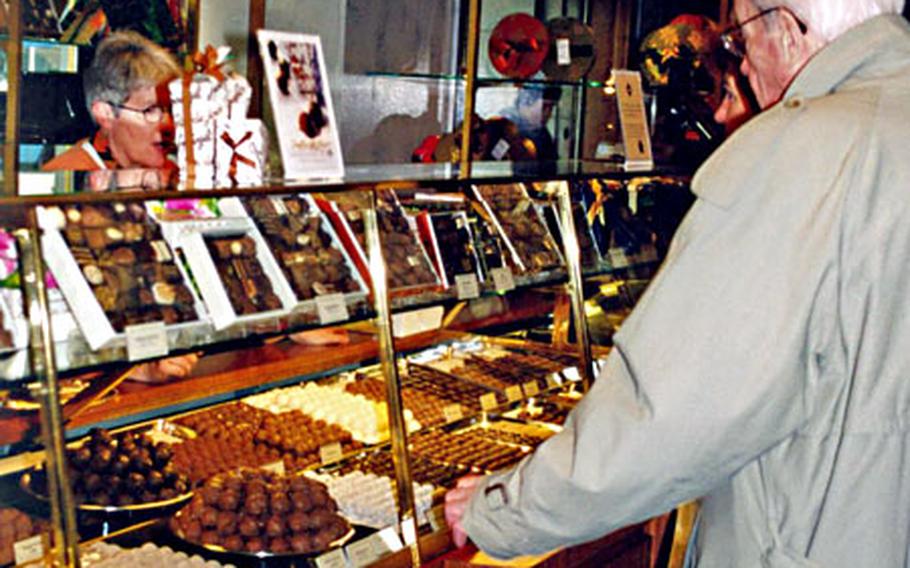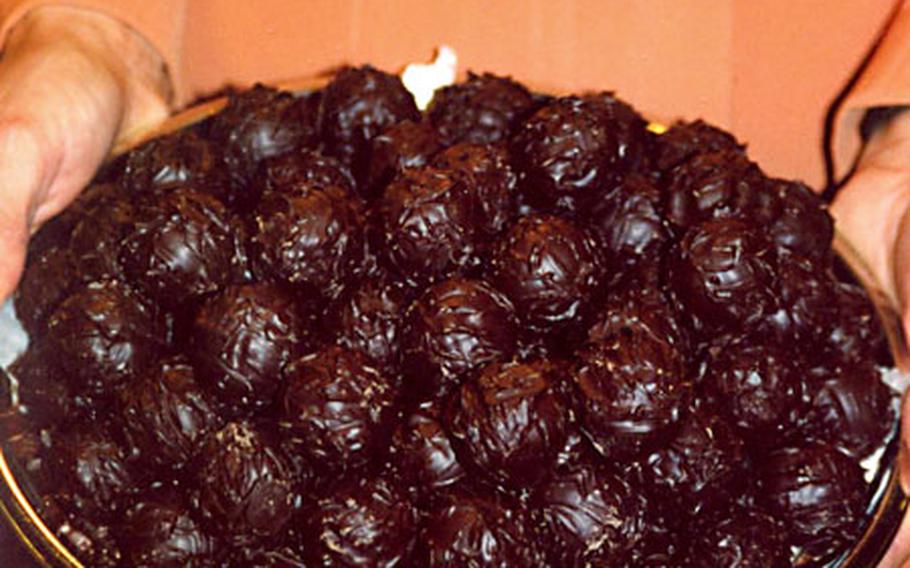 "The food of the gods" — that's the meaning of theobroma, the name botanist Linnaeus gave the plant that produces the cocoa bean.
Chocolate is sensuous, decadent, sinfully delicious. It makes you feel good, gives you a lift, provides energy. And, it's good for you. In ancient times it was the food of princes and the wealthy, and even into the 20th century this delicious sweet was still a luxury indulgence reserved for the upper classes.
No wonder it makes an ideal Valentine's Day gift.
Today, the Swiss are said to produce the world's finest chocolate — and are the world's biggest consumers of it. They consume about 26 pounds per person per year, more than any other nationality. Americans consume a mere 11½ pounds per capita a year.
No Swiss chocolate can be called shabby, but perhaps the best comes from Confiserie Sprüngli, the country's most famous producer of exclusive chocolates.
This small family-owned company, which has been making fine chocolates for 169 years, has 16 shops in Zurich, and recently opened one in Basel and another in Zug.
"We are a small company producing handcrafted luxury chocolate, one of the most important brands," says Sprüngli CEO Tomas Prenosil.
"We don't export. You can't buy our products in department stores…. We have very strict quality control which is why we can produce such a lovely product."
Prenosil waxes poetic on his company's coveted "truffes du jour," chocolate truffles that are never more than 24 hours old.
"It's such a pure, lovely, innocent product. I'm very proud of it," he says of this prized confection, made with only fresh cream and chocolate. He says he eats "one or two" every day.
Actually, Prenosil doesn't "eat" chocolate, he "savors" it. And he describes the way it should be consumed as if he were talking about a fine wine.
"Enjoying chocolate starts with the eyes," he says. "What does it look like? Observe the color. Does it shine like silk?"
Then move on to the nose. The smell should be full and rounded. "Bad cocoa butter stinks," he says. Bite into the chocolate. The edges should break clean. The surfaces should not crumble.
Don't swallow it all at once, he cautions. "Let the chocolate melt in your mouth. Inhale through your mouth. Exhale through your nose. Give the chocolate time to develop its flavors in your mouth," he says.
Repeat the process with the next bite. If it's quality chocolate, you'll have the wonderful chocolate flavor in your mouth for hours, he says.
Many Swiss companies produce chocolate in other parts of the world, but only chocolate produced in Switzerland adhering to strict production standards can rightfully be called "Swiss chocolate."
What about Belgian chocolate? Prenosil graciously acknowledges that the country to the north produces excellent chocolate, too, and that it is probably as good as Swiss chocolate. The difference is marketing, he says, with companies such as the Belgian Godiva spending big bucks on marketing and advertising, and opening up stores around the world.
"You don't see retail shops in the U.S. for Swiss chocolate like you do for Godiva," he points out.
Sprüngli has no interest in going global, and it's all about safeguarding excellence. The average shelf life of its chocolate is just three weeks. It uses no additives to prolong shelf life, Prenosil explains, because that would compromise quality and flavor.
Quality costs. A tiny bag of six Sprüngli "today's truffles" goes for 9.20 Swiss francs — about $8.25.
While no one really knows who invented chocolate candy, the Swiss get credit for discovering milk chocolate. They still prefer lighter chocolate, but Sprüngli is trying to convert them to the dark variety. "Grand Cru," an assortment of chocolate made with four different kinds of dark chocolate, each from a different country (Madagascar, Venezuela, Cuba and Ecuador) is being promoted in a classy black and gold box.
Sprüngli also just launched another new dark chocolate product: "Truffes Cru Sauvage," truffles made with cocoa beans that grow wild in the Amazon region of Bolivia.
Pick up some for your Valentine and give it a try. You'll both be glad you did.
Leah Larkin, a member of the Society of American Travel Writers, is a journalist living in France.
More about chocolate ...
• Nineteenth-century naturalist Alexander von Humboldt said of cocoa: "Nature has nowhere concentrated such an abundance of the most valuable foods in such a limited space as the cocoa bean."
Indeed chocolate is full of important and energy-giving substances, including calcium, magnesium, phosphorus, iron, copper and vitamins A, B1, B2, C, D and E. It contains a small amount of theobromine, which has an invigorating effect. It provides energy, satisfies food cravings between meals, enhances concentration and boosts stamina.
• In southern Switzerland, the "chocolate train," a nostalgic Belle Époque train, runs from Montreux to Gruyère from June through October. It stops in the town of Broc for a visit to the Nestlé/Cailler chocolate factory. For hygienic reasons, you do not tour the factory where chocolate is being made, but you view a multilingual film on the manufacture of chocolate, and there's lots of delicious free chocolate to sample at the end of the visit. The shop offers Cailler or Nestlé candy bars at factory prices. More information at www.mob.ch or by calling (+41) (0) 21-989-8190.
You can visit the Broc factory on its own, without the train ride. Weekday hours are 9-11 a.m. and 1:30-4 p.m. May through October. Reserve by calling (+41) (0) 26-921-5151.
• Also in southern Switzerland at Caslano-Lugano is the Schoko Land Museum, the Alprose Chocolate Museum. Details at www.alprose.ch.
• More information on Sprüngli is at www.confiserie-spruengli.ch. Chocolate can be ordered at kundendienst@spruengli.ch.
• More information on Swiss chocolate is at www.chocosuisse.ch.
— Leah Larkin
---
---
---
---