Steins: How to find them, new or old
---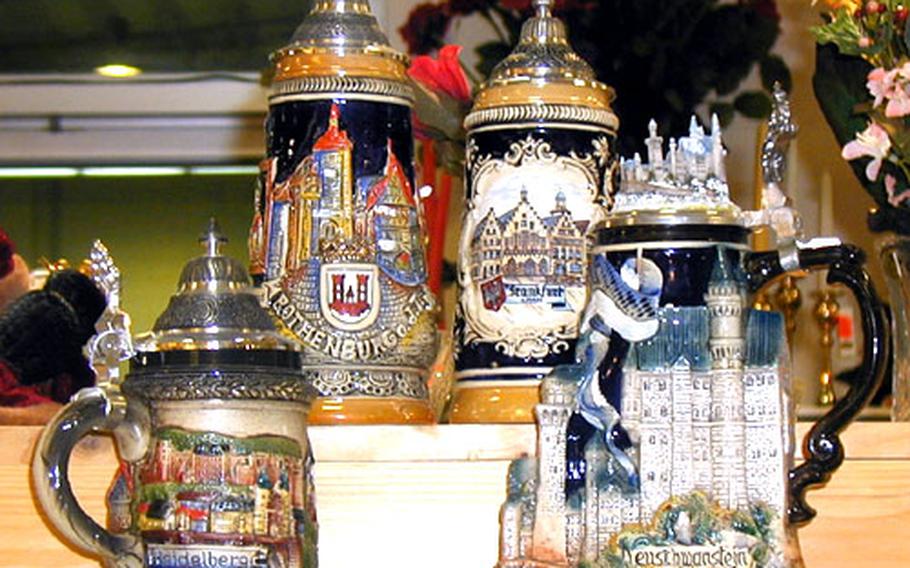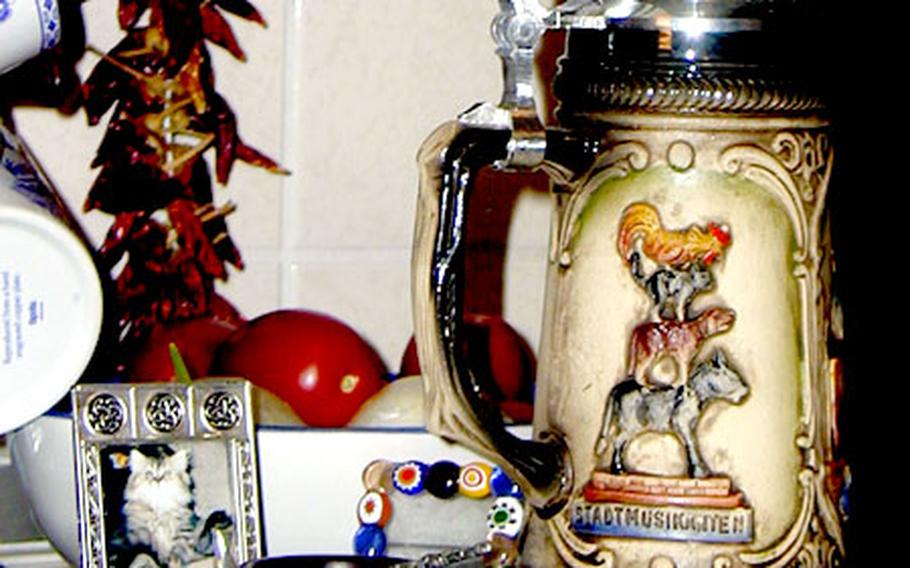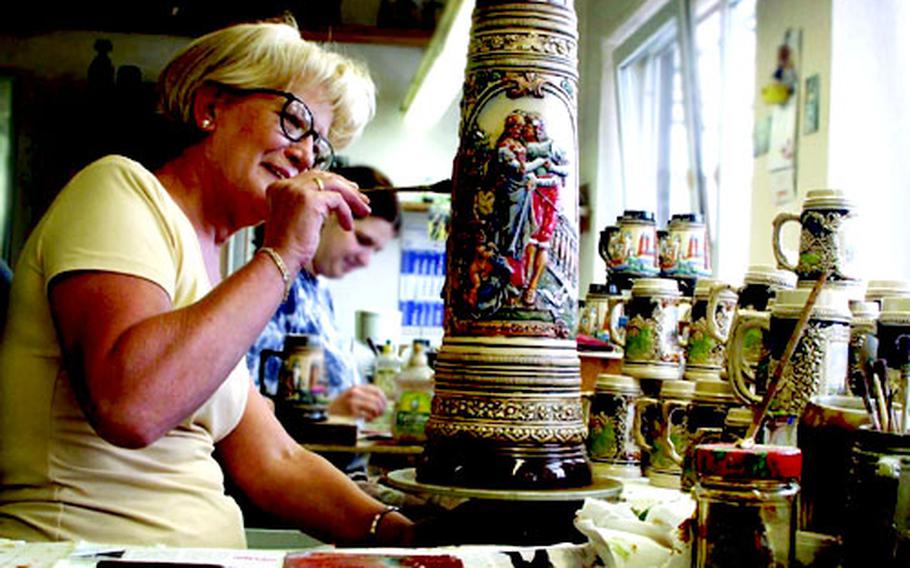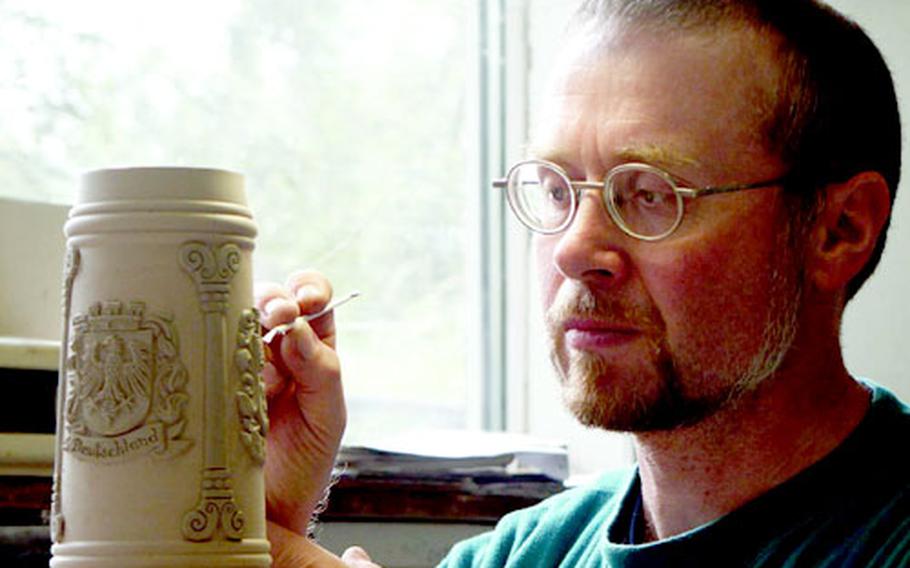 When I think of Germany, I think of the devastation of World War II, castles towering over lush green fields, red-roofed villages, vineyards for Riesling wine, and lots of beer.
Drinking beer in Germany is a part of life. It is so vital here that special decorated containers were designed for consuming it. We know them as beer steins.
In days past, a drinker who frequented a particular beer hall would have his own personalized mug or stein that stayed at the beer hall for use each time he showed up. What better way to feel more like a family member than a patron by having your own stein waiting for you when you arrive?
Eventually the functional beer steins became more than something to drink out of. They became more distinctive and decorative, and as they did they became collectibles. There are traditional steins with hunting scenes and slices of rural life. There are fancier ones that picture the nobility at play or familiar sights from a particular city or region — King Ludwig's castles are a popular theme and some may even represent your city of residence.
Some steins celebrate festivals like Oktoberfest. Holiday steins include annual limited editions with Santa Claus themes. And there are patriotic steins — including some Americans would appreciate bearing watchful eagles guarding the good old Stars and Stripes.
There are three major stein producers in Germany, according to a representative for Willi Geck, a German-owned gift and collectible retailer with stores on several U.S. bases. They are Zöller & Born, King Werk and Thewalt. The oldest is believed to be Thewalt in Höhr-Grenhausen, just northeast of Koblenz. Albert Jacob Thewalt founded the company in 1893 and, according to its Web site, it is managed today by his grandson, Albert Jakob Thewalt, grandson of the founder.
The Thewalts believe a beer stein is an investment, an expression of comfort, as well as a Bavarian status symbol. The company founder said that a beer stein has a soul and that is what gives it its timeless appeal. He believed beer is a special beverage that has its own image and thus deserves its own receptacle.
One of the most familiar names to Americans when it comes to buying beer steins is Willi Geck. It has stores on or near a dozen military installations in Germany — including Baumholder, Rhein-Main, Giessen, Hanau, Heidelberg, Mainz-Kastel, Mannheim, Ramstein, Spangdahlem and Wiesbaden — where they are concessionaires with the Army and Air Force Exchange Service or Welfare, Morale and Recreation.
It has sold beer steins and other collectibles to military families since opening its first store in 1961 at the Hainerberg shopping center in Wiesbaden.
"Antique steins are hard to separate from their newer sorts," says Martin Their, an employee for 25 years at Willi Geck, "because newer steins are being produced from the original molds."
For those who want to find genuine old ones, he offers this hint: "There is usually a number under the stein handle. The lower the number, the older the mold."
If you are looking for an older stein, Thier suggests visiting German antique dealers or flea markets, attending an auction or contacting a stein collectors club.
One club in Germany is the Alte Germanen, or old German club. It specializes in regimental steins produced from around 1890-1914.
During this period, it was common for a soldier to have a stein made depicting his experiences while in service. While it is believed that 2 million of these steins were produced, only a few thousand have been recovered. The steins can go for anywhere from $250 to $5,000.
The Alte Germanen club meets twice a year at a convention. Contact Harald Brusse at info@ reservistenkrug.de for more information.
Stein Collectors is an American stein collecting association. It has a seeking/selling section on its Web site and also holds conventions. The next one is in Indianapolis in July; for more information, see its Web site at www.steincollectors.org.
But you don't have to go that far to find a stein that may mean something special to you. A good place to look for an unconventional stein in your area is the local Rathaus, or town hall. The steins and mugs may not be displayed, but upon asking you may find that the town carries its own designs for purchase. This comes from an old tradition.
Wherever you decide to shop for a beer stein, the choices and price ranges are limitless. Whether it is an antique stein that you found at a collectors convention or one you purchased at a touristy shop, we all know it's the memory of how it was obtained that truly matters. The true value of a gift or collectible lies within the heart of the person who owns it.
---
---
---
---