Sipper's tips from a Waikiki neighborhood brew-pub crawl
by
Wyatt Olson
January 10, 2018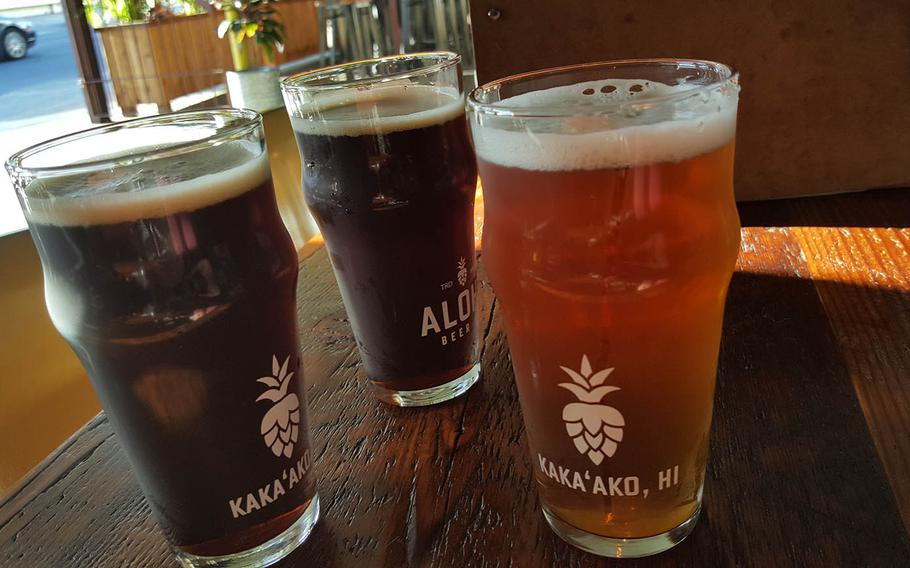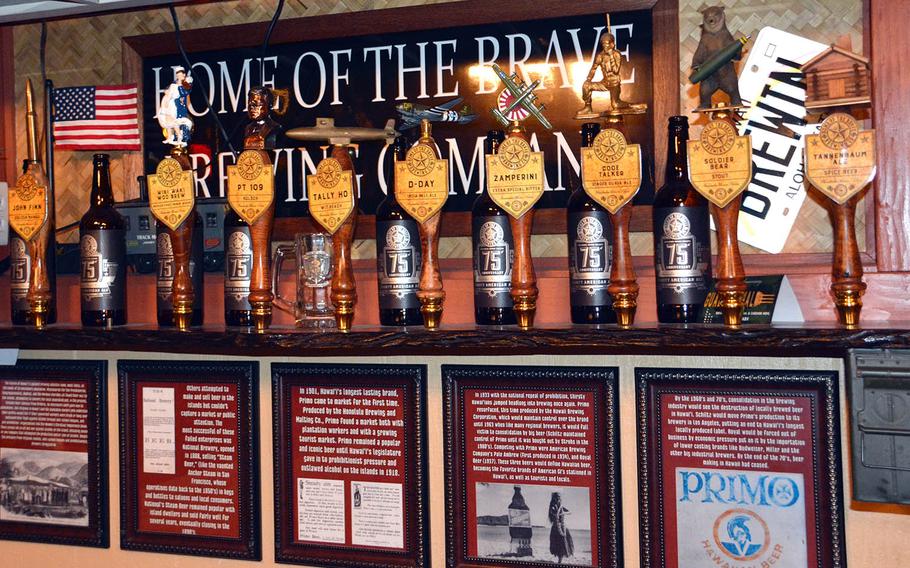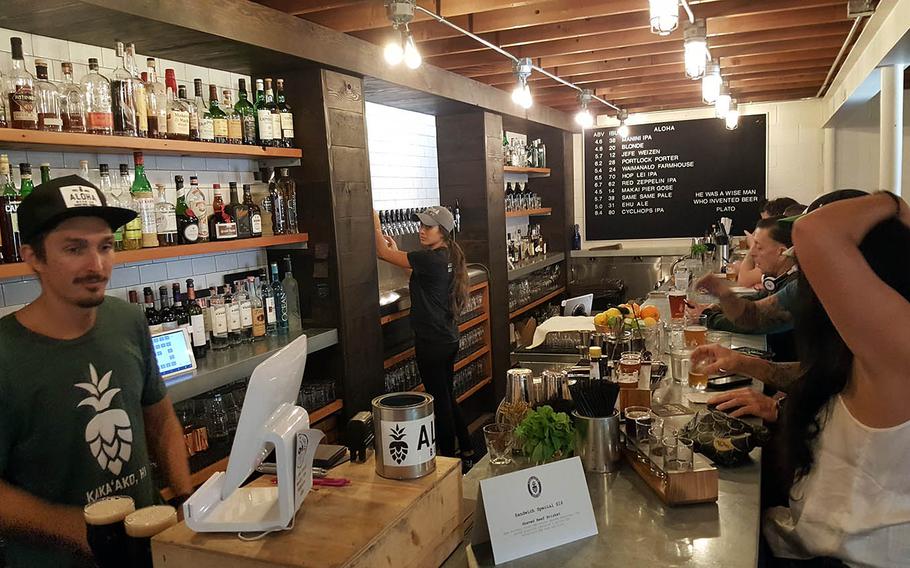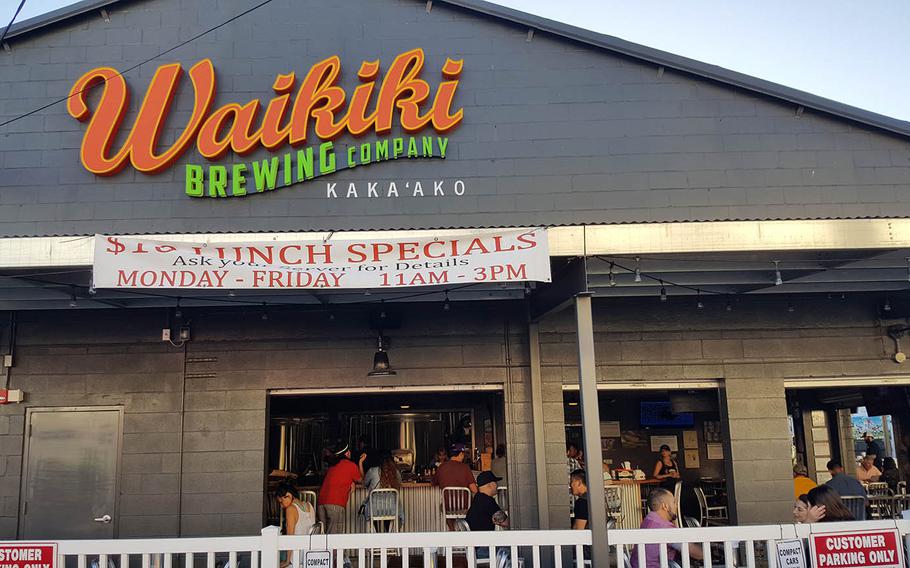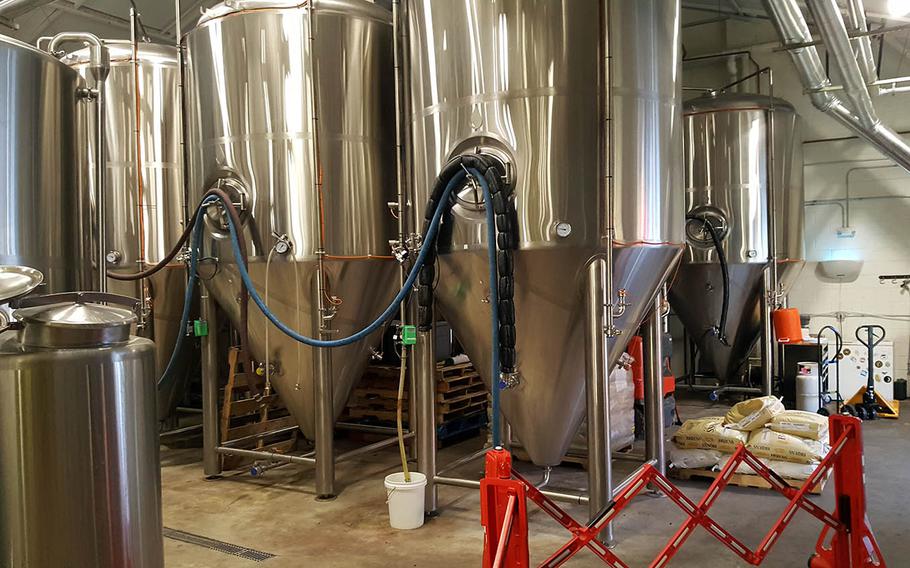 Hawaii is home to big waves, but one surge was a long time in arriving: craft-beer breweries.
Until a couple of years ago, Oahu was almost bereft of the kind of craft breweries that have long saturated other American cities.
But surf's up these days, beer-wise, in the Aloha State. Nowhere is that more striking than in the Kakaako neighborhood between Waikiki Beach and downtown Honolulu. Historically the city's warehouse district, the area has long been home to auto-repair garages, machine shops and storerooms.
But those businesses are giving way to more upscale condos and trendy shops. Enter craft breweries.
Three of them are clustered in Kakaako to make for an easy and rewarding pub crawl.
I weaved through this beer circuit recently with relatives visiting from the mainland. They're into porters and stouts — the black and creamy ales that seem almost like a meal in a glass. I'm partial to India pale ales, and I judge a craft brewery by how well it produces this ale with its hallmark bitter hops.
Aloha Beer Co. has no table servers, so patrons order from the bar and find a seat inside or in patio seating that captures the feel of Oahu's ubiquitous carports. Of the 11 beers on tap, three were IPAs. I chose Manini IPA because it's a "session beer," meaning it's modest in alcohol content — 4.6 percent — so you can drink a few in one sitting and not stumble out of the joint. After all, we had other pubs to visit.
The Manini was a lighter, straw-colored IPA than is typical, and it was also daintier in taste than most. I probably would have been happier with the Cyclhops IPA, a "big, boozy and whiskey-colored" brew, according to the beer menu, but at 8.4-percent alcohol, I had to leave it for another time.
The Portlock Porter was chocolatey and bittersweet with a nice head rising like the North Shore's Pipeline wave.
A two-block walk down the street was Waikiki Brewing Co., which had a livelier, louder vibe and a waitress who loved to both banter and boast about the beer on tap. As it turned out, she had legitimate bragging rights.
Ten "regulars" were on tap, with two seasonal brews also offered. The variety was similar to Aloha: a blonde, American pale ale, brown ale and wheat beer.
The choice for my sister and brother-in-law was obvious: Black Strap Molasses Porter. There must be some black magic in that black molasses because this was one stellar porter. After taking some sample nips, I was tempted to order one of these roasty, coffee-ish beers for myself.
But focus, focus … must continue with my IPA experiments.
The Eee Pah IPA got it exactly right for my taste chart. It had a full, foamy head and an excellent blend of malt and hops. It was almost like drinking the best of a lager and best of an ale in the same swig. It was also beautiful to behold, a mix between lacquered rosewood and fiery sunset.
Waikiki's stainless steel brewing tanks stand like glistening giants in a space just beyond the bar.
The Brewseum — again, just a couple of blocks away — is certainly the most remarkable destination of the three, though not so much for its beer.
Occupying what had once been a horse stable, the pub is an offshoot of the Home of the Brave Museum, two storefronts adjacent. Over a couple of decades, Glen Tomlinson and his family have amassed a vast collection of World War II memorabilia, artifacts, weapons, uniforms, photos and oddments, some of which now adorn the Brewseum and the museum's second-floor 1940s-era "Speakeasy" bar.
The Tomlinsons began brewing beer a few years ago in an attempt to bring in some much-needed revenue to keep afloat the museum, which has been flirting with insolvency for the past year.
They brew a dozen or so beers, each commemorating individuals, units, vessels or events of World War II. Among them are Code Talker ginger guava ale, PT 109 kolsch and John Finn golden mango, named for WWII's first Medal of Honor recipient, who survived the 1941 surprise attack on Pearl Harbor.
But with so much uncertainty about the future, brewing has slowed at the Brewseum, with only the brown ale available when we visited, although plenty of other beers were for sale.
We walked through the museum and up the staircase to the second floor, then tapped the "secret" code on the door that we'd been given down below. We were whisked inside, where Tomlinson, wearing a WWII-era Army uniform, poured us each a Charlie Brown Ale, named for a B-17 Flying Fortress pilot who was guided home by a Luftwaffe pilot who took mercy on the lost, badly damaged plane and wounded crew.
The Brewseum was our own version of a happy ending to the pub crawl.
THE BREW PUBS Aloha Beer Co. 700 Queen St., Honolulu, Hawaii; (808) 544-1605; alohabeer.com. Hours: 4-11 p.m. Mondays through Saturdays; closed Sundays
Waikiki Brewing Co. 831 Queen St., Honolulu, Hawaii; (808) 591-0387; waikikibrewing.com. Hours: 11 a.m. to 11 p.m., Mondays, Wednesdays and Thursdays; 11 a.m. to midnight Tuesdays, Fridays and Saturdays; 7 a.m. to 11 p.m. Sundays (during football season)
Brewseum 901 & 909 Waimanu St., Honolulu, Hawaii; (808) 799-2796; brewseums.com. Hours: Brewseum: 5-10 p.m. Tuesdays-Thursdays; 5-11 p.m. Fridays-Saturdays. Speakeasy: 5-8 p.m. Wednesdays, Fridays and Saturdays
DIRECTIONS The brew pubs are clustered in the Kakaako district between Waikiki Beach and downtown Honolulu. Driving from Waikiki, take Ala Moana Boulevard east, then take a right onto Cooke Street for six blocks to Queen Street. Aloha Beer is to the left and Waikiki Beer is to the right. About 50 feet beyond Waikiki Beer is Kamani Street. Take a left; the Brewseum is two blocks down. The three pubs are easily walkable to one another. Parking is limited in this neighborhood, but some metered spaces are available on Queen Street.
PRICES Glasses of craft-brewed beer start at $6.50
DRESS Casual