Sesto Dolomites: Moutains put hikers on a jagged edge
by
Mary Kieran
October 5, 2006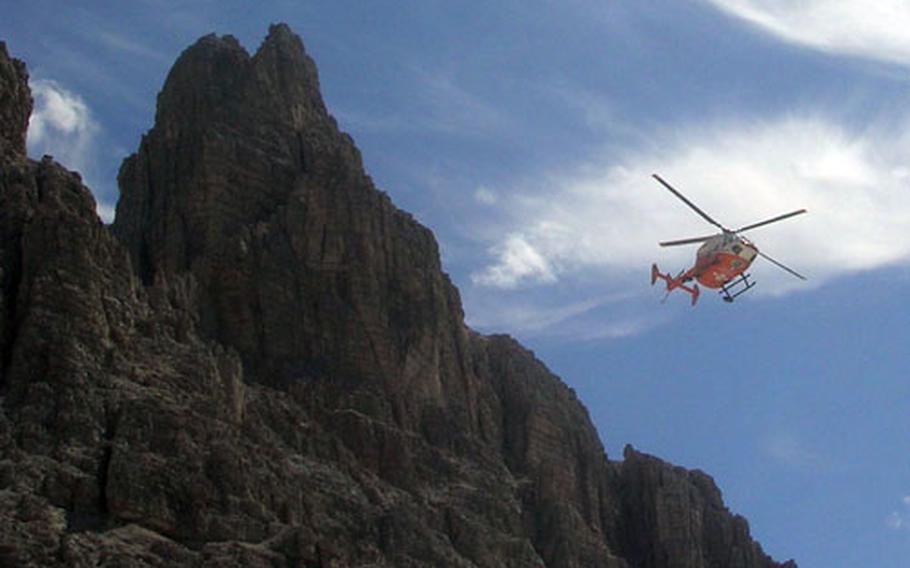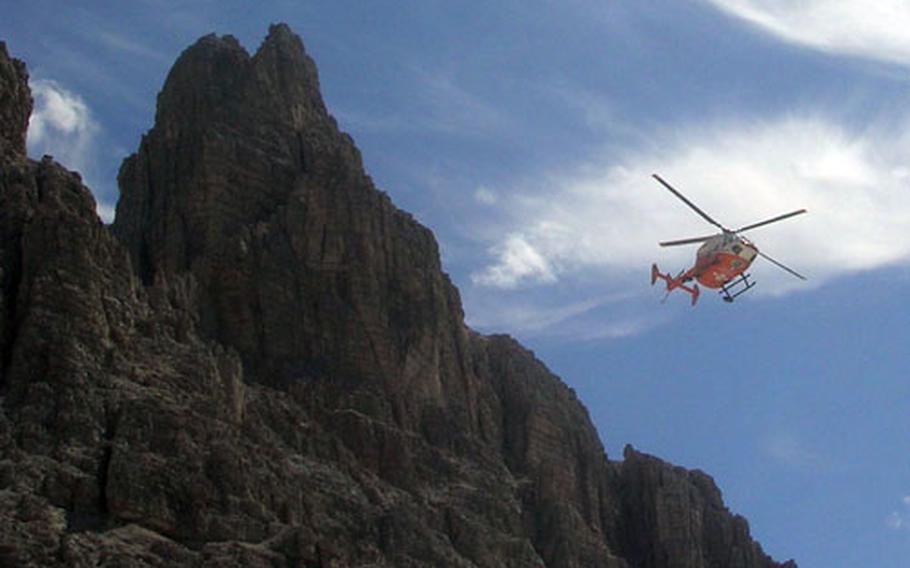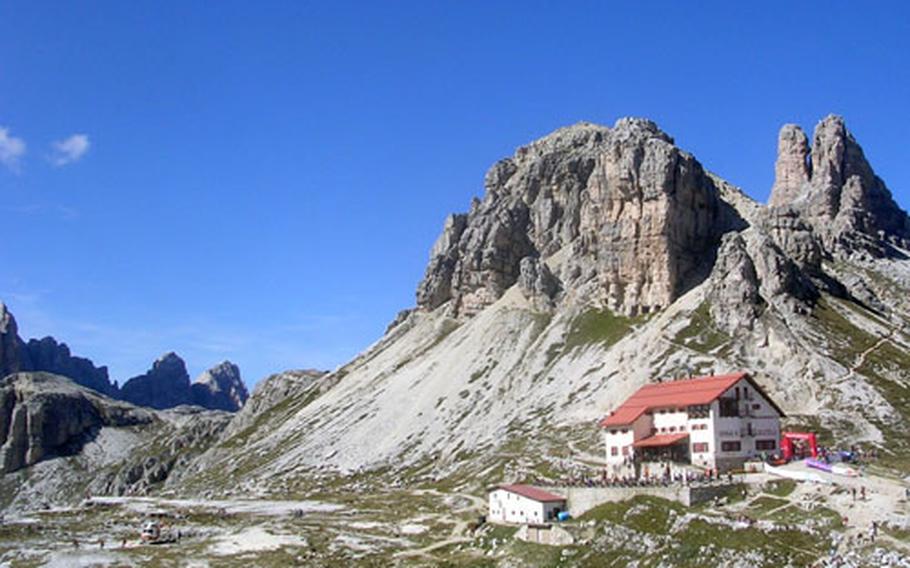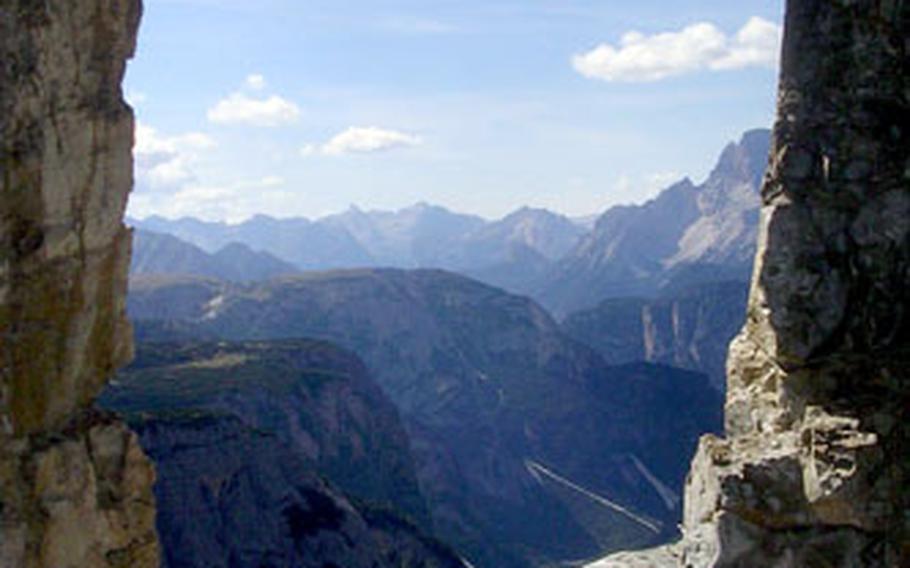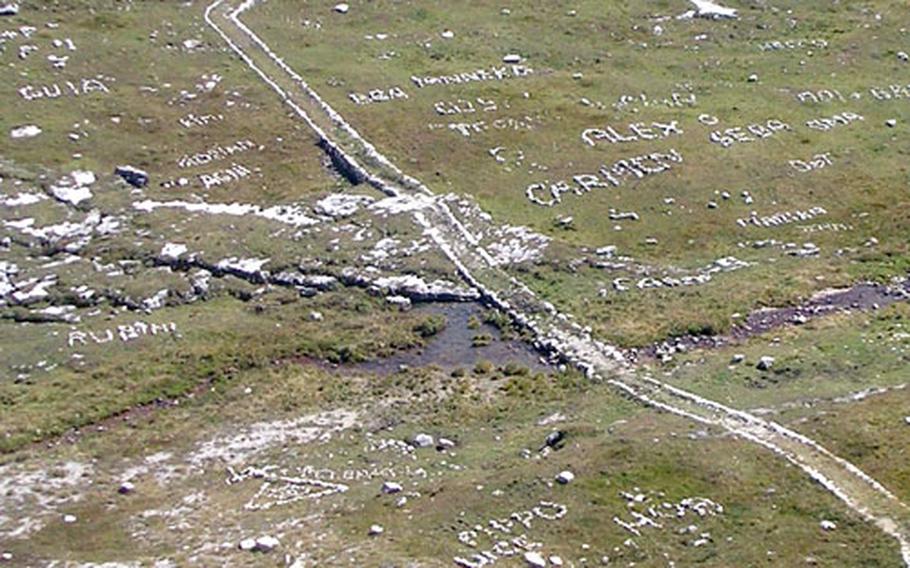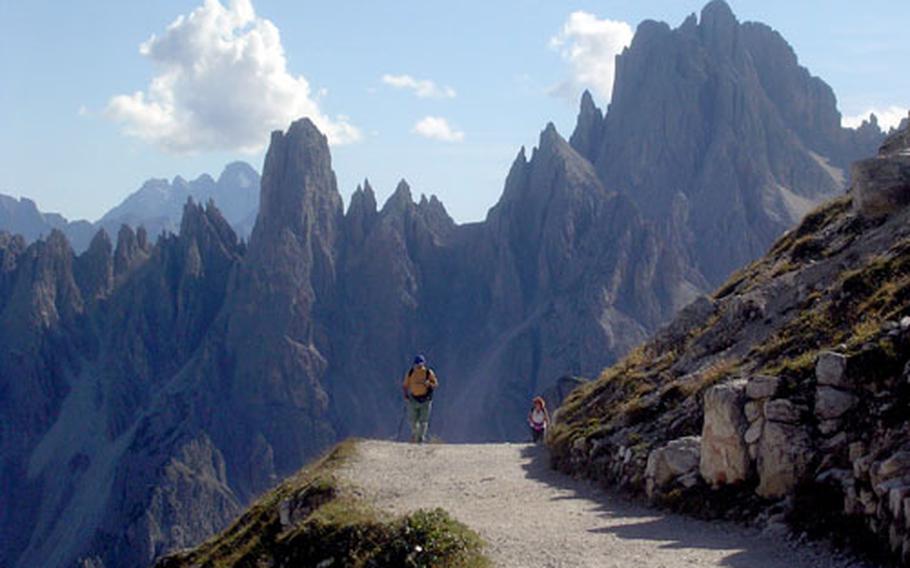 Now I know how Frodo felt hiking across the steep, barren landscape of Mordor wondering if he would survive.
For I was trekking through a similar scene: the craggy, jagged limestone rock faces of the Sesto Dolomites as they rose up to pierce the sky.
The mountains are a challenge to hikers — but one many accept. A series of trails dotted with rifugio (rustic guest houses that offer food and lodging) crisscross this incredible terrain in northern Italy. People, like ants marching in single file, spread across them in all directions, trekking along the trails that rise toward their destinations, then disappear.
On the day we joined them, we were on a round-trip hike between three refuges — the final one surrounded by peaks some 10,000 feet high.
We left our car at the first hut, Rifugio Auronzo, at an elevation of 7,612 feet. The trail toward the first lodge, Rifugio Lavaredo, wound around the base of the magnificent three rock spires of the Tre Cime di Lavaredo. The milelong trail continued to the refuge, which is dwarfed by the pinnacles and ridges of the Sesto Dolomites. It is hard to believe that this range of mountains emerged from the Tetide Ocean 2.5 million years ago as islands surrounded by vast coral reefs.
We easily covered the stretch to Lavaredo in about 30 minutes. The next leg, to Rifugio Locatelli, was a different story.
The path alternated between rising and descending the rocky gray hills on this more challenging section. But it was mostly climbing, and by the time we reached Locatelli we had gained nearly 400 feet in elevation.
The strain of the uphill sections gave the heart a good workout. The uncertain footing of the downhill parts did, too. More than once my heart took a quick, involuntary leap into my throat as I faced the risk of sliding on the loose rocks that often littered the path.
I kept a careful eye on the shifting terrain, trying to avoid twisting an ankle as I walked. Whose idea of fun was this, anyway?
The answer, judging by the hikers that sunny day, was a variety of people.
Families ambled along with babies in strollers, while other children rode on their parents' backs. Older couples with brown, leathery skin outdistanced younger hikers in silent testimony to years of practice climbing hills like goats and ignoring the elements.
Many trekkers used hiking poles. Hiking boots and sturdy tennis shoes were the preferred footwear for most, although I did see one older woman in heels along the easier part of the path at Rifugio Aruonzo.
Grandparents held tightly onto the hands of grandchildren lest they trip and tumble down the steep escarpment. One father in mid-trail was unsuccessfully trying to convince a wailing 2-year-old that it was his turn to walk, after being carried for some time.
I kept a careful eye upon the shifting terrain trying to avoid twisting an ankle as I walked. It was not until I got back to the car that I realized that I had not seen a single cigarette butt along the entire length of the trail; nor had I seen anyone smoking at the hut where we stopped to get something to eat.
Apparently trekkers are that rare group of Europeans that do not smoke. The last time I was in Rome it felt like I was walking in an ashtray, because of all the thousands of cigarette butts trapped in the grillwork of the sidewalks throughout the city. This voluntarily smoke-free zone was a pleasant surprise.
Italians seem to have a burning need to express themselves in graffiti whenever and wherever they can. A hiking trail out in the wilderness is no exception. White stones have been used to write messages and people's names along paths allowing many voices to cry out into the silent night and be heard.
Along the hike from the second to third hut, our numbers were increased dramatically by men and women of all ages pushing past us and hurrying on to Rifugio Locatelli, our own final destination.
Why the big hurry?
Incredibly, it was a marathon. I heard the sound of rapid, gravel-crunching footsteps overtaking me from behind as we all struggled uphill. A sharp, crisp voice behind me barked, "Achtung!" as a sweat-drenched competitor wearing a competition jersey jockeyed for a passing position on the steep narrow trail. I leaned into the hill to let him pass and was grateful that I had no need to hurry over such treacherous terrain.
Then I saw a table set up with water in clear plastic cups, fresh orange slices, and … could that dark red drink be wine? No, it must be a red sport drink. The thought of tipsy trekkers stumbling along the path was too bizarre to consider, even for a moment.
The beat of a helicopter's blades against the blue sky gradually penetrated our awareness. A bright orange-and-white chopper rose into view eerily from behind the jagged peaks in back of us. The helicopter throb surrounded us, bouncing off the nearby hills as it flew overhead. Dust blew up in a cloud as the aircraft settled down just out of view behind the hill with the marathon spectators. Perhaps this was some VIP arriving for a better view or a rescue vehicle in case of emergency.
Each refuge sells beverages, soups and simple meals to hungry hikers willing to pay the inflated prices. When you take a look around at the barrenness of the surroundings and think about how difficult it must be to bring things in and out of this area, you find yourself feeling grateful for the flush toilets and any available food.
Before heading back, we took the trail that wound off to our left toward Monte Paterno. During World War I, the German army excavated a series of caves throughout this area for observation points.
A short scramble down a steep path led to one of these caves. Fantastic views from windows hewn out of stone are the final reward for the day's effort before turning around and retracing our steps on the 90-minute walk back to our car.
Frodo would be proud of our effort.
Mary Kieran is a freelance writer living in Italy. Write her at wordsforsale@hotmail.com.
Know and GoDriving directions: From Cortina, Italy, take Highway 48 to Lago di Misurina. Past the lake, take the road to Auronzo. There is a 20-euro road toll. Park the car at Rifugio Auronzo, and look for the trail to Rifugio Lavaredo.
The round trip: Rifugio Auronzo (near Cortina) was our starting point, elevation 7,612 feet; Rifugio Locatelli (by way of Rifugio Lavaredo) was our outward destination, elevation 7,999 feet. Estimated walking time, three to four hours. Distance approximately 4.5 miles.
Web sites: For more information about the Dolomites, go to: www.dolomititour.com/en/dolomites.htm or whc.unesco.org/en/tentativelists/2026.
— Mary Kieran