Savoring the sweet flavors found in Tuscan wine country
by
Leah Larkin
April 13, 2006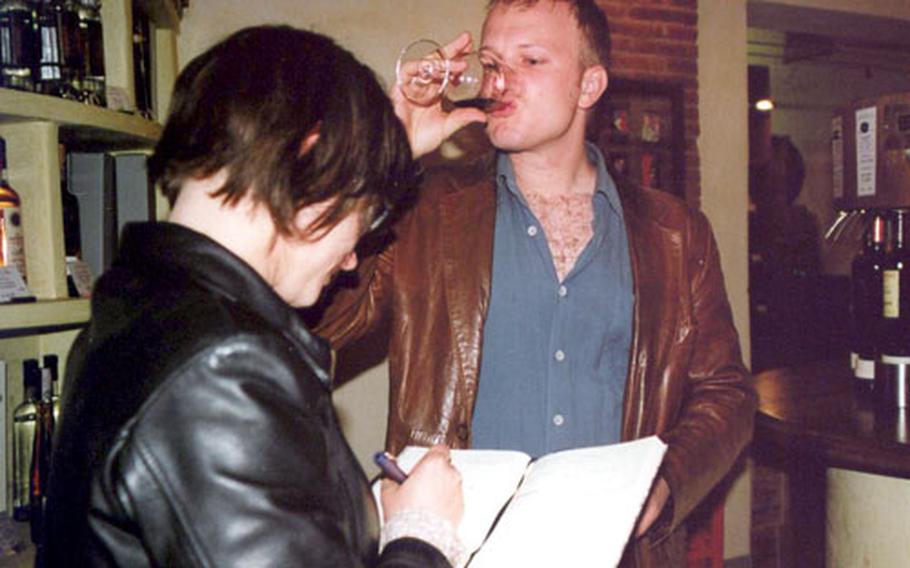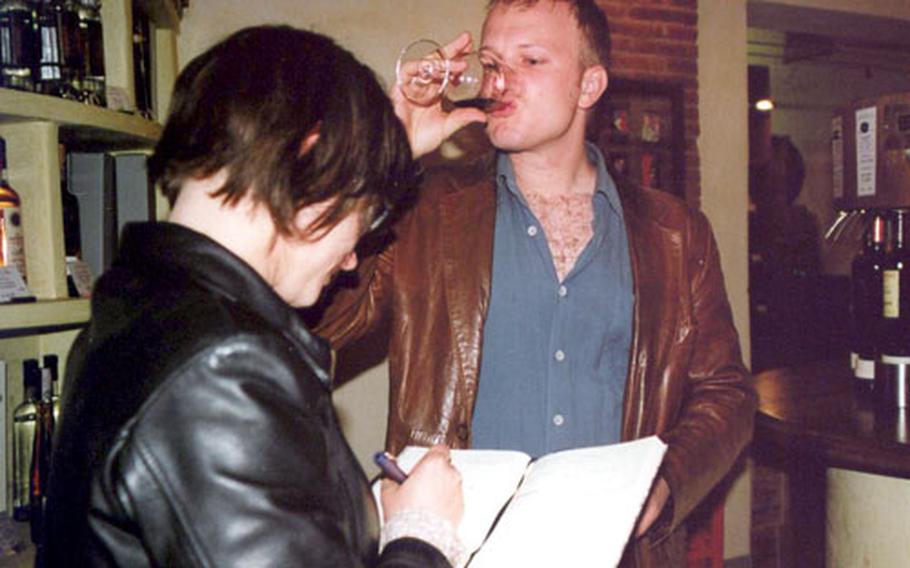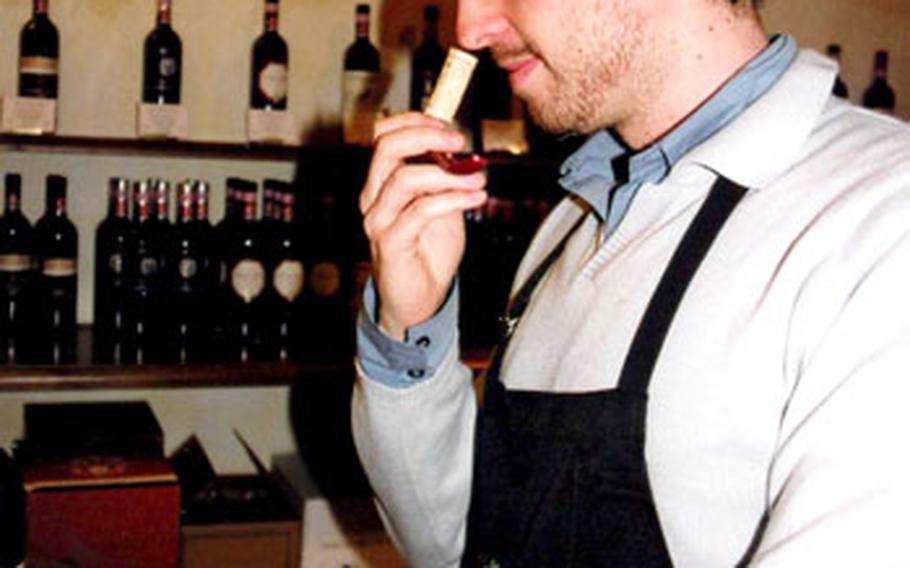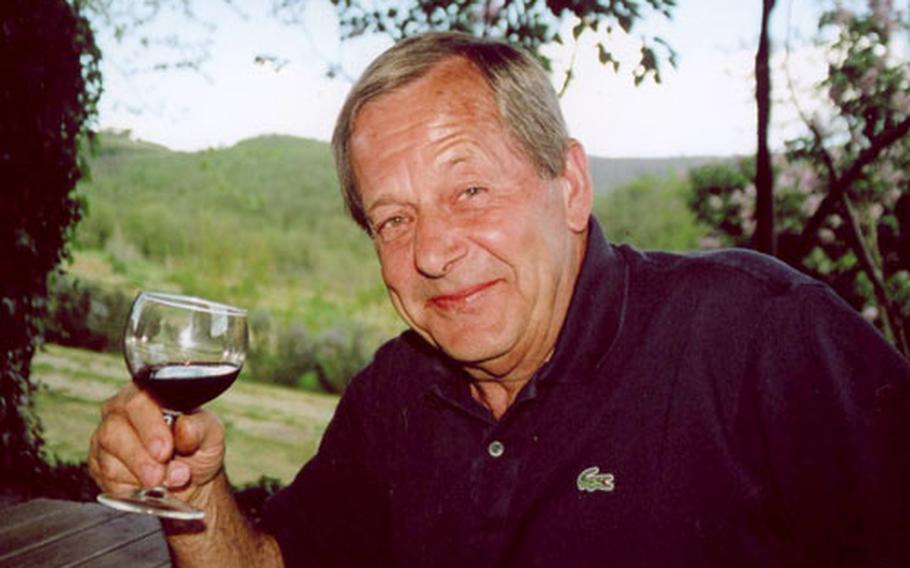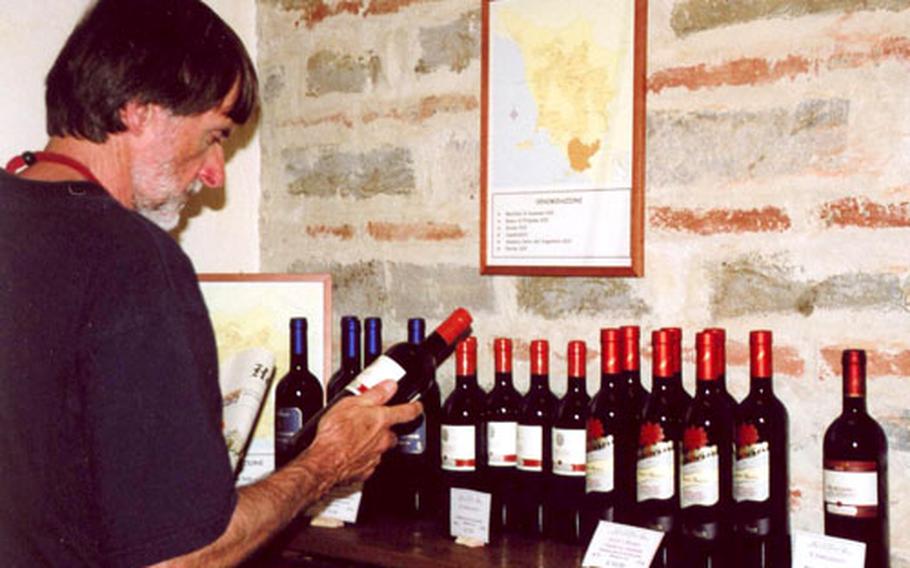 Jeremy and Liz Green were doing some serious wine tasting at Le Cantine di Greve in Italy's Chianti region. She took notes as he savored the flavors and passed judgment.
The Massachusetts couple was spending a month in nearby Florence in a rented apartment. They found eating in restaurants too expensive, so they were doing their own cooking and selecting fine wines to accompany their meals.
The Cantine, where more than 100 Tuscan wines can be tasted, is a fun and delicious experience. Visitors buy cards for 10, 15, 20 or 25 euros ($12 to $30), get a glass, wander around checking out all the wines, then insert the card next to a spigot dispensing the wine they want to try. Individual tastes cost from 40 euro cents to 5 euros, depending on the cost of the wine per bottle.
My husband and I splurged on a 5-euro tasting of a 2001 Solaia Antinori, whose price tag was 104 euros. Mostly we were content with more affordable wines, although we also tried a pricey Brunello di Montalcino and a Vino Nobile di Montepulciano, both prestige wines of the region. On a previous trip, we had visited the towns producing these vintages and bought a few bottles.
With its vine-covered hills, silvery olive groves and ancient Renaissance towns, Tuscany is an ideal place to combine sight- seeing and wine tasting. And, as we discovered, there's more to Tuscan wine than Chianti, its best-known vintage.
After Piedmont, Tuscany is Italy's most famous wine region with more than 157,000 acres of vineyards producing 57 million gallons of wine. Most of that is consumed by Italians, who drink 26 gallons per person annually, compared with two gallons per person in the United States.
Tuscany, where wine has been part of life for some 3,000 years, is noted for red wines made primarily from the Sangiovese grape, which brings firm, robust flavors and milder red berry aromas to the wine. The major wines of the region are the aforementioned reds: Brunello, Chianti and Vino Nobile di Montepulciano, plus Carmignano. One white also merits recognition: Vernaccia de San Gimignano.
In 1963, Italy established wine laws for its most important districts. Similar to the Appellation Contrôlée laws in France, the Italian laws are known as Denominazione di Origine Controllata, or DOC. They specify the geographical limits of each appellation, the grape varieties that may be used, the maximum amount of wine that can be produced per acre and the wine's minimum alcohol content.
In 1980, an even higher and more select category of wines was created, Denominazione di Origine Controllata Garantita, or DOCG. These laws reduce maximum production per acre and specify that every wine must be approved by a tasting commission before it carries the DOCG seal.
Chianti, which years ago was known as a table wine bottled in straw-covered flasks, has moved up the ladder in quality. Today, all wines labeled Chianti are DOCG wines. That quaint bottle is now hard to find due to the high labor costs of hand-wrapping each flask. And, the better Chiantis produced today are best if aged and laid on their sides.
Chianti is divided into two appellations, Chianti Classico and Chianti, both designating the area where the vineyards grow. Chianti Classico is produced in central Tuscany in the hills between Sienna and Florence, while Chianti comes from a large area surrounding the Classico territory.
Chianti production code requires a minimum of 75 percent of the Sangiovese grape; for Chianti Classico, 80 percent. In the past, grapes used mainly for white wines, Trebbiano and Malvasia, were blended in Chianti production, a practice now largely abandoned. Today, in addition to the Canaiolo grape, Cabernet Sauvignon and Merlot grapes are blended with Sangiovese to produce Chianti. Depending on where the grapes are grown and the vintage, Chianti ranges from a light, fruity wine to a full-bodied, dry acidic wine that will age for 10 years or more.
Chiantis with the word riserva on the label are superior wines that have been aged for at least three years. According to Roberto Melosi, who owns 10 acres of vineyards near Radda in Chianti, "You only make riserva when you have a very, very good year."
2000 was one of those years, and 2001 was even better. But, no matter how good, Chianti should not be kept longer than 15 years, he added.
Melosi, a red wine aficionado, touted the health benefits of drinking red wine as opposed to white.
"Doctors recommend a glass of red wine for cardiac problems, not white wine," he said. "A white wine is like a lady that needs to be dressed up. She needs a lot of makeup."
Nonetheless, Tuscany's white wine, Vernaccia di San Gimignano, a refreshing wine with notes of citrus, has its fans. The town of San Gimignano, with its skyline of ancient towers, is a pleasant place for a walk followed by a glass of its famous wine at an outdoor cafe.
Some years ago a new category of Tuscan wines emerged: "Super Tuscans." In the 1960s, a group of young Chianti producers decided to buck tradition and to ignore the standard recipe for the wine by blending different grapes in different proportions not authorized by DOC laws.
One of the first of these wines was a Sassicaia produced in 1968 that is 85 percent Cabernet Sauvignon and 15 percent Cabernet Franc. More followed, and the wines were deemed "fabulous." But, they weren't Chianti, and they could not be listed as DOC or DOCG wines. They had to be called vino da tavola, or table wine, putting them in the same category as Italy's cheapest wines.
After tasting one of the new wines, an English journalist dubbed them "Super Tuscans." Today, these wines can cost as much as $200 per bottle. As it is not an official category, there are no strict rules, but most are a blend of Sangiovese and French Bordeaux grapes.
Leah Larkin, a member of the Society of American Travel Writers, is a journalist living in France.
Know and Go
Le Cantine di Greve is at Piazza delle Cantine 2 in Greve, Italy, in the Chianti region of Tuscany. It's open 10 a.m. until 7 p.m. daily. Its Web site is www.lecantine.it.
---
---
---