Relive Winnie the Pooh's adventures in England's Ashdown Forest
---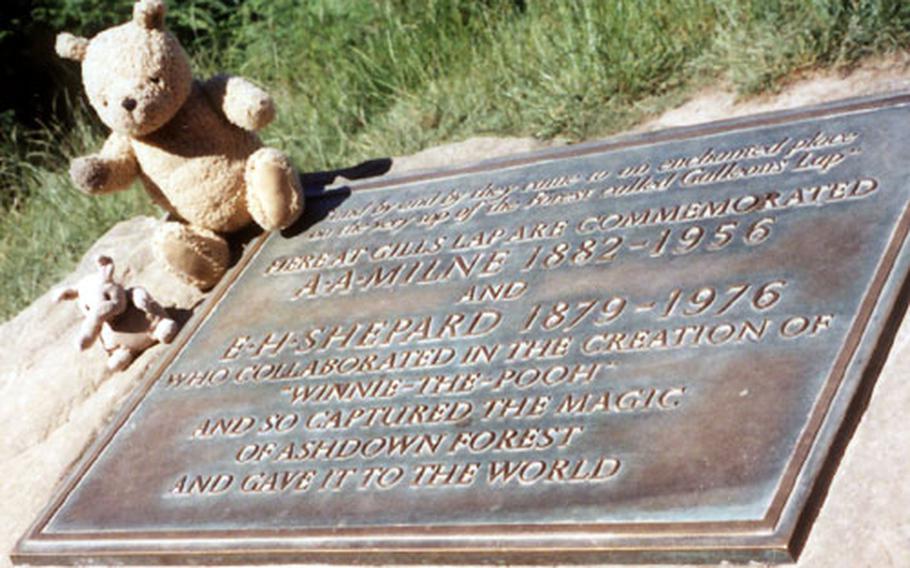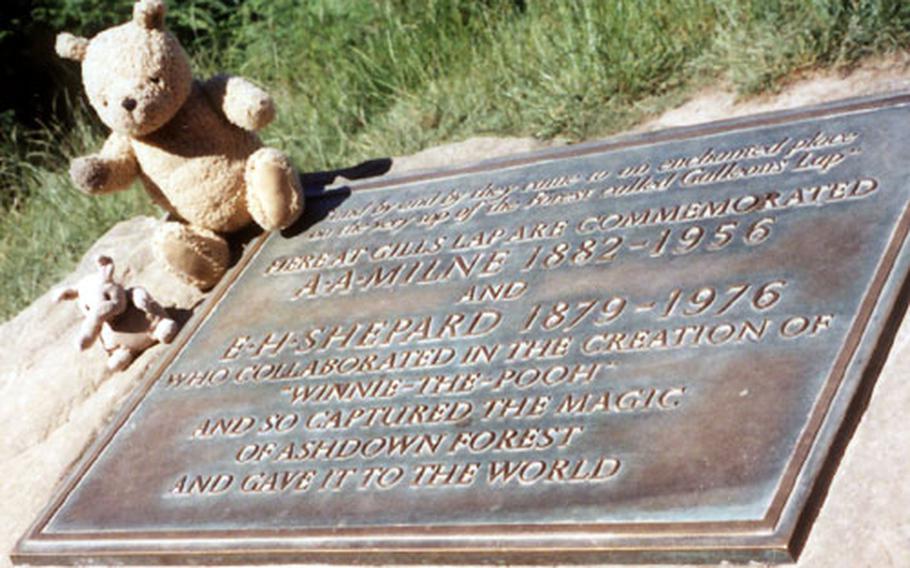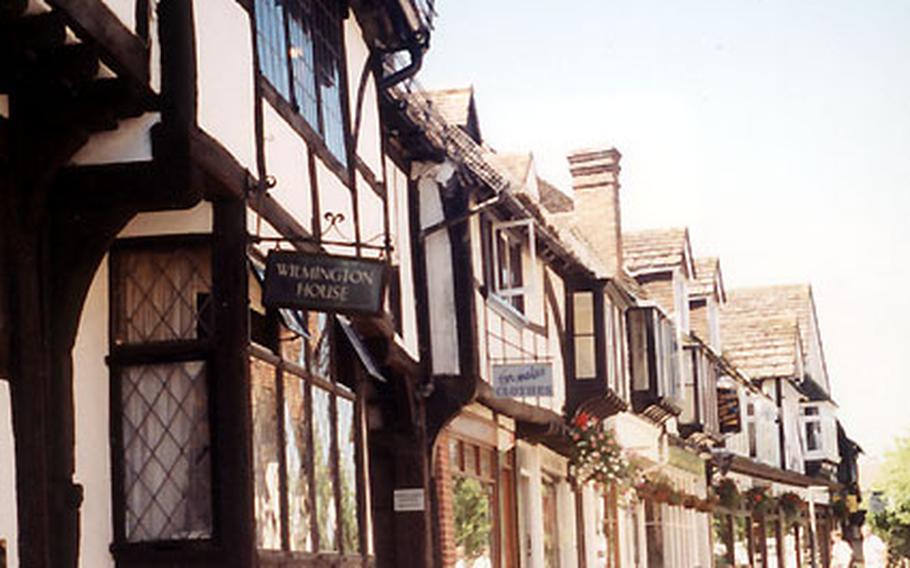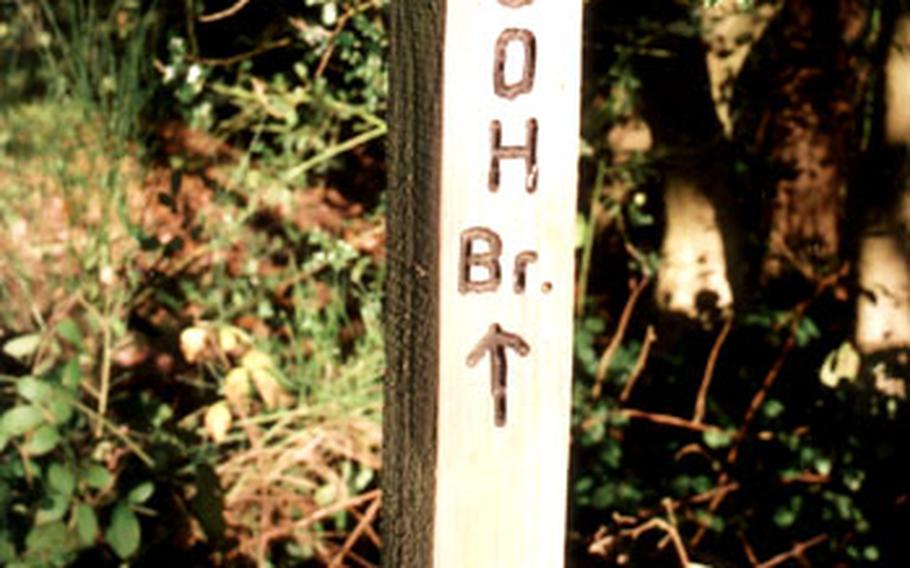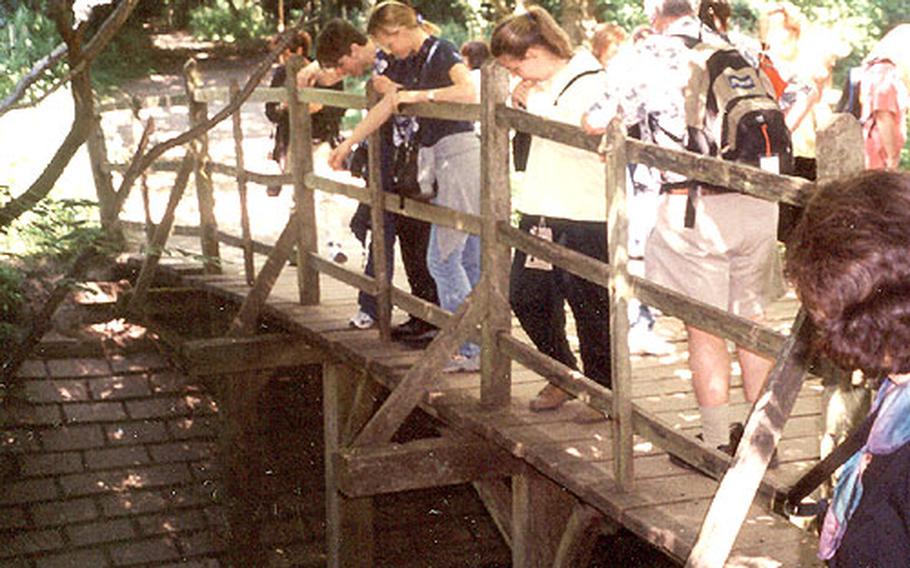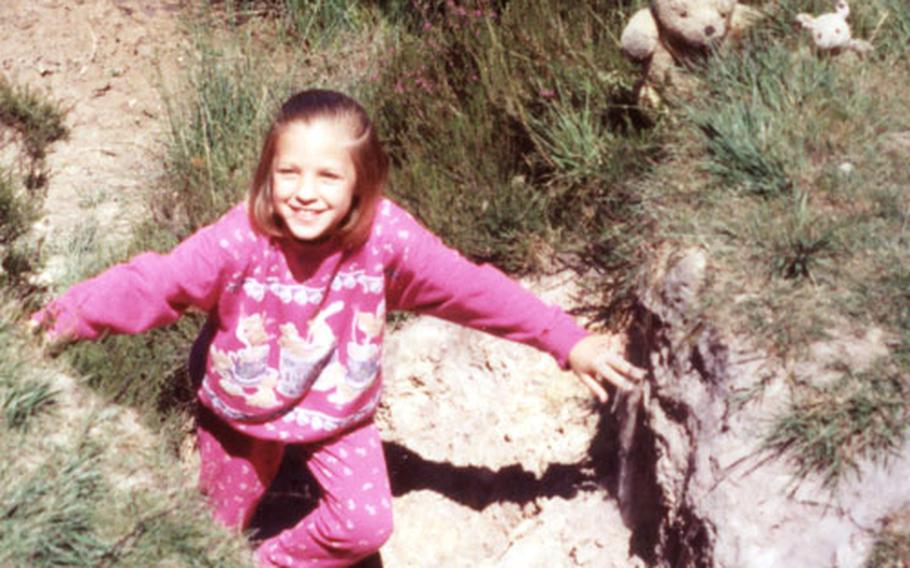 Fans of "Winnie-the-Pooh" can retrace Christopher Robin's steps and see for themselves the actual locale of the popular stories, which have delighted children and their parents for much of the last century, in England's Ashdown Forest.
The forest is in East Sussex, between London and Brighton, and with a well-marked map it is easy to find Poohsticks Bridge, Roo's Sandy Pit and even Christopher Robin's childhood home.
The forest is a 2½-hour drive, depending on traffic, south of London. For those who would rather not drive, it is easily reached by public transportation — and that is the route our group took on a recent trip.
We took one of the frequent trains leaving London's Victoria Station for East Grinstead, about a 50-minute ride. East Grinstead is at the end of the line and from the station there are buses leaving hourly for Hartfield, a town on the edge of Pooh country.
While waiting for the bus, take a look around East Grinstead and its medieval High Street full of specialty shops and 14th-century timber-framed buildings, the longest continuous group in England. There are also some beautiful examples of Georgian and Regency architecture as well as Sackville College, the beautiful sandstone almshouse founded in 1609, where the famous Christmas carol "Good King Wenceslas" was composed.
But for our purposes, perhaps the most important stop was at the the town's tourist information center — look for the "i" signs — in the library for a map of Pooh country.
The bus bound for Hartfield — No. 291 — stops at the East Grinfield rail station and outside Barclay's Bank in the High Street area. Once aboard, we passed through lush wooded countryside to Hartfield village on the edge of Ashdown Forest. We trod the path past St. Mary The Virgin Church and through its 1520 Lych Gate. It led us to the also-ancient Anchor Inn for a leisurely pub lunch in the inn's garden. In an earlier life, the Anchor Inn building was home to the Corrective House for Wayward Ladies and Nagging Wives — surely a story in itself, but not the one we were here for.
Over the years, Hartfield Parish has included Henry VIII's hunting lodge (the "hart" of Hartfield means "red deer"), and also the home of A.A. Milne, who penned the Pooh stories imagined by his son, 5-year-old Christopher Robin.
The stories were about the boy and his 4-year-old stuffed Steiff bear, Winnie — "the Bear of Very Little Brain" — and his imaginary friends Piglet, Eeyore, Tigger, Kanga, Baby Roo, Owl, Rabbit and others. They were set in the very real, but magical Ashdown Forest, some 6,000 acres of Sussex oak.
We got more information at Hartfield's Pooh Corner, a shop stuffed with everything Pooh, where you can pick up a detailed map of the area. From here, it is a short taxi ride — or uphill walk — to the top of Ashdown Forest.
"So they went off together. But wherever they go, and whatever happens to them on the way, in that enchanted place on top of the Forest a little boy and his Bear will always be playing."
The taxi dropped us at Galleons Lap, described in Milne's stories as "an enchanted place on the very top of the Forest … which is sixty-something trees in a circle." Here we could see far off in every direction. The panoramic view whetted our imaginations as we began to see what Christopher Robin saw many years ago.
At Galleon's Lap there is a memorial to Ernest W. Shepard, the illustrator of the Pooh books, and Milne, and park benches that mark The Enchanted Place. As in Pooh's time, it's a "nice place for pikniks."
Our strategy was to start at the highest point and walk downhill through the forest, stopping at sites along the way. This would please both parents and kids — and nonathletic Pooh enthusiasts.
Orienting ourselves with our map, we looked far across the road to the site of North Pole — or at least the one Christopher Robin and his friends stuck in the ground. A small distance past is the 100 Aker Wood where Pooh decided to catch a Heffalump. It was a bit far to hike over there.
We wended our way through the prickly gorse bushes in a single file, collecting small twigs and sticks we wanted to use later at Poohsticks Bridge, where "Pooh invented a new game."
But first we sought the Sandy Pit where Kanga and Baby Roo liked to play on quiet afternoons. It is a rather large sandy depression surrounding a pool of water. The more adventurous among us, meaning the kids, climbed down into it and circled around the tiny lake, emerging dusty and happy.
The gentle downhill hike delivered us to the Poohsticks Bridge parking lot by Marsh Green. A path led us through a gate to a pasture and, a half-mile later, to Poohsticks Bridge.
This lovely, shaded, wooden bridge — alas not the original — over a clear cool river (actually, more like a stream) is at the edge of the forest closest to Christopher Robin's real home. Here Pooh accidentally dropped a fir cone into the river and, when it floated slowly under the bridge, invented a game:
" 'That's funny,' said Pooh. 'I dropped it on the other side, and it came out on this side!'
"Then he dropped two in at once, and leant over the bridge to see which of them would come out first; and one of them did. And that was the beginning of the game called Poohsticks which Pooh invented, and which he and his friends played on the edge of the forest. But they played with sticks instead of fir cones, because they were easier to mark."
We had a ball dropping the sticks we collected and racing them among ourselves. The bridge is a popular stop and a great photo opportunity.
At length, we trudged uphill from Poohsticks Bridge and the Ashdown Forest and all its magic on a broad path. The path returned us to the "outland," with its fences, houses and cars.
We stopped by a gate. There across the yard stands the Milne House — now private property and owned by others. From the road we could see Christopher Robin's window.
It took us 40 minutes to hike back to Hartfield Village. The true Pooh buffs among us headed for Pooh Corner, a shop with every Pooh thing imaginable. There, I picked up a very comprehensive catalog for Christmas gift ideas.
We caught the bus back to the East Grinstead Station for the 6:08 p.m. train back to Victoria, where we arrived, on time, at 7:01 p.m., bringing to an end our day with Pooh.
Dennis A. Cavagnaro, a retired Marine, has traveled extensively in Europe. He now lives in the States.
If you go to Pooh country ...
It's a good idea to read — or reread — the story of Winnie-the-Pooh before visiting Pooh country. I enjoyed reading and quoting Pooh and his friends from: "The World of Pooh: The Complete Winnie-the-Pooh and The House at Pooh Corner" by A.A. Milne, illustrations by Ernest H. Shepherd.
Then, be sure to stop to pick up a map before heading into the woods. Maps and additional information are available at several sites, including:
¶ East Grinstead Tourist Information, Library Buildings, West Street, East Grinstead, West Sussex RH19 4SR, England; telephone (+44) (0) 1342-410-121; fax (+44) (0) 1342-410-262; e-mail: tourism @east grinstead.gov.uk.
¶ Ashdown Forest Visitor Centre, open 2-5 p.m. daily April 1 through Sept. 30 and 11 a.m. to 5 p.m. on weekends, except on bank holidays. Telephone (+44) (0)1342-823583; Web site www.eastsussexcc.gov.uk/ashdown/icentre.htm. There is a charge for its maps and brochures.
¶ Pooh Corner, a shop in Hartfield stuffed with everything Pooh, that carries detailed maps of walks through the forest.
Judy Mold is an expert local guide who for many years led the weekly Original London Walks day-out Pooh tour. She will meet your train at East Grinstead and arrange for transportation to Hartfield and the Pooh sites in the Ashdown Forest. She is accompanied on her walks with two stuffed Pooh bears, the original Ernest Shepard version and Walt Disney's interpretation. Her company runs tours on a set schedule from April through the end of October and by appointment the rest of the year. Her telephone number is (+44) (0)1342-823-741.
To reach Hartfield by car, take the M23 south. At the first exit, take the A264 to East Grinstead and then the A22 south to the village of Forest Row, then exit left on to the B2110 which leads to Hartfield.
Ashdown Forest is open all the time. There is no admission charge.
— Dennis Cavagnaro
---
---
---
---