Raise a glass to Oktoberfest
---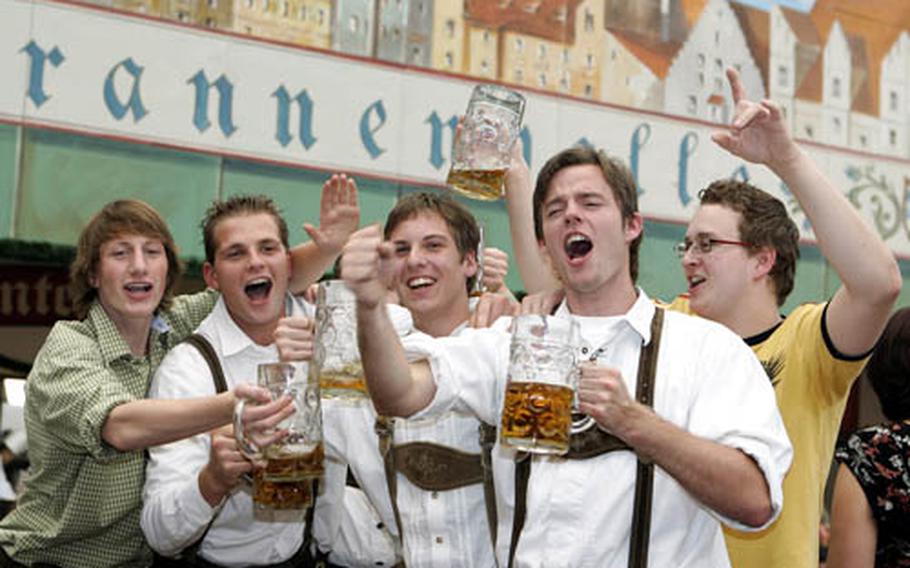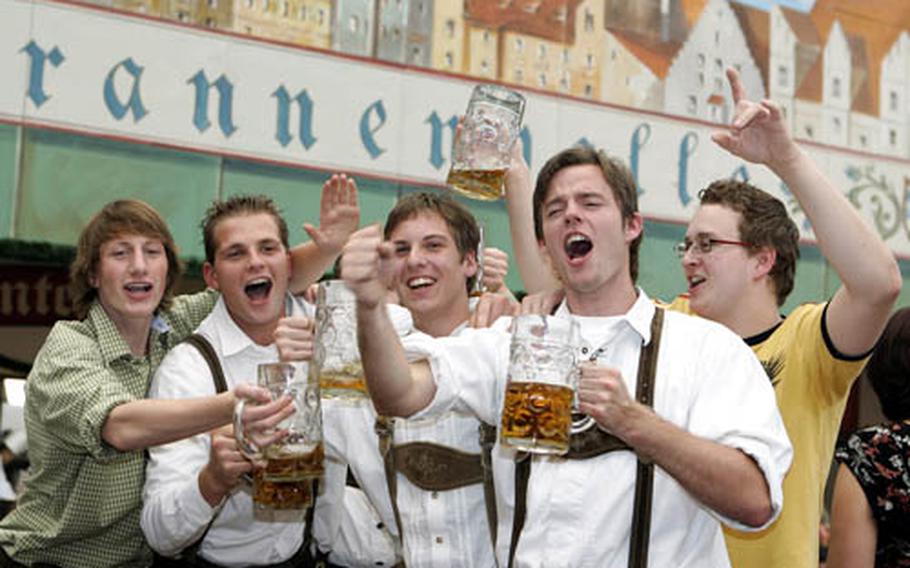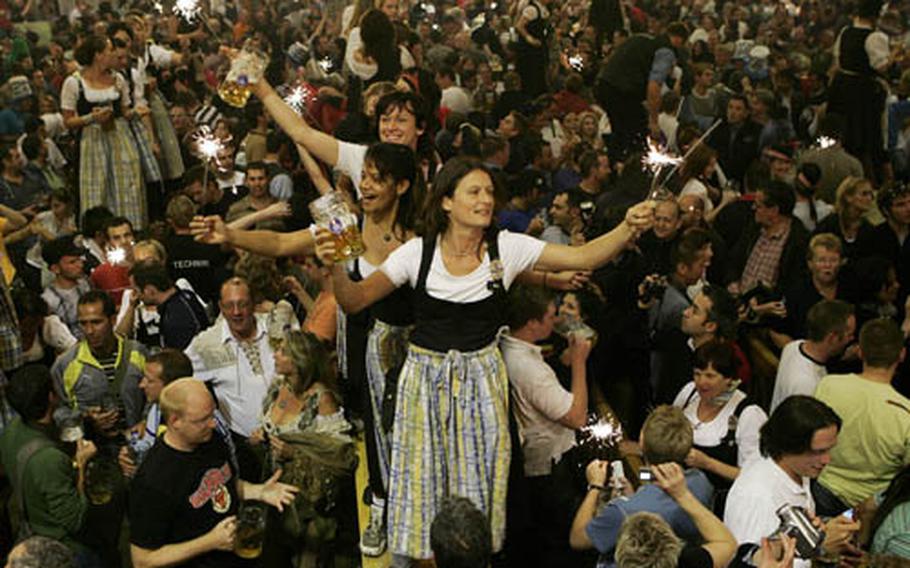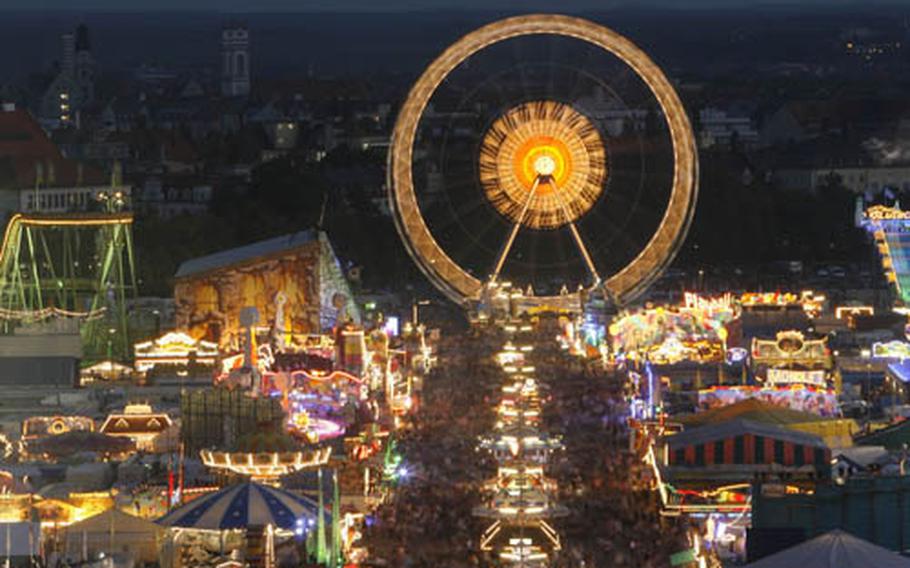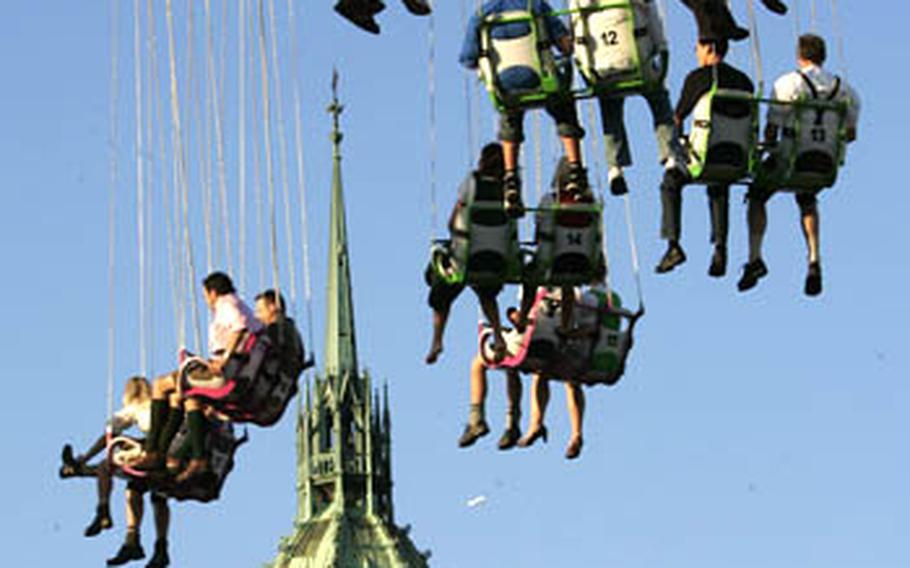 I got this story firsthand.
Last year, a group of eager young lieutenants headed for Munich, making the early morning 474-kilometer haul in the hope of getting a prime seat in one of the big tents. Like so many soldiers stationed in Germany, this band from Baumholder was bound for Oktoberfest, where liter-size steins of beer awaited.
But what these infantrymen found upon their arrival at the festival grounds was one beer hall after another already filled to capacity. At Oktoberfest, no seats equals no drinks.
Now, the ringleader of this group, whose members are currently serving in Iraq and whose identities are being withheld as a courtesy, didn't stop there. Why not slip a waiter some cash, jump the line and settle in for a long afternoon of drinking?
Well, the waiter took the cash and slipped away, leaving the soldiers seatless and short some 70 euros.
This debacle points directly to Oktoberfest cardinal rules No. 1 and No. 2: Don't try to bribe the staffers and ARRIVE EARLY!
Without a doubt the most important thing to remember about Oktoberfest, which kicks off Sept. 20, is that you cannot be served beer unless you have a spot at a table. And if you're looking to have the quintessential Oktoberfest experience, that means winning a seat in one of the legendary beer tents. There are 14 of them, and they seat several thousand each. But competition for a seat at one of the prized tables is stiff.
Seven million people are expected to attend the 16-day extravaganza, where about 6 million liters of beer will be guzzled, organizers report. So if you're looking to get inside one of the tents, arrive no later than 8 a.m. And if you plan to arrive on opening weekend, when the lines are longest, it might be a good idea to get there even earlier.
If you fail to gain entry to one of the big tents, head for the outdoor seating areas around each of the tents. These spots also tend to fill up quickly, though you shouldn't have a problem getting a seat if you arrive at about 9 a.m.
As for that group from Baumholder who failed last year to get into the big tents, they still managed to have a good time and get their drink on.
Reached by e-mail in Iraq, the unnamed ringleader scolded this reporter for reminding him about ice cold beer and merrier times in Munich.
He replied: "One hundred and twenty two degrees today. That's all I have to say."
Know & GoGetting there
Driving to Munich is an option, but finding parking near the Oktoberfest grounds is a nightmare. Hordes of drunken revelers, decked out in dirndls and Lederhosen, are stumbling around all over the place. You're likely to run over one, so just leave the car at the hotel and take the subway.
Taking the train or bus also is an option. Tickets are available directly from the Deutsche Bahn, Germany's rail line, or through various on-base travel offices. Check with your local Outdoor Recreation offices, which offer one-day bus trips for about $50.
Once in Munich, subway prices are reasonable. Your destination will be subway stop Theresienwiese on the U4 and U5 lines. After that, just follow the crowd to the Oktoberfest grounds.
If you're going with a group for just one day, buy the subway's adult partner day ticket, or Partnertageskarte Innenraum, for 8 euros. Be sure to validate your ticket at one of the little yellow electronic boxes before getting on the subway.
If you're going for the weekend with a small group, buy the three-day adult partner ticket for 21 euros, which is good for up to five people. The tickets can be purchased at kiosks, which have English-language options, at Munich's main train station (Hauptbahnhof) and subway stations.
Or, if you're like me, get an attendant to do it for you.
Numbers to know
• Oktoberfest dates: Sept. 20 to Oct. 5.
• Beer cost: About 8 euros for one liter.
• Drinking hours: 10 a.m.-10:30 p.m. opening day, with the official keg tapping at noon; 10 a.m.-10:30 p.m. weekdays; 9 a.m.-10.30 p.m. Saturday and Sunday.
• Family days with reduced prices: noon-6 p.m. Sept. 23 and Sept. 30.
Important phone numbers
Oktoberfest customer service: 089-2323900 or089-50077500
Oktoberfest Police: 089-5003220
Munich tourism office and hotel reservation booking service: (+49) (0) 89-233-96-550Web sites
German rail system: www.bahn.de
Official site: www.oktoberfest.de
Munich public transportation: www.mvv-muenchen.de
Tips
• Guard your seats at the fest by taking turns using the restroom.
• Remember to pace yourself and be sure to try one of the gargantuan pretzels, which will help absorb all that beer.
---
---
---
---