Quick Trips: Get views, exercise on hike to Germany's Burg Trifels
---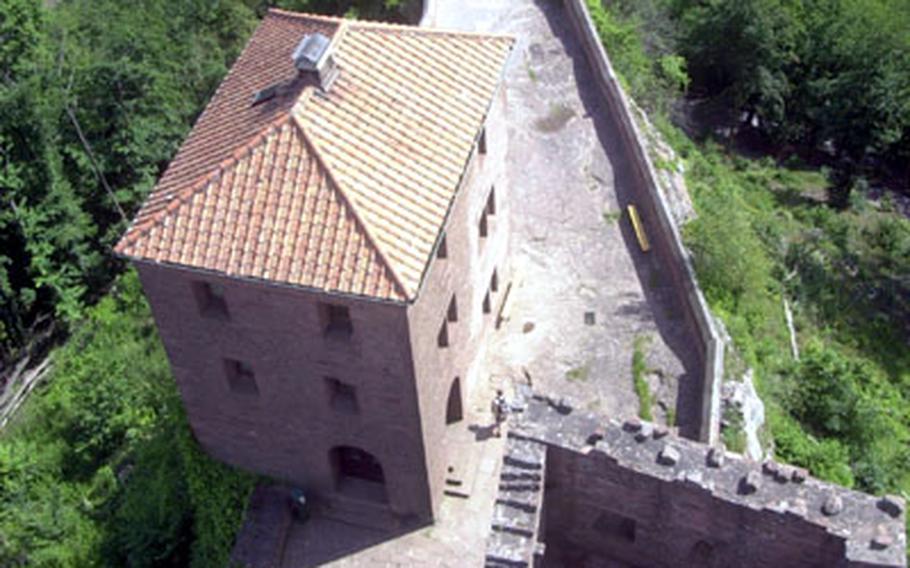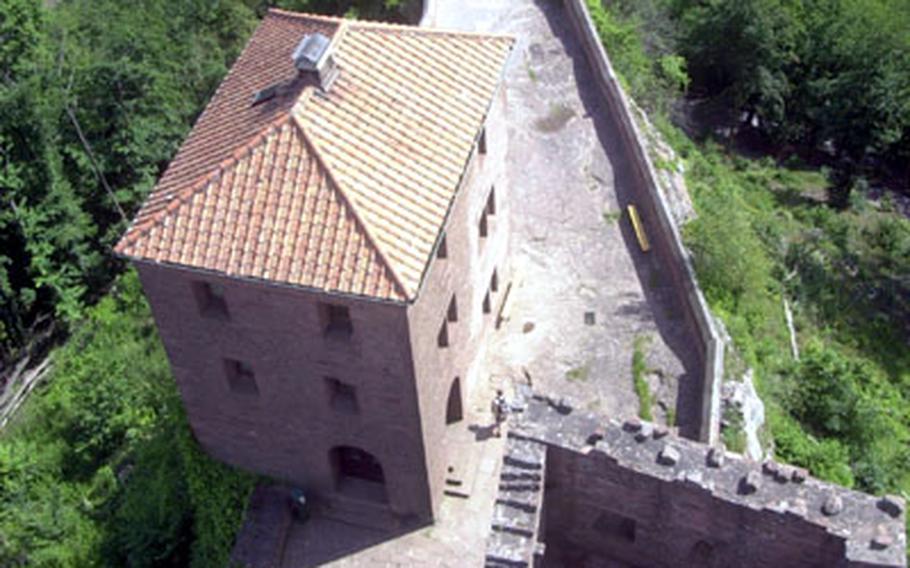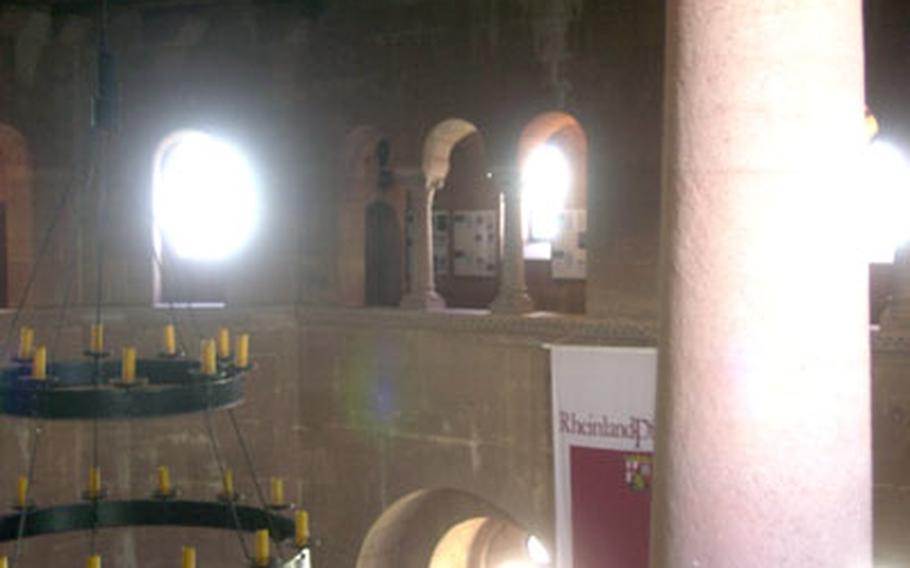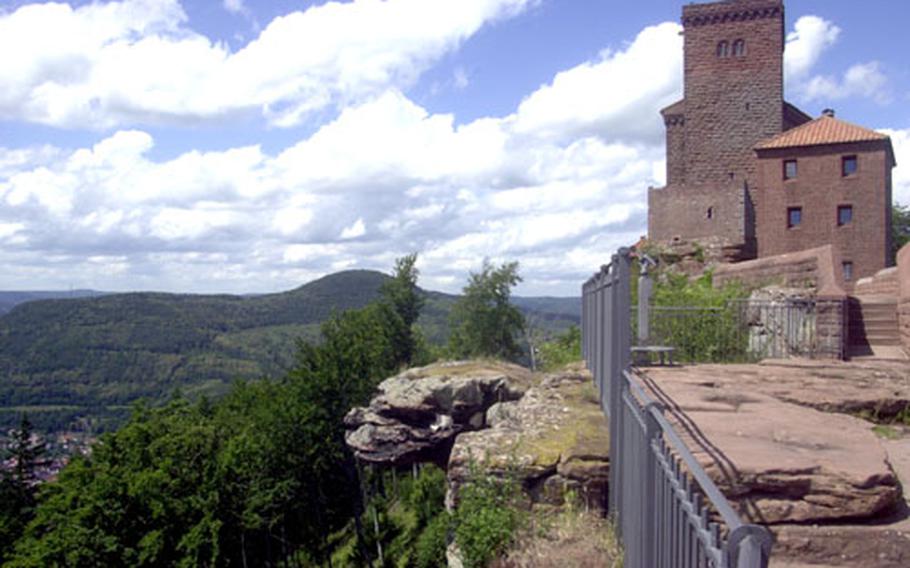 Perched on a hilltop in Annweiler, Germany, an hour south of the Kaiserslautern military community, Burg Trifels offers visitors a tour through time with stunning views of the surrounding forest.
The small castle dates to the 11th century but work was done to it as recently as 1966. The red stone castle sits atop a narrow, rocky outcropping that is only reached after a roughly 20-minute uphill walk from a parking lot below. Be sure to wear a decent pair of walking shoes. A bench is located along the trail if you need to take a breather.
If you think that the walk might not be worth it, you're wrong. About 100,000 people visit this most popular castle in Rhineland Pfalz each year.
The views of the verdant forest and German villages alone are worth the trip. On a clear day you can see for miles, including the nearby city of Landau. The main tower was heightened in 1966, but some remains on site date to the 11th century.
Despite the upgrade, the well-maintained castle keeps an Old World feel and is true to its Middle Age architecture. After paying your entry fee, you'll head up some more steps and be atop the main castle grounds. You also can purchase a short guidebook on the castle for a few euros when you pay your entry fee.
Take time to soak in the views at each end of the narrow strip, which have incredible panoramic outlooks. Also, if you need to use the restroom, there are separate — and clean — men's and women's facilities near the northern end of the castle grounds.
After you've had your fill of the outside, head for the castle's interior (you'll see a sign in German, "Burg Eingang"). The cool, dark interior is a welcome reprieve on a sunny summer day. Inside you'll see models of what the castle looked like hundreds of years ago.
Stones with pinkish hues were used to build the castle walls, steps and spiral staircases. The work attests to the craftsmanship that went into its construction. A large ballroom with marble flooring and a wooden- beam ceiling awaits visitors inside the castle. Stone chairs near the windows make a nice spot to take a photo of a loved one.
From the ballroom, you can follow placards that are set up, explaining the life and times of King Richard I, known as Richard the Lionheart. The famous English king was held captive at Burg Trifels for about 20 days in the spring of 1193. The history exhibit can be read on 16 panels in English, German and French.
Heading upstairs, you'll see stone columns used to support the small arches that surround the upper balcony of the ballroom. On the walls are excerpts from books about castles in the region. Also, you can see replicas of royal jewels once kept at the castle.
If you're up to it, hike up a couple flights of steps to the top of the castle's main tower. From the tower (104 feet above the castle courtyard), you'll have an unobstructed, 360-degree view of the outlying area. Also — with the castle parking lot visible well below — you'll be able to see just how far you came to get where you are standing. Drink in your view. You definitely earned it. When you're back down, head to the parking lot where you can finish your trip with a beer and a pretzel at a snack stand near the trailhead.
Know and Go ...Directions: From Kaiserslautern, take L503 to B48. Stay on B48 through a heavily forested area for about 20 miles. When B48 ends, take B10 toward Annweiler. Just after the second tunnel on B10, get off in Annweiler and follow signs toward Burg Trifels. The signs are brown with white lettering. The drive from Kaiserslautern takes about an hour.
Times: From Jan. 1 to March 31: 9 a.m. to 5 p.m.; From April 1 to Sept. 30: 9 a.m. to 6 p.m.; From Oct. 1 to Nov. 30: 9 a.m. to 5 p.m. Closed in December. Last entry is 30 minutes before closing time.
Costs: Entrance is 2.60 euro for adults. Groups starting from 20 persons are 2.10 euro. Seniors are 1.30 euro. Children and young persons are 1 euro, and family admission is 6.10 euro. Parking is 1 euro for motorcycles and 1.50 euros for cars. Tour books in English available at the castle for 2 to 3 euros.
Food: A snack stand with beer, brats, pretzels, sodas, ice cream bars and souvenirs is at the trail near the parking lot that leads to the castle. Outdoor tables with umbrellas are located near the snack stand. A sit-down restaurant with a larger menu is across the main parking lot.
Information: Call the Trifelsland tourism bureau at 06346-2200 or visit www.trifelsland.de. No dogs allowed at castle.
---
---
---
---