Quick Trips: Germany honors Elvis's time in military with show of photos, memorabilia
---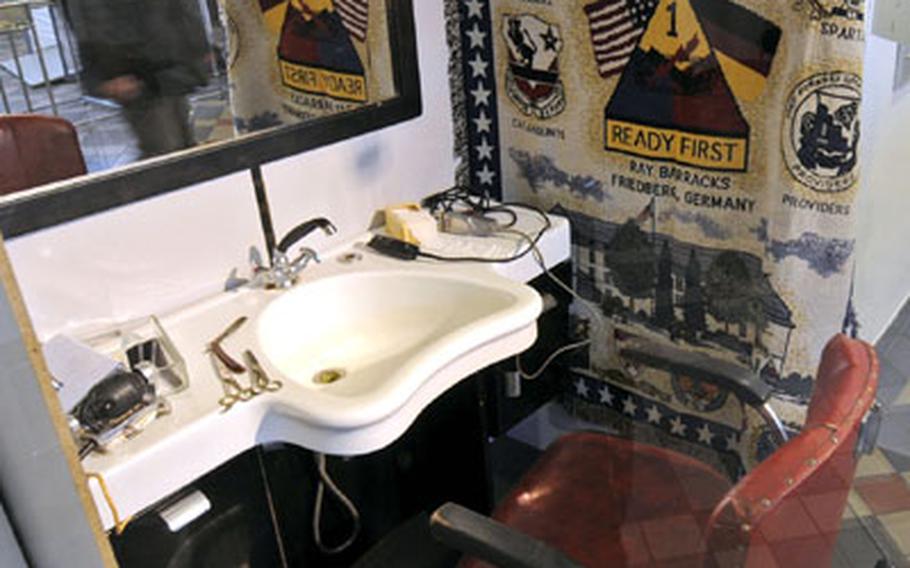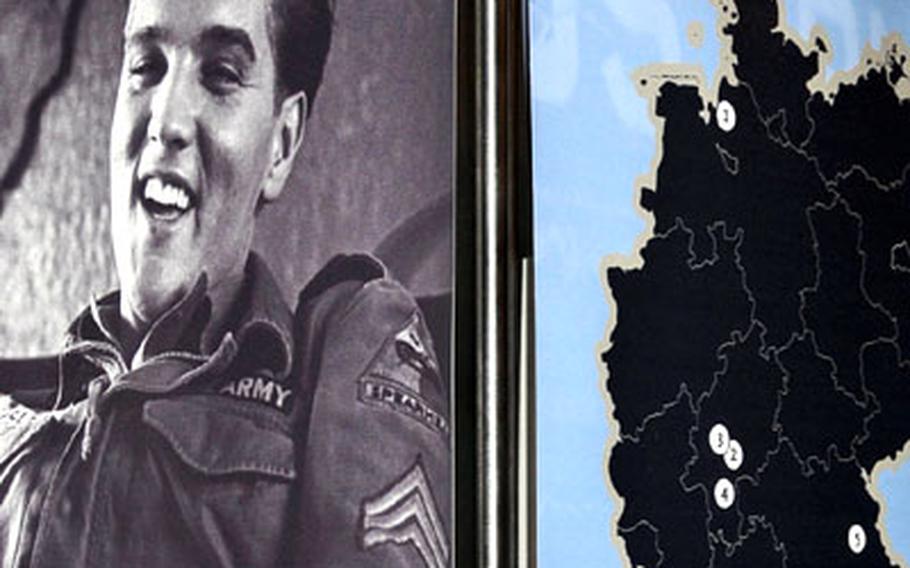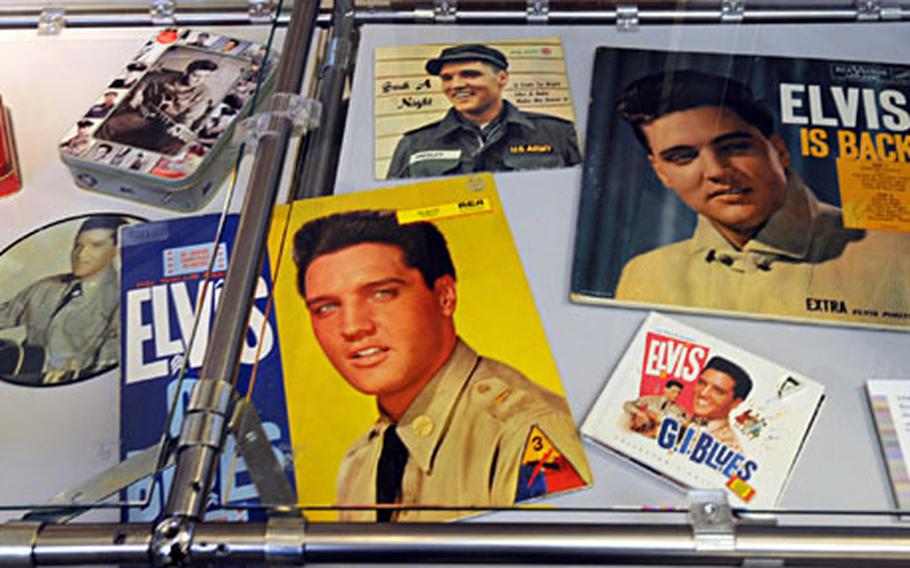 He may well be the most popular U.S. soldier in history.
On Oct. 1, 1958, rock 'n' roll's "King" arrived at Ray Barracks in Friedberg, Germany, to serve his country as Pvt. Elvis Presley.
Now he is being honored in a new exhibition that chronicles the 17 months he spent in Germany, including time in Grafenwöhr, Munich and Paris. The exhibit, called "Elvis Presley in Germany: 50 years," is at Wiesbaden's city hall.
The show is a mix of historic photographs, posters and remarkable memorabilia. It is divided into 10 sections based in part on the places he was assigned or visited when he was in Europe, starting with his arrival by ship at Bremerhaven, Germany, and ending with his departure by plane from Rhein-Main Air Base.
Representing the time in between are photos of Elvis' military life at Friedberg, training at Grafenwöhr, living in a privately rented house in Bad Nauheim, off-duty days in Wiesbaden and Munich, and his relationships with German fans and admiring women. Among them were actress Vera Tscherchowa, whom Elvis met in Frankfurt and dated briefly, and Priscilla Beaulieu — the stepdaughter of a U.S. Air Force officer — whom he met in Wiesbaden and would eventually marry. The exhibit includes a Beaulieu family photo showing her as a very grown-up 14-year-old.
While in Germany, he took on two images. One was as a representative of the thousands of GIs who were stationed in Europe during the course of the Cold War. It showed the will of the United States to defend western Europe from communism, even recruiting a music and film star such as Elvis. Definitely a political statement.
The other was a pop culture icon. From his arrival on, he was pursued by the news media and German fans of all ages. Photographs of Elvis in uniform were sent around the world, and he was featured regularly in many German magazines. The teen magazine Bravo had photos and stories on him in many issues. One cover story claimed that he became a German when he arrived. In 1959, a special 23-page issue included a life-size cut-out image of Elvis that fans could paste together and hang on their walls.
Also included: the barbershop where Elvis went regularly to have the same German barber trim his hair; a working juke box that plays 120 songs — 90 of them by Elvis; and a section on how The Stars and Stripes covered the famous soldier.
There is also a copy of the film "G.I. Blues," which shows what he experienced, or could have experienced, during his overseas assignment.
The show is very organized, with contributions from local historical societies, the former 284th Base Support Battalion, Rhein-Main United Service Organizations, American Forces Network, Stars and Stripes and the National Archives in Washington. It also has a guest book for exhibition visitors that has one entry that reads: "Elvis is back! Fantastic!"
Know and go ...Directions: Wiesbaden is just off Autobahn 66, north of the intersection with A671. The exhibit is in the foyer of the Wiesbaden Rathaus (city hall) on the Marktplatz in the pedestrian area of the city center. Buses stop at Densches Gelände, a short distance away, and there is underground parking next to the town hall.
Times: The show is open 10 a.m. to 5 p.m. Monday through Friday and 10 a.m. to 3 p.m. Saturdays through Feb. 27.
Costs: Admission is free. Parking at the nearby garage is 1.50 euros per hour.
Food: The restaurant inside the city hall called the König von Bayern — King of Bavaria — has a restaurant serving traditional German food and a tavern with seven types of Bavarian beer. Several other places to get food and drink, including a Starbucks and McDonald's — are nearby.
Information: Descriptions of the exhibits are in English, German and French, and free brochures are available in English and German. A booklet with more photos and details costs 5 euros. Information is available by calling 06113-413-2877 or by e-mailing stadtmuseum@wiesbaden.de.
— Peter Jaeger
---
---
---
---