Quick Trips: Frankfurt exhibit focuses on Elvis' stay in Germany
---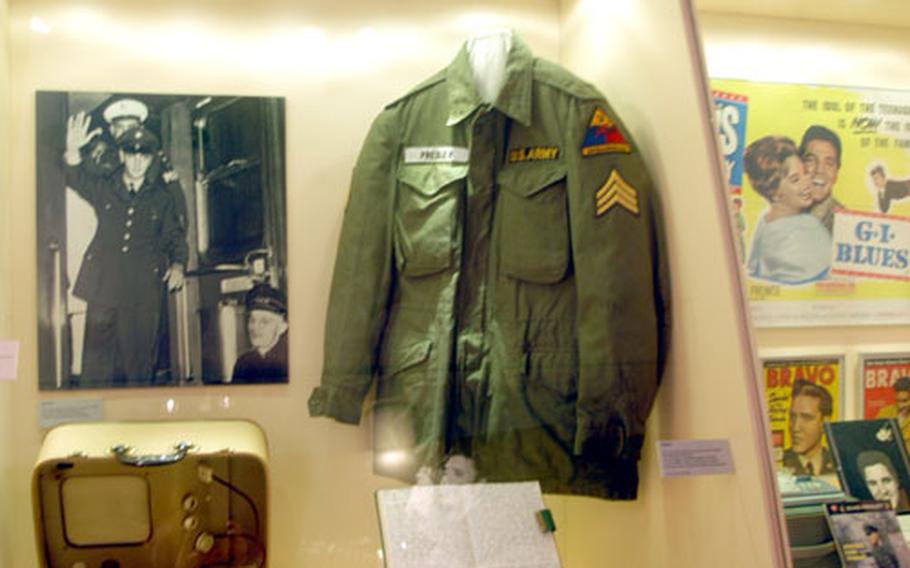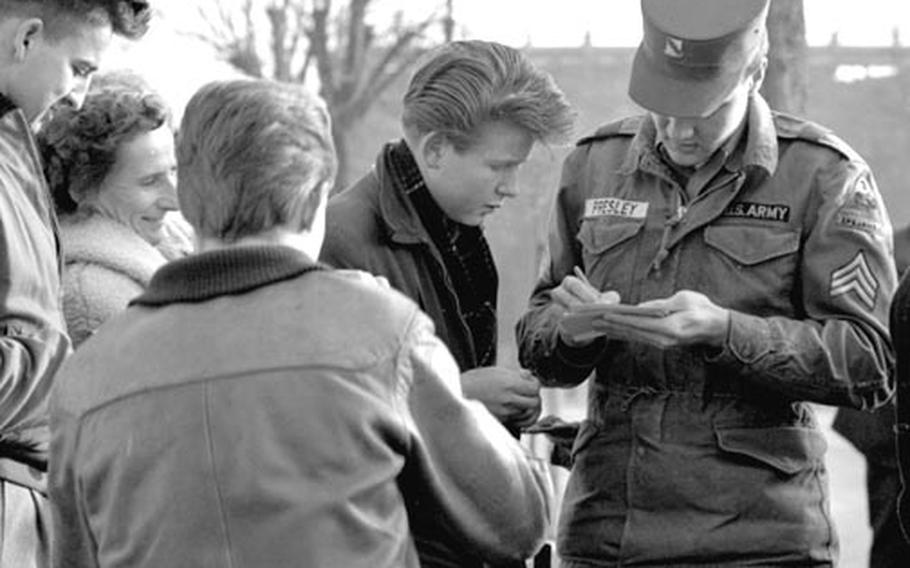 The King of rock 'n' roll might have left his throne to become a soldier, but to German fans, Elvis Presley's royal stature didn't end because of a change in rank.
Memorabilia of Presley's two years in the Army — including 17 months in Germany — are on display through May 29 at Frankfurt's Communication Museum along the Main riverbank.
The "Elvis in Deutschland" exhibit is a small, but informative collection of about 300 pieces from Sgt. Presley's life as a soldier in Friedberg from 1958 to 1960. Photos and personal items from Presley are sprinkled throughout memorabilia of the times.
Elvis buffs can read up on how Germany's favorite GI affected their lives and culture, with English and German explanations set up near each display case.
Elvis had already produced several top 10 hits, appeared on television and in movies when he was drafted. While in Germany, his "Elvis the Pelvis" rebel image was transformed into that of a more-wholesome all-American boy with the help of the uniform.
Despite this change, local German teens were caught up in a rebellious phase attributed to Elvis and his music. In Germany, the slang term for these troublemaking hooligans was Halbstarken, or "half-strong."
German youth embraced this image, but East German authorities didn't like the effect the "Western" attitude had on their youth. According to museum information, many Halbstarken spent years in prison for sneaking over to the West to buy records and watch Elvis flicks.
Among many of Elvis' personal items are uniforms, a lock of hair from an Army and Air Force Exchange Service barbershop, an original Stars and Stripes article with an Elvis interview, and American Forces Network memorabilia.
For 20 euro cents, a jukebox will play any Elvis tune. A running video of Elvis' dance number from "Jailhouse Rock" plays in one exhibit, with outfits he wore during performances displayed nearby. Near the main entrance to the exhibit, the film "G.I. Blues" is played on a television screen.
Just before the end of his GI days, Elvis left Germany and returned to the States, where he resumed his place as the King. But the Germans have not forgotten his time in Friedberg, and, for the next few weeks at least, the King lives again in Germany.
On the QT ...
Times: The museum is open 9 a.m. to 5 p.m. Tuesday through Friday, and 11 a.m. to 7 p.m. Saturdays, Sundays and holidays.
Costs: The Elvis in Deutschland exhibit is free. Museum entry costs 2 euros for adults, 1 euro for children. There is no charge for children under 5.
Food: The museum deli boasts "the city's best brownies" for 2 euros. There are plenty of other pastries to choose from, as well as lunch items, such as salads and sandwiches. A wide variety of drinks is available.
Directions: The Museum für Kommunikation, or Communication Museum, is in downtown Frankfurt am Main on the riverbank at 53 Schaumainkai. Exit Autobahn 5 at exit 21 at Niederrad. Then, turn right and drive straight just over 1½ miles. Make a slight right onto Theodor-Stern-Kai and go straight for a half-mile. Make another slight right onto Gartenstrasse, then a left on Stresenmannallee, and a final right on Schaumainkai just before the river.
Information: English tours for the Elvis in Deutschland exhibit are offered Wednesdays at 12:30 p.m. and Sundays at 4:30 p.m. Currently, the other exhibits at the museum are "Animals Don't Lie: Facets of Animal Communication," with real stuffed animals and interesting facts about animal and human interaction, and a showcase on cellphone communication.
— Jessica Inigo
---
---
---
---