Quick Trips: Before the World Cup, kick it up a notch
by
Charlie Coon
April 11, 2006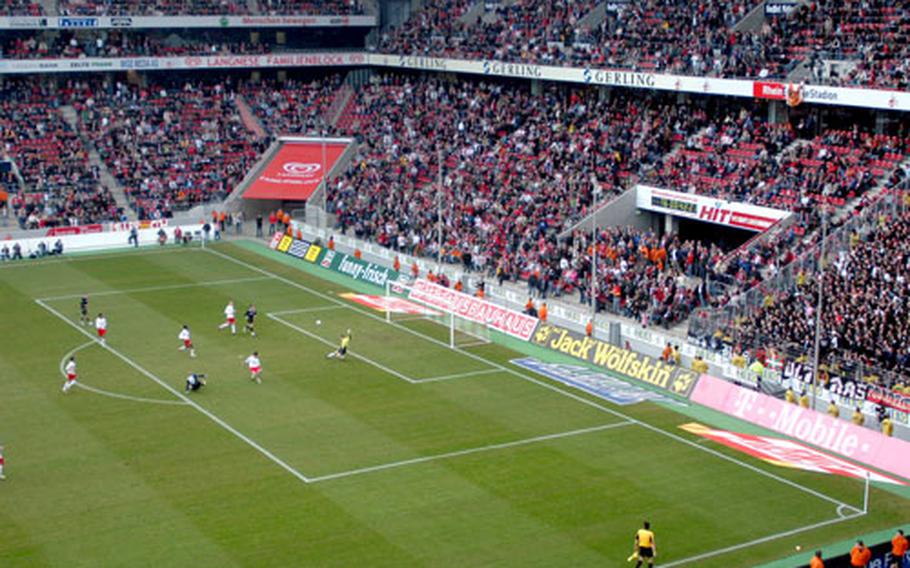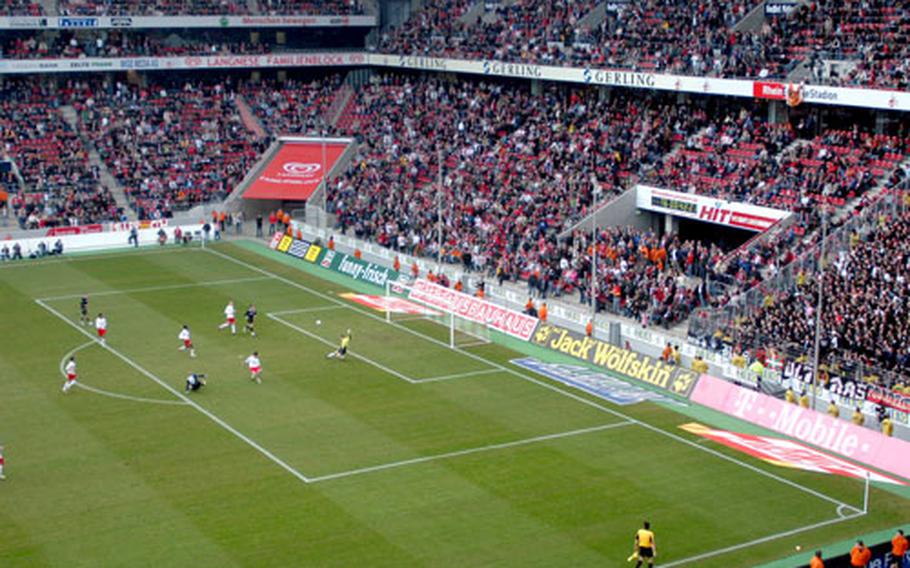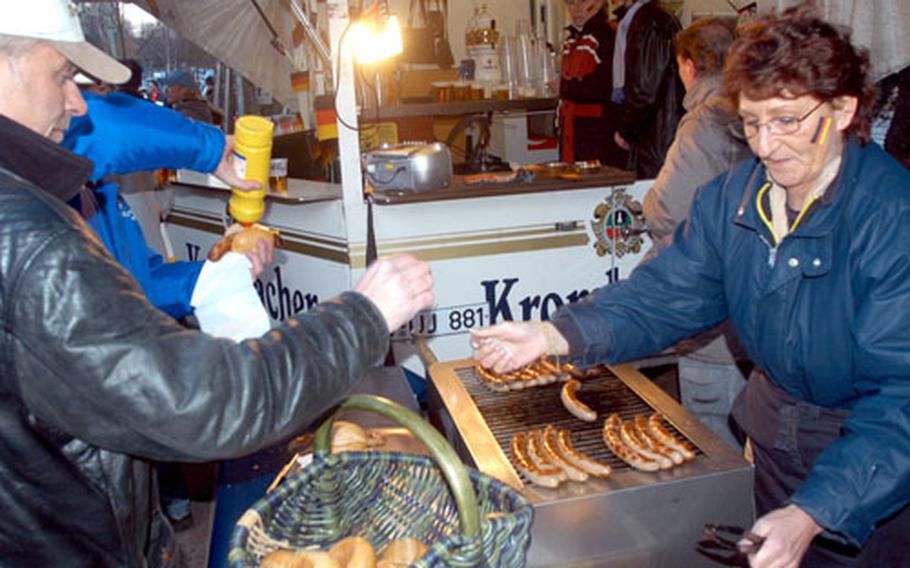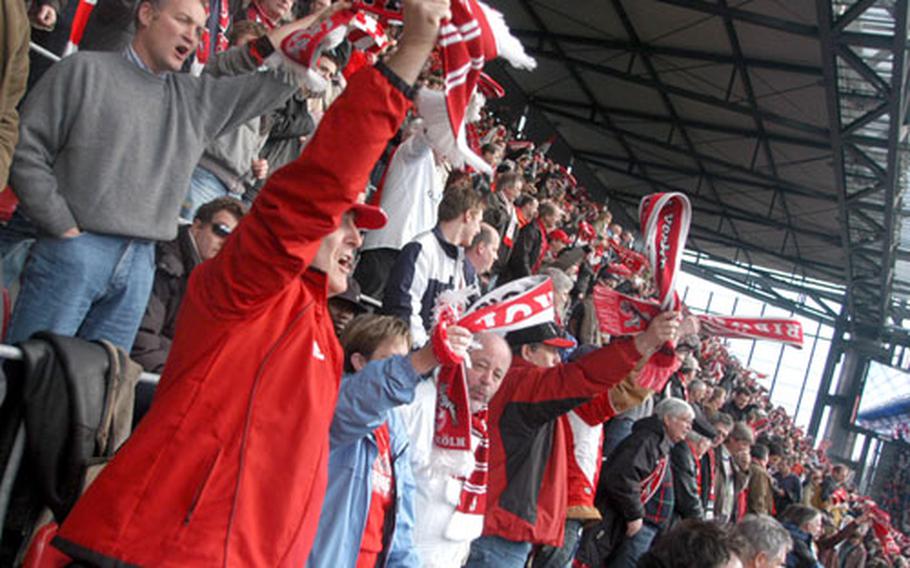 Miss going out to the ol' ballpark?
Try a soccer game. In Germany, the season for the top league runs through May 13, and it's a good way to catch the buzz of a teeming sports stadium and get ready for the upcoming World Cup being played in Germany.
Take a camera. Hop a train to the stadium crowded with fans drinking beer and singing about their team. Hang out before the game and soak in the atmosphere. Buy a team hat or scarf. Go inside and watch the game.
There are a number of cities near U.S. installations that host the Bundesliga, Germany's top professional league. Among them are Kaiserslautern, Stuttgart, Frankfurt, Mainz, Nuernberg, Munich, Dortmund and Cologne. Cities near U.S. bases in Italy, Spain, England, the Netherlands and Belgium also have pro teams.
Tickets are usually available on game day. Sometimes, people outside the stadium have extra tickets they wish to sell for face value. Often, these are some of the best seats.
Seats in the ends and corners cost less than ones in the middle of the stadium — usually from 10-20 euros less.
Each stadium has two "fan blocks," one for the home team and one for the visitor, and it can be a hoot to watch from there if available. These are cheaper seats at the ends of the field, and fans often stand for the entire game, singing and cheering. After the game, players usually come over to give the fan blocks a round of applause.
It's not the same as going to an NFL game. Tailgating, as Americans know it, does not exist. Fans don't show up six hours before a game, fire up a grill and party. German fans usually come an hour or so beforehand, drink a few beers outside the stadium, go inside for the game, and then leave promptly.
Some fans go inside early and watch the teams warm up.
There is no open-container law in Germany, and fans often bring beer to the stadium. But the German fans normally are not drunken or obnoxious. They don't fight. They're present for the game and for their team.
Beer in Germany is part of the lifestyle, not a reason to get rowdy. But German police are usually out in force, just in case.
Vegetarians, beware. Bread, various wursts, pizza and beer are the normal fare in and around the stadium. If that doesn't work for you, fill up before the game.
Which is not a bad way to go. Each of these cities has its charms, including restaurants. Grab lunch, and then hop a train to the stadium. It's usually not hard to find. Simply follow the locals, decked out in the team's colors, or just ask someone.
Some stadiums, such as in Dortmund, have huge parking areas. Some do not. Park and ride is a good option, that is, drive to a "P+R" site, park the car and hop a train. Trains to the stadium can be crowded, so be sure to allow enough time for travel.
One nice thing is that the games don't go on and on, as do American football and baseball games. There are no commercial timeouts. It's 45 minutes for the first half, 15 for halftime, and 45 for the second half. Occasionally a few extra minutes are added to each half to make up for times when play stopped (usually for injuries), but the clock kept running. Games last less than two hours from start to finish.
So they really can be a quick trip.
On the QTDIRECTIONS: Kaiserslautern, Stuttgart, Frankfurt, Mainz, Nuernberg, Munich, Dortmund and Cologne are all an easy drive or train trip from U.S. installations in Germany. Tickets are usually available in Stuttgart, Kaiserslautern and Frankfurt. For other stadiums, such as in Mainz, tickets are harder to come by.
TIMES: Most games start at 3:30 p.m. on Saturday. Some are played at 5:30 p.m. on Sunday. Occasional games are scheduled during the week.
COSTS: Tickets range from 10 euros to 70 euros, depending on the stadium and availability. Most are 20 to 40 euros.
FOOD: Sausages, pork steak sandwiches and pretzels are available outside and inside the stadium, as are other foods, beer and nonalcoholic beverages.
INFORMATION: For more on the top German league, including schedules and standings, see www.bundesliga.de (in German). Links to each team's Web sites are there, with details about the particular stadiums.
— Charlie Coon