Provence: Markets sell fresh goods to suit the most discriminating tastes
by
Leah Larkin
March 18, 2010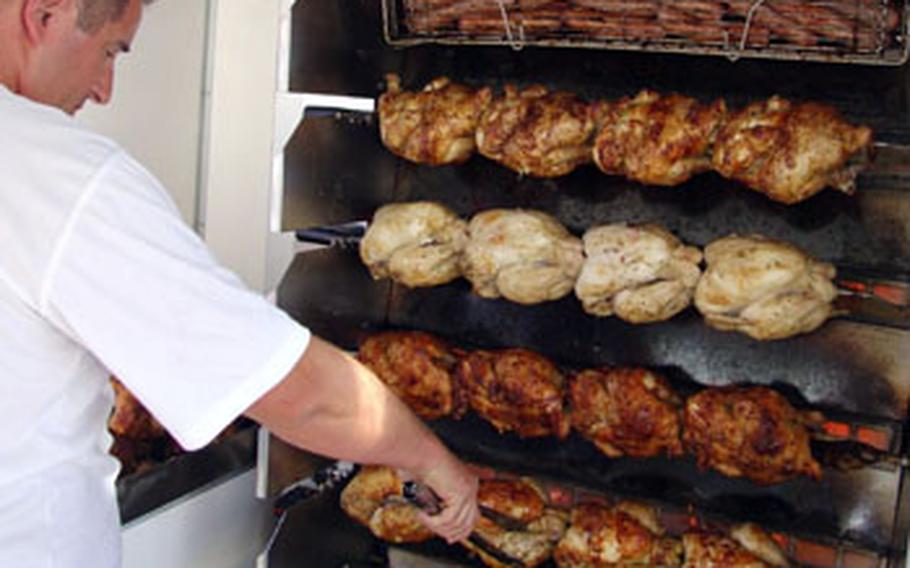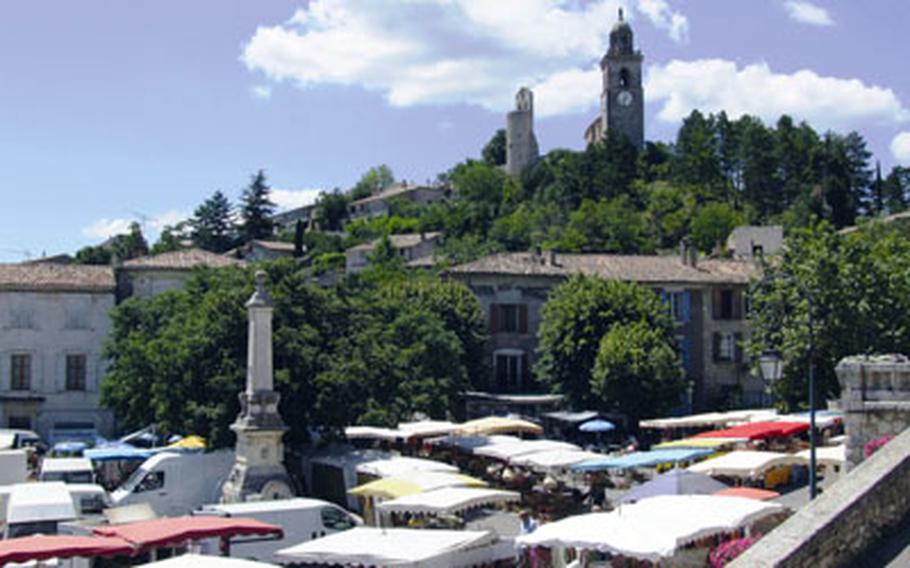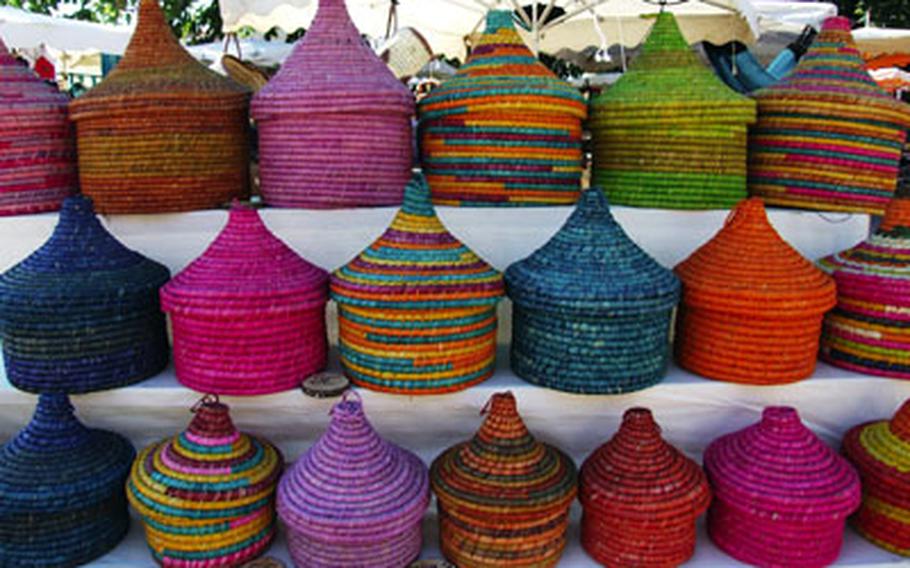 Most towns have at least one a week — morning events where vendors sell the luscious products and produce of the French region. Spread outdoors in the glorious sunshine are fruits and vegetables, plump green and black olives, cheeses, sausages, clothes, ceramics, baskets, products made from olive wood, tools and gadgets, jewelry, Provençal souvenirs and colorful fabrics. Shopping has never been so much fun.
Reillanne, the town where I live, has a wonderful Sunday market that is especially bustling in the summer when tourists join local shoppers. I go almost every week, year round, and have my favorite vendors. They follow a circuit, traveling to a different town every morning to sell their products.
Reynard Bouchard specializes in "products of Provence that are grown with lots of love." He stands behind his display of picture-perfect tomatoes, zucchini, cucumbers, beans, nectarines, raspberries and offers customers an "apricot for breakfast," then proceeds to recommend making a sauce for duck with the succulent fruit. (I did — excellent.)
"I adore coming here," he says. "I can speak with everyone, give advice, explain my products.... I speak of love."
For cheese, I visit Daniel Nigro, who sells between 200 and 250 kinds of cheese from his large truck with a side panel that opens up to a display. Nigro has a regular clientele, many of whom he knows by first name and greets with the obligatory air kiss on both cheeks. He chats, he jokes, he recommends, he offers tastes. That's how I discovered my favorites, aged Beaufort and Brie de Meaux.
And he says Reillanne is his favorite stop. "The people here are very nice," he says. "It's Sunday. People are relaxed."
Nigro sells chevre — goat cheese — but for that I visit Pierre Maulet, a young farmer who has 45 goats. His cremeux chevre is exquisite. Maulet, 27, said working the markets, especially Reillanne on Sunday, can be demanding. "I only had 1½ hours of
leep last night," he says, explaining that he was out late at a festival.
"People think it's not trying to work the market, but it's difficult," explained a pretty woman who sells jewelry from India. She preferred to remain anonymous, but did say that she has to get up at 6 a.m. to get to the market and set up her stand.
She also travels to India, where she spends a month every year buying the products she sells at the market: silver jewelry, some with stones such as lapis lazuli, turquoise and onyx.
Clothes from India are the specialty of Sylvie and her daughter. Like the jewelry seller, she spends a month in India every year, where she has the clothes made following her designs. I always admire her fashions — very trendy and chic, and out of my price range — but go for the bargains offered by Carman Soustre, a jolly woman with a range of moderately priced tops, pants, skirts and dresses hanging from racks under a tarp. Like most market vendors, she enjoys talking with her customers.
"This is what we want to do. We meet lots of people," says Martine Caron, who, with her husband, Didier, sells farm products plus some 20 kinds of confitures and preserves that she makes.
The flavors are innovative: poires au caramel (pears with caramel), bananes à la vanille (bananas with vanilla), and my favorite, tomates au romarin et vinagre balsamique (tomatoes with rosemary and balsamic vinegar). She suggested I serve the last one with cheese. She's right. It's very tasty.
Sylvaine Contour also sells confitures, 15 sweet varieties, plus 15 "salty." In the latter category are vegetable pâtés. She gave me a taste of one made with carrots with caraway. Delicious. I had to buy a jar, plus one of curried eggplants.
Olives — the taste of Provence — are always on my list. Jasmine Lubineau sells 13 kinds, mostly Provençal olives, but also some from Spain and Greece. I usually buy some of her Provençal mélange, a mixture of different kinds of both black and green olives, with bits of onion and other tasty morsels.
For bread, it's Pascal Bouffa and his 17 varieties, all baked in ovens fired by wood and made without yeast. "These are products of the region made with local flours," he says.
His most popular bread is demi-complet made with three different grains and rich in fiber. I prefer his nut and olive breads.
And to cap things off, I go to Francois Bonnet for flowers. It's a treat to buy from Bonnet, who touts the merits of special blooms, gives specific instructions on care, and painstakingly arranges gorgeous bouquets. He often adds an extra stem at no extra cost. Regulars say the quality of his flowers are the best, and they last for more than two weeks.
Viviane Angelvin is the agent in charge of collecting fees from the vendors. In the summer there are about 53 stands in Reillanne, while in winter the number drops to 20.
"The market has really grown in the past 20 years," she remarks. "It's very varied with all kinds of products for all tastes. Reillanne is noted for its Sunday market. People know we have it and they come."
When the shopping is done, I have one more ritual to complete. I meet friends on the terrace of the Café du Cours overlooking the market. We sip pink wine and catch up on news. It's a delightful habit, and all part of a day at the market.
Photojournalist Leah Larkin lives in France and can be contacted through her Web site, www.leahlarkin.com, or blog address, www.provencetales.typepad.com.