Poland: Scenic and somber
by
Nathan Saunders
March 22, 2007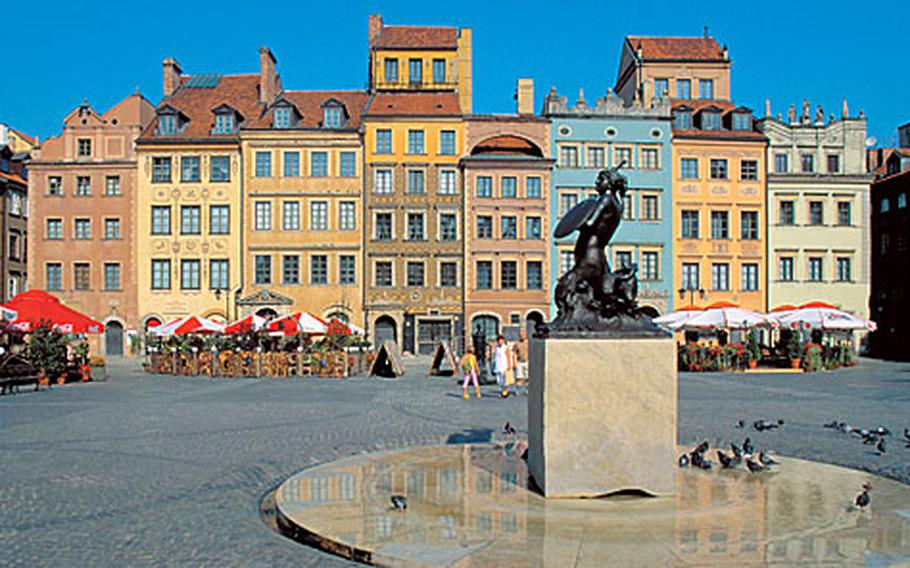 The nine-hour bus ride from Berlin to the Polish city of Gdansk included bumpy cobblestone roads, sharp turns and an Adam Sandler film with a lifeless Polish voiceover.
I got sick somewhere between Gdynia and Sopot, and — it should probably go without saying — it was humiliating.
My weeklong journey to Poland late last year started lamentably. "I want to go home," I whined to my pillow after crashing on the hotel bed. "Why did I come here?"
It was a question not quickly answered.
After some sleep and a breakfast of bread, jam and mayonnaise-based salads, my stomach and head felt much better. Re-energized, I wanted to see something amazing that would help me forget the nightmare from the day before.
The St. Mary's Church provided my first glimpse of the rich religious artistry I would find in the country's Catholic churches and cathedrals. I nearly missed a startlingly realistic hanging crucifix due to the height of the vaulted ceilings — and because of the numerous other fine artworks positioned at eye-level throughout the church.
But nothing attracted more attention than the 50-foot astronomical clock, which reminded me of a comparable apparatus on the Old Town Square in Prague. This piece was slightly older ("from before Columbus discovered America" as a New Yorker loudly observed) and not as decorative, although the intricacy and mechanics were equally impressive.
In the afternoon, we browsed the shops along ulica Mariacki, many selling jewelry, chess sets or trinkets made from yellow, orange and cream-colored amber, the petrified sap found throughout this region. A couple of stores offered pieces containing unlucky fossilized insects.
Early that evening, the sun slowly set, splashing a remarkable winter glow in similar amber shades. The dusk temperatures chilled our bones and a blustery wind chapped our faces. But the merchants' houses of the Main Town and along the banks of the Motlawa, neatly painted in rich shades of red, brown and green, cheered me.
That night, rain rapped against our room's windows, but in the morning an improbable rainbow appeared over Gdansk. It was the last time I saw the sun that week in Poland.
Thirty miles south of Gdansk, Malbork lies on the eastern bank of the Nogat, a waterway that appeared swollen and choppy. As we trudged through town, a powerful, umbrella-shredding wind blasted raindrops into our faces.
But our persistence was rewarded when in front of us appeared an enormous red brick fortress, complete with moat, drawbridge and towers.
Previously I had been disappointed by castles, but this one looked the way I'd always thought castles should. This was no place for poets, painters or spoiled royals. Here was a man's castle.
Gritty Teutonic Knights began work on the fortress in the 13th century. Some (according to our guide) were veterans of the Crusades, slept sitting up and drank 60-proof beer. In battle they wore 40 pounds of armor, carried brutal weapons and poured scalding oil on those who besieged them.
Throughout the centuries, many did. The knights held the fortress until the middle of the 15th century, but as European politics wobbled, Malbork was occupied by a succession of Poles, Swedes, Prussians, Germans, Russians and now Poles again.
Malbork last saw military action at the end of World War II, when the Russians unnecessarily shelled it, causing damage that took decades to restore, and then only partially. A large stone sculpture of the Virgin Mary — once the centerpiece of the fortress' ornate chapel — was destroyed. Today, chunks of it are on display in adjoining rooms.
As we left, the wind howled and swirled in the inner courtyard, blowing ceramic tiles off the roof and smashing them on the cobblestone below.
Members of our tour group eyed one another nervously. The Teutons would have laughed.
From Malbork, it took almost four hours to get to Poland's capital by train. Like Gdansk, Warsaw features a beautifully reconstructed market square, complete with restored houses and cobblestone alleys. But the place that made the strongest impact on us was a grimmer one: the Warsaw Ghetto.
I walked right past the Ghetto Heroes Monument, carved out of dark granite and positioned somewhat inconspicuously at the end of a large park surrounded by drab concrete apartment blocks. The signs don't specifically point to it, and without counting steps, it's easy to miss it — and to forget that this neighborhood comprised part of the Warsaw Ghetto from 1940 to 1943.
The monument includes a bronze relief depicting a group of emaciated, and ultimately doomed, insurgent Jews. It conveys heroism, but unlike the several monuments to the Polish resistance in Warsaw, this one conveyed more loss, helplessness and defeat. It must have been a complex assignment for the artist.
Nearby a pair of German tourists quietly examined the monument's inscription, and a few minutes later an older man walked up to it, pausing briefly before carrying on. Appropriately, no one spoke or even whispered.
We walked on through the Muranów neighborhood, home to many monuments. Some of the inscriptions on the smaller ones were written only in Hebrew and Polish. I ached to know more about the people who were senselessly slaughtered and regretted my linguistic ignorance.
One of the larger markers notes the location of the bunker where Mordechaj Anielewicz, leader of the Ghetto Uprising, chose to kill himself rather than surrender to the Nazis. While I could see the significance of Anielewicz' heroism, who were the regular people of this neighborhood? It was impossible not to think of Adrian Brody's portrayal of Wladyslaw Szpilman in "The Pianist."A short distance farther, four stone walls inscribed with Jewish forenames from A to Z enclosed the Umschlagplatz (the German word meaning "transfer point"), marking the place where thousands of Warsaw's Jews were packed onto boxcars bound for Treblinka. I could not bring myself to use my camera.
None of these places individually overwhelm a visitor, but their cumulative effect was potent. The Jews here had their own places, their own celebrations, and their own leaders.
Once this culture influenced a large part of Warsaw. Today it's all but gone, hidden beneath dull housing blocks.
In making my own impressions of Poland, I had learned a lot. Some memories I'll recall fondly. Others I don't think I'll ever fully understand. But now I had a better idea of why I had come here.
Nathan Saunders is a freelance writer based in Berlin. E-mail him at: nathan.saunders@yahoo.com.