Pochon: Herb Island greets guests with aromas, tastes of spring
by
Choe Song-won
April 22, 2004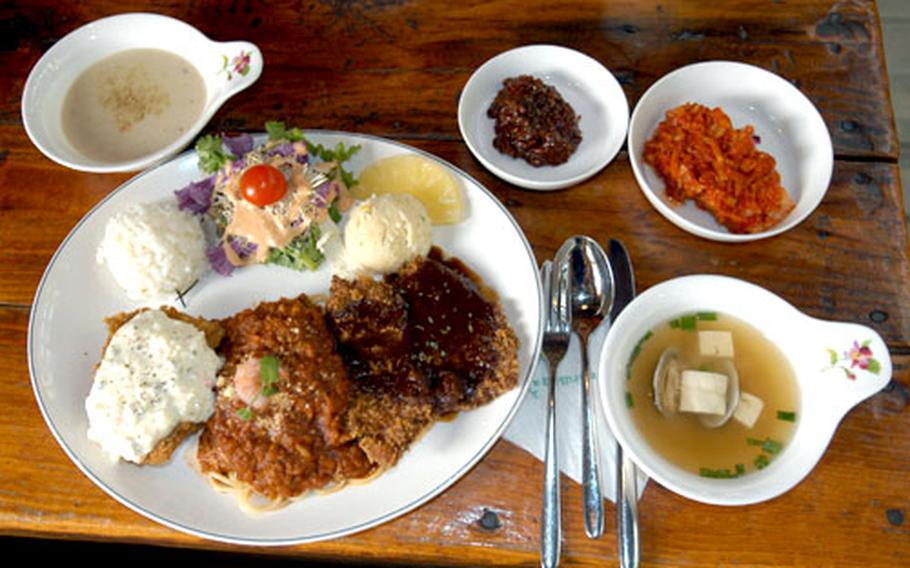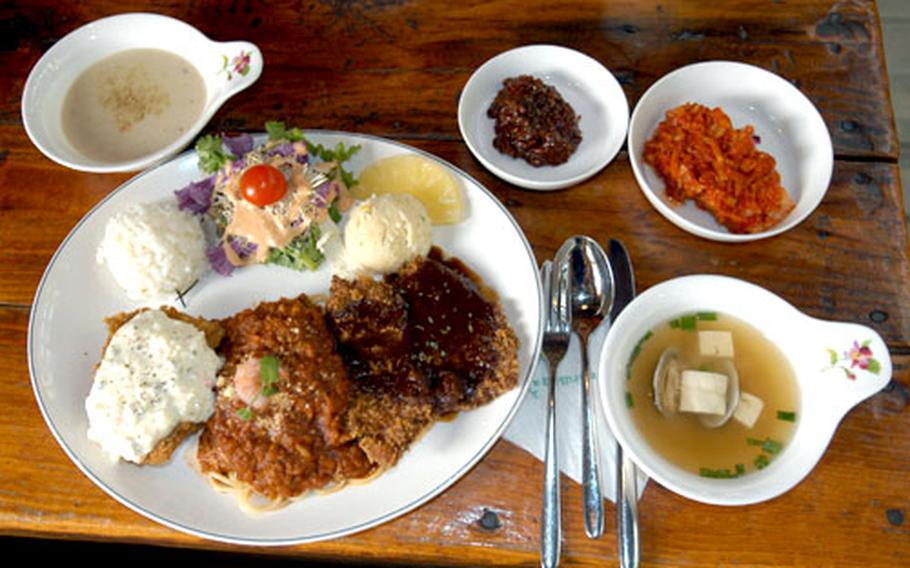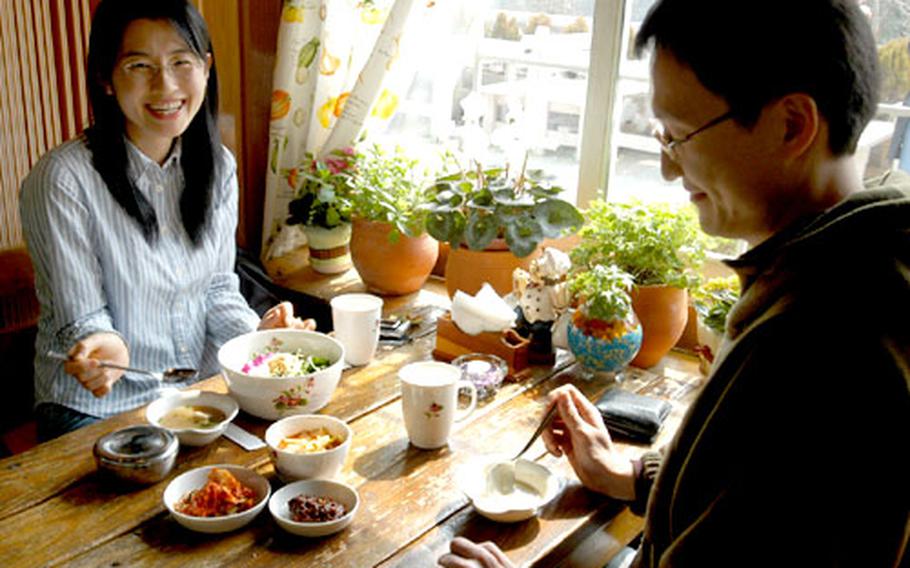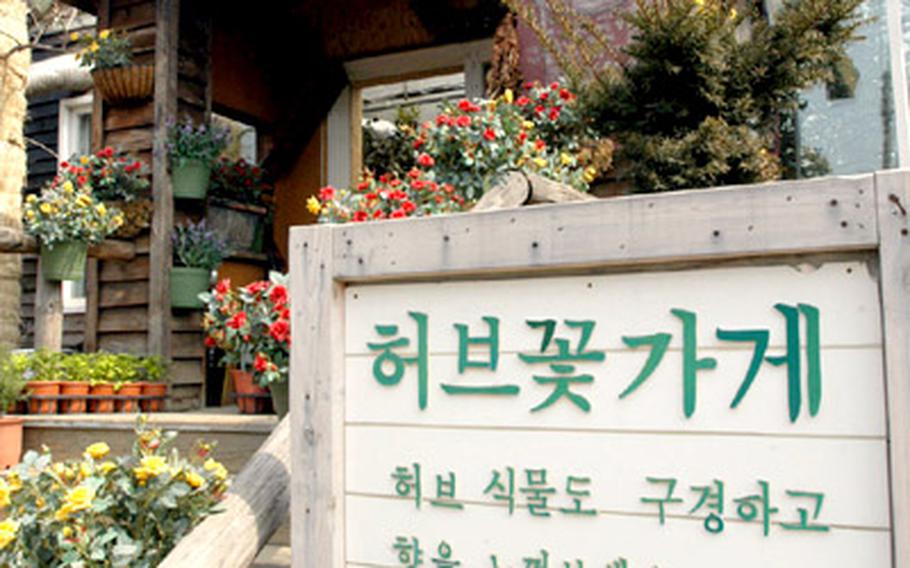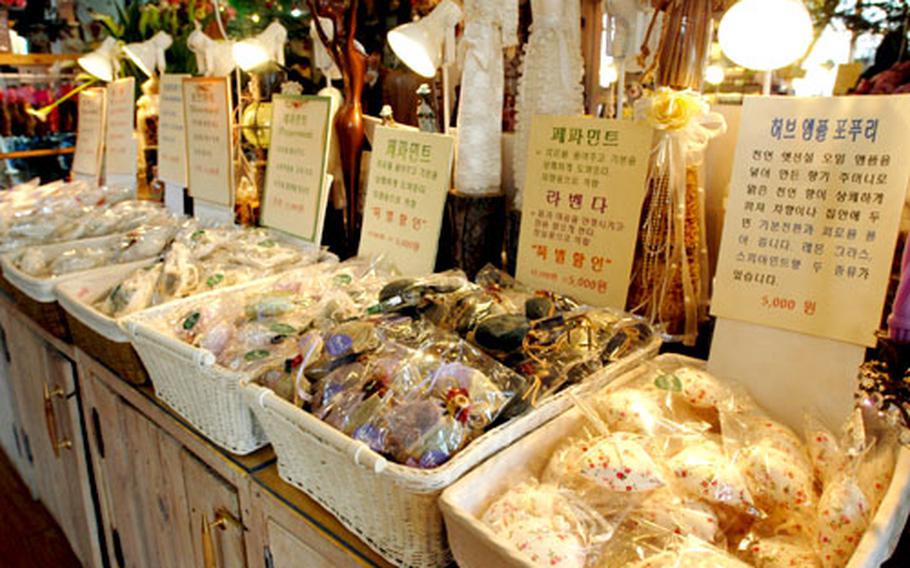 POCHON, South Korea — You want to go someplace where you can taste the early spring of South Korea, but don't want to drive longer than two hours? Herb Island in Pochon might be the answer.
Located just a few miles north of the 2nd Infantry Division's Camp Casey, Herb Island greets people with its various aromas, tastes and scenic views.
With a fairy-tale landscape, the first thing you'll see is a wooden guide map that defines what herbs are: Often used as spices, they're plants that are fragrant, edible and remedial.
While it isn't actually an island, Herb Island is full of herbs. Rosemary, mint and jasmine — among more than 100 kinds — are the most popular herbs in the garden, said Lee Kyu-hae, who has been the garden's manager for more than three years.
Lee loves her job because she is able to see flowers all year long, she said.
"I feel happy when my customers are satisfied with their purchases. And I feel even happier as I don't get easily tired, thanks to these herbs I smell every day," she said.
To help people looking to choose the best item, some of the herbs' characteristics are introduced: Jasmine is good for boosting people's spirits; rosemary for headaches, migraines and air purification; heliotrope for fever, urinary tract health and general antidotal effect.
Among the dozens of people roaming around and smelling herbs on a recent visit, 28-year-old office worker Kim Yun-jung seemed to know a lot about herbs. Leading the way for her friend, Song Won-kyong, Kim had Song touch each leaf of the herbs to smell them.
As a Tongduchon resident, Kim visits Herb Island pretty often. This time, Kim was visiting Herb Island for her friend Song, who is fighting cancer.
"I feel like I can relieve my stress here," Kim said. "It's just so comfortable. I always recommend my friends and close people to come here."
After filling your senses with the smells of the beautiful herbs, you might want to fill your stomach.
In a small restaurant called the "aroma-eating village," you can find everything served with herbs. Even water boiled with lemon balm, rosemary and a bit of sugar tastes unique.
"Wow, it's pretty!" exclaimed Lee Hui-sung as soon as she saw her bibimbap, a traditional Korean rice and vegetable dish. Unlike many other bibimbaps you see elsewhere in South Korea, this one contains seven kinds of herbs and is covered in a sauce made of 16 others. So, it looks more like a bundle of herbs and flowers than a dish that you can mix right away to eat.
Lee and her boyfriend, Han Jong-chul, 29, found out about Herb Island from a travel magazine and were having a good time.
"The plants are well maintained. And it's a good thing to get out here, all surrounded by mountains," said Lee.
"We can't see these in Seoul," Han added.
To further explore the world of scents on Herb Island, you can check out their herb shop. Don't panic if someone comes up to you the moment you step inside. They will apply a touch of peppermint oil on the back of your neck and get you a cup of herb coffee.
It's good for recovering your energy, they say. The peppermint oil makes you feel cool all the while you're looking around. Many things will catch your eye — various potpourris, herb teas, candles, aromatic necklaces and much more.
In addition, an herb bookstore, herb bakery, herb café and aroma-therapy room also are available on Herb Island.
For more information, call 031-535-6494 or visit their Web site at http://www.herbisland.net. However, if you go you might need to take a Korean friend with you, because an English-speaking staff is not yet widely available.
If you go ...
Time: 10 a.m.–6 p.m.
Admission: Free.
How to get there:
Train — If you go from Seoul, take subway line 1 and get off at Uijongbu Station. Inside the Uijongbu Station, take the train called Kyongwon-sun that departs every hour. Get off at Chosongri Station, in about 40 minutes. Take bus 53 or 57 in front of the Chosongri Station. Then get off at Samjongri, and you will see a sign that says Herb Island.
Bus — Take the bus that leaves for Pochon either at East Seoul Terminal or Suyu Bus Terminal. From Uijongbu Station, you can take bus 138 to go to Pochon. After arriving at Pochon, take bus 57 to get to Herb Island.
Car — In Uijongbu, take road 3 that leads to Tongduchon. After driving past Tongduchon, keep going until you see road 344. Seeing road 344 that goes to Chosongri, turn right and go straight until you see Samjongri Elementary School. Herb Island is behind the school.
---
---
---
---