Pirmasens: Factory tour offers glimpse of chocolate without the oomph
by
Jennifer H. Svan
March 2, 2010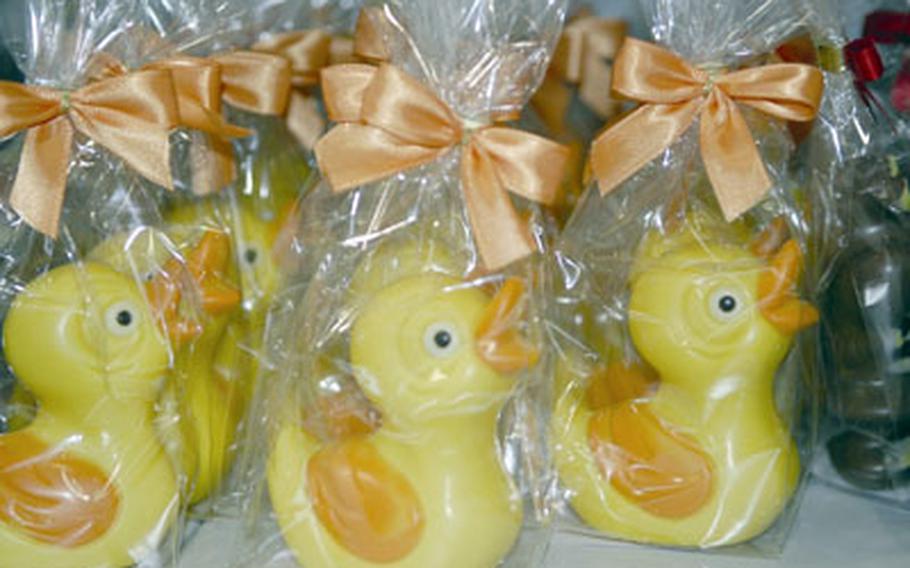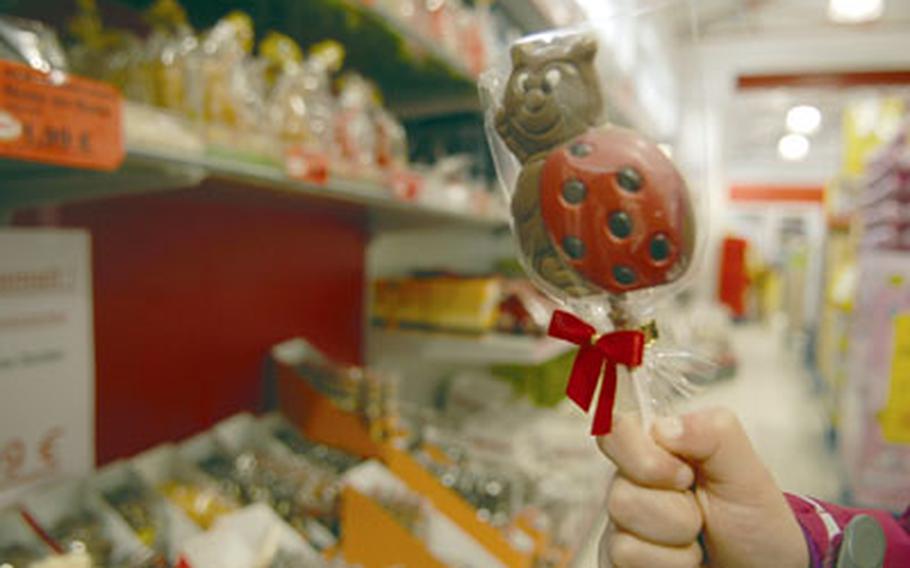 When I was a kid, the place to go for Easter candy was Stutz Candies in Warrington, Pa.
With my 10-year-old metabolism, I could eat chocolate butter cream eggs as if they were raisins — and still fit into my lavender Lee jeans the next day.
Nearly 30 years later, the ability to indulge in mass quantities of chocolate no longer comes guilt-free. But consuming good chocolate still triggers those same wonderful endorphins.
For that reason, I recommend a visit to Wawi-Chocolate in the hilly city of Pirmasens in southwest Germany.
We set out on our chocolate journey on a recent late-February morning, needing only 20 minutes by car from our home near Kaiserslautern to reach our destination.
My 6-year-old daughter and I started our tour on Wawi's lower floor, where workers wearing hairnets and white coats poured liquid cocoa on trays of puffed rice and painted chocolate eyes on bunny molds. We viewed the quiet action through windows, since customers aren't allowed onto the factory floor. The tour was free, so I had no complaints. But expecting a scene from "Charlie and the Chocolate Factory," — think swirling chocolate river and knee-high Oompa Loompas — my daughter was quickly bored. The small chocolate museum, with tin Easter bunny molds from the 1960s and other displays, didn't impress her, either.
But the real prize was the Wawi store, where we delighted in free samples of Wawi treats and stared wide-eyed at the candy- and chocolate-packed shelves that made our sweet tooth ache.
With the Easter holiday approaching, there's no better time to visit Wawi. The chocolate is fresh, and because it's made on site, it's cheaper than Wawi products sold at retail centers throughout Germany, said Angela Schultz, whose grandfather, Walter Müller, founded the company in 1957.
The store sells a wide selection of Easter candy, from yellow chocolate chicks to tiny marzipan and nougat eggs. Around Easter, Wawi workers produce 12,000 100-gram chocolate bunnies per day, Schultz said.
But Wawi's most famous specialty, Schultz said, is the chocolate puffed rice. I bought more than a dozen bars for less than 5 euros total. Also well known is Moritz "ice candy" — chocolate squares that seem to melt in the mouth.
We tried those and more, and left with our bellies and our bags full of chocolate, quite satisfied.
On the QTDirections
The Wawi-Chocolate factory address is Unterer Sommerwaldweg 19-20 in Pirmasens, which is near the juncture of Autobahn 8 and Autobahn 62. The store's Web site features a route planner. You can plug in your location and it will map out directions. Pirmasens is about 35 minutes by car from Kaiserslautern.
Times
Wawi-Chocolate is open 8 a.m. to 6 p.m. Monday to Friday, and 9 a.m. to 1 p.m. Saturday. This month, the store and factory will be open on Sundays, from 11 a.m. to 4 p.m.
Costs
Admission is free. Thirty-minute group tours are also free and are available in English or German. Sign up in advance.
Information
Wawi's Web site, www.wawi-schokolade.de, is in English and German. Some staff members speak English. The factory can be reached by telephone at 06331-27460, or by e-mail at info@wawi-schokolade.com.
---
---
---