Perfect powder: Winter escapes in Japan, S. Korea
by
Jennifer Svan Wayne Specht
January 23, 2003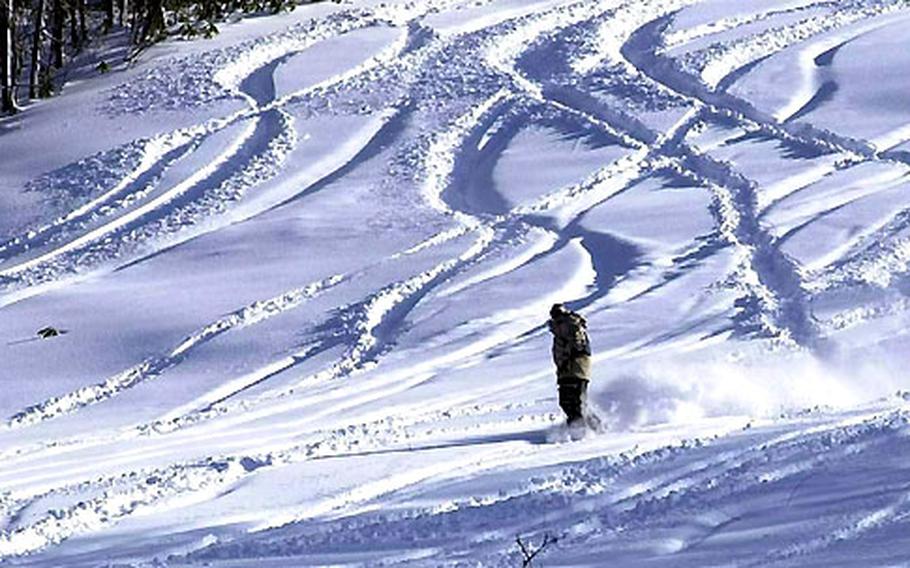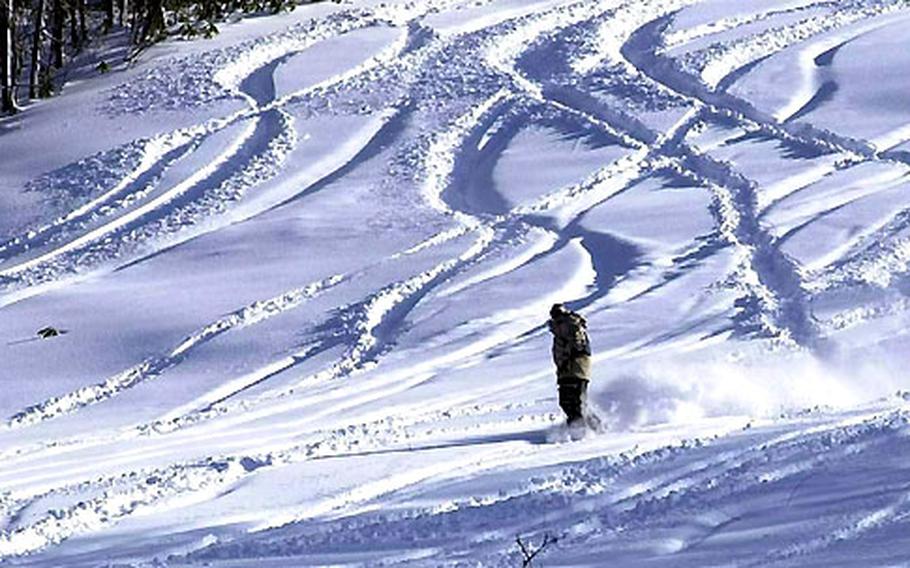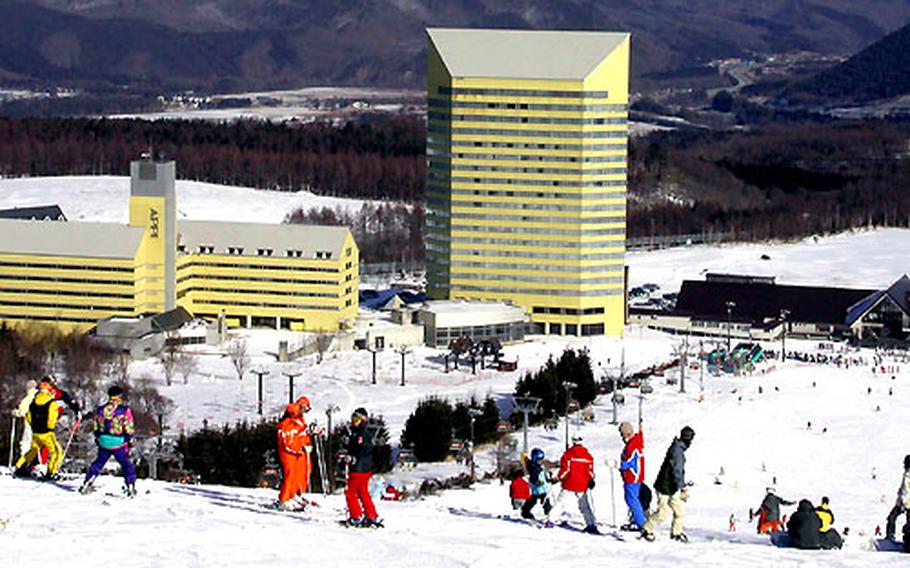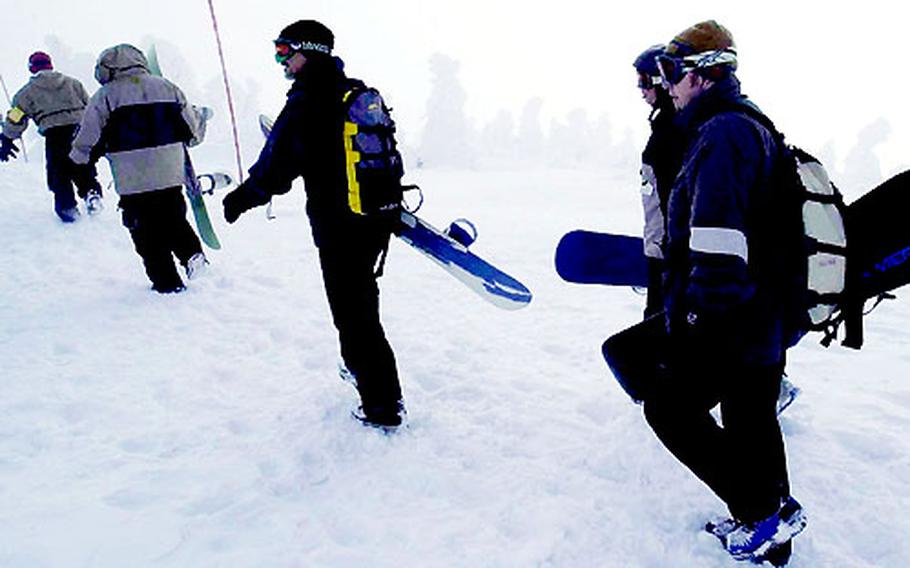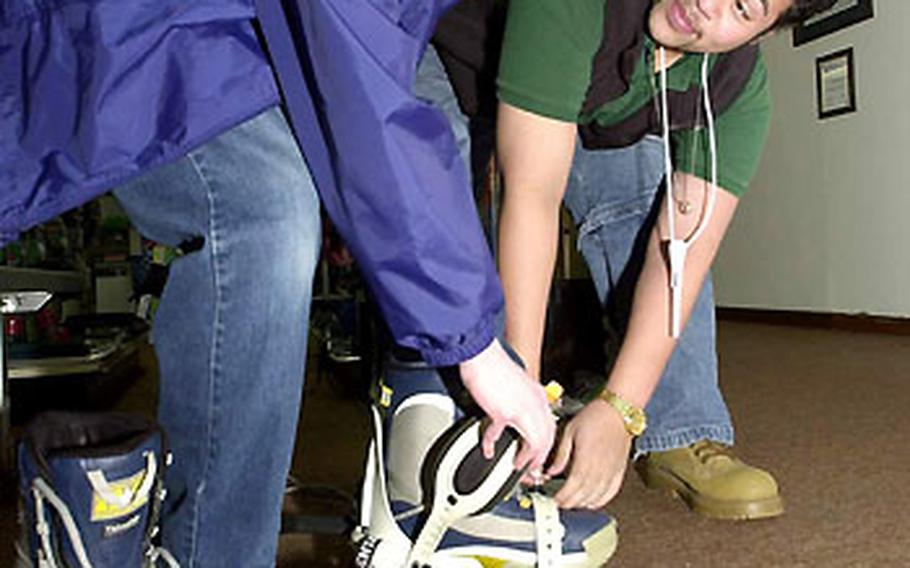 Forget those El Niño-influenced prospects of a mild winter in northern Japan: Mother Nature is being kind to ski slopes there.
Liberal amounts of powdery snow — 4 to 6 feet in some places — have blanketed popular ski resorts within a two-hour drive of Misawa Air Base in northern Honshu.
"Snow is great throughout Aomori and Iwate prefectures with conditions ranging from excellent to good," said Ronald Stark, recreation program coordinator for Misawa's 35th Services Squadron Outdoor Recreation.
For those fortunate enough to be assigned to Misawa, Outdoor Recreation is offering more than 50 skiing, snowboarding and snowshoeing trips this winter. Regular ski trips costing $50 per person include transportation to the slopes aboard 39-passenger buses and lift tickets, Stark said. If available, ski equipment is provided free, but it's best to check in advance, he said.
Several overnight trips to the popular Appi Kogen ski resort, in Iwate Prefecture about a two-hour drive south of Misawa, are on tap this season, costing $125 per person. Trips are planned for Feb. 14-15 and March 21-22. But act fast.
"Overnight trips sell out very quickly," Stark said.
Outdoor recreation also offers discount lift tickets that can save skiers 300 to 500 yen on daily tickets.
Project Cheer ski trips for single servicemembers and married couples of ranks E-4 and below cost $40.
Another popular offering is the $40-per-person learn-to-ski-and-snowboard programs for youths in two age groups: 7 to 12 years and 13 years and older. Night trips to the nearby Makado ski slope are limited to 18 people per trip.
"Those are real good deals because it includes transportation, lift tickets and equipment rental," Stark said.
For outdoor enthusiasts who prefer to trudge through knee-deep snow at a slower pace, snowshoe excursions are offered monthly through March for $35, including transportation, snowshoes, boots, poles, day pack and guide.
"We use trails in the Hakkoda Mountains near the Sakayu onsen, a really beautiful area," said Mark Johnson, outdoor recreation director. An onsen is a public bath fed by natural hot spring waters.
(Sign-ups for all trips must be made in person in Building 1044; signups open the 15th of the month before the trip is scheduled.)
Since being formed 17 years ago, the Mogul Mashers Ski & Snowboard Club has grown from a small group of avid skiers and snowboarders to one of Misawa Air Base's most popular clubs.
Trips are offered to resorts in the northern Tohoku region of Honshu each weekend until late March.
Each trip includes a post-skiing and post-snowboarding party with refreshments and drinks for members. A day on the slopes usually can be capped by a relaxing onsen visit before returning to Misawa. For details, call (176) 57-4259.
Popular ski resorts near Misawa
¶ Hakkoda Ski Resort is about a 90-minute drive 50 miles west of Misawa.
Heavy snowfall has allowed the opening of all ski and snowboard courses, officials report. With excellent scenery and a variety of well-maintained runs, Hakkoda is ideal for intermediate and advanced skiers and snowboarders. Beginners should look elsewhere.
The Hakkoda Ropeway, with what Americans call cable cars, takes skiers and boarders to the top of Mount Tamoyadake, a 4,369-foot mountain, in about 14 minutes.
Hours are 9 a.m. to 3:20 p.m. November through February and 9 a.m. to 4 p.m. beginning in March.
Ropeway tickets cost 1,150 yen (about $9.91) for adults and 550 yen ($4.74) for elementary school children.
Five one-way tickets cost 4,900 yen ($42.24) for adults and 2,200 yen ($18.97) for children.
Ski-lift tickets cost 1,800 yen ($15.52) for eight rides or 2,500 yen ($21.55) for a one-day pass.
¶ Makado Onsen ski resort is just a 45-minute drive from Misawa on Route 4 near the Michinoku toll-road entrance.
Four runs, the longest at 2,700 feet, make Makado a smaller resort compared to other northern Japan ski areas in northern Japan. It has runs for snowboarders and lighting for night skiing.
One-day ski lift passes cost 3,000 yen ($25.85) for adults and 1,500 yen ($12.93) for children.
¶ Moya Hills is on Highway 102 overlooking Aomori. Driving there from Misawa takes about 90 minutes via the Michinoku toll road, which charges 830 yen ($7.15) each way. Moya Hills' resortlike setting offers more than a dozen ski and snowboard runs of varying difficulty.
One-day ski-lift passes cost 2,500 yen ($21.55) for adults and 1,300 yen ($11.21) for children and adults over age 60.
¶ Owani, near Hirosaki, is about three hours west of Misawa. Snowboards are allowed on most slopes.
¶ Several resorts are near Morioka, two hours from Misawa via the Tohoku Expressway, including Appi Kogen, Higashi-Hachimantai, Amihari and Shisukushi.
From the Kanto Plain
Yokota Air Base's Outdoor Recreation Center recommends three major resort areas, all within driving distance from Tokyo: Hakuba, Shiga Kogen and Naeba.
¶ Hakuba was the site of the women's alpine downhill and ski jump competition during the 1998 Winter Olympics. Hakuba, which is west of Nagano City, offers five resorts, including Hakuba Goryu Toomi, Hakuba 47, Hakuba Happo-One and Hakuba Iwatake. Each area provides 10 to 20 runs; a weekend pass is interchangeable.
The ski jumps still are standing; more advanced skiers may try the challenging 3-kilometer women's Olympic downhill run.
Children may rent inner tubes for a few hundred yen in the kids' area. The resorts also have a snowboard park. Hakuba Iwatake features two halfpipes and unrestricted courses. Restaurants and lodging abound. On the cheap end are huts, where a night's rest costs about 3,000 yen, and guests provide their own food. It has more traditional lodging costs, on average, 6,000 yen to 20,000 yen ($51.72 to $172.41) per person a night. Breakfast and dinner usually are included.
Hakuba offers plenty of snow from December to April; some resorts stay open until early May.
To get there, take the Chuo Expressway to Nagano Expressway. Turn off at the Toyoshina Interchange, head north on Route 148 for about 34 miles and look for resort signs. Expect about a three-hour drive and to pay about 5,000 yen ($43.10) in tolls each way.
¶ Shiga Kogen comprises 22 individual resorts and more than 70 ski lifts sprawled across the Shiga plateau in Nagano. Many of the lifts and runs are connected.
Lodging and restaurants are available. Ichinose, one of Shiga Kogen's resorts, has many small huts and larger restaurants at the foot and top of the slopes. Ichinose also has karaoke bars and many Japanese and Western-style dining facilities.
Ichinose-Family snowboard park offers one quarterpipe, one tabletop, one canyon and one washboard. A waiver must be signed and a sticker placed on one's equipment.
To get there from the Chuo Expressway, connect to the Joshinetsu Expressway and exit at Shinshu Nakano Interchange. Head east on Route 292 for 56 miles. Expect a two- to three-hour drive and to pay at least 5,000 yen ($43.10) in tolls each way.
¶ Naeba remains Japan's most popular ski resort, visited by 2 million skiers annually, according to Yokota's Outdoor Recreation. It offers more than 30 lifts, including two gondolas and nine high-speed quad lifts. The resort boasts more than a dozen restaurants and many small fast-food shacks.
For those who don't want to ski all day or at all, Naeba also has a mall on the first floor of the main hotel building. The Naeba Prince Hotel is one of Japan's largest resorts.
Naeba has a designated slope for children, who can choose among tubing, toboggans or miniature skis. Asagai, the snowboard park, offers two halfpipes, one quarterpipe, a tall wall and jump hills.
To get there from the Kanetsu Expressway, take the Tsukiyono Interchange, drive north 20 miles on Route 17 to Naeba. Expect to drive about 90 minutes and pay about 3,000 yen ($25.85) in tolls each way.
South Korea resorts
Skiing is becoming a winter pastime in South Korea with about 15 resorts with slopes designed to appeal to skiers with skill levels ranging from beginner to accomplished expert.
The majority of the resorts are in Kyonggi-do, the province surrounding Seoul, and Kangwon Province to the east.
Most are along or near the Yongdong Expressway, a major artery running south of the capital to the east coast.
The Yongsan USO is offering two ski trips on Jan. 25 to Dragon Valley, a resort south of Seoul. The cost for the day trip is $54 for servicemembers and $59 for civilians. Participants should go to the USO at Camp Kim by 6:15 a.m. and expect to return around 9 p.m.
The fee includes ski rental and lift fees plus transportation. (Subtract $13 if you bring your own equipment.) Payment is due four days before the trip. The fee is the same for snowboarders plus an extra 20,000 won ($17.42) is needed at the resort.
Stars and Stripes reporter Jeremy Kirk contributed to this report.