Okinawa Churaumi Aquarium: A whale of a time
by
Fred Zimmerman
October 30, 2003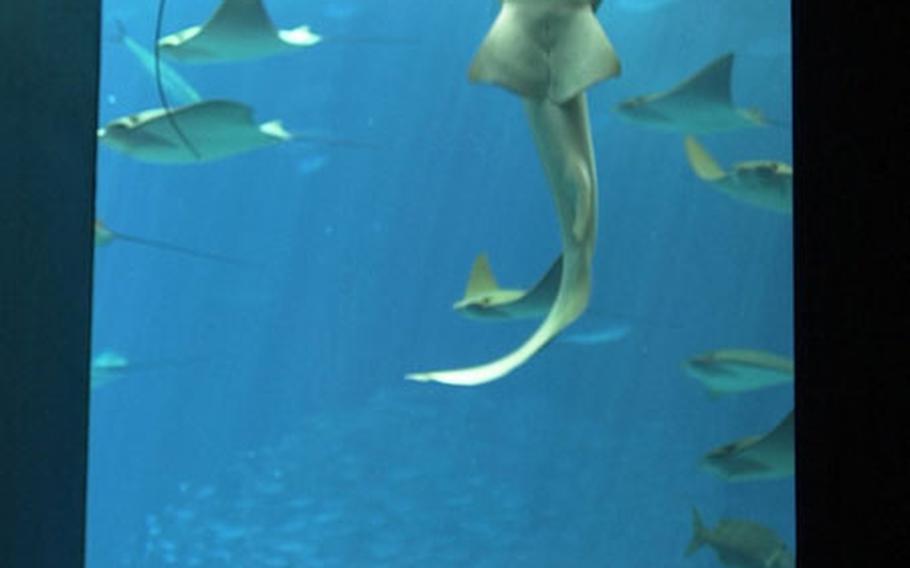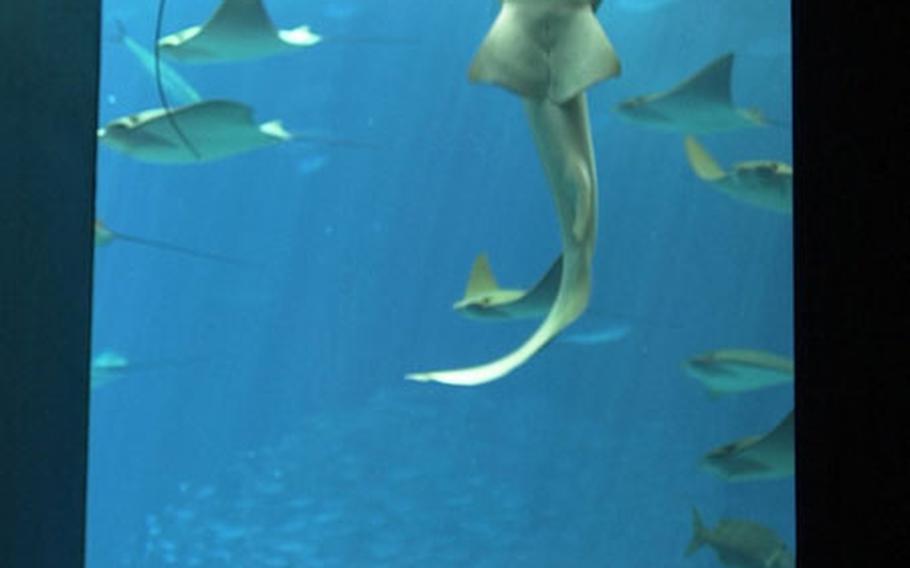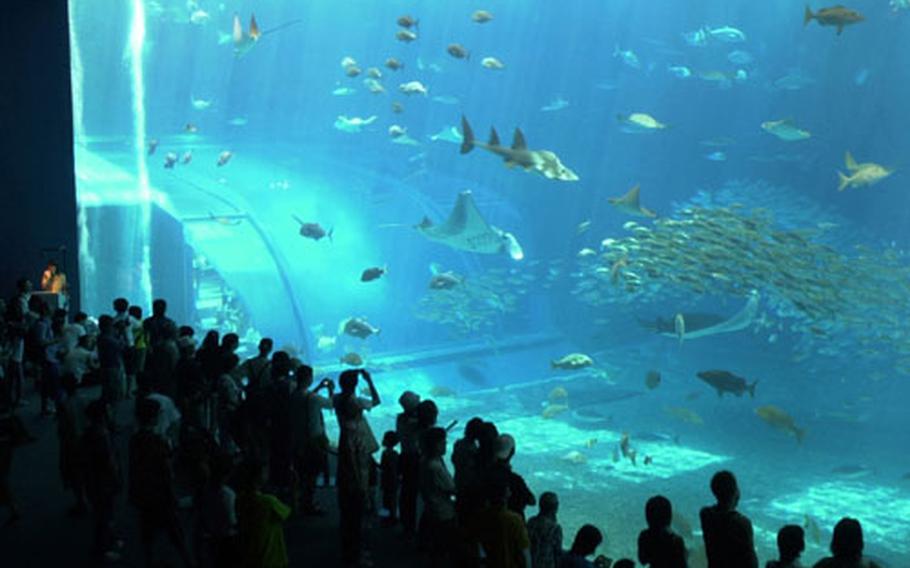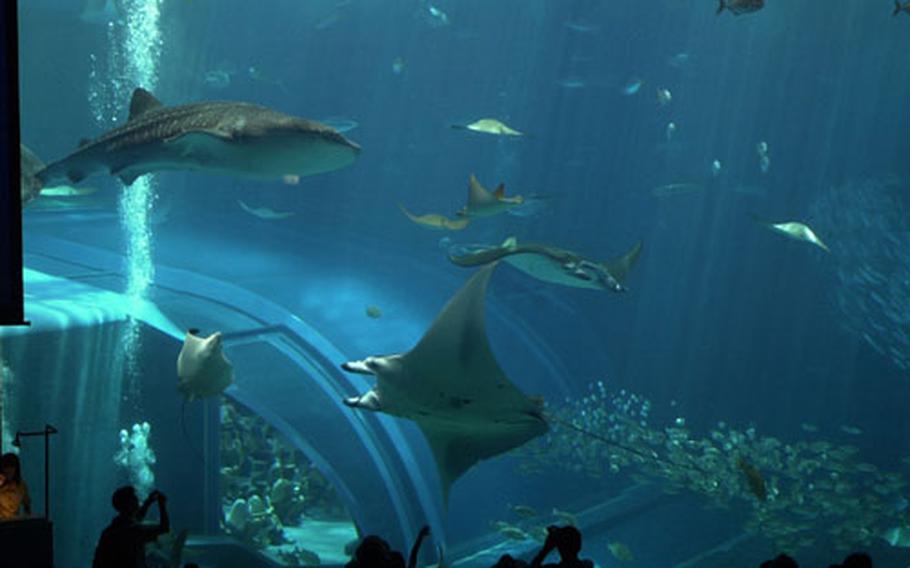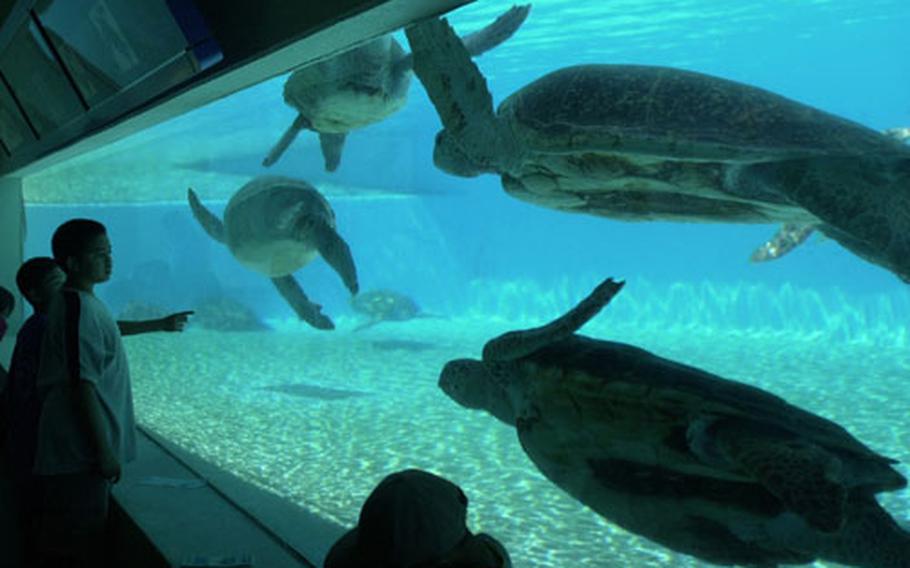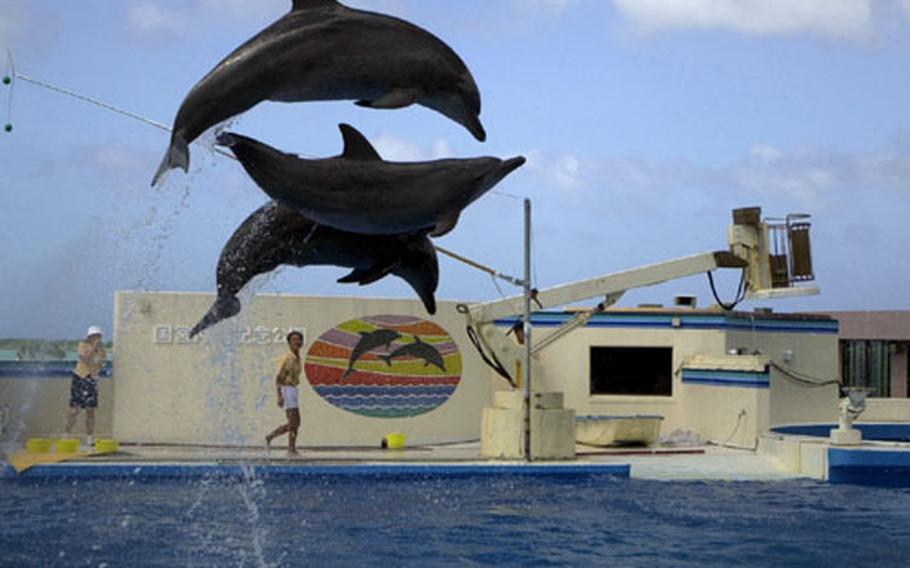 There is one place where anyone can witness the color and beauty the waters surrounding Okinawa have to offer — no SCUBA equipment needed.
The Okinawa Churaumi Aquarium, just north of Nago City at Ocean Expo Park, is the largest aquarium in Asia and the second largest in the world, following Sea World in Florida.
After a breathtaking walk to the aquarium, with the emerald-green sea and Ie Jima in the distance, a "touch pool" greets visitors after passing through the entrance, located on the third floor. At the "Life in Inoo" touch pool, guests can experince a "hands on" with starfish, sea urchins, shells and other friendly sea life that reside in Okinawa's "Inoo," or coral reefs. There are also several large tanks housing tropical fish and a coral reef.
After these exhibits, visitors begin the journey down to the bottom of the aquarium.
The second floor contains more colorful fish and reef life, from giant lobsters to eels. There is also the Churaumi Theater, where an educational film gives visitors the feel they are deep in the water.
Second-floor guests eventually come across the main attraction — a 7,500-ton tank filled with nearly 30,000 fish. Included in the Kuroshio Current tank are several whale sharks — the largest fish in the world — capable of growing from 26 to 30 feet long. The sharks swim alongside giant manta rays, tuna and a wide array of other fish.
The four-story tank gives visitors a true ocean view — the top of the tank is open, and natural sunlight gives the water a blue-green tint.
Also on the second floor is the Shark Research Lab where visitors can feel the texture of the different sharks' skins, and even their teeth. There is also a tank holding several types of sharks, including hammerheads.
As guests make their way down to the first floor, the main viewing area of the Kuroshio Current tank greets them. Next to it sits a café with plenty of seating for guests to have a bite to eat while watching the fish.
Also on the first floor is the Deep Sea World exhibit, which houses deep-sea life that even divers don't typically get to see.
Surrounding the aquarium are several exhibits that anyone can view at no cost. There is the Dolphin Studio, Sea Turtles Tank, an Ocean Nursery where young sharks and rays are raised, and a Manatee Tank. All have underwater viewing areas, except for the nursery. The highlight of the outdoor attractions is the Oki-chan Theater, where there is a daily dolphin show.
---
---
---