'Offal' adventures in eating, à la Lyon
---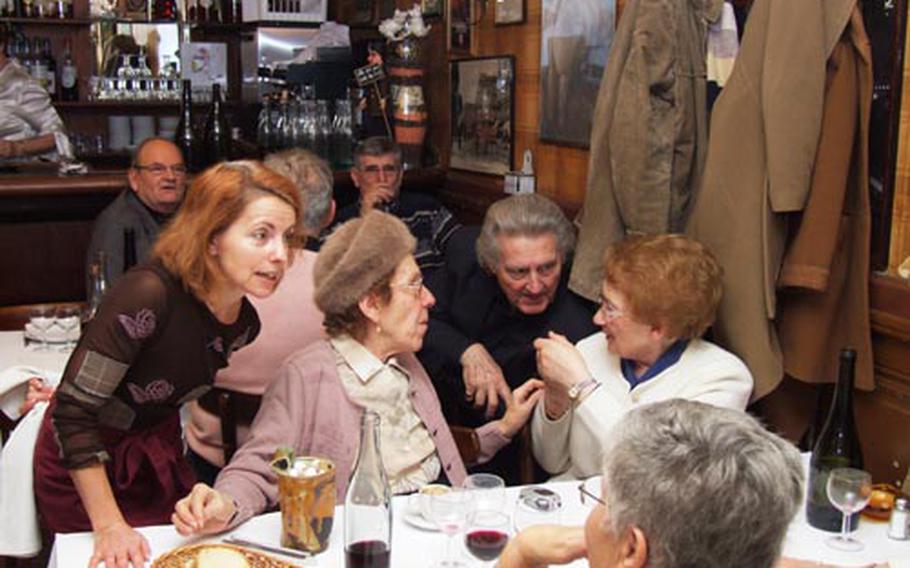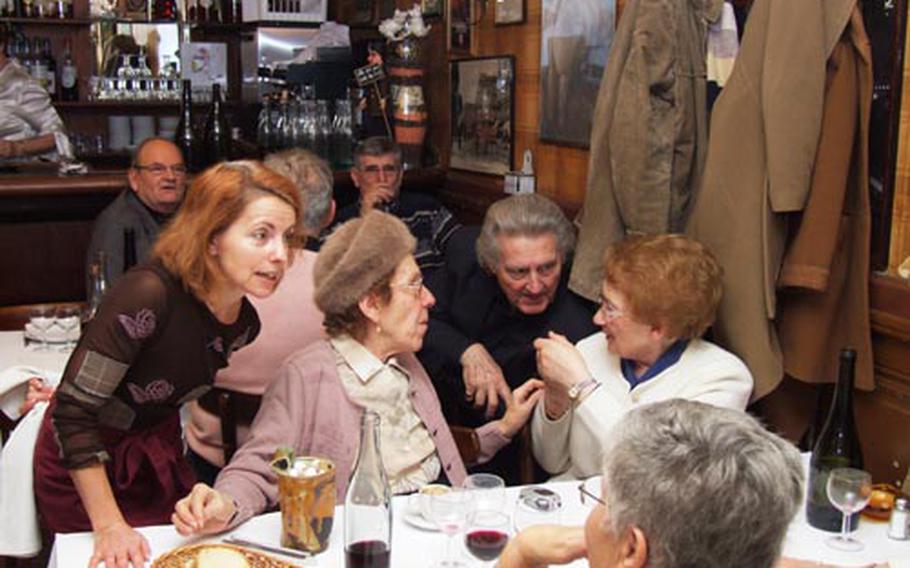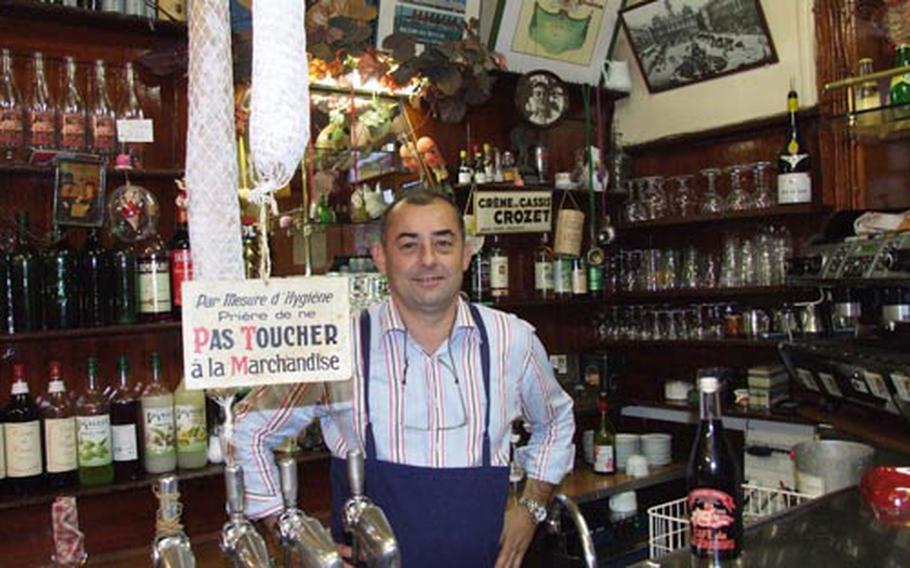 Feet, tails, snouts, brains and intestines — these are among the savory animal parts served up at a bouchon, a type of bistro unique to Lyon.
Native son Paul Bocuse and his Michelin three-star restaurant in nearby Collonges-au-Mont-d'Or may get the publicity, but for a true taste of Lyon, a visit to a bouchon is in order. Fun and funky, bouchons are a Lyon tradition that thrives in small, cozy places where red-and-white checked tablecloths and faded black-and-white photographs are standard décor.
"People prefer bouchons to other restaurants. It's the warmth, human contact, conviviality," says Jean-Louis Gelin, owner of La Meunière, which has been in business since 1921. Customers, who sit elbow-to-elbow, often talk across tables to one another. Many are regulars who greet the owner with a kiss or handshake.
You don't have to eat innards and offal at a bouchon — other more commonly eaten animal parts are also on menus. Nonetheless I decided to be brave and sample the famous — or infamous — fare.
At Chez Paul, I was introduced to gratons, fried pork fat, a bouchon staple. A big bowl of the greasy nibbles arrived at the table as soon as my husband and I sat down. Cholesterol-conscious hubby would not even taste. I did, but a few bites were more than enough. I could feel the calories piling on and the arteries clogging up.
Next came eight serve-yourself entrées: museau de boeuf (beef muzzle), coco beans, pieds de veau (veal's feet), potato salad with cervelat (brain sausage), beets, herring, lentils and a plate of charcuterie. I tried them all. The muzzle was a bit odd, but not that bad if you can tolerate eating a cow's snout. The veal's feet were disgusting — white glutinous globs in a mayonnaise sauce. The rest were very good, especially the potato salad-sausage combo and the beets. "They don't remind me of beets in a can," remarked my husband.
It took all of my courage to try tripe — cow's intestines, which are almost synonymous with bouchon food. At La Meunière, Gelin said he would give me a small portion for tasting in addition to the queue de boeuf mijotée (beef tail in tomato, shallot sauce) that I ordered as my main course.
The tripe had a bizarre name: tablier de sapeur (fireman's apron). It looks harmless, like a veal cutlet, something dipped in bread crumbs and fried golden. If it has any taste, it is camouflaged by the tartar-like sauce that is meant to be eaten with it. I tried it with and without sauce and was relieved. It was harmless, chewy in texture, but bland. The beef tail was much better, but finding chunks of meat around the tail bone was tricky.
Red seemed to be the wine of choice, usually Beaujolais or Côte de Rhône from nearby vineyards. It is always served in a pot, a glass bottle with a thick base containing 46 centiliters.
There are several versions of stories explaining the origin of bouchons. One has it that they were used as a stopover for stagecoach drivers en route from the south of France to Paris. While the horses were watered and cooled off — bouchonner means to rub down — the drivers enjoyed hearty meals in adjacent taverns, which came to be called bouchons. Another take is that a bundle, or bousche, was hung outside taverns to indicate that wine was served inside. Bousche morphed into bouchon.
Café des Fédérations is said to be the oldest bouchon, its origins dating to pre-1900. Proprietor Yves Rivoiron says his place figured prominently in the history of Lyon as politicians, businessmen and intellectuals gathered there. Even today dedicated patrons include the city's movers and shakers.
"People come to spend the evening here. They arrive at 8 and leave at midnight. They talk, discuss," says Rivoiron.
He says there are only "five or six" genuine bouchons in existence, although Lyon is full of restaurants calling themselves bouchons. Several years ago there was an association of bona fide bouchons, awarding members who adhered to certain traditions a plaque to certify authenticity and to display in their restaurant. The association no longer exists.
Know and go ...A three-course meal at a bouchon in the evening costs about 25 euros, slightly less at lunch time. Wine is extra, about 9 euros a pot. Reservations, especially for the evening, are a must. The following are considered authentic bouchons, all recommended by the Lyon Tourist Office.
• La Meunière, 11 rue Neuve, telephone (+33) (0) 4-78-28-62-91; Web sitewww.la-meuniere.fr.
• Chez Paul, 11 rue Major Martin, (+33) (0)4-78-28-35-83; Web site www.chezpaul.fr.
• Chez Hugon, 12 rue Pizay, (+33) (0)4-78-28-10-94; no Web site.
• Café des Fédérations, 10 rue Major Martin, (+33) (0) 4-78-28-26-00; Web sitewww.lesfedeslyon.com
— Leah Larkin
---
---
---
---