Mysteries of the human body subject of Tokyo exhibit
by
Hiroshi Chida
October 9, 2003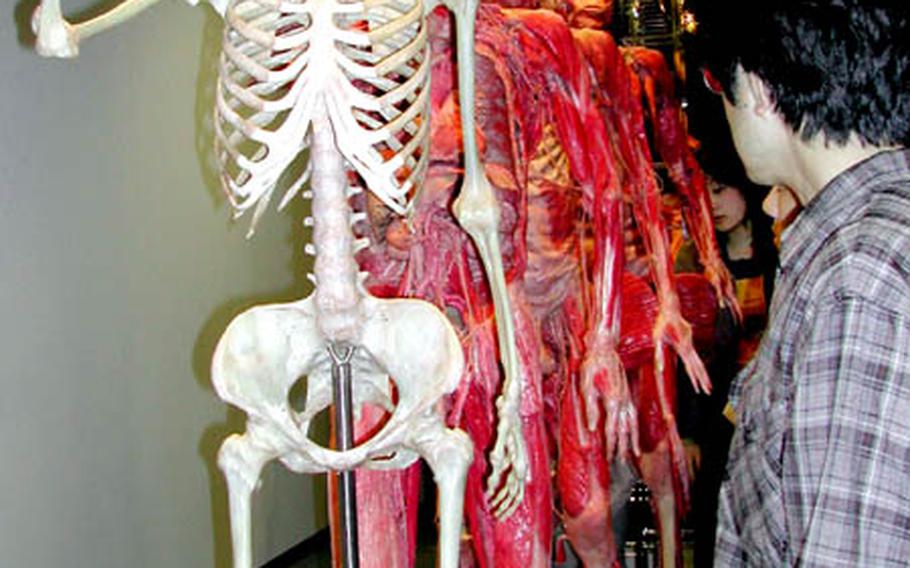 The Jintai Plastomic "Mysteries of the Human Body" exhibition is open at Tokyo's Kokusai Forum in Yurakucho.
The exhibit includes body specimens made directly from actual organs — some of them open to touch. Of the 160 samples, 20 are whole bodies.
The exhibit is made possible by a new technology called "plastomic," which was developed in China and all the exhibits are of donated Chinese bodies — clean and free from any odor.
The human corpses have been pressed, and all the blood and liquids squeezed out, said Seiji Igarashi, an exhibit spokesman. They were made at the Nanjing Living Creature Preservation Experimental Factory.
These samples can be kept at room temperature, and are said to last semi-permanently.
At a recent visit, the exhibition hall at Tokyo's fashionable Tokyo International Forum building, in the midst of Yurakucho, was packed.
Visitors were absorbed in examining the specimens, yet the atmosphere was not somber. A Tokyo university student commented that the specimens were clean and beautifully preserved and that the colors of the organs were vivid. He said he came because he was interested and has no other opportunity to see real human organs.
Narumi Nishiyama's 5-year-old son Teppei convinced her to bring him to the show. Teppei said the exhibition is a hot topic among his friends.
Teppei said he didn't find the exhibit at all frightening. "I like gaikotsu [skeletons] very much," he said.
His mother said, "Children of his age are interested in the human body."
She also commented on recent Japanese headlines reporting medical malpractices and said she would like medical students to study hard, using these specimens as good references.
Professor Tatsuo Kumazaki of Tokyo's Nihon Medical University said it is important that many people visit the exhibition. They should view the exhibition as a scientific event, he said, and not as a grotesque show. The human body, he said, is a beautiful thing.
The exhibit is at Tokyo Kokusai Forum 1F, A Block until Dec. 28 (open everyday) from 11 a.m.-8 p.m. Admission is 1,500 yen, 1,000 yen (students) and 500 yen (elementary school), or call 03-5427-6226.
---
---
---