Menton: Lemon Festival guaranteed to make you pucker
---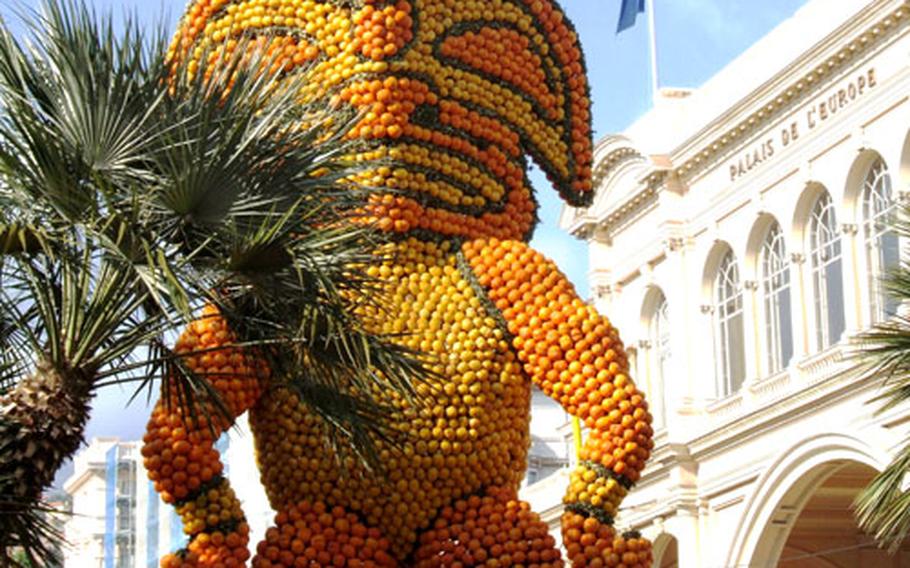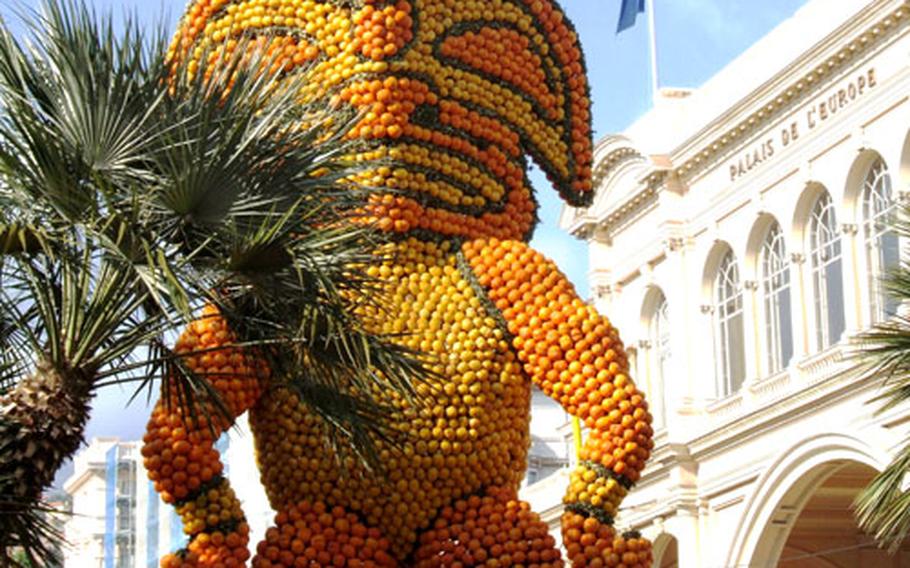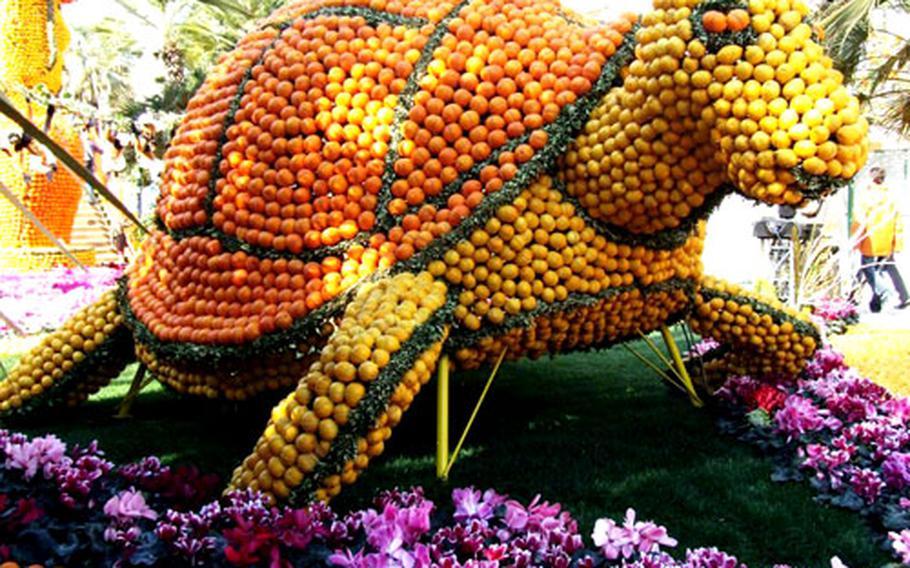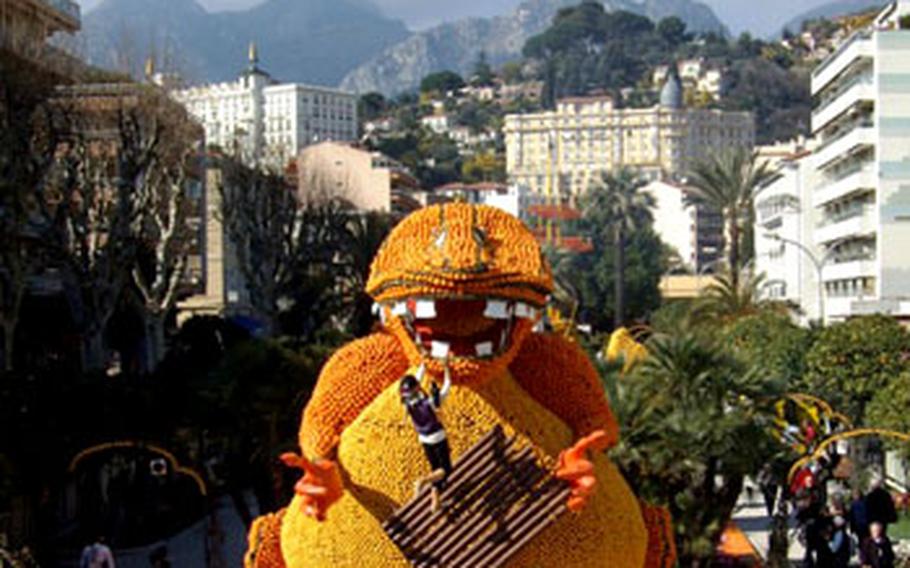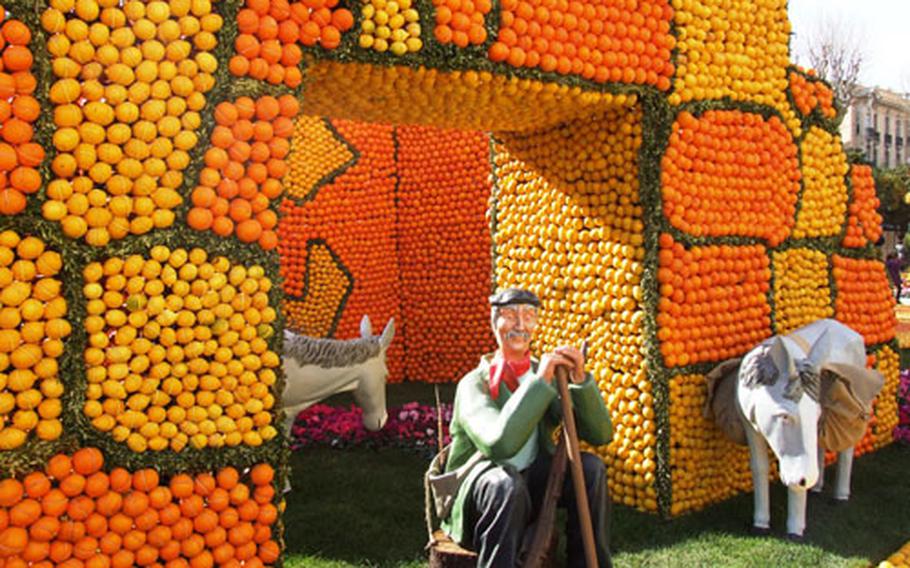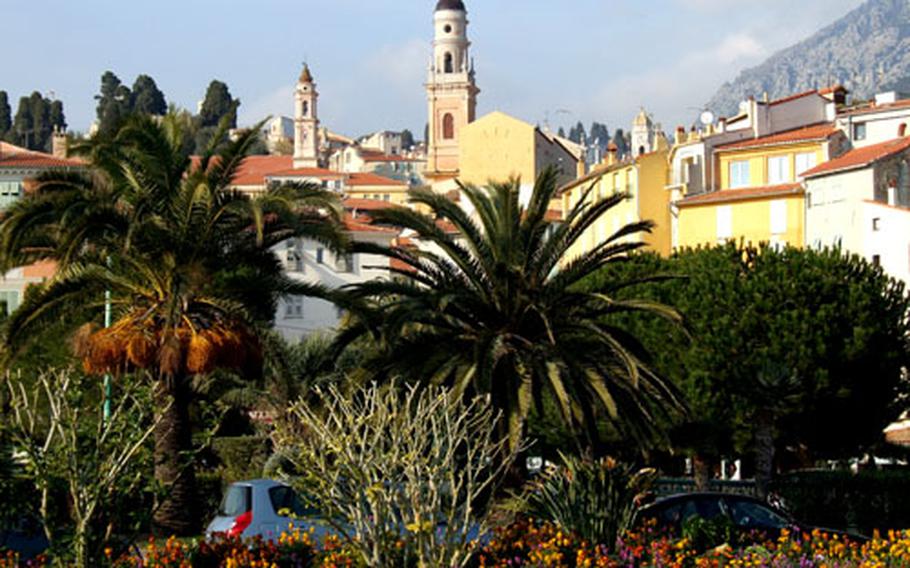 Fruity floats, gigantic citrus creations, fabulous flowers. The annual Menton Lemon Festival is an explosion of color, scents and creativity in honor of the city's prized yellow fruit.
This French Riviera city on the border with Italy is the lemon capital of France. It has been celebrating the lemon with festivities every year since 1929. The festival, this year from Feb. 13 to March 4, continues to grow in popularity, attracting nearly a quarter-million visitors who come to admire amazing sculptures and exhibitions made from 145 tons of citrus fruits.
Last year's theme, "Cities of the World," featured a tropical village made of lemons and oranges, a rumbling Mount Etna, a fire-breathing citrus dragon, Easter Island statues in yellow and orange and much more. This year's theme, "Music of the World," promises to be equally as innovative.
The Jardin Biovès, a long promenade lined with the mammoth fruit constructions, is the center of activity. An elevated ramp in the middle is especially popular with the camera crowd, which lines the steps for overviews of the scene. Stands selling fruit, citrus liqueurs, soaps, jams and postcards are also popular gathering spots.
Held in conjunction with the festival — the Fête du Citron, in French — are an International Orchid Festival and Menton Crafts Fair at the Palais de l'Europe. The orchids, in numerous varieties, sizes and colors, are outstanding.
Menton's microclimate with more than 300 sunny, temperate days per year, is ideal for growing lemons. There are some 80 varieties of the fruit, but it's the Menton lemon that is prized by chefs for its perfume, zesty flavor and pulp, and high sugar content.
If you visit the Lemon Festival on a Friday, head across the border to Ventimiglia, Italy, where an enormous outdoor market is held along the seafront offering bargains in clothing, leather goods, tablecloths, Italian delicacies and more.
Whenever you visit, take time to see some of the city. Menton, which was originally part of Italy, became the property of Charles Grimaldi, Lord of Monaco, in 1346. In 1848 it broke away from Monaco, becoming a free city, and in 1860 became part of France.
By the late 19th century it was on the map as a popular tourist spot on the Riviera. The Russian aristocracy and wealthy English tourists flocked to what was then a health resort. Palaces and elaborate villas soon followed — many becoming the sites of spectacular gardens. English botanists took advantage of the sub-tropical microclimate and introduced rare tropical plant species that still flourish in the city's numerous gardens, such as the Maria Serena Villa and Garden and the Fontana Rosa. The latter blends ceramic décor with lush plants.
Also take time to wander through the narrow medieval alleys of the old town. Visit Saint Michael Basilica, the city's ancient and grandiose church which dates back to 1619, and the Jean Cocteau museum, a small 17th-century fort that the painter and poet helped renovate as a place to display his work. One of Cocteau's masterpieces, a gigantic painting of eternal lovers, covers a wall in the city's Wedding Hall which is open to visitors. The Japanese, who are great admirers of Cocteau, flock to Menton to tie the knot in this room.
Photojournalist Leah Larkin is a member of the Society of American Travel Writers and lives in Provence, France. Contact her through www.leahlarkin.com.
Know and go ...Admission to the festival's citrus displays costs 9 euros for adults and 6.50 euros for children ages 6 to 14.
The lemon festival also features a parade with citrus floats, costumes, masks and music at 2:30 p.m. on Sundays, Feb. 15 and 22 and March 1. A moonlit parade ending with fireworks will take place on Feb. 19 and 26 at 8:30 p.m. There is an extra charge for admission to these events.
Find more on the Lemon Festival at www.feteducitron.com; there is an English-language version.
Find more on Menton at www.villedementon.com; there is an English version.
— Leah Larkin
---
---
---
---