Marrakech by scooter: Don't knock it 'til you've tried it
by
Charlie Coon
November 8, 2007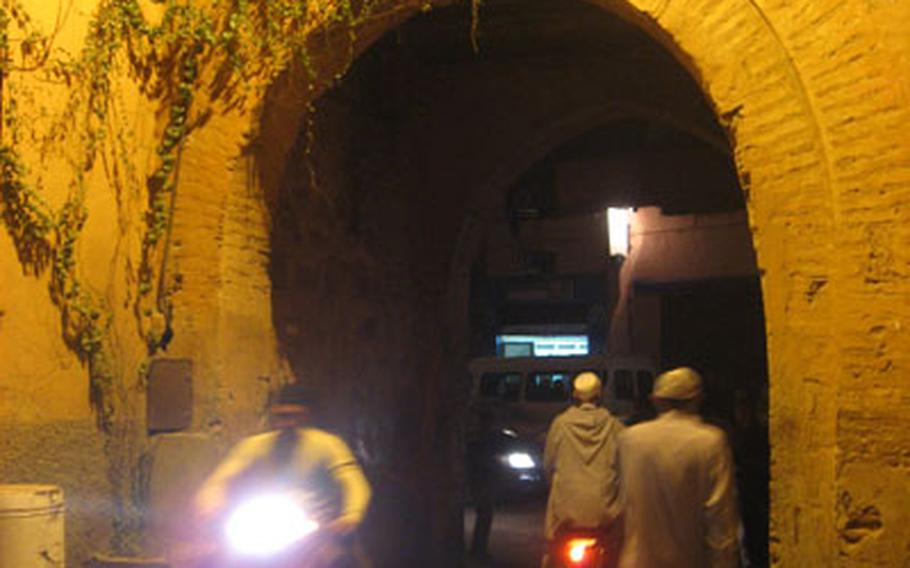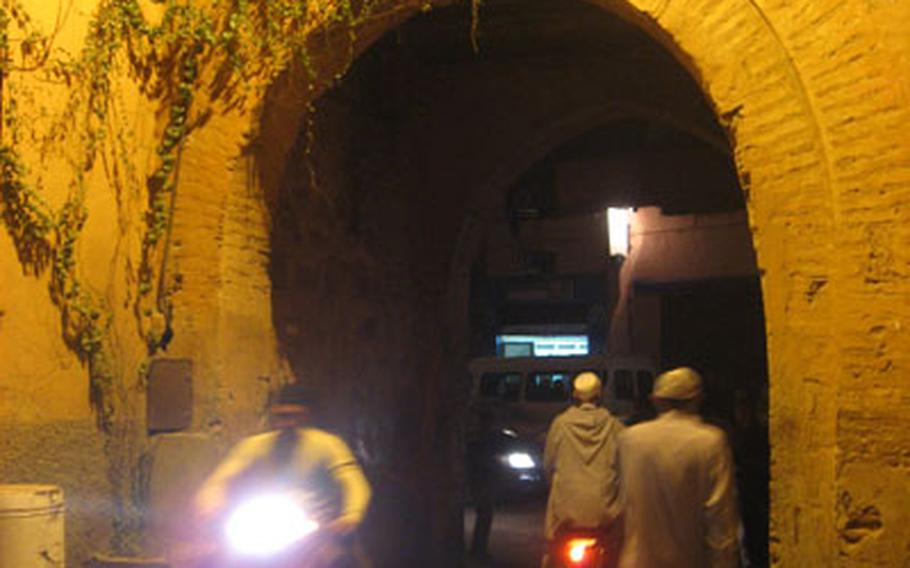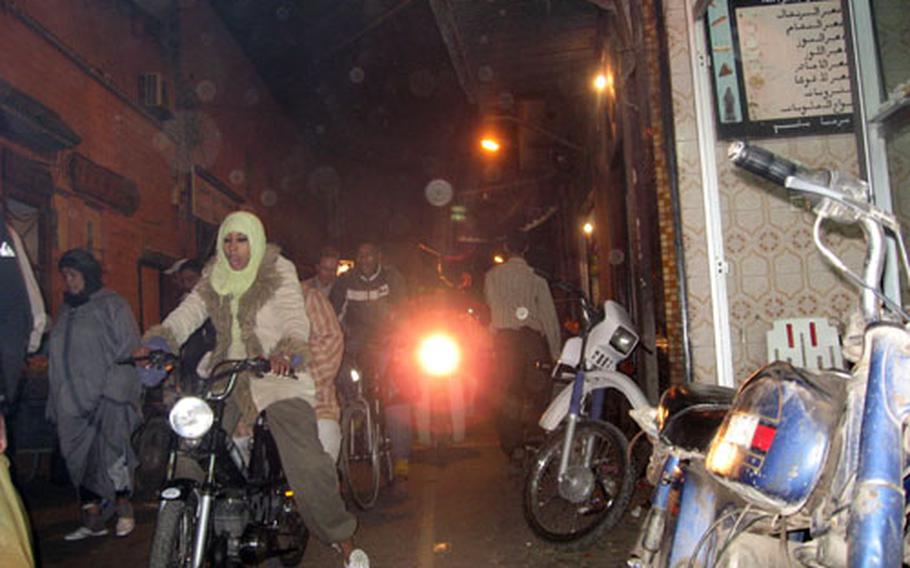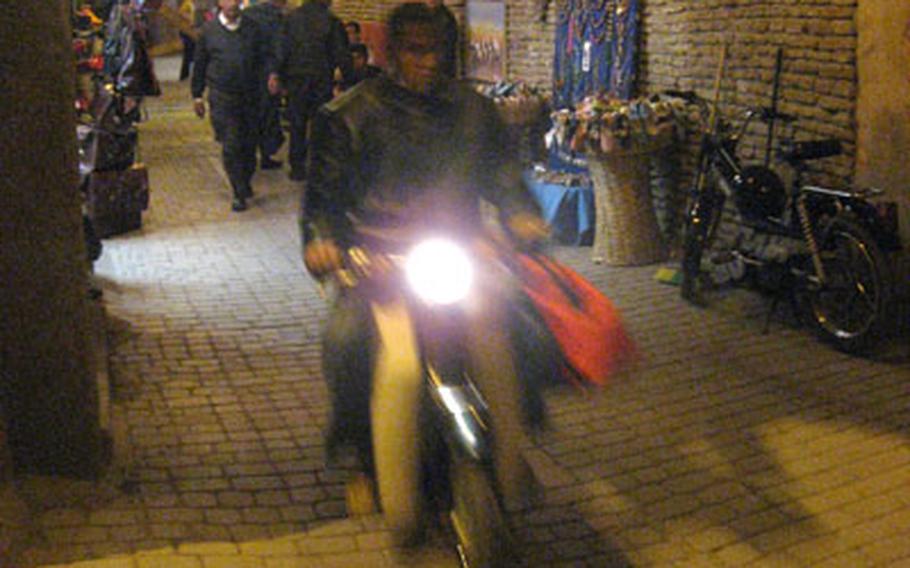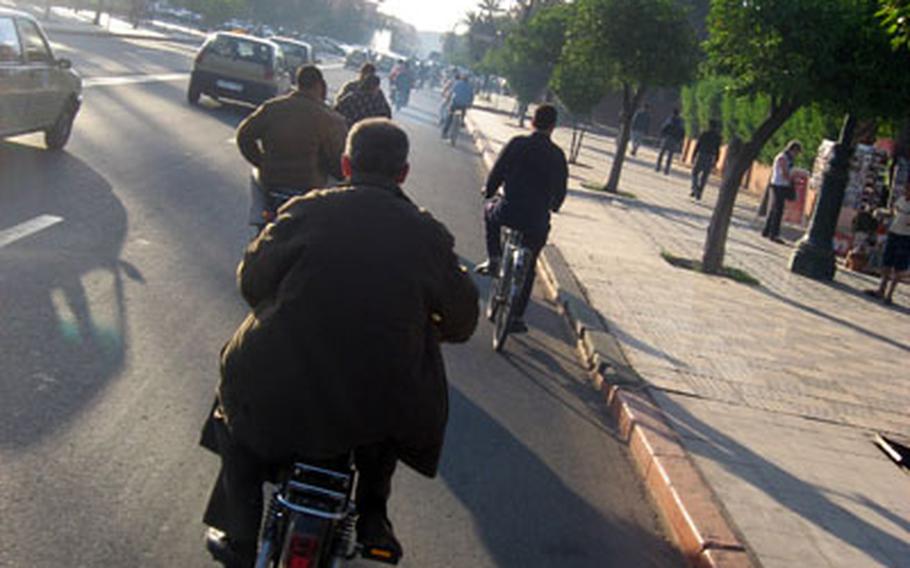 You know those motor- scooters that zip through the streets of southern Europe going weeeng, weeeng, weeeeeng!?
Oy! Are they obnoxious.
Cutting in front of cars, running onto sidewalks, racing through red lights. You just want to give 'em the bumper, as the late NASCAR champion Dale Earnhardt might have done.
And then shake your fist and yell, "Get a real bike, scooter- boy!"
Well, they have those things in Africa, too, and in a place like Marrakech — one of the shadier cities in Morocco, and I'm not talking about the trees — those little scooters are beyond plague-level. They buzz about like giant mosquitoes on crack, squiggling through holes in traffic like dirty water filling cracks in the sidewalk.
You see families on scooters, often all on the same bike — dad, mom and the kid, too. Giggly girls love to ride double. So do young lovers.
Women in headscarves, men in robes, on scooters, flying around town. Plus your usual teen rebels and plain old people just getting back and forth.
That's Marrakech. And if you want to get around town, what are you going to do?
Realizing that even the toughest yak is no match for a pack of hyenas, I parked the car and went looking for a scooter.
The hotel bellhop led me into an alley, where one of the locals with a small storefront rented me a scooter for 300 Moroccan dirham, or about $40, per day.
It was a beauty, a shiny blue Kymco Agility 50. Its 50cc engine had 750 fewer cc's than my Kawasaki back home, and I could actually lift this "motorcycle" off the ground.
Being, you know, a man, I had never been on a scooter before. But I wasn't about to let these facts emasculate me.
Once I started one up, what a revelation!
First of all, navigating a scooter through Marrakech takes a lot more derring-do than plopping a fat butt on a Fat Boy and waddling down the highway.
The streets here are choked with cars, trucks, donkey-carts, bicycles and other scooters. Traffic laws didn't seem to apply, so the key was to drive offensively. Take that hole-shot. Squeeze alongside that truck carrying live fowl, feathers flying out.
Sure, you might eat some grit while stuck behind that smoke-belching city bus, but as soon as there is a gap in the road — or the adjacent sidewalk — you can slip by and feel the wind of freedom in your hair. (Helmets, by the way, are optional in Morocco.)
And those pesky beggars and con-artists that make Marrakech infamous? Just turn your wrist and scoot away. I actually felt less bothered while on the scooter; maybe they thought I was a local.
Then there's that cosmic feeling at night, zipping between pedestrians in the crowded souks and down narrow dirt streets of the medina, dodging other scooters, adding to the noise and clutter of the Marrakech night. It's other-worldly.
Yes, the scooter flies in the face of everything American. For us, bigger is better.
But not always.