Market puts Vicenza's antiques and collectibles on display for the buying
by
Nancy Montgomery
March 30, 2017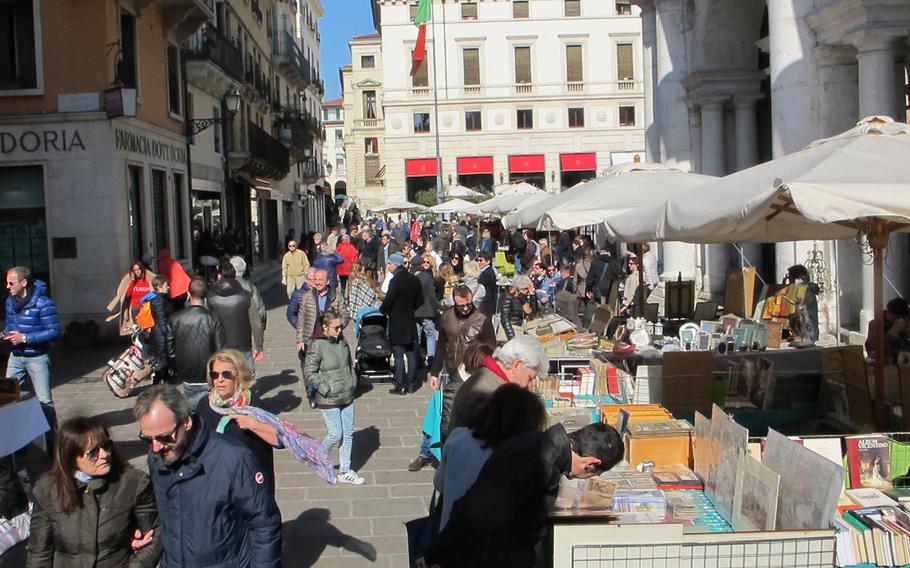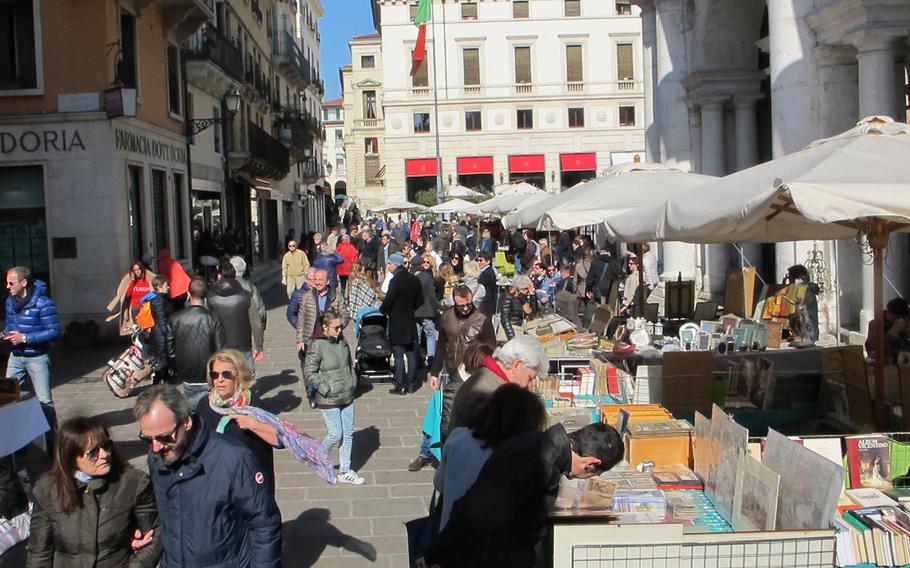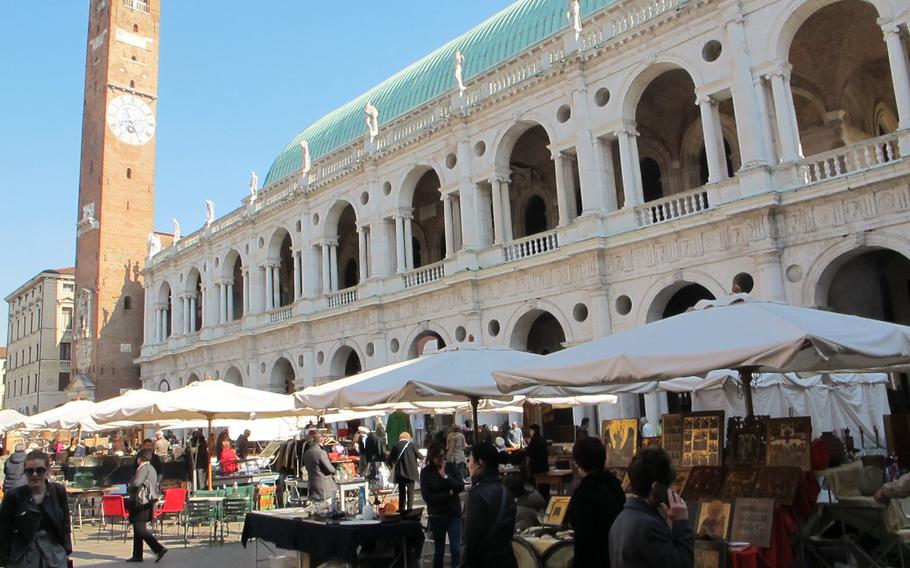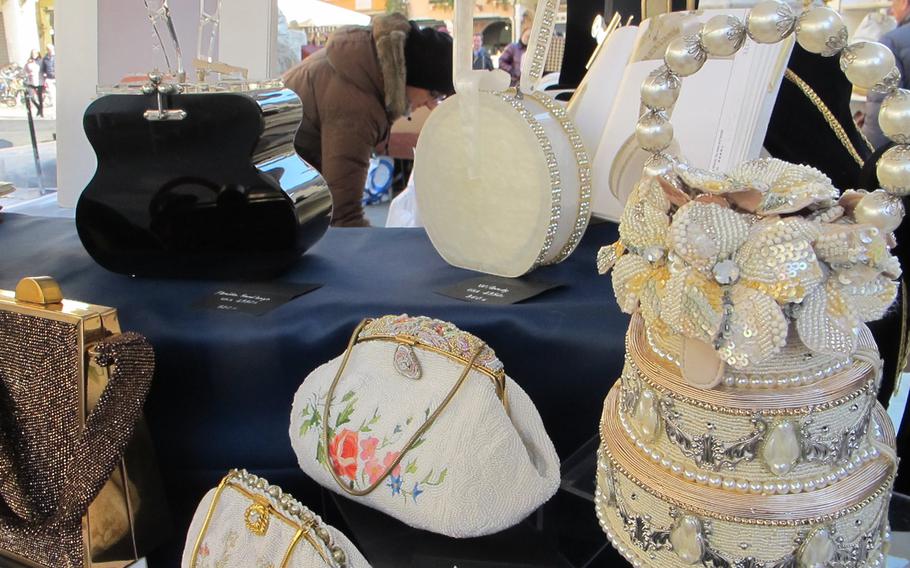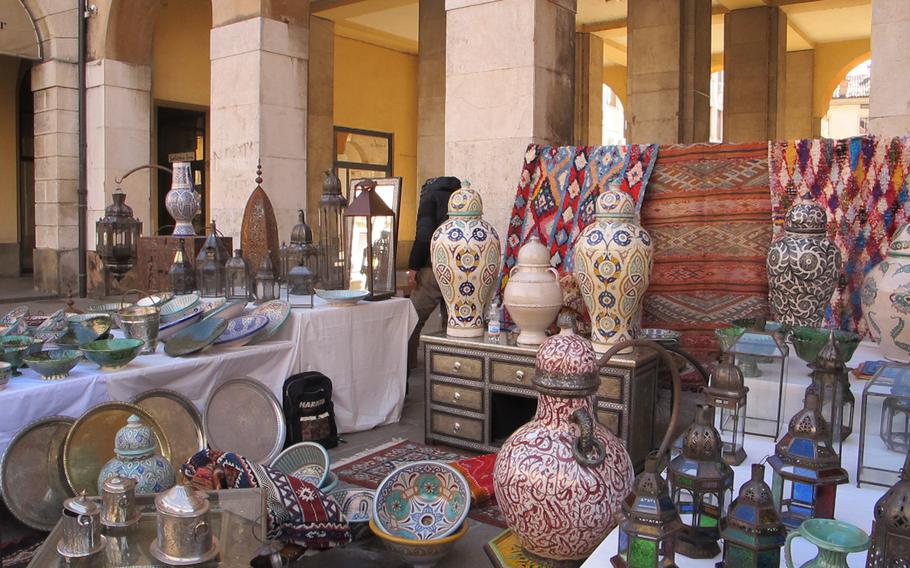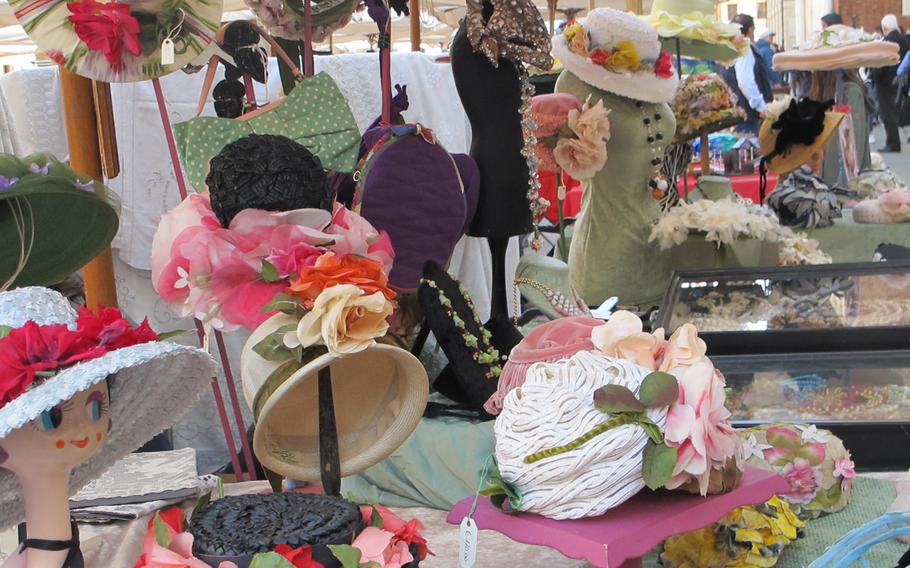 Imagine an open-air bazaar where 18th-century Venetian furniture sits imposingly a few feet from cases of 1950s-costume jewelry, hundreds of used books and old records, paintings of the Madonna, photos of the Beatles and a sunken ship's worth of silver. Now put it in an Italian piazza flanked by the beautiful white marble behemoth known as the Basilica Palladiana and surround it by cafes eager to sell you a glass of prosecco and a panino.
This is Vicenza's antiques, vintage and collectibles market. Held on the second Sunday of each month from September through June, it's an experience more like a revelation than a mere shopping excursion.
Flowered antique hats, handbags fashioned to look like guitars and wedding cakes, and some fabulous pieces of furniture are just a few of the thousands of items that delight the eye. People stroll about, some with children, more with dogs, then take a break at an outdoor cafe. There among the treasures, it is very relaxed.
About 200 vendors from the area who show up in any given month display their wares under white tents in the piazza and along neighboring streets. Few accept credit cards. Fewer yet post prices. Although they're there to sell, there's no hawking, no pressure, and sometimes not even a glance your way. So it's imperative to know how to say, "Quanti?" ("How much?").
Haggling is then expected, and the negotiated price might be as much as 20 percent less than the original.
That doesn't matter, of course, when what's on offer is a gilded, ornate Venetian cabinet big enough for a palace and costing the equivalent of $25,000, such as one I once saw there.
But more affordable items are the market's mainstay. My apartment is a testament. There's the small, French writing table from the 1760s in the living room. There's the Japanese-inspired cabinet, painted a glossy yellow with water lilies floating all over, in the laundry room. There are also an art-deco painting of a beautiful woman holding a swan to her naked breast and a small, blue Venetian mirror on which I might have spent too much.
Still, I return.
Vicenza's antiques, vintage and collectibles market LOCATION
The antiques, collectibles and vintage market is held on Vicenza's main plaza, the Piazza dei Signori, and surroundings.
TIMES
Held midmorning to late afternoon on the second Sundays of the month September through June. Remaining dates: April 9, May 14 and June 11.
COSTS
Items for sale range from 5 euros (about $5.40) to many thousands of euros.
FOOD
Snacks, sandwiches, aperitifs and Sunday lunch are available seconds away at scores of bars, cafes and restaurants.
INFORMATION
Phone: (+39)(349) 641-0654
Web: www.antiquariatovicenza.it offers an English link.