Ludwigsburg Palace: Where German royalty enjoyed lives of luxury
by
Leah Larkin
June 10, 2004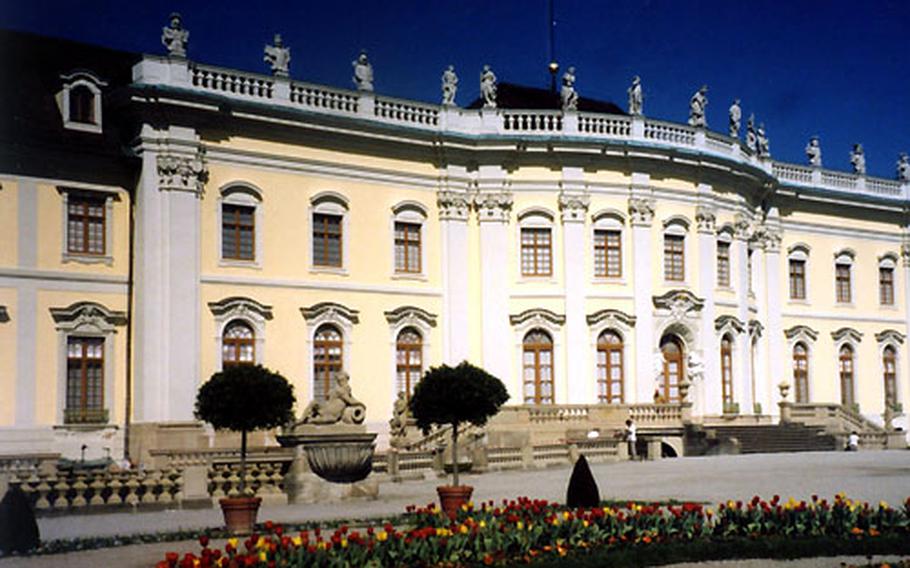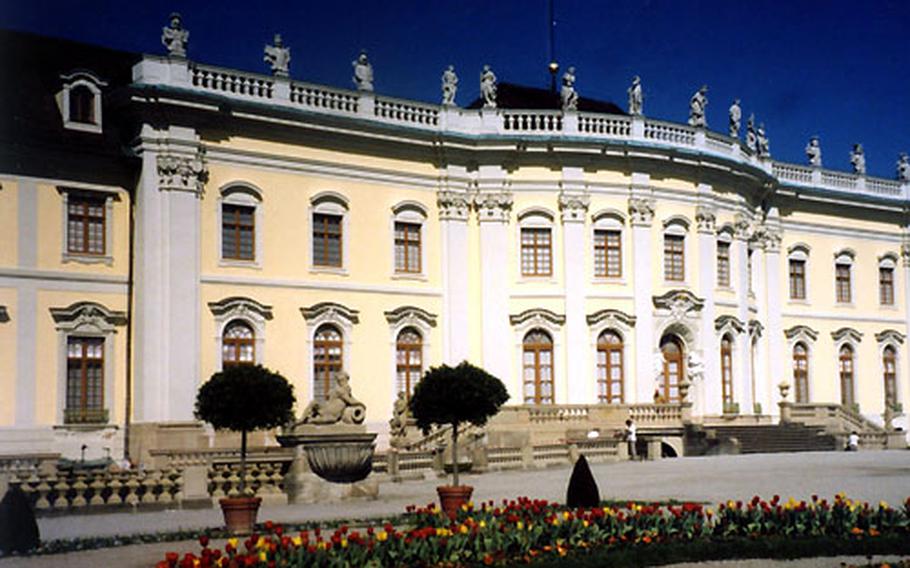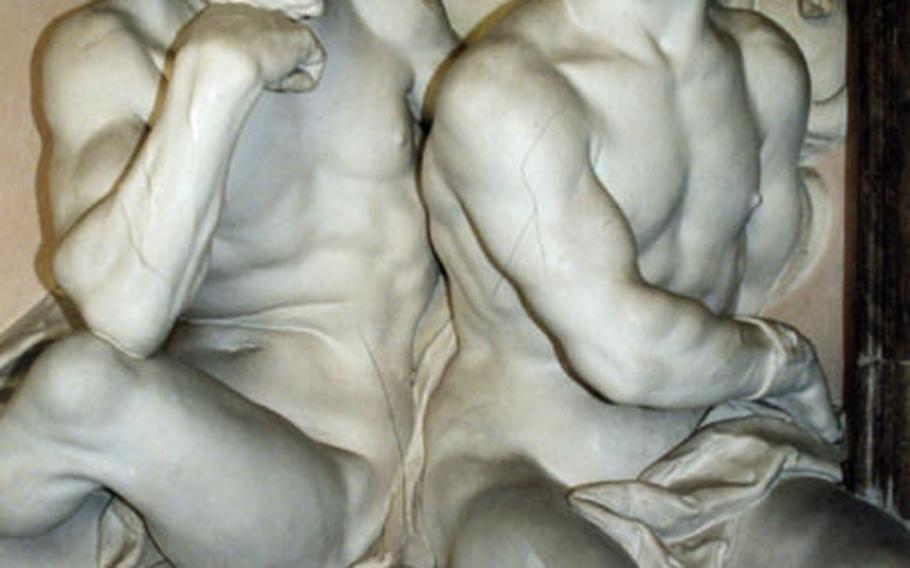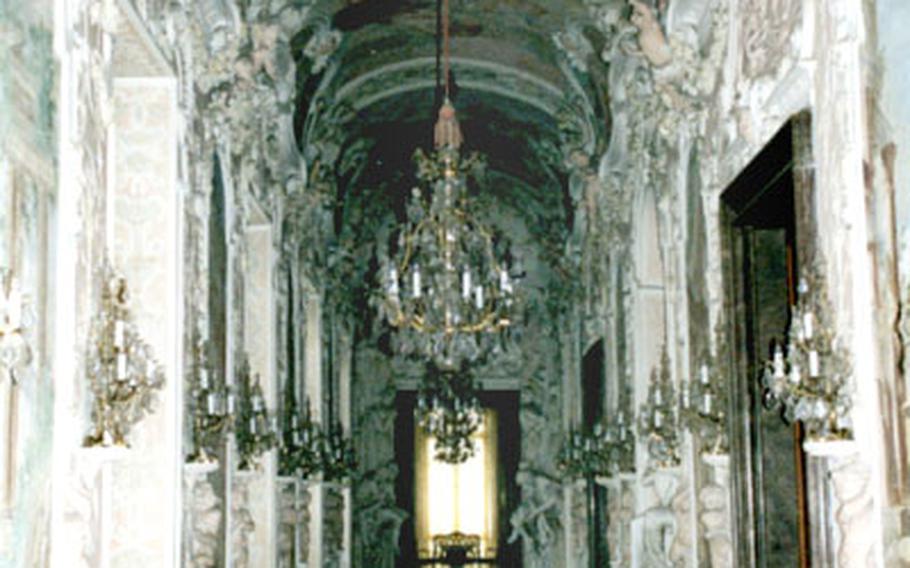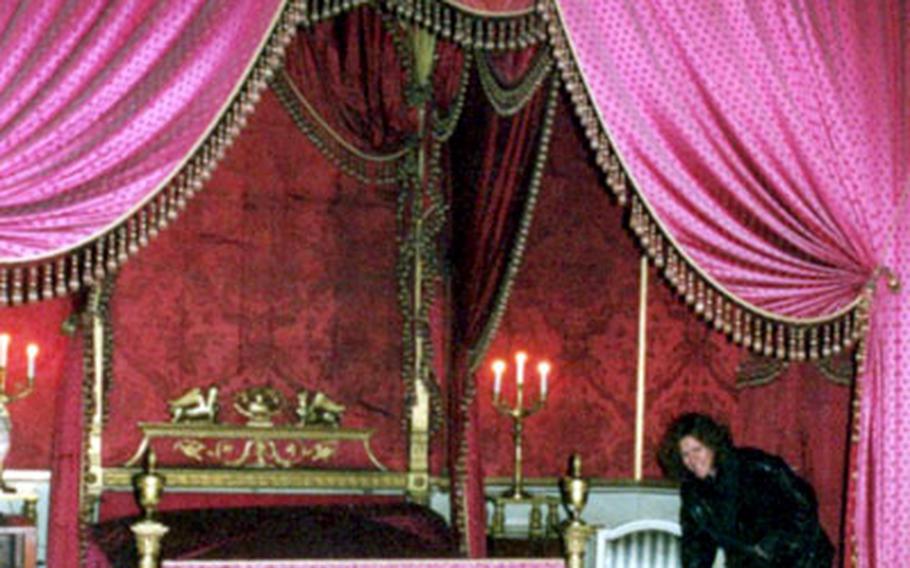 While many of her friends were disappointed in Louis XIV's palace at Versailles, Jamie Worley could find nothing to complain about after visiting the "Swabian Versailles."
Worley said her friends found Versailles a bit rundown and neglected, while the furniture and décor at Schloss Ludwigsburg in Germany seemed almost as perfect as they were hundreds of years ago.
"This is impressive," she said. "I want to come back some time."
Schloss Ludwigsburg, in a town by the same name north of Stuttgart, is the largest preserved Baroque residence in Germany and celebrates its 300th anniversary this year with the completion of extensive renovation, new museum openings and a host of special events.
"I'm totally thrilled when I'm here. I always notice new details," remarked Monika Bergan, press spokesperson for Ludwigsburg during a palace tour as she looked at sculpture framing a doorway. "I had never noticed the little angels with wings."
Indeed there's much to admire in this palace of 18 buildings containing 452 rooms. It was built between 1704 and 1733 by Duke Eberhard Ludwig von Württemberg to serve as a hunting lodge, and in 1718 became the official state residence.
Under Eberhard Ludwig, the architecture was Austro-Hungarian and the decor was Baroque. He was followed by Duke Carl Alexander von Württemberg, then Duke Carl Eugen, who added apartments in the French Rococo style. Later came Duke Friedrich II who wanted to use Ludwigsburg as his summer palace. Napoleon made the duke "king" in 1803, and King Friedrich had many of the palace rooms redecorated in the Empire style.
A palace tour — English-language ones are available — includes numerous rooms in all three periods.
"This is different than many castles," guide Wolfram Flatzek said. "It's completely furnished and it was not bombed in World War II."
The palace, he added, was not used for some 200 years, but its contents were preserved.
Guides delight, not only in pointing out the exquisite furnishings, but also in providing savory details about the folks who lived in these posh surroundings.
Eberhard Ludwig, after whom the palace is named, wanted the castle built as a refuge for himself and his mistress, Wilhelmine von Grävenitz, who was politically a powerful figure disliked by the palace court with whom she butted heads. Back then marriage was based on politics not love, and virtually all the royalty had mistresses. Eberhard lived in Ludwigsburg with Wilhelmine for 25 years, until the court became worried that he had no legal heir. His one legitimate son had died. He was pressured into leaving Wilhelmine, to bring his wife to Ludwigsburg and to have a child, but alas, she was 53 by that time, and no child was conceived.
During Eberhard's day, only 300,000 people lived in the region, so it's amazing that such a sumptuous palace could be financed. It was a monumental undertaking, as the land was not flat and had to be laboriously filled in with carts of dirt. Hundreds of workers lived around the building site in tents.
Among the highlights of the palace tour is Marble Hall, whose beautiful walls were made of synthetic marble, which, because it required 17 different steps to make, was far more expensive than the real thing. Another is the king's waiting room, which has an exquisite Baroque ceiling created by Italian artists, Europe's best at that time and responsible for much of the palace's decoration. The king's audience room in the Empire style features benches with an Egyptian motif revealing the influence of Napoleon. A large portrait of King Friedrich, 6 feet 10 inches tall and weighing 440 pounds, is a major attraction in the king's conference room.
Friedrich's queen, Mathilde Charlotte, no Twiggy herself, is said to have weighed in at 330 pounds. The queen, who fell from a horse the year her husband died, was left crippled and confined to a wheelchair. To accommodate her, ramps were constructed to access various levels of the palace gardens.
Part of the tour includes a glimpse of the cavelike servants' quarters, very dark with no windows. In Friedrich's day, more than 1,000 servants were employed at Ludwigsburg. An entourage of higher-ranking servants dressed the king everyday, a ritual that lasted 1½ hours.
Back in those days, water was considered unhealthy. Instead of bathing in water, the royalty bathed in perfume. And, instead of drinking water, they drank wine, 3 to 4 liters per person per day. If that seems unbelievable, take a peek in the palace wine cellar where rows of wooden barrels have the capacity to store 200,000 liters of wine.
Banquets and parties were a frequent part of palace life. During the time of Duke Carl Eugen, Ludwigsburg had the reputation as being the most brilliant court in Europe. The picture gallery, lined with portraits of royalty, held a 165-foot-long banquet table.
The most famous artists from throughout Europe were brought to entertain the guests. The palace theater, built in 1750 entirely of wood, has three tiers of seats. It was lit with oil lamps and candles, and servants stood by with buckets of water in case of fire. The background scenery was changed mechanically and the mechanism, which was very modern for its day, still functions. Performances were said to have lasted between five and seven hours, but the audience would come and go freely during the theatrical presentations.
As the theater was too small to stage operas, Carl Eugen had an opera hall constructed, but it no longer exists.
The palace has two chapels. Its Baroque chapel is popular today for weddings. However, one must be Catholic and a resident of Ludwigsburg to tie the knot in the royal church. The other chapel, whose walls are decorated with the coats of arms of old royal hunting clubs, is in demand these days for Japanese weddings. It's even listed as a wedding site in a Japanese travel catalog.
Throughout the palace are ancient Oriental vases, desks and cabinets of intricate inlaid wood, illusionist paintings and porcelain figurines and flowers. Real flowers wilt, and in that state were considered a sign of death, so no real flowers ever filled the Ludwigsburg vases.
But, there were plenty of real flowers outside. Even today the 75 acres of gardens that surround the palace are a major attraction. They host a continual garden show from March until October called "Blooming Baroque," with all sorts of flowers including roses, as well as fountains, hedges, flower ornaments and flower borders.
There are also herb gardens and Japanese gardens, even aviaries housing exotic birds. One section of the garden is a playground with play equipment from long ago, including an ancient merry- go-round and a Russian swing.
The children's fairy tale garden, which rates two stars in the Michelin green guide to Germany, is full of fairy tale figures, many of European fame, but some familiar to American children as well. The figures are animated and wired for sound. In this Disneyland atmosphere, Cinderella feeds a flock of pigeons and the wicked witch calls out to find out who is eating her gingerbread house, threatening Hansel and Gretel. Sleeping Beauty is there, too, as well as King Frog and his pond.
There's nothing disappointing about the Swabian Versailles.
Leah Larkin, a member of the Society of American Travel Writers, is a journalist living in France.
If you go to Ludwigsburg ...
In conjunction with the Ludwigsburg Palace's 300th anniversary year, four new museums have opened or will open this year:
¶ The Ceramics Museum, which opened May 7, features pieces from the Ludwigsburg Porcelain Manufacturing Co., one of the world's leading porcelain manufacturers. Its workers still make every piece by hand. Also on display are pieces from other porcelain manufacturers, including contemporary ceramics.
¶ The Baroque Gallery, which also opened May 7, contains the Baroque art collection of the Palace Museum, as well as nearly every German Baroque painting in the portfolio of the Stuttgart State Gallery. European — in particular Italian — paintings from the same period are also displayed.
¶ The Eberhard Ludwig and Carl Eugen Apartments open June 18. Duke Eberhard Ludwig liked living grand as can be seen in his royal apartments. Duke Carl Eugen, on the other hand, preferred a more intimate environment as evidenced in his small apartment which was furnished as his private retreat.
¶ The Fashion Museum, which opens Sept. 10, will feature exhibits of clothing and accessories from the last 300 years. The Württemberg State Museum will present the most important and extensive part of its collection of historical clothes in the Ludwigsburg palace.
Special festivities are on the agenda at Ludwigsburg to celebrate the anniversary:
¶ The Ludwigsburg Palace Performing Arts Festival runs through Sept. 19 with Italy as the theme of musical and artistic events, from classical to pop. For example, Mozart operas are staged in the 300-year-old palace theater. Italian night takes place July 3 with an open-air concert in the inner courtyard of the palace featuring classical Italian music followed by a baroque firework display. More information at www.schlossfestspiele.de or by calling (+49) (0)7141-939636
¶ The Ludwigsburg Venetian Fair, Sept. 10-12, takes place throughout the city center when carnival comes alive with cabaret, drama, dance, concerts and masks. Visitors to the Venetian fair are invited to attend in costume. The fair has its roots in history: Duke Carl Eugen was so impressed with Venice's carnival that he brought it home to Ludwigsburg in the form of a glittering fair on the market square which was held regularly until 1775.
TOURS: Schloss Ludwigsburg can only be visited with a guided tour. Tours in English are given at 1:30 p.m. Monday through Friday at 1:30 p.m. and at 11 a.m., 1:30 p.m. and 3 p.m. on Saturday and Sunday through Nov. 7.
FEES: Cost is 5 euros (about $6) for adults, 2.50 euros for students and children. A ticket to visit the gardens is 7 euros for adults, 3.30 for children and students. A combination ticket, which includes a guided tour of Ludwigsburg, the new museums and apartments, the gardens, as well as a visit to the nearby palace, Schloss Favorite, is 13 euros for adults, 6.50 for children and students. A ticket for the new museums only is 5 euro adults, 2.50 for children and students. A ticket to the apartments only is 2.50 euros for adults, 1.20 for children and students.
INFORMATION: On the Web, go to www.schloss-ludwigsburg.de and www.barockerlebnis-ludwigsburg.de.
— Leah Larkin
---
---
---