Linderhof: Bavarian castle and monestary aim high in grandiose imagery
---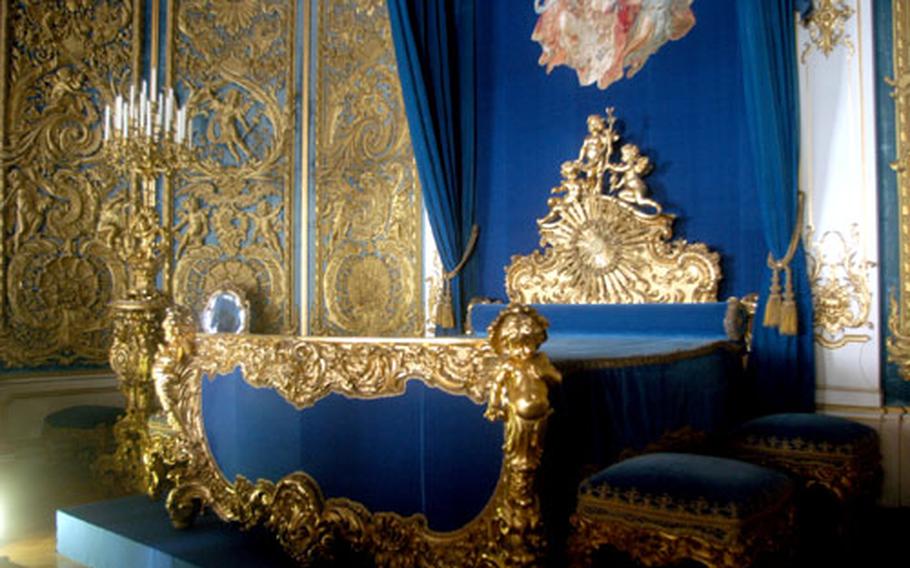 Bavaria, home of Germany's highest mountain, the Zugspitze, the fairy-tale castle of Neuschwanstein and the lively city of Munich, is one of Germany's most popular tourist destinations.
But it also has wonderful, lesser-known sites tucked into its beautiful mountains and valleys. The Armed Forces Recreation Center's Eidelweiss Lodge and Resort in Garmisch conducts bus tours to some of these places off the beaten path, including a trip that goes to the Linderhof palace and the Ettal monastery.
King Ludwig II — Ludwig Friedrich Wilhelm — is known by many names: the Swan King, the Dream King and Mad Ludwig. They all refer to the fact that he lived in a dream world, draining Bavaria's treasury to build castles and palaces where he could live out his fantasies.
While the greatest example is Neuschwanstein, it was not the only one. Linderhof was the only palace finished during Ludwig's lifetime and was one he visited frequently. It was designed as a royal hunting lodge, but grew into a magnificent villa where the king could live out his dreams.
The palace, built between 1874 and 1878 in the elaborate rococo style, pays homage to France's Sun King, Louis XIV, and is adorned with gold, velvet and artwork from top to bottom. It was Louis XIV who turned the chateau at Versailles into a magnificent palace, and a model for several of Ludwig's buildings.
A statue of the Sun King welcomes visitors to the entrance with a statue and emblem reading, "We are superior to all."
The massive bedroom, where Ludwig II slept in a bed 6½ feet long and more than 8 feet wide surrounded by 108 burning candles, is just as the king left it, draped in blue velvet and bejeweled.
In the formal gardens outside the castle is the Grotto of Venus, an artificial cave that was opened by a secret latch. Inside, the cave features stalactites, a 10-foot- deep lake (complete with a wave-making machine), a shell-shaped boat in which Ludwig could be rowed to his heart's content, and a mural depicting a scene from Richard Wagner's "Tannhauser" opera. Lighting in the grotto could be changed by rotating colored glass disks powered by one of Germany's first generators.
Another Bavarian Ludwig is responsible for the Ettal monastery, just a short drive from Linderhof.
Emperor Ludwig the Bavarian had it built in 1330 for a group of knights and Benedictine monks on his return from a war expedition. The monastery, built in the baroque style, burned down in 1733, and was rebuilt in its current rococo design. It is the largest Benedictine monastery in Germany and dominates the village of Ettal.
The heart of the building is the basilica, with its nearly 200-foot- high dome and gigantic fresco inside. The dome's painted heaven, created by Jacob Zeiller around 1751-52, gives the effect of having no ceiling.
The monastery also has a brewery, guesthouses, farm, boarding school and a library.
Outside the monastery walls, different varieties of schnapps and liqueurs are produced — including the liqueur Etaller, which is made from a centuries-old recipe using mountain herbs and is supposed to have health-giving properties. Visitors can sample several of them, ranging from the very strong to lighter and sweeter choices, before heading back to Garmisch for the evening.
If you go ...
... to Schloss Linderhof
Schloss Linderhof, near Bavaria's Oberammergau, is open from 9 a.m. to 6 p.m. daily from April to September. Opening hours change according to the seasons.
Regular admission to the castle costs 7 euros, discounted admission is 6 euros. In winter, only the palace (not the park buildings) can be visited for a regular fee of 6 euros (discounted price 5 euros).
Tickets with a specific visiting time can be reserved by mail for an additional prepaid charge. The time can only be changed or the ticket canceled up to two hours before the start of the tour (also by phone). Visits to the grotto are possible only with a guided tour.
There is a shop and restaurant at the castle, and it is wheelchair-friendly. For more information, go to www.linderhof.de.
Tours to Linderhof depart the Edelweiss Lodge and Resort in Garmisch, Germany, on Wednesday and Sunday from September through May and costs $29 for adults and $21 for children. Call (+49) (0) 8821-9440 or go to www.edelweisslodgeandresort.com.
SOURCE: www.linderhof.de
... to Ettal monastery
The monastery is open from 8 a.m. to 6 p.m. from November through March, and 8 a.m. to 8 p.m. from April through October.
There is no charge for admission.
If you get to Ettal, you'll have no trouble finding monastery. However, its address is: Benediktinerabtei Ettal Kaiser-Ludwig-Platz 1 82488 Ettal. Phone: (+49) (0) 8822-740; fax (+49) (0) 8822-74228.
For information about the monastery's brewery, e-mail brauerei@kloster-ettal.de, call (+49) (0) 8822-74413 or fax (+49) (0) 8822-74412.
The monastery has a contemporary Web site at: www.kloster-ettal.de.
SOURCE: www.kloster-ettal.de
---
---
---
---