Let's Go / Best Bets
by
Jayne Traendly
April 26, 2007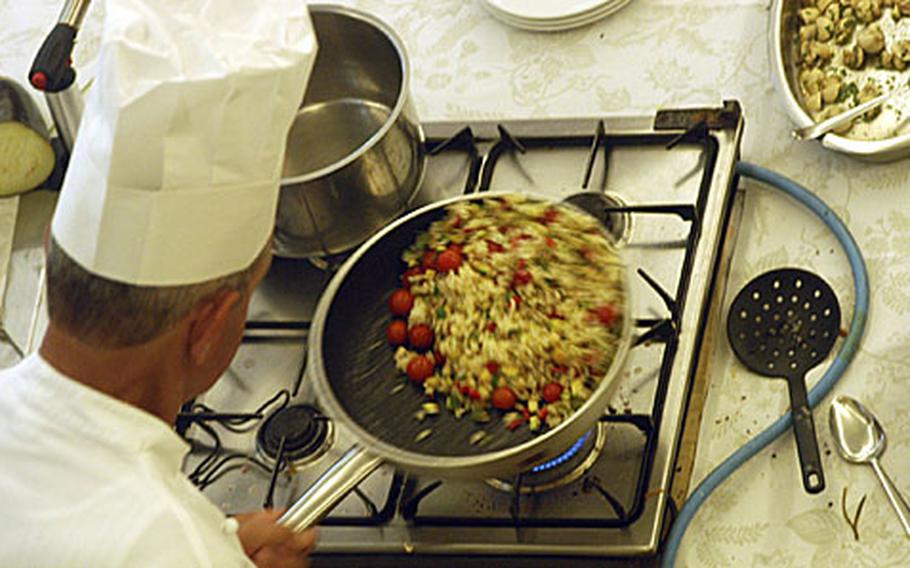 Norway marathonNorway invites marathoners to participate in the Spitsbergen Marathon, the world's northernmost race.
The June 9 event is at Longyearbyen, a coastal island that, according to the race Web site, is in the high Arctic. However, by race day, temperatures will be above zero, most snow will have melted and there will be 24 hours of sun.
In addition to the marathon, a half-marathon and a 10-kilometer race are scheduled.
The entry fee is 350 Norwegian kroner (about $60) for the full marathon, 300 Norwegian kroner for the half-marathon and 150 Norwegian kroner for the 10-kilometer race. Registration deadline is May 20.
More details at http://marathon.svalbard.com.
Cooking in ItalyLearn to cook the healthy recipes of the Mediterranean while enjoying the beauty of one of Northern Italy's mountain resorts during a popular course offered by Gourmet Italia May 25-28.
The sunny Asiago Plateau is a favorite vacation spot for hikers, mountaineers and mountain bikers in summer.
The cost is $595 per person, double occupancy, and includes nine hours of cooking courses conducted in English, three nights' lodging, full board, opera concert, guided tour in private bus, diploma of attendance and booklet of recipes. E-mail gi-one@gourmet-italia.com or visit www.gourmet-italia.com.
Jousting knightsThe moated Burg Satzvey in Mechernich-Satzvey is holding its re-enactment of a medieval jousting tournament May 26-28 and June 2-3.
Choreographer for the event is Steve Szegeti, a stuntman who appeared in Ridley Scott's 2005 film "Kingdom of Heaven." He and his troupe will act out the tale of two brothers fighting for control of the castle, a story full of fighting, song and romance.
In addition to the tournament, a medieval market will sell crafts and food. Tickets for the market area cost 10 euros for adults, 6 euros for children 6 to 15 and free for those under 6. Tickets including the tournament cost 17 to 19 euros for adults, 13 to 15 for children 6 to 15 and 7 to 9 euros for kids under 6. Family and three-day tickets also are available. For reservations and details, go to www.burgsatzvey.de. Online ordering is available only on the German version of the Web site, but you can order by telephone at (+49) (0)2256- 9583-12. Find out more by calling (+49) (0) 2256-9583-0.
Best BetsBRITAIN: Swing into spring and get the latest in golfing equipment, accessories, gadgets and fashions at the London Golf Show 2007, which runs through the weekend at the ExCel Exhibition Centre near Canary Wharf. In addition to the exhibitors, the program includes: the Nike Longest Drive Competition; a short game area (a chipping challenge with experts); the 100-foot putt (with prizes); World Trick Champions (can you tee off on a Pilates ball?); fashion shows and celebrity appearances. For those 16 and younger, there's a junior section geared especially to future players. The show is open 10 a.m. to 6 p.m. Friday and Saturday, 10 a.m. to 5 p.m. Sunday. Tickets are 15 pounds (about $30) for adults, free for those 16 and younger when accompanied by an adult. Details at www.londongolfshow.com.
If golf isn't your thing, you can head over to what claims to be Europe's largest public guitar show. The London Guitar Show plays Friday through the weekend, also in the ExCel. More than 150 companies will be on hand to show thousands of guitars and the latest in amps, bass and acoustics. In addition, competitions, seminars, live clinics and celebrity visits fill the program. Guest celebrity is guitarist Steve Vai, who offers a master class on Saturday. Tickets cost 12 pounds in advance. Details at www.myworldofexpo.com.LGS2007/show.
GERMANY: Return to the Middle Ages this weekend and Monday on the grounds of the Freienfels castle near Weilburg. Each day, 140 stands at a colorful market offer medieval crafts, fare and entertainment. On Saturday, the market opens at 2 p.m., with a parade at 2:30 and a field battle at 3:30. A free knight tournament takes place at 5 p.m., followed by a 7 p.m. fencing battle. At 9 p.m. the Löwenritter (Lion Knights) battle it out in a tournament. On Sunday, the market opens at 11 a.m., the parade begins at 12:30 p.m., the field battle at 1:30, the free knights tournament at 5 and the Löwenritter tournament at 7. Tuesday's program times are the same as Sunday's without the Löwenritter tournament. Tickets are 8 euros for adults, 4 euros for children up to 16 and free for children under the height of a sword. Details at www.ritterspiele-freienfels.de (in German).
Meanwhile, to celebrate Walpurgis, the medieval witches are holding a market and music program in Mechnernich-Satzvey's Burg Satzvey northwest of Cologne. The events will be held on the moated castle's grounds on Sunday and Tuesday from 11 a.m. to 7 p.m. At 5 p.m. Monday, the witches' dance begins, with the evening featuring a huge bonfire to welcome May 1. Tickets are 6 euros for adults, 4 euros for children 6 to 12, free for children under 6. Details at www.burgsatzvey.de.
— Jayne Traendly